These salad in a jar recipe ideas are the perfect way to eat healthy when you are busy. Delicious, easy and great for warm weather!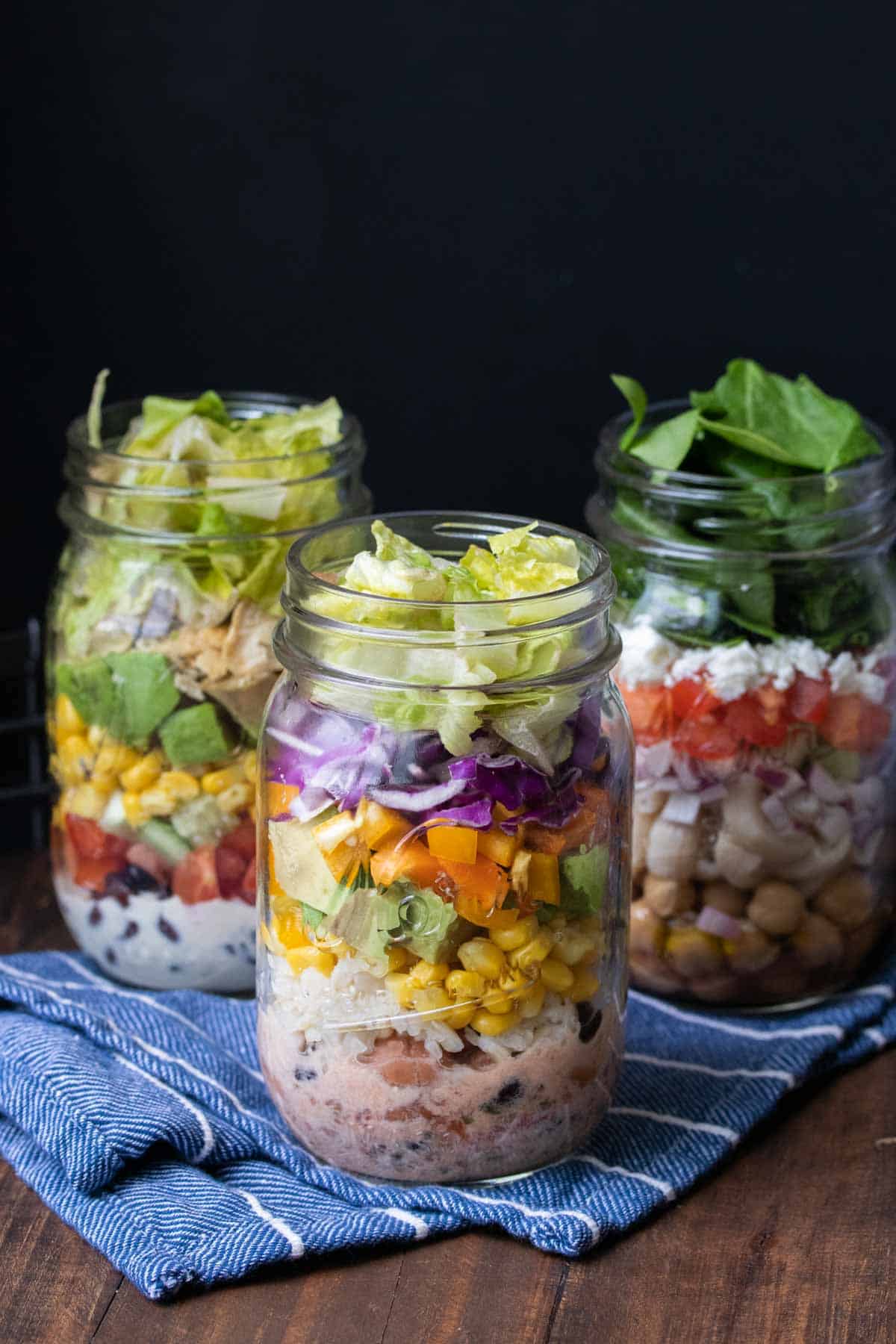 This post was originally published on April 18, 2020.
I love getting in veggies throughout the day but it can be hard with work, kids, and all the things happening in life especially during the summer. This is the perfect solution!
It's no secret that I am a jar addict. I love them! And really use them for just about anything. Apparently even salads! They not only make eating a salad fun, but they also make creating them fun!
Ingredients
The ingredients for this salad in a jar are literally endless. You can make just about anything work! Any veggie, grain, protein with any sauce. You can even do sweet versions with fruit. Here are some of my favorites within each category:
Sauces/dressing:
Protein:
Veggies:
Onion
Cucumber
Tomato
Corn
Avocado
Carrots
Edamame
Peppers
Broccoli
Cauliflower
Zucchini
Squash
Radishes
Mushrooms
Asparagus
Peas
Brussels sprouts
Potatoes
Green beans
Celery
Grains:
Pasta
Quinoa (a great protein too)
Crushed chips
Farro
Barley
Greens:
Lettuce
Spinach
Cabbage
Arugula
Microgreens
Fruit:
Bananas
Strawberry
Blueberries
Raspberries
Blackberries
Apple
Pear
Mango
Pineapple
Orange
Grapes
Kiwi
Cherries
Watermelon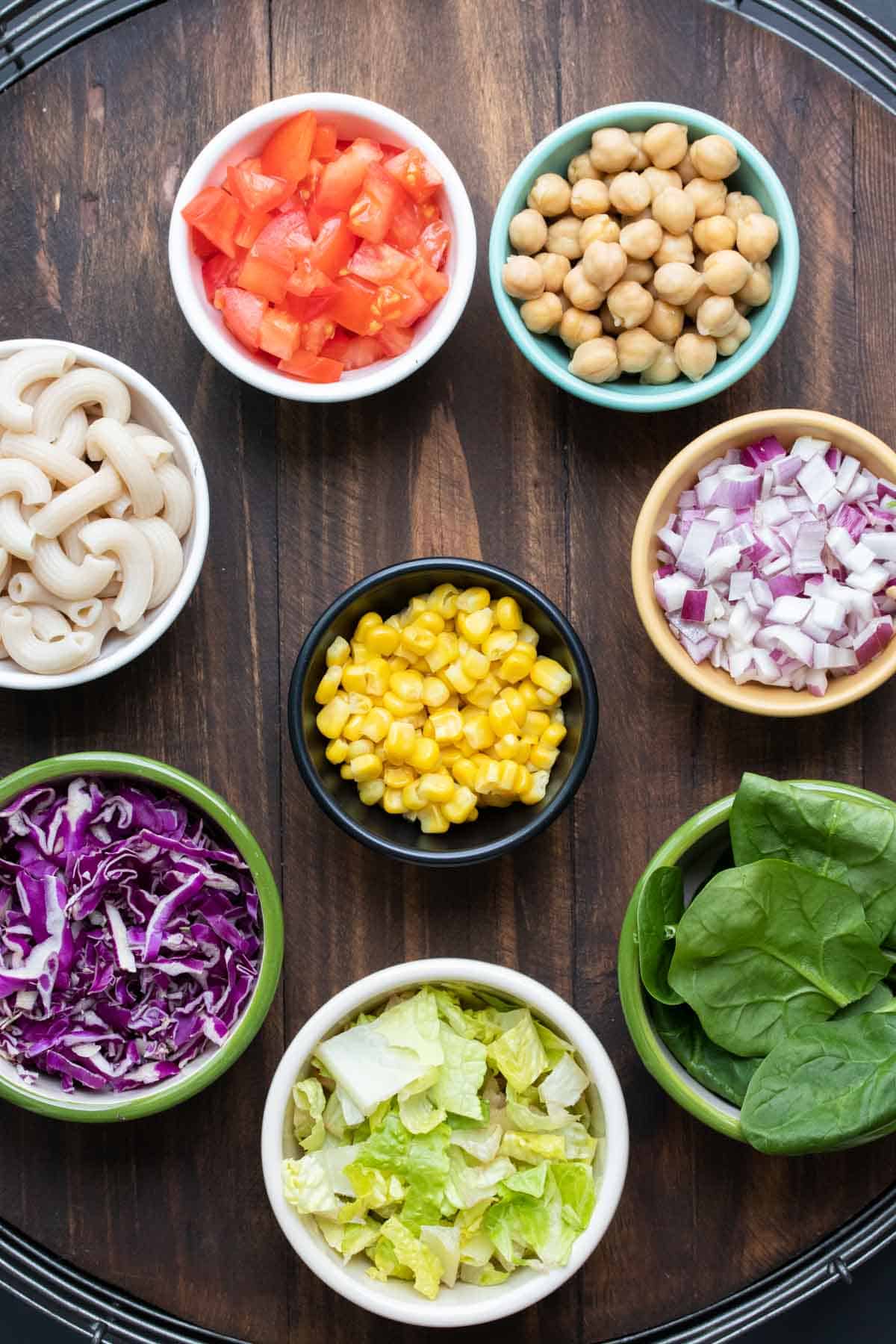 How to Make Salad in a Jar
These mason jar salads are really easy to make. Most of the work comes in the prep! But as I said above, the ingredients can be used for loads of other recipes so my advice would be to base your salad creation on what other meals you want to make that week.
Prep ingredients.
Start by adding the dressing at the bottom of the jar.
Next add the beans, grains, and veggies.
Last add the greens on top.
Store in the fridge until you're ready to eat.
Shake it up and dig in!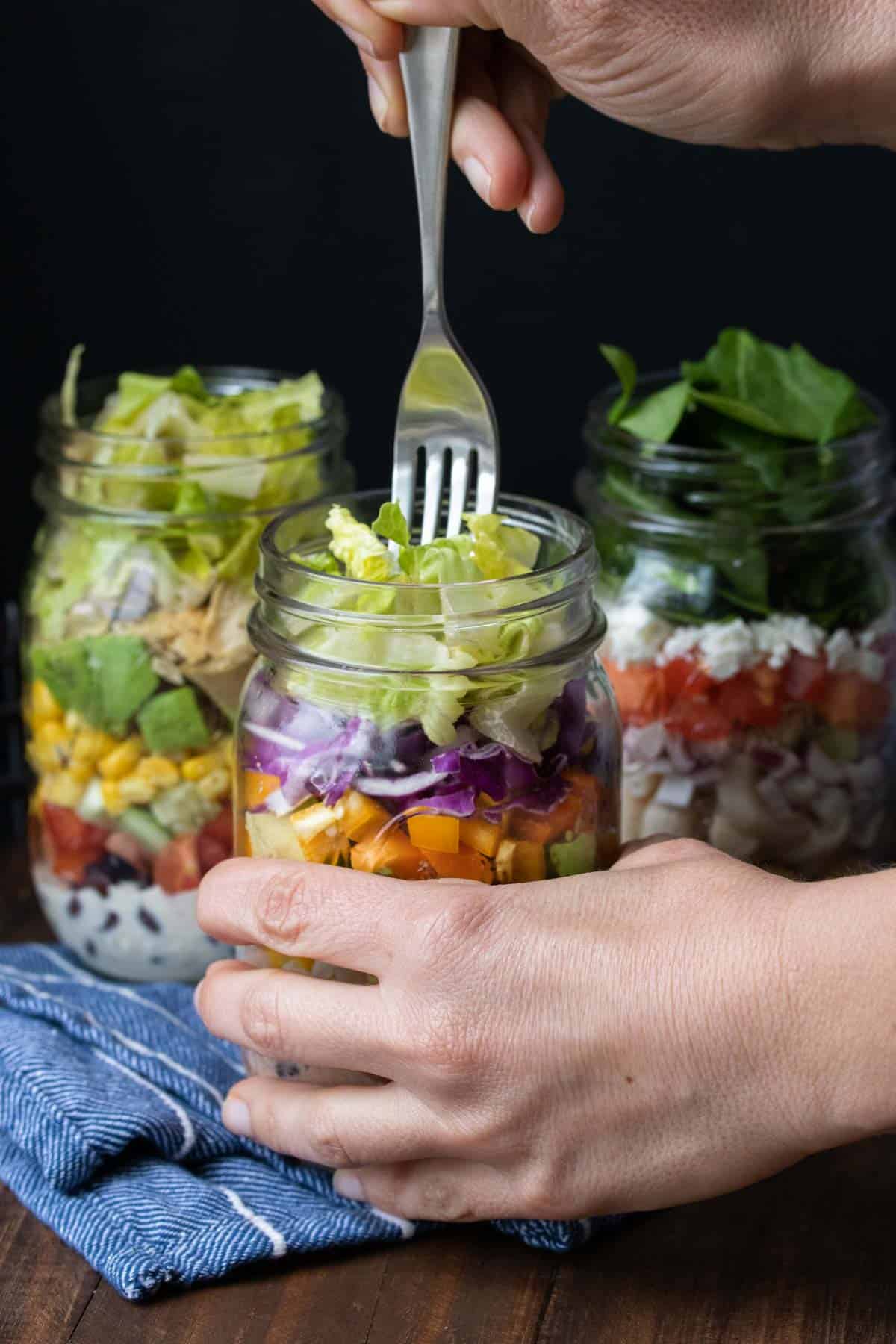 Flavor combinations
While you can combine all of those ingredients in infinite ways, here are some of our favorite combinations that we came up with:
See the recipe card below for more details on these options!
Preparation tips
The best thing about making salad in a jar is that you can prep everything at once. The ingredients can be used in so many other recipes too so it's a win win. Here are the ways I prep it to make it super easy:
Chop and wash the and veggies.
Pre-cook any grains and proteins.
Make the dressings.
Then work on assembling the salads. Set up all the ingredients in a line, then build the salads going down the counter top salad bar style. Store the leftover ingredients in containers so you can use them for another meal.
The prepared salads will be best within 2-3 days, but they can be stored in the refrigerator for up to 5 days.
Common Questions
How do you eat salad in a Mason jar?
While it seems like it would be challenging to eat from a jar, it's actually quite easy. Jars are portable, easier to eat at your desk, and I love that they are a grab and go option...as in grab it from my fridge and go to my table, lol. Other than that, you just eat it with a fork!
How long does a salad in a jar last?
If you follow the tips and put the dressing at the bottom and the greens at the top, these mason jar salads should still taste great after 2-3 days and can still be decent up to 5 days. After that, the ingredients start to wilt and loose texture and flavor.
If made the night before, these are perfect as a vegan picnic food! They travel well and are easy to eat!
Why use Mason jars for salads?
Mason jars are great because they seal well and are a good size for holding a salad. The height and shape of them allows for the ingredients to be properly stacked so they don't get soggy.
How do you keep salad from getting soggy?
My biggest gaggy (is that a word?) thing ever is mushy stuff and limp greens. I cannot stomach it. So when creating these salads in a jar, the first thing I did was test ways to keep them from getting soggy.
Because I wanted this a full grab and go option, I had to find a way to include the dressing in the jar and keep the soggy factor low. And here is what every trial told me: put the dressing at the bottom and the greens at the top.
It's really that simple. Things like beans and veggies won't absorb the dressing like greens will. Surprisingly, the cooked rice and pasta did well towards the bottom as well.
Can you prep salad for a week?
You can! Make these salads in a jar, or prep all of the ingredients for the week and build your salad the night before.
More Vegan Meal Prep Guides
Preparing your meals in advance saves time, sanity, and reduces waste! Here are some more guides to have you covered for weeks: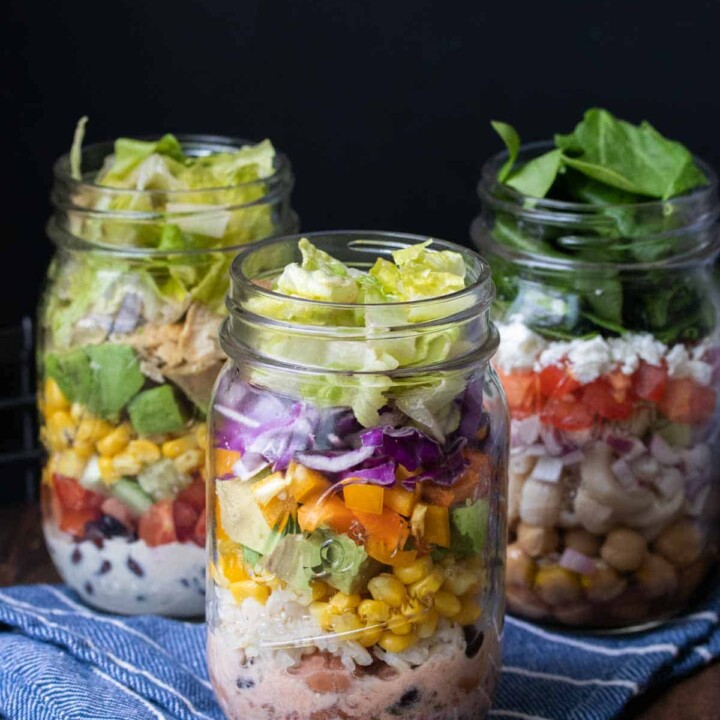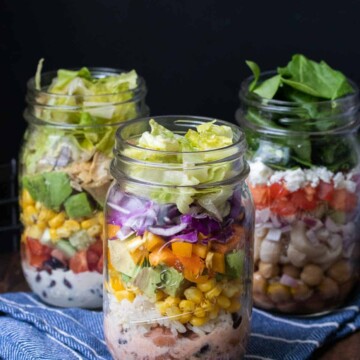 Mix and Match Mason Jar Salad
These salad in a jar recipe ideas are the perfect way to eat healthy when you are busy. Delicious, easy and great for warm weather!
Ingredients
Instructions
Build the salads in 4 different jars, one flavor in each, by putting the dressing/sauce at the bottom of each jar, then the beans/tofu, then the veggies and grains and finally the greens.

Store in the fridge until ready to use.

When ready, shake the jar with the lid closed until the dressing is covering the contents.

Open the lid and eat!
Notes
This recipe makes 4 jars, 1 jar per serving.
The nutrition facts are all of the ingredients for all flavors added together and divided by 4 to average out for total info.
Recipe by Veggies Don't Bite, visit our site for more great plant-based recipes.
Nutrition
Calories: 330kcalCarbohydrates: 47gProtein: 13gFat: 11gSaturated Fat: 1gSodium: 579mgPotassium: 611mgFiber: 8gSugar: 6gVitamin A: 2358IUVitamin C: 22mgCalcium: 79mgIron: 3mg
Nutrition and metric information should be considered an estimate.
Never miss a recipe!
Sign up here and get a FREE quick and easy meal guide!