This healthy vegan apple crisp uses simple whole food ingredients and is out of this world delicious! You'd never know it's also gluten-free!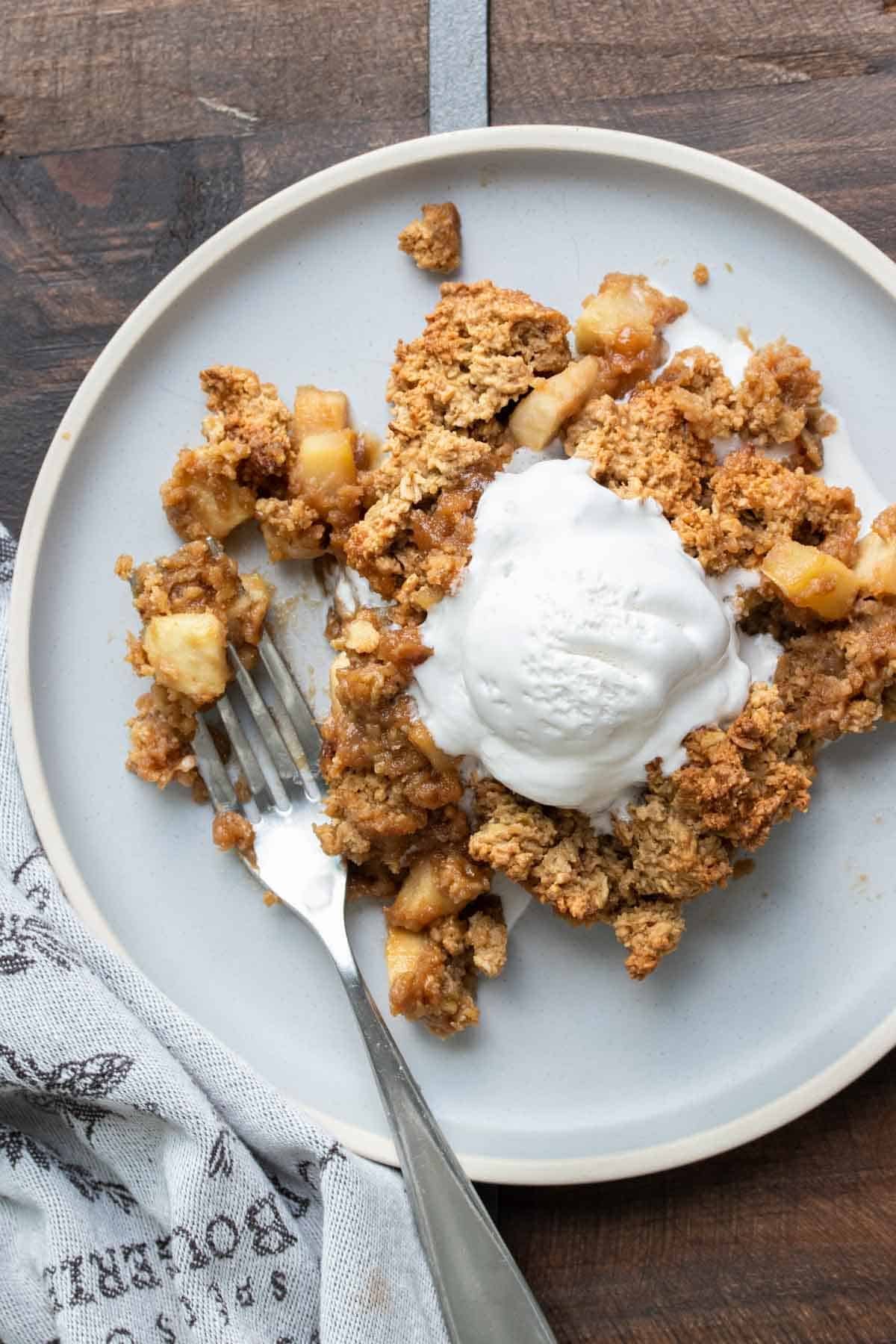 This is a sponsored conversation written by me on behalf of NOW Foods. The opinions and text are all mine.
This post was originally published on July 14, 2019.
There is nothing like the fresh smell of cinnamon and apples baking, but I often get lazy after a full day of momming hard so my cravings take a back seat. But when I create something insanely amazing with only a few ingredients I squeal a little inside.
Ingredients
The trick to making this apple crisp easy is using the ingredients in multiple ways. Here are the key players here:
Apples
Oats
Maple syrup
Cashew butter
Sea salt
The secret is in the cashew butter. And my favorite kind to use is the one by NOW Foods' new Nutty Infusions™ nut butters, specifically the salted caramel infused flavor! They also have a plain cashew butter that is just as delicious and works just as well.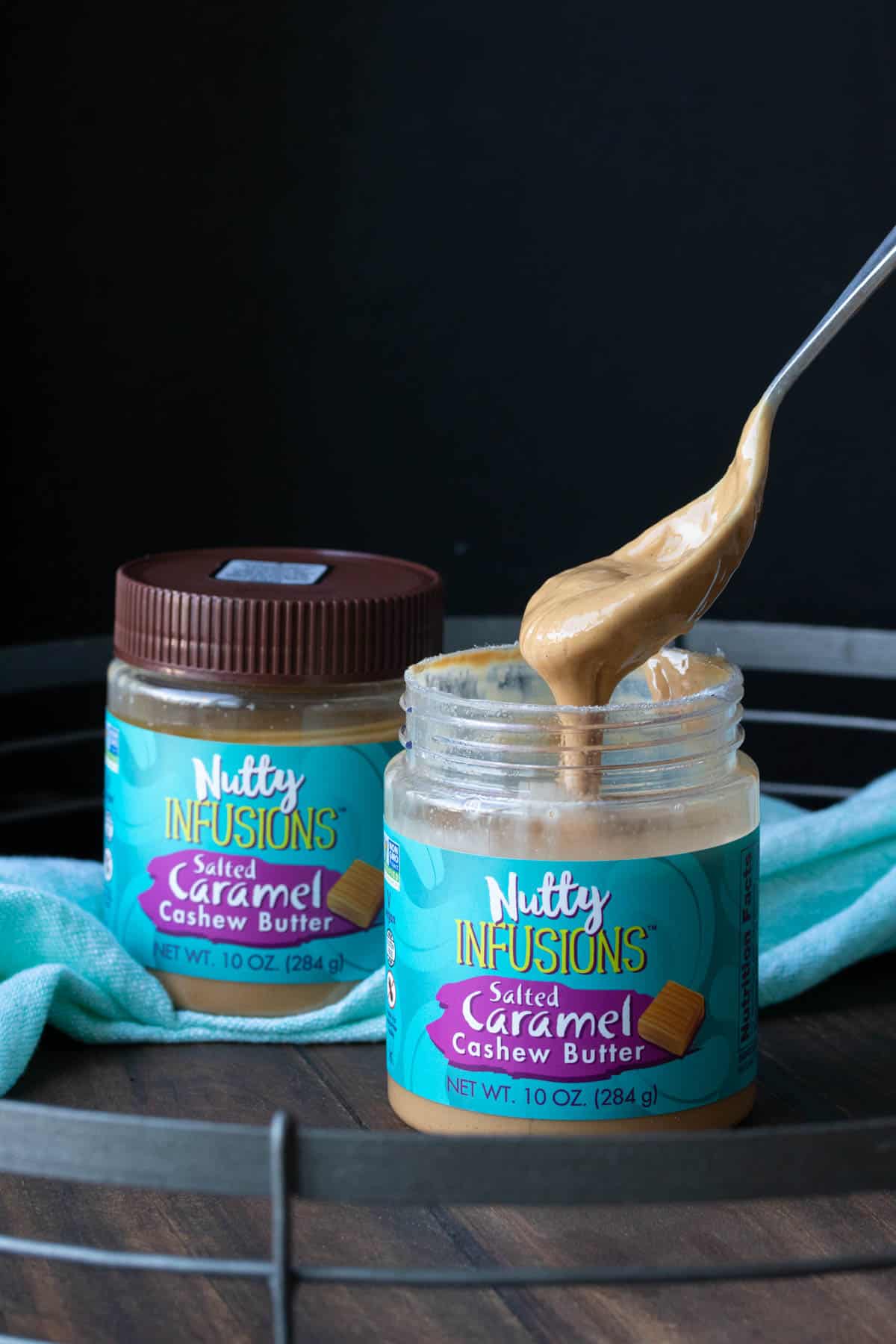 Why does it work? Because when you mix the cashew butter with the maple syrup, it makes a thick caramel like mixture that combines with the liquid that the apples release.
It remains thick and helps the filling cook and the end result is not watery. You know it's working when you see it bubbling up. It's so delicious I can't even stand it.
How to Make Easy Apple Crisp
Who would have thought that you can easily make this with so few ingredients. It's possible and it's delicious so get ready to be blown away!
Cut the apples.
Make the gooey base.
Toss in the apples.
Make the crumbly topping.
Build the crisp and bake.
Serve!
Serving tips
If you're really feeling wild, here are a few things that can jazz up the apple crisp:
Make extra of the base and use it as a caramel like drizzle over the top
Top it with some vanilla ice cream
Top with coconut whipped cream.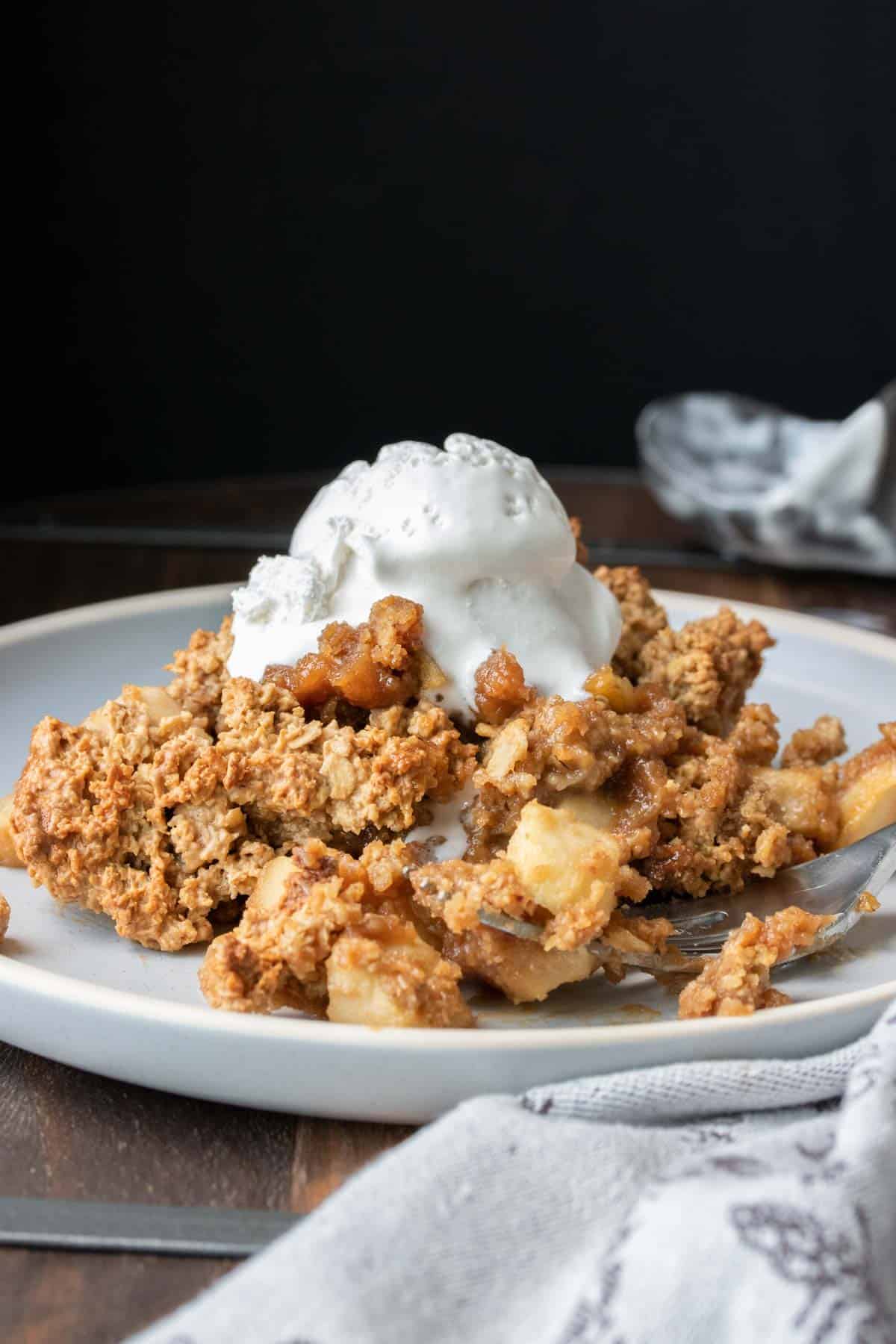 Other Apple Recipes
Here are a few other apple recipes for those obsessed like I am:
Tips and Tricks
This is a pretty full proof recipe, but here is some info to help you along the way!
To get the best result, you want to make sure that you take the skins off the apples. The easiest way to do this is to use a vegetable peeler. It's fast and gets the skin off while leaving the actual apple behind.
You also want to make sure that you're cutting the apple pieces relatively the same size. If they are all different sizes, then they won't bake equally.
Choose sweet apples to add some natural sweetness to the end result, or more tart apples if you want that hint of tartness.
When spreading the topping, spread it around evenly so that it bakes evenly. You also want to make sure you don't over bake it because it will dry out.
To prep ahead of time, you can cut the apples and store them in the fridge until ready to use. Make sure to keep them in an airtight container. They may brown a little but that's okay because you are baking it.
You can also make the topping and store it in the fridge until ready to use. Put it out on the counter so it can get to room temp before you use it.
The caramel like sauce is quick to whip up and better freshly made, so I would make that fresh but if you really wanted to make that ahead of time too you can. Just get it to room temp before you use it because it will harden a bit in the fridge.
Common Questions
Is apple crisp and apple crumble the same thing?
Crumbles and crisps are used to describe the same thing today, but originally there was a difference. Crisps traditionally had oats in the topping and crumbles did not.
Why is my apple crisp runny?
Baked fruit desserts get runny because of the fruit releasing liquid and not being cooked long enough to thicken. Usually it's because the crust starts to burn. But with my method, this doesn't happen.
How long does apple crisp last?
In our house? Maybe about 5 minutes after served. But in general, it's good for about 5-7 days. If you want it to last longer, then keep it in the fridge, but either way refrigerate it after day 2.
Should apple crisp be refrigerated?
After baking, I keep this out on the countertop until we eat it. If you have leftovers, you can keep them covered at room temperature for about 2 days. After that, put it in the fridge in an air tight container. It can last there for about another 3 days or so.
Can you reheat apple crisp?
It is best fresh since it's slightly crispy on the outside and perfectly cooked on the inside. However if you don't eat it all, you can reheat it the next day. It won't be as crisp, but you can put it back in the oven for a bit to warm it up or you can microwave it if you don't care about the softness.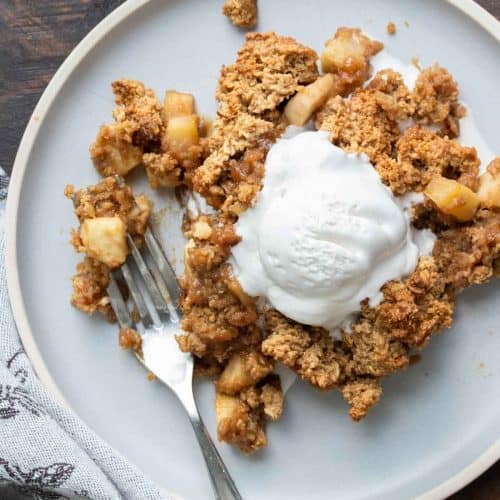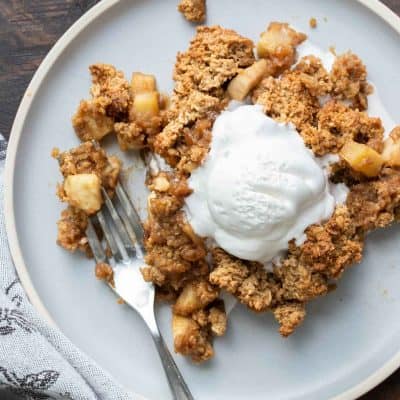 Healthy Vegan Apple Crisp (Gluten-Free)
This healthy vegan apple crisp uses simple whole food ingredients and is out of this world delicious! You'd never know it's also gluten free!
Ingredients
Filling:
¾

cup

maple syrup

½

cup

cashew butter

, I use NOW Foods salted caramel infused

¼

teaspoon

sea salt

2 ½

cups

peeled chopped red apples

, about 2 medium sized apples

You can also add in an optional 1 teaspoon vanilla extract and 1 ½ teaspoons cinnamon for added flavor

, optional
Serving suggestions:
Vanilla ice cream

, vegan to keep this vegan

Dairy free whipped cream

, I use this homemade vegan version

Make extra filling (minus the chopped apple) and drizzle on top like caramel
Instructions
Preheat oven to 350 F/175 C

Mix the maple syrup, cashew butter and sea salt in a large bowl until blended and caramel like.

Add in the apples and coat well. Pour the mix into a square baking dish (8 or 9 inch works).

Add all topping ingredients in a food processor and pulse until incorporated. You can also simply mix them in a bowl if you don't mind the whole oats.

Using your hands, drop pieces of the topping over the apple, covering them evenly. It doesn't have to be pretty, just covered lightly.

Bake at 350 F/175 C for 35 minutes or until beginning to brown on top. Do not over bake or it will dry out.

Serve fresh with toppings of choice!
Notes
You can use plain cashew butter with equal success, I just love the added flavor of the NOW infused cashew butter.
The easiest way to peel the apples is with a vegetable peeler, it keeps the most meat and gets rid of the skin.
Tips to prep ahead:
You can make each part ahead of time then bring to room temp before building and baking.
Recipe by Veggies Don't Bite, visit our site for more great plant-based recipes.
Nutrition
Calories:
374
kcal
Carbohydrates:
55
g
Protein:
7
g
Fat:
15
g
Saturated Fat:
3
g
Sodium:
183
mg
Potassium:
358
mg
Fiber:
3
g
Sugar:
31
g
Vitamin A:
20
IU
Vitamin C:
1.6
mg
Calcium:
72
mg
Iron:
2.3
mg
Nutrition and metric information should be considered an estimate.
Never miss a recipe!
Sign up here and get a FREE quick and easy meal guide!