Homemade vegan bbq sauce using healthy whole food ingredients in only 5 minutes! Just mix, warm if you prefer and use immediately!
Store bought sauces often have preservatives and are filled with sugar. They also have more oil than necessary. The best way to get a healthy sauce is to make your own. Making homemade bbq sauce is especially easy!
Homemade Vegan BBQ Sauce
When I say easy, I'm not exaggerating. This recipe for homemade bbq sauce is literally a stir all ingredients and serve kind of recipe. You can warm it up if you prefer, but it's not needed, especially if you are using it as part of a bigger recipe.
Can vegans eat barbecue sauce?
As long as a food doesn't have animal products, then it can be eaten on a vegan diet. When it comes to barbecue sauce, the one ingredients that may appear to make it not vegan is honey.
Honey is not something we worry much about, but if you follow a strict vegan diet you need to stay away from it. So always make sure to check the list of ingredients.
What sweeteners can I use in vegan bbq sauce?
In this homemade vegan bbq sauce recipe, I use maple syrup so it stays fully vegan. But there are many other ways to get that level of sweet you like in your bbq sauce. Here is a list of some:
maple syrup
molasses
brown rice syrup
coconut syrup
coconut sugar
cane sugar
We all have different likes when it comes to bbq sauce. Some like it sweet, others tangy and then there is the level of spice. This version is that perfect medium that we love. Always feel free to adjust the ingredients to get the perfect version for you!
What sauces are vegan?
Sauce are one of my favorite ways to add to a recipe. I feel like it finishes off anything and gives it an extra oomph you wouldn't get otherwise. I am a huge sauce fan and have creates so many vegan sauces!
Anything, including sauces, is vegan as long as it has no animal products. This includes dairy, butter, eggs and honey. But as you can see on this site, it isn't hard to recreate your favorites into a vegan recipe!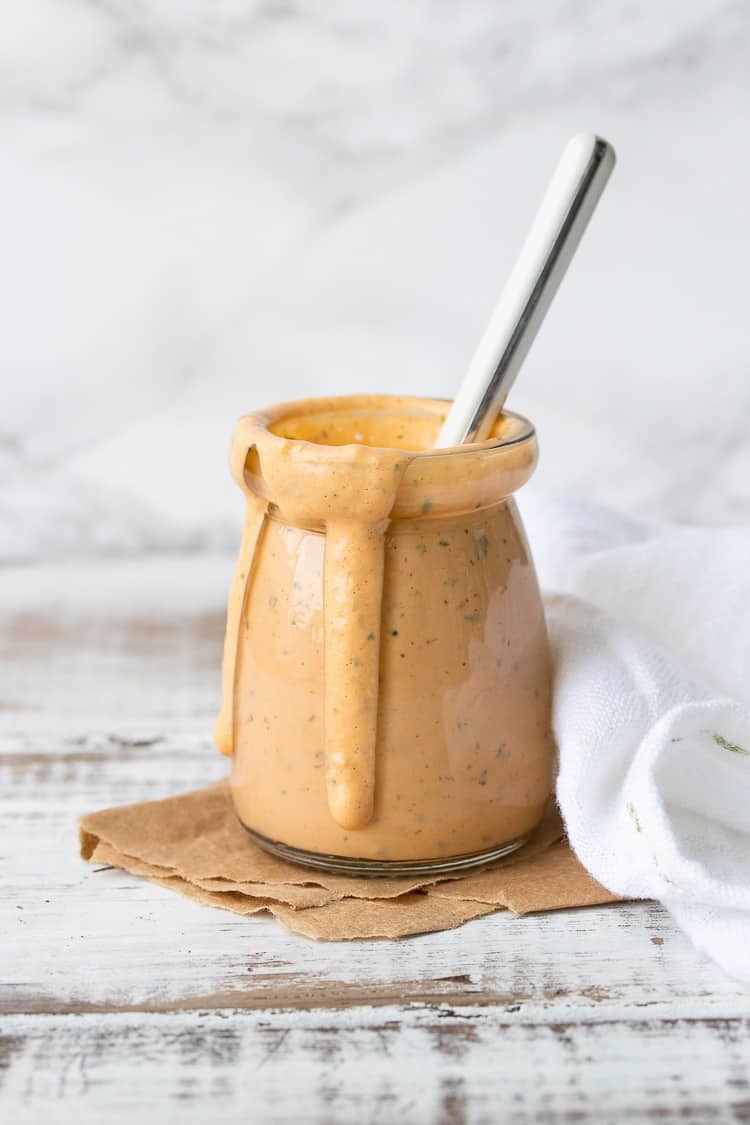 How To Make Vegan BBQ Sauce
Making a healthy homemade bbq sauce is so easy. There are literally two steps:
Dump all the ingredients into a bowl.
Mix.
If you want to heat it up you can, but it's ready to go as is. Most of the time you are using it in another recipe anyway.
Tips for storing and using bbq sauce
Left in the refrigerator, homemade bbq sauce is probably good for about a week. Because it has no preservative, like the store bought variety, it will spoil much quicker.
Make sure to store it in an airtight container. I use a glass jar with a plastic screw on lid. If you aren't going to use it within the week, you can always freeze the bbq sauce. I do this all the time and it works great!
To make sure it doesn't get freezer burn, put it in an airtight container, then put a layer of plastic wrap over the top of the sauce so it sticks on the sauce itself. Then freeze. When ready to defrost, put it on the counter or fridge.
Recipes using vegan bbq sauce
I have many recipes that use this sauce in them! It's super versatile so it can be used in many ways.
Healthy Vegan BBQ Sauce
Homemade vegan bbq sauce using healthy whole food ingredients in only 5 minutes! Just mix, warm if you prefer and use immediately!
Ingredients
1

cup

tomato paste

½

cup

veggie broth

, low-sodium if needed (see notes)

3

tbsp

maple syrup

3

tbsp

molasses

4

tsp

apple cider vinegar

2

tsp

liquid smoke

2

tsp

chili powder

1 ½

tsp

sea salt

1

tsp

garlic powder
Instructions
Put the tomato paste, broth, maple syrup, molasses, vinegar, liquid smoke, chili powder, salt and garlic powder in a bowl and mix well until smooth.

People have many different opinions when it comes to the kind of BBQ sauce they like. If you fall in the spicy camp, then add more chili powder ¼ teaspoon at a time to get the level of spice you like.

If you are in the sweet camp, add more maple syrup ¼ teaspoon at a time until you get the sweetness you like. But if you are in the tangy camp, add more vinegar. teaspoon at a time until you get the tang you like. 
Notes
Makes 2 cups (473 ml) sauce. Each serving is 1/4 cup.
You can use water instead of broth, but I find the broth gives it a bit more flavor. 
Add more or less broth for the thickness you like.
This sauce is best if made ahead of time so the flavors are allowed to marinate. Marinating also allows the spices to fully combine with the tomato paste.
If your sauce seems a little "gritty," then allow it to sit longer. You can speed this up by heating it slightly.
Recipe by Veggies Don't Bite, visit our site for more great plant-based recipes.
Nutrition
Calories:
77
kcal
Carbohydrates:
17
g
Protein:
1
g
Fat:
1
g
Saturated Fat:
1
g
Polyunsaturated Fat:
1
g
Monounsaturated Fat:
1
g
Trans Fat:
1
g
Cholesterol:
1
mg
Sodium:
381
mg
Potassium:
144
mg
Fiber:
1
g
Sugar:
11
g
Vitamin A:
200
IU
Vitamin C:
0.1
mg
Calcium:
26
mg
Iron:
0.5
mg
Nutrition and metric information should be considered an estimate.