There is nothing quite like devouring vegan cookie dough straight from the bowl! This incredible healthy version has only seven easy to find ingredients.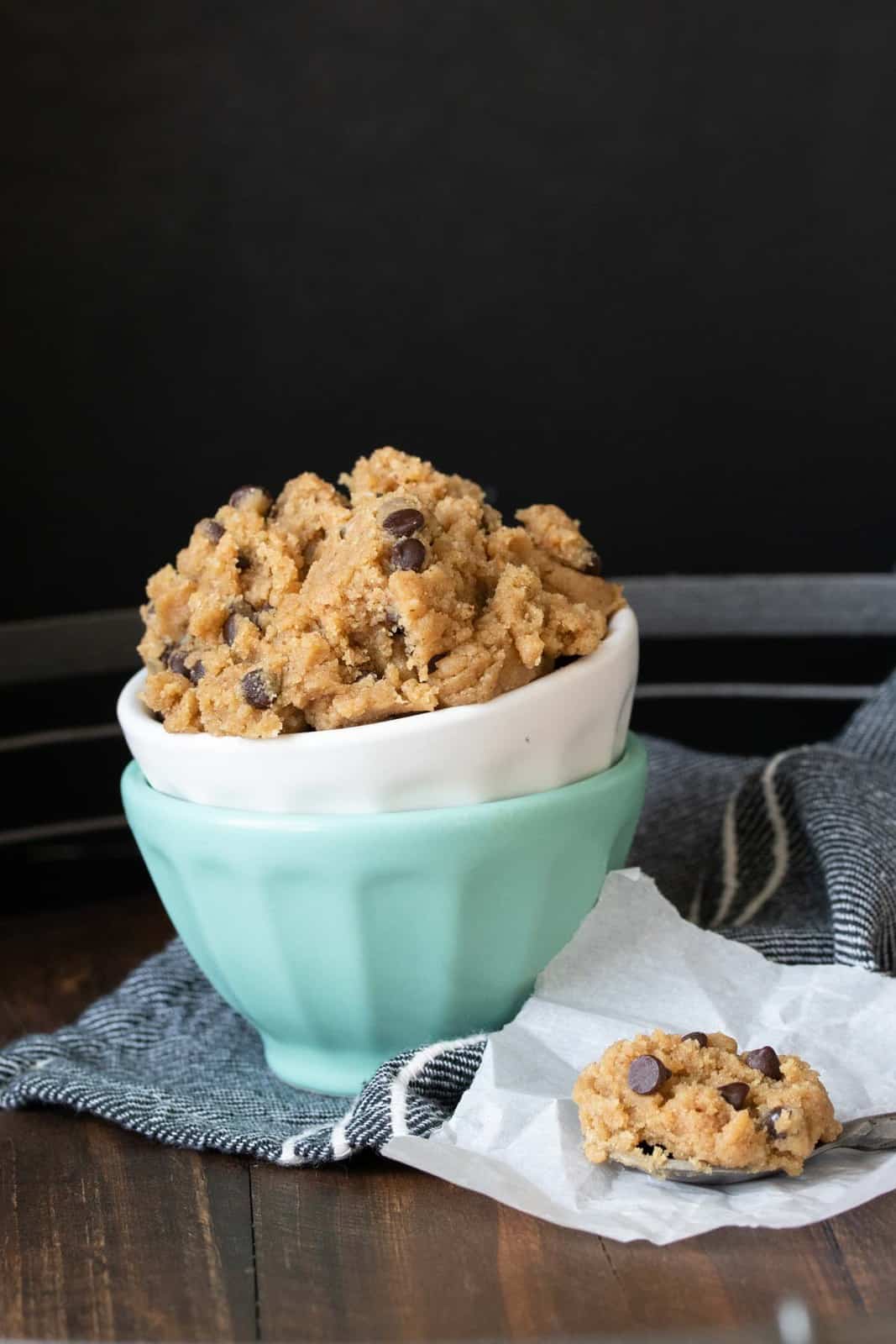 I think one of the best parts of childhood is baking cookies with my mom. Sneaking those little bites of the raw dough was one of my favorite forbidden treats. So many companies have been coming out with edible dough, but I wanted to create my own vegan version!
Vegan Edible Cookie Dough
This vegan cookie dough is great for so many different things! You can use it as a dip, to stuff in between cookies, or just to eat by the spoonful. This is a great treat for your kids or anyone else who loves cookie dough.
Is vegan cookie dough safe to eat?
Yes! This is one of the best perks of vegan cookie dough. Because there are no eggs, there isn't anything that can make you sick. The only catch is the flour that you use to make the cookie dough.
How do you kill bacteria in flour?
Traditional flour is made from raw wheat grains, because it is raw it has the potential of carrying harmful bacteria that can make you sick. You need to heat the flour to 165 degrees to kill off any of that potentially harmful bacteria.
Because most things using flour is baked, you are good to go. But when it comes to raw cookie dough, you need to make sure to heat the flour (in the microwave is an easy way) before you would be considered safe to eat it raw.
The good news is that this recipe calls for oat and almond flour! Both of these are heated in some way before being processed into flour so you are good to go!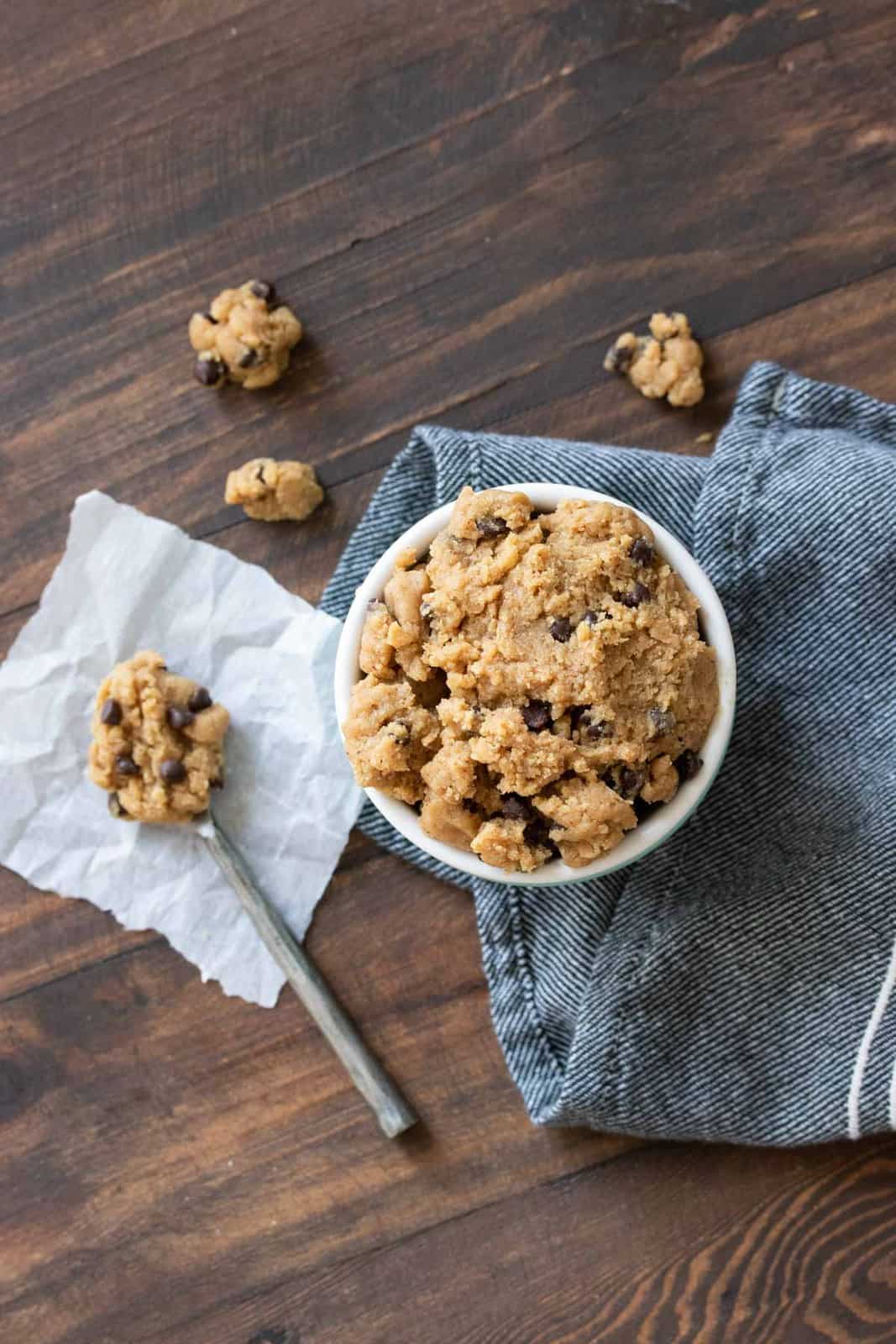 How long does vegan cookie dough last?
This will last in the refrigerator for 5-7 days after making. I wouldn't keep it much longer than that as you don't want any bacteria to form that could make you sick. Also, the flavor and texture begin to decline after about the 3rd day. So the sooner you eat it the better!
The best thing to do is to freeze the cookie dough you don't think you will eat right away. Then defrost on the counter when you want more!
Tips for storing
You should store this raw cookie dough in an air tight container in order to keep it best. If freezing, I like to wrap it in plastic wrap first to reduce the chance of freezer burn. I put the wrapped cookie dough in an airtight container. This will last about 3 months in the freezer for best results!
Uses
This raw cookie dough is meant for using and eating raw. It is not meant to be baked. I mean, you can bake it but the texture would not be ideal. If you want a baked cookie, these Grain-Free Sea Salt Chocolate Chip Cookies are amazing!
But raw cookie dough has many amazing ways it can be used! Here are some of our favorites:
Mix it into ice cream
Put it in hot cocoa, like this Homemade Vegan Hot Chocolate Mix
Roll it into balls and dip in chocolate to make truffles
Roll into balls and eat it as a protein ball (this recipe has loads of great protein!)
Use it as frosting on cupcakes (these Vegan Vanilla Cupcakes or these Vegan Chocolate Cupcakes would be amazing)
Use the same cake recipes to layer cookie dough in between multiple layers
Freeze it in balls or popsicles for a frozen treat
But I think my favorite way is stuffing it into Oreos for a new incredible treat! Here is how I do it:
Open the Oreo, mash some cookie dough on one cookie side, then close the Oreo and dip it in chocolate.
You can decorate it too! Eat and be prepared to enter cookie heaven.
How To Make Vegan Edible Cookie Dough
Whisk the dry ingredients to get rid of any clumps.
Mix in the wet ingredients.
Devour!
How to change up the flavor
Changing the flavor for this cookie dough is easy! All you need to do is put in different add ins. The main dough is a blank slate for basically anything! Here are a few ideas for what you can add inside:
Swirl in peanut butter (or any nut and seed butter)
Sprinkles
Pretzels
Potato chips (yep!)
Raisins
Nuts of any kind
Dried fruit
Shredded coconut
Candied ginger or other fruit
Crushed up toffee
Crushed candy canes
Chopped up candy bars like Butterfinger
Marshmallows (these vegan marshmallows are my favorite)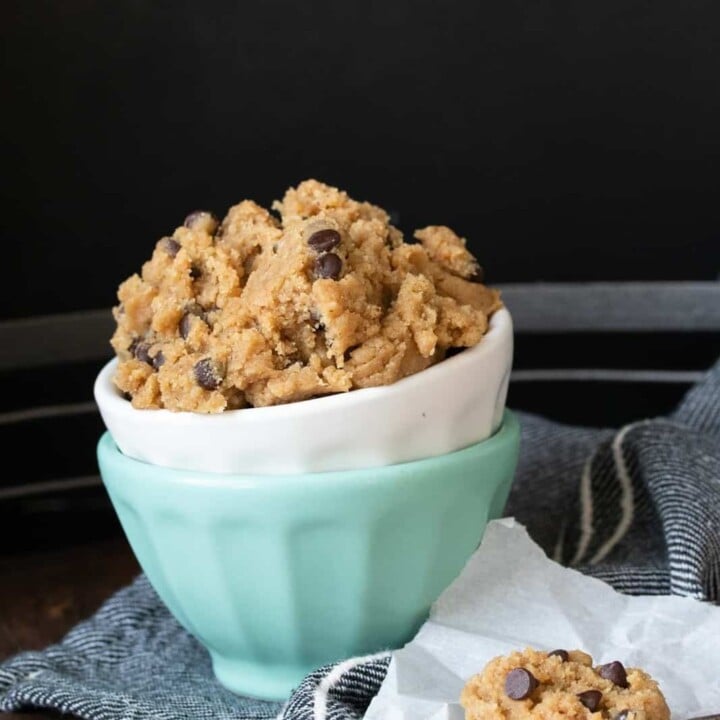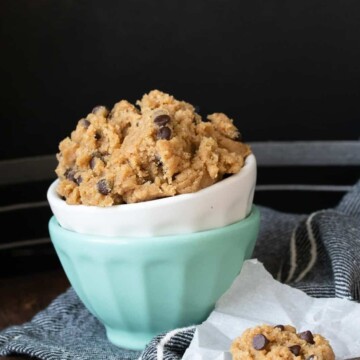 Healthy Vegan Cookie Dough Recipe
There is nothing quite like devouring vegan cookie dough straight from the bowl! This incredible healthy version has only seven easy to find ingredients.
Ingredients
¾ cup oat flour , gluten free if needed
¾ cup fine grained almond flour
¼ - ½ teaspoon sea salt , depending on your preference
6 tablespoons maple syrup
2 tablespoons almond butter , you want it runny and not dry (see note)
2 teaspoons vanilla extract
¼ cup chocolate chips , dairy-free
2-4 tablespoons apple sauce , optional if you want a thinner consistency
Instructions
Combine flours and salt in a bowl and whisk to mix.

Add in the maple syrup, almond butter, and vanilla. Mix well to combine. Add some apple sauce if you want a thinner consistency.

Mix in the chocolate chips.

Store in an airtight container in the fridge and enjoy!
Notes
This recipe is not meant to be cooked, it is meant to eat raw.
Make sure you use a flavorful almond butter. If it is bland then the end result will also be bland. Add a pinch of extra salt, and maybe some extra maple syrup if the flavor needs something extra!
This makes 1 ¼ cups cookie dough, serving size is ¼ cup.
Recipe by Veggies Don't Bite, visit our site for more great plant-based recipes.
Nutrition
Calories: 322kcalCarbohydrates: 39gProtein: 8gFat: 16gSaturated Fat: 2gCholesterol: 1mgSodium: 116mgPotassium: 169mgFiber: 4gSugar: 21gVitamin A: 20IUCalcium: 104mgIron: 2mg
Nutrition and metric information should be considered an estimate.
Never miss a recipe!
Sign up here and get a FREE quick and easy meal guide!