This vegan apple pie is not only gluten-free but made with whole food ingredients. You'd never know because the flavor is incredible!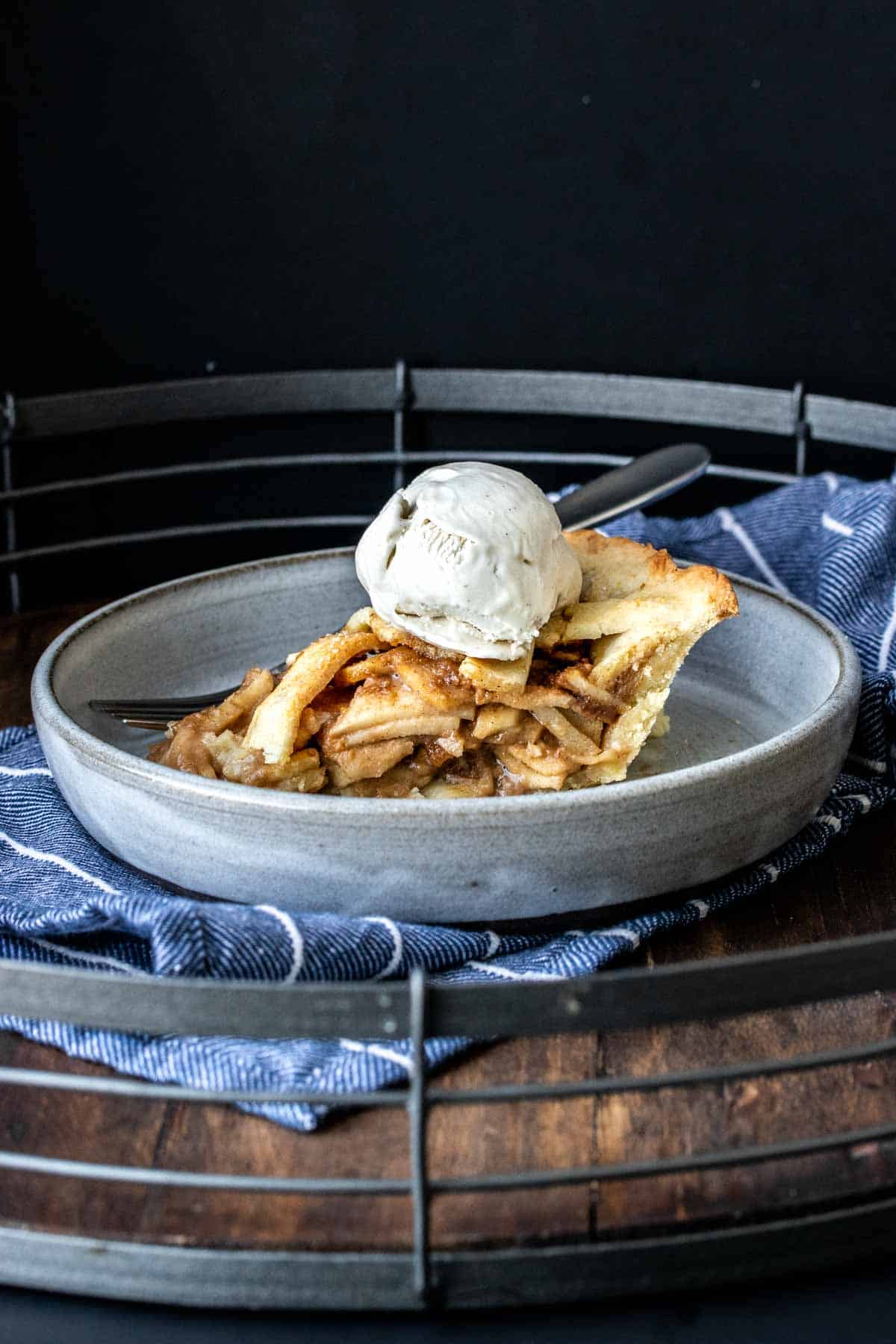 If there's one thing every kitchen needs, it's a recipe for a good 'ole fashioned apple pie! I wanted to make a healthier, gluten-free, and vegan version of the classic dessert that my whole family would enjoy. Mission accomplished; the only challenge was not eating the entire finished product in one sitting!
Ingredients
Part of the beauty of this apple pie is the utter simplicity of recipe! You just need a handful of healthful, whole food ingredients:
Apples
Maple Syrup
Cashew Butter
Seasonings
How To Make Gluten Free Apple Pie
Peel apples.
Slice apples.
Whisk the rest of the filling ingredients.
Add the sliced apples.
Place raw pie crust and filling in pie plate.
Slice the second half of pie dough into strips.
Cover pie with half of the strips in one direction.
Then weave the other half.
If you chose, brush with water/maple liquid.
Bake until golden, cool, and serve!
Serving suggestions
This pie is fabulous on its own, but you can dress it up by topping a slice with Vegan Whipped Cream or Pumpkin Caramel Sauce. Or, make it a la mode with a scoop of ice cream!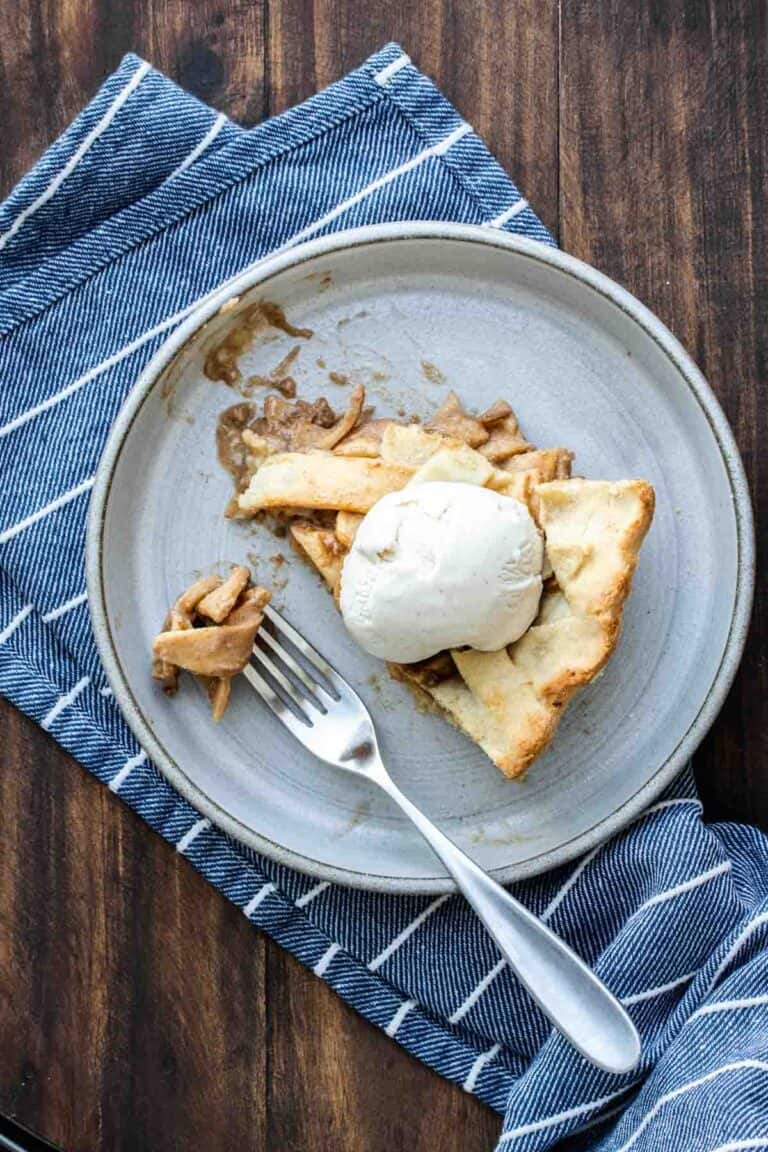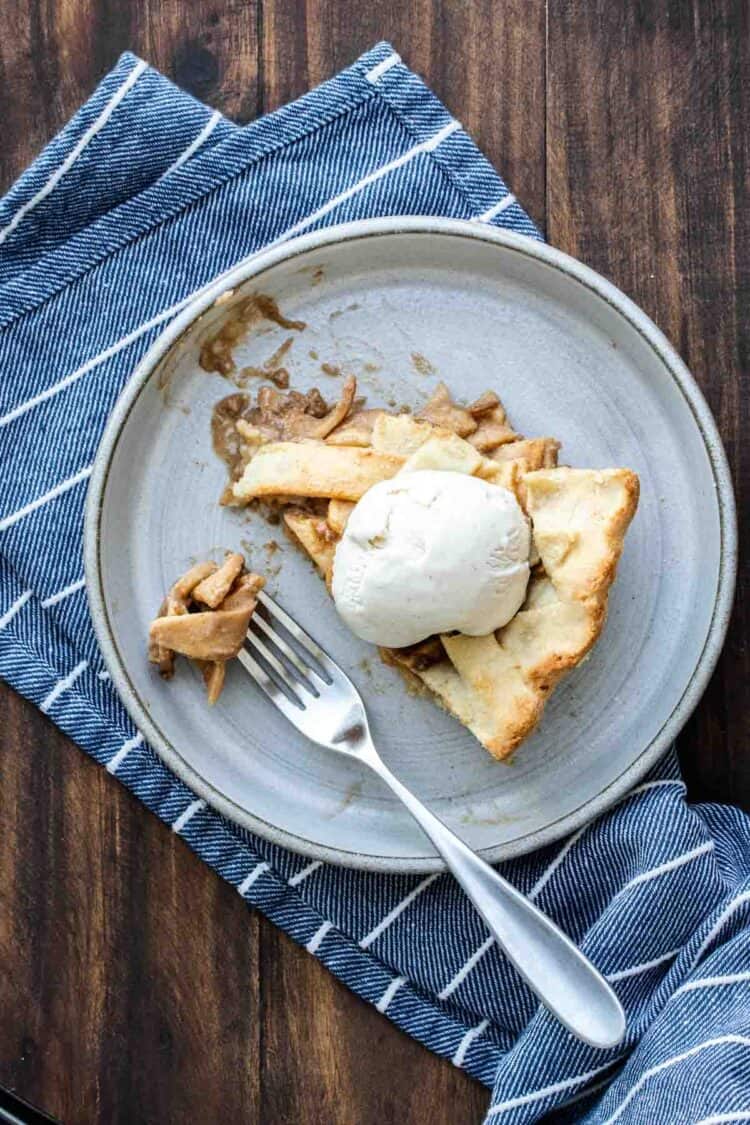 Helpful tips and tricks
To get the softest apples, make sure to slice them thin, I recommend 1/8 inch.
In order to easily place the raw dough in the pie plate, gently roll the dough onto the rolling pin and slowly transfer it to the dish.
A standard 9″ pie plate is best to use for this pie. You won't need to grease the pan. If you plan on removing the pie whole for serving, line the bottom with parchment paper to make it easier to transfer to your serving dish.
Once your pie has cooled, it can be covered and stored at room temperature for up to two days, or refrigerated for 4.
If you'd like to freeze this apple pie, it can be done before or after baking! Tightly wrap the pie in plastic wrap or foil making sure all edges are sealed, then place in an airtight freezer safe container. Freeze for 4 months.
To bake a frozen raw pie, do NOT thaw first or you'll get a soggy crust. Unwrap the pie and place on a cookie sheet, bake at 450 F/ 230 C for 25 minutes, then reduce to 375 F/ 190 C for an additional 30-40 minutes or until the crust is brown.
For a pre-baked frozen apple pie, place the unwrapped pie on a cookie sheet and bake at 350 F/175 C for 30 minutes or until warm.
Common Questions
What are the best apples to use in apple pie?
Choosing the type of apple to use is a personal preference. Traditionally Granny Smith apples are used, they're firm so they hold up well while still being juicy and flavorful. If you want a sweeter pie, try using Honeycrisp or Golden Delicious.
What pies are vegan?
Many pies can be made vegan, as long as you use a vegan pie crust. Fruit pies are the easiest as the fillings are generally vegan to begin with. Pumpkin Pie is another pie that's easily made vegan with a few adjustments.
How do you keep the bottom pie crust from getting soggy?
Fortunately I have not had issues with this recipe and soggy crust. However, if you prefer you can slightly pre-bake the crust. You can also brush on aquafaba as a vegan substitute for the traditional egg white wash, but I don't feel it's necessary.
Do you cook apples before putting them in pie?
You can, but it's not necessary. I like my pie with more of an al dente bite, but if you want it super soft, pre cook the apples over medium heat in a non-stick skillet for 10-15 minutes.

Because I LOVE apple pie but don't have a million years or patience for steps (not to mention 3 kids), I don't pre-cook and it still turns out great. This recipe in particular doesn't get watery because the combo of maple syrup and cashew butter thicken the moisture from the apples like caramel.  
More Apple Recipes
Here are some more fabulous recipes that feature apples as the star: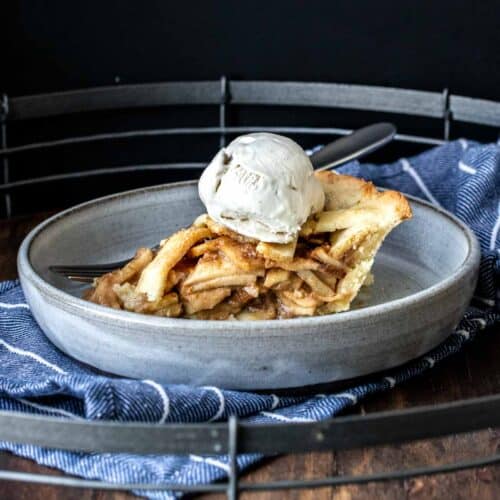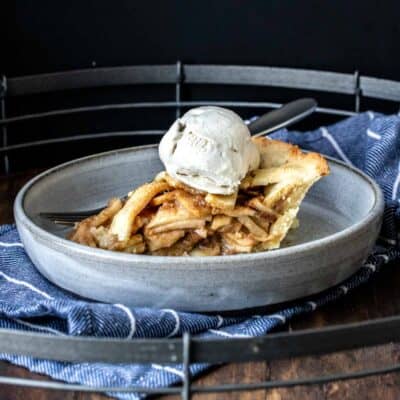 Healthy Vegan Gluten-Free Apple Pie
This vegan apple pie is not only gluten-free but made with whole food ingredients. You'd never know because the flavor is incredible!
Ingredients
Optional:
Extra ¼ cup water plus 1 tablespoon maple syrup

, to brush top

Top with ice cream
Instructions
Preheat oven to 350 F/ 175 C.

Peel and slice apples. The thinner you slice them, the more they will soften. I slice thin, about 1/8 inch thick. Peeling is also optional, you can leave the peel on if you prefer.

Mix the rest of the filling ingredients in a bowl, whisking until smooth.

Add the sliced apples and mix to coat.

If haven't already, put raw pie crust into pie dish by rolling over the rolling pin and slowly transferring to pie dish. See pie crust post for photos.

Put apple filling into raw pie crust.

If using a top pie crust, you can either top it full by rolling it over the rolling pin as you did the bottom one, or you can cut strips of crust and create a lattice topper. Cover top with half of the strips in one direction. Then take each strip one at a time and carefully weave them over and under the strips you already put down. See post for photos.

If you chose, brush with water/maple liquid.

Bake for 40-45 minutes until nice and golden. If the crust begins to burn, cover with foil and continue baking.

Allow to cool and serve! Top with ice cream if preferred.
Notes
The type of apples you use will contribute to the end result. Some varieties are sweeter and juicier than others, and different ones also yield to different textures when baked. See post for more info.
This makes one pie, nutrition facts include a top pie crust and account for the pie to be cut into 10 pieces.
Recipe by Veggies Don't Bite, visit our site for more great plant-based recipes.
Nutrition
Calories:
297
kcal
Carbohydrates:
42
g
Protein:
6
g
Fat:
13
g
Saturated Fat:
2
g
Sodium:
110
mg
Potassium:
245
mg
Fiber:
4
g
Sugar:
25
g
Vitamin A:
49
IU
Vitamin C:
4
mg
Calcium:
71
mg
Iron:
2
mg
Nutrition and metric information should be considered an estimate.
Never miss a recipe!
Sign up here and get a FREE quick and easy meal guide!