This vegan granola recipe is healthy, gluten-free and can be used in so many ways. Perfect to have on hand and so easy to make!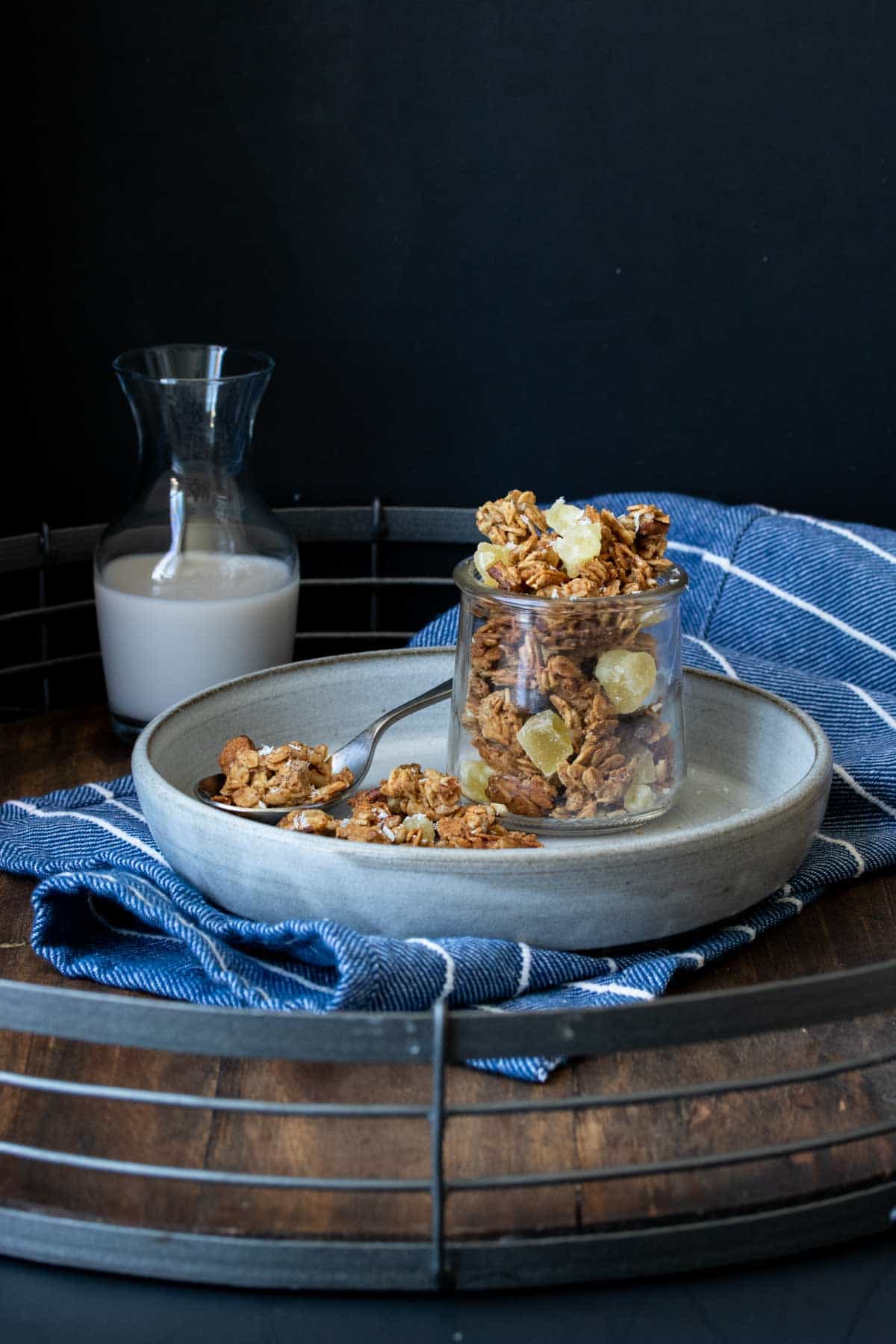 I love texture in my food along with loads of flavor. This healthy granola hits all the marks. Plus its super customizable so everyone will be happy!
Ingredients
The key with homemade granola is to have a great base recipe. From there, you can add all the flavors you want through mix ins, seasoning, etc!
Here is how I make my base so that it is healthy and easy:
Rolled oats
Maple syrup
Almond butter
Vanilla
Sea salt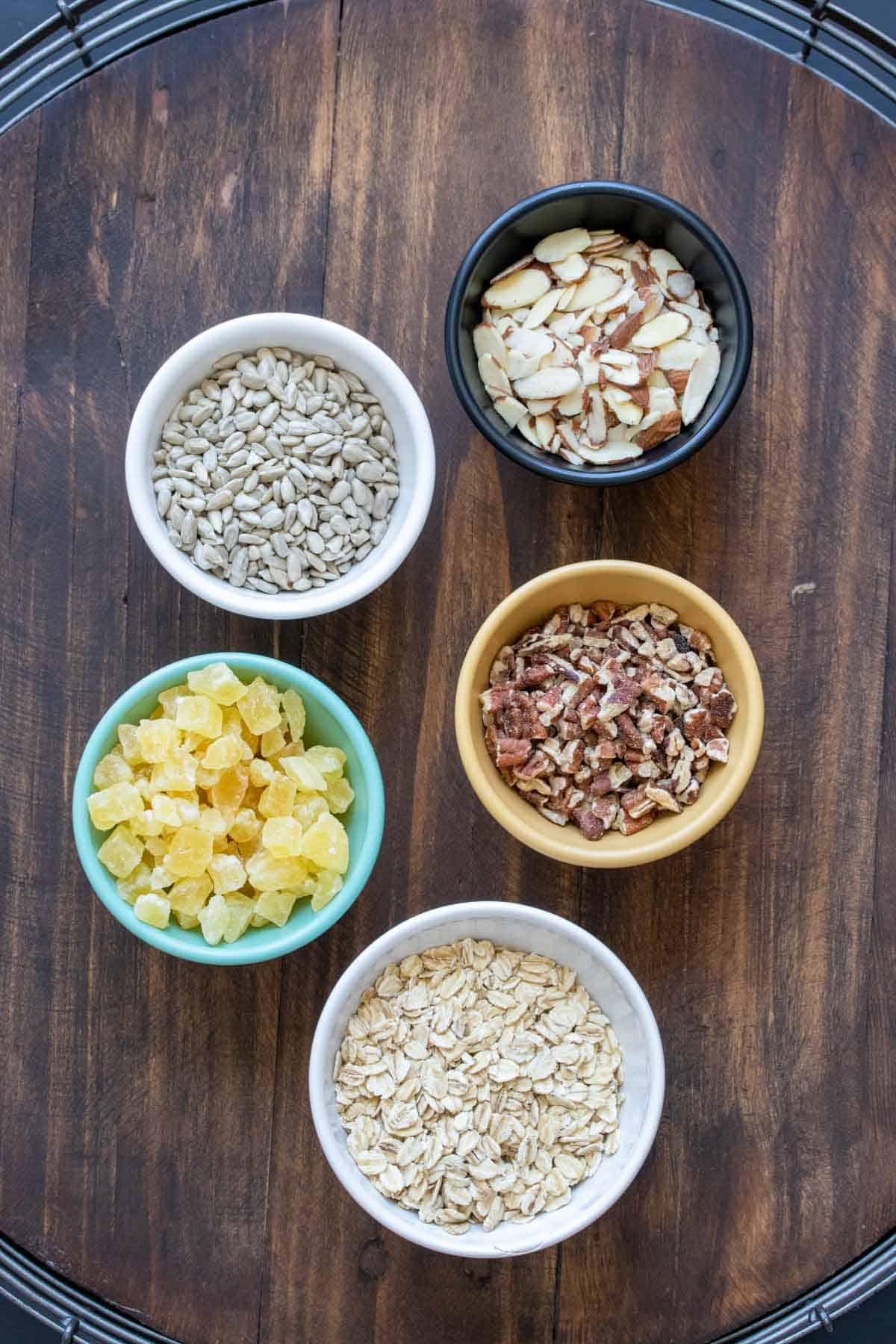 In order to make sure this is gluten-free you need to get certified gluten-free oats. While oats actually don't contain gluten themselves, they are grown with other gluten containing grains so there is a lot of cross contamination. Gluten-free oats are grown with extra caution.
This recipe is made without oil. I found that with the whole food fat from the almond butter, oil is not needed at all. I still get an amazing crunchy result!
If you need this nut free, just use sunflower seed butter. Or another nut free butter of choice!
How to Make Granola
Here are the easy steps to make your granola at home:
Mix the almond butter and maple syrup to make a thick caramel like base.
Add in the oats, seasoning and any add ins.
Spread on a parchment lined baking sheet.
Bake, break apart and eat!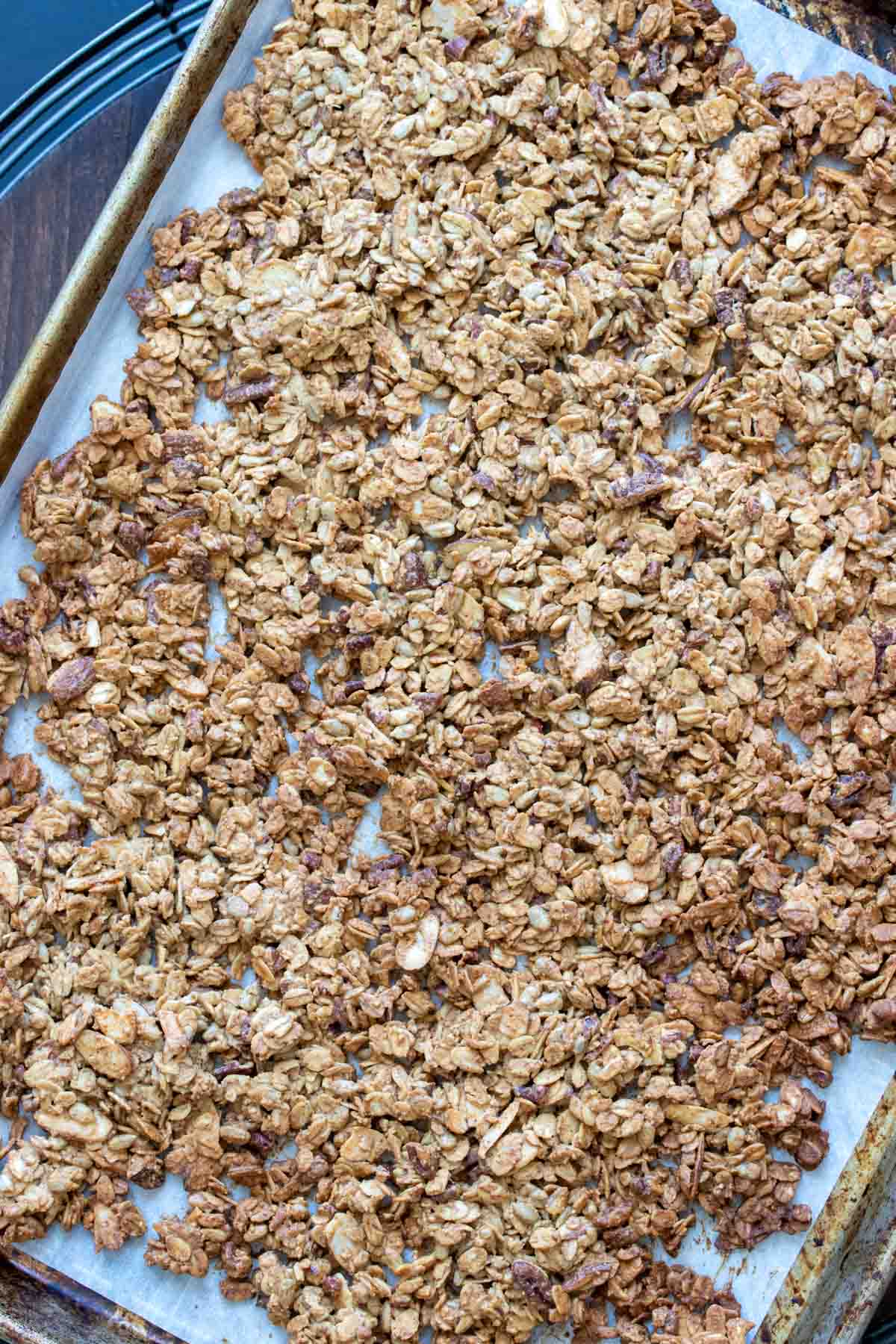 Mix in ideas
You can easily customize your granola in any way you want! Here are some of our favorite things to add:
Any dried fruit (blueberries, pineapple, cherries, etc)
Any types of nuts (walnuts, almonds, pecans, etc)
Any types of seeds (sunflower, pumpkin, etc)
Shredded coconut
Seasonings to match flavor (cinnamon, pumpkin spice, ginger, etc)
Chocolate chips
Peanut butter chips
Butterscotch chips
Yogurt chips
Fresh citrus zest
Flavor combo ideas
Here are a few yummy combinations we've tried and loved!
Coconut, pineapple
Blueberries, raspberries, cherries
Blueberries, pecans
Coconut, apricots (chopped), cherries
Chocolate chips, pecans, cherries
Pumpkin spice, pecans
Dried banana slices, chocolate chips, pecans
Ways to use granola
We love using this healthy granola in SO many ways! Here are a few ideas:
Tips and Tricks
This is a pretty full proof recipe, but here is some info to help you along the way!
Using parchment will help the granola get crispy.
You want to spread it out enough so it gets crispy but not too far apart because if the mixture doesn't touch it won't stick together to make clumps.
You can easily double this recipe to batch make it for the week, just make sure to use a big enough sheet or put it on two sheets.
Make sure it cools completely before breaking into pieces
Store in an air tight container on the counter so it doesn't get stale.
Common Questions
Is granola vegan friendly?
As long as it doesn't contain animal products you are good to go! Watch for honey as well.
How long is granola good for?
The longer you keep it, the less crispy it will be. But it will last for a while and still be safe to eat. Ideally you want to store it in an air tight container no longer than a month.
Why is granola so bad for you?
While granola has gotten a bad rap from some sources, it's actually a great snack. The oats are full of fiber and great for filling out up. Also, the almond butter brings in great whole food fat.
What can you add to granola?
Along with all the ideas given above, you can also sub the maple syrup for honey if you prefer. To make this even healthier, add some dried fruit (just watched for the added sugars in them because this has plenty of sweetness).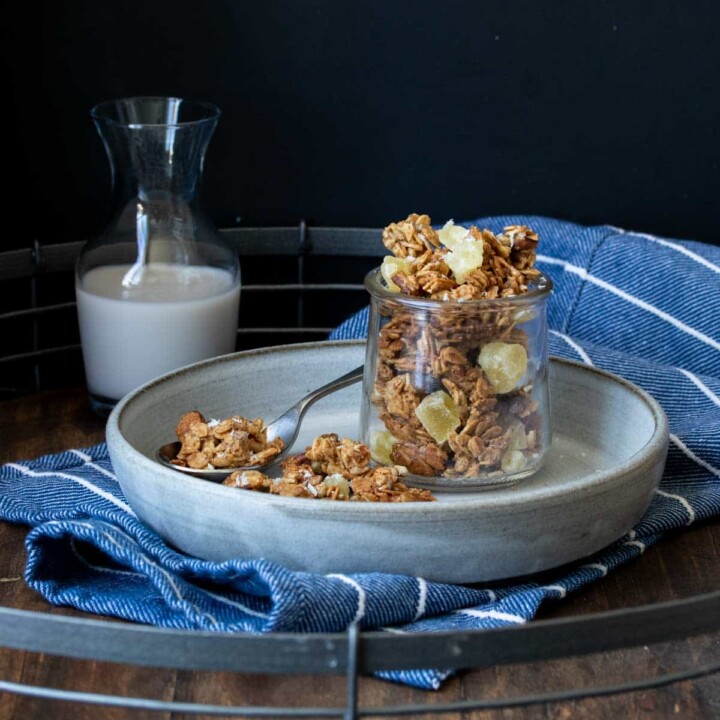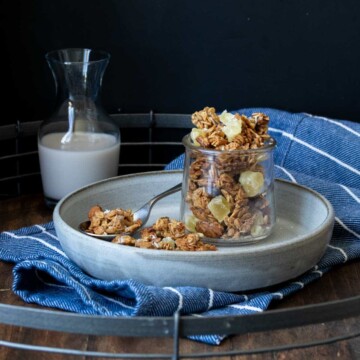 Healthy Vegan Gluten-Free Granola Recipe
Who knew granola could be so easy to make? This vegan granola recipe is healthy, gluten-free and can be used in so many ways! Perfect to have on hand.
Ingredients
Other add in ideas:
¼- ½ cup dried fruit , like blueberries cherries or pineapple
¼- ½ cup shredded coconut
Instructions
Preheat oven to 350 F/ 175 C.

Put the maple syrup, almond butter, vanilla, salt and cinnamon (if using) into a bowl and whisk until smooth.

Add in the oats, nuts and seeds and toss to coat well.

Spread onto a parchment lined baking sheet.

Bake for 20-25 minutes until golden brown. Allow to cool for 10-15 minutes so it hardens.

Break apart and use as preferred!
Notes
The almond butter needs to be smooth and runny. If it isn't add some oil to smooth it out.
You can sub any nuts, fruit, seeds or spices you prefer. Just keep the total amounts about the same. See the post for flavor combinations and more ideas.
This makes about 6 cups. Serving size is ½ cup.
Nutrition facts include all ingredients in the base recipe even the optional ones.
Recipe by Veggies Don't Bite, visit our site for more great plant-based recipes.
Nutrition
Calories: 273kcalCarbohydrates: 24gProtein: 8gFat: 18gSaturated Fat: 1gSodium: 47mgPotassium: 281mgFiber: 5gSugar: 9gVitamin C: 1mgCalcium: 93mgIron: 2mg
Nutrition and metric information should be considered an estimate.
Never miss a recipe!
Sign up here and get a FREE quick and easy meal guide!