This vegan pie crust recipe is not only gluten-free but made with healthy whole food ingredients. It's simple and flakey and absolutely delicious!l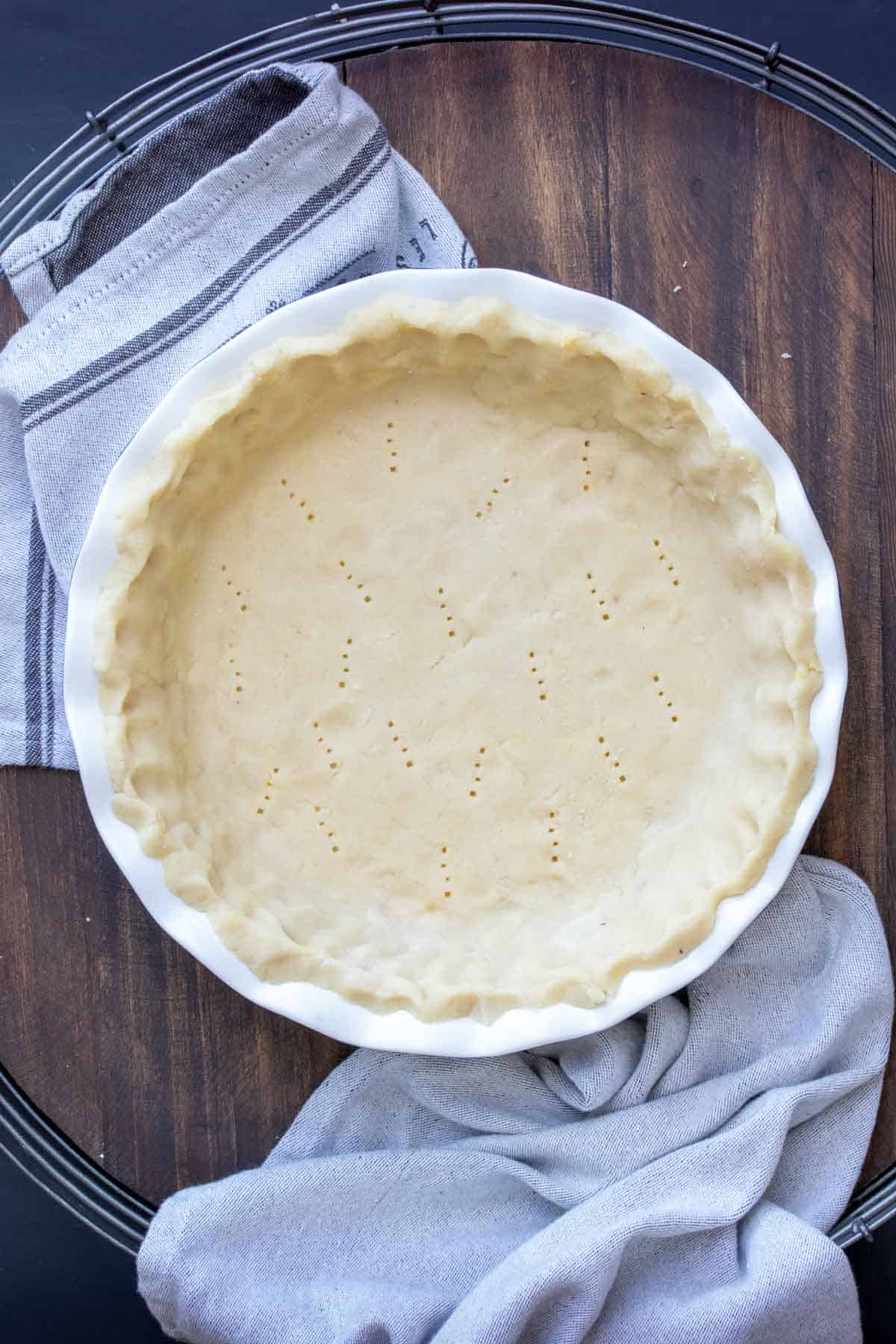 I love texture in my food along with loads of flavor. This granola hits all the marks. Plus its super customizable so everyone will be happy!
Ingredients
Creating a pie crust that is not only vegan, but also gluten-free, made with healthy whole food ingredients and not butter or oil was not an easy feat!
But after a few different trials and many errors, I figured out the perfect base ingredients. And you will be shocked at what I use!
Almond flour
Brown rice flour
Tapioca starch
Cooked potato (yep!)
Salt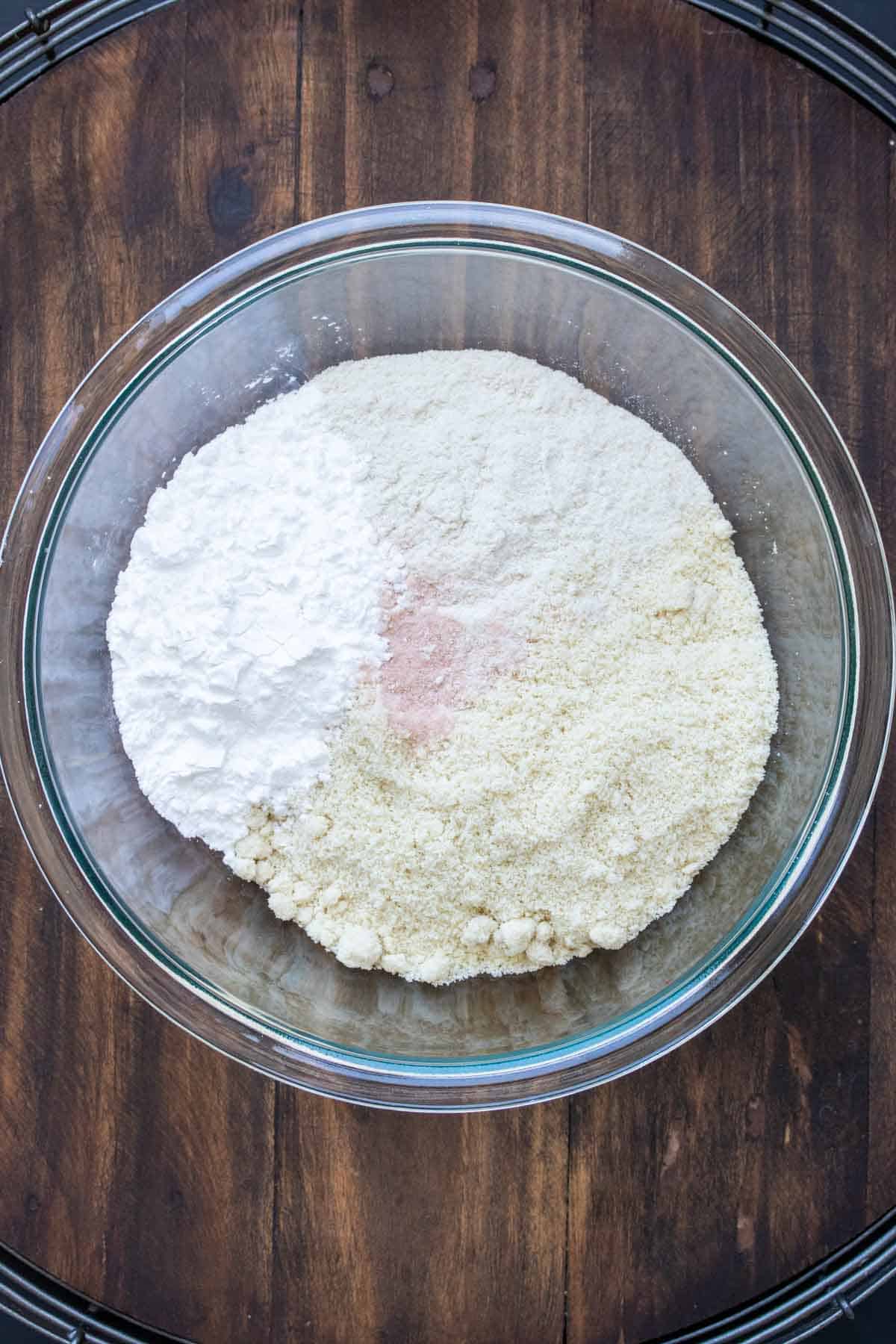 It's really that simple. The cooked potato gives it a light flakey texture, and contributes some buttery flavor.
The combination of flours used resulted in the best crust ever! I tried a few different options and this was my favorite. The next best was using oat flour in place of the brown rice but it wasn't as light and flakey.
How to Make
This is not a complicated recipe but it definitely needs your attention and patience. The main thing is that you want the potato to be smooth, so using a ricer is a great idea so you aren't left with chunks.
But if you aren't picky then just breaking it up with your hands works too!
Mix the dry ingredients and whisk to combine and break up clumps.
Sprinkle in the potato and add the water.
Mix and knead well until you get a ball of dough. I used my hands. If you are making two crusts for both top and bottom then divide into two.
Roll out on a piece of parchment paper. This helps make it easier to transfer.
Transfer onto a pie dish.
Pinch in the edges to make it pretty, I used my knuckle to shape, and fill!
Ways to use
This will be a go to recipe to have in your back pocket! I already have some great recipes that use it, but also some ideas and other ways:
Use it as a pastry dough for things like hand pies, empanadas, etc
Tips and Tricks
This recipe gets easier each time you make it, so be patient. Here are my best tips on how to make it easier:
For the best texture you need accuracy with the flours. Which is why I include precise weights. If you don't have a scale, then you can purchase this fairly inexpensive one.
If you prefer to measure, then measure the flours by scooping your measuring cup into the flour versus spooning it into it. This is how I measured when getting my weights.
When rolling out, if your dough falls apart too easily then roll back into a ball and wet your hands to massage a little more water into it.
If your dough is too sticky then sprinkle some brown rice flour onto the parchment paper.
When transferring to a pie dish, use the parchment to help roll the dough onto the rolling pin. This helps keep it from breaking.
You can prep this ahead of time. After you make a dough ball, put it in an airtight container in the fridge. When ready to use, allow to return to room temp before using. If it's too dry, then follow tip 1 above.
You can make decorative toppers for your pies with this. Simple roll it out and use a pizza cutter or pastry cutter to make strips for a lattice, use cookie cutters for shapes, etc. It's pretty easy to work with.
Common Questions
What pie crusts are vegan?
Any crust that doesn't contain a dairy based butter, milk, or eggs are vegan. Simply look at the ingredients and make sure there is nothing animal based.
How does gluten free pie crust taste?
This one tastes amazing! Many can be dry and dense or overly chewy because of the flours used. The combination of the flours, starch and cooked potato give this the perfect flavor and texture.
Can you freeze this pie crust?
To freeze this you can do two things, either freeze the dough ball by wrapping it in plastic then foil and storing in an air tight freezer safe container, or make it into the final product before filling and baking and freezing it like that. You still want to wrap it in plastic and try to get it into a freezer safe bag, but if it doesn't fit then wrap well with plastic and then foil. It should be good for about 6 months if wrapped well.
How do I use frozen pie dough?
When you are ready to use, simply take it out of the freezer and let it get to room temperature. Once defrosted you can roll out the dough ball, following tip 1 above, or simply fill and bake if already shaped into a pie dish.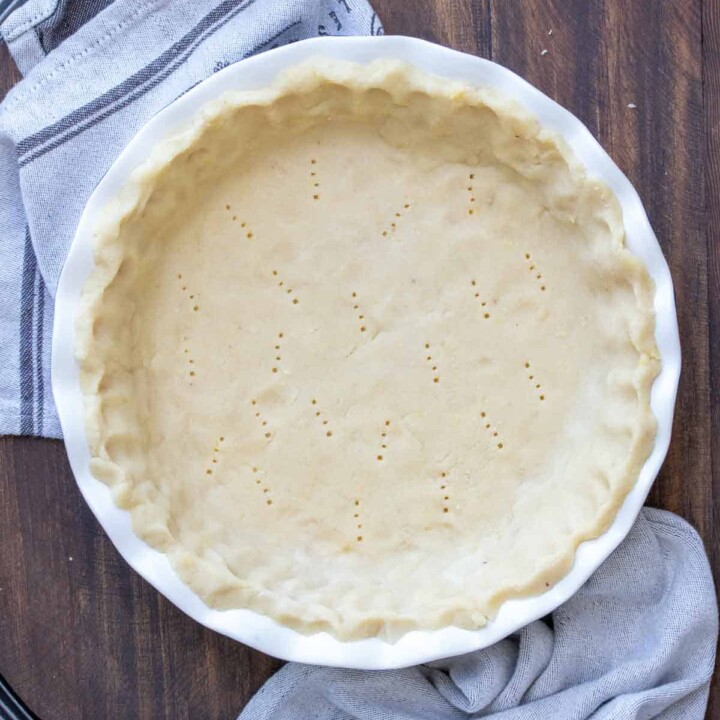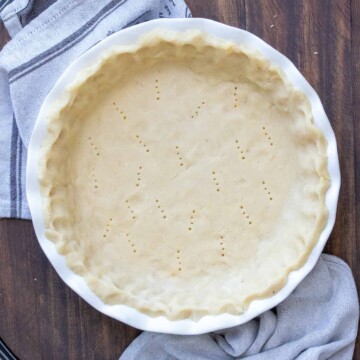 Healthy Vegan Gluten-Free Pie Crust
This vegan pie crust recipe is not only gluten-free but made with healthy whole food ingredients. It's simple and flakey and absolutely delicious!
Ingredients
2 ½ cups fine grained almond flour
½ cup brown rice flour
½ cup tapioca starch
½ teaspoon sea salt , see note
¾ cup cooked potato , see note
6-8 tablespoons water , see note
2-3 teaspoons cane sugar , optional if making a sweet pie
Instructions
If baking pie, preheat oven to 350 F/ 175 C.

Put flours, starch, and salt in a bowl. Whisk well to remove clumps and combine.

Crumble potato in. Using a potato ricer works really well to break up chunks. Add in water. Using your hands begin to mix. Continue until a ball of dough forms. It shouldn't stick to your hands but also shouldn't be dry and cracking.

Divide ball in half if making the full recipe.

Flatten half the dough on a piece of parchment paper. I find this works best for when you transfer to a pie dish.

Using a rolling pin, roll out until you get a circle a little but larger than your pie dish. It should be about ¼ inch thick. If needed, use a little bit of the brown rice flour to avoid the rolling pin from sticking to the dough.

When done, roll the rolling pin over the dough as you wrap the dough around the pin (see post for photos).

Put the rolling pin on one edge of your pie pan and slowly unroll removing the dough from the pin and over the pie dish. If some dough breaks off, that's okay because you can easily press it back together into the dish.

Using your fingers, press the dough into the pie dish pinching the top to make a scalloped like design.

Fill as needed by the recipe (or bake if recipe calls for it).

If baking it on it's own, I found that 25 minutes was perfect texture.
Notes
I used a Yukon gold potato, but any other white potato will work.
Do not boil potato to cook it or it will have too much moisture. I cooked it in the microwave but you can bake it too.
Amount of water will depend on how moist your potato is. Start with 6 and add more to dough if needed.
If making a savory pie, you can add more salt if you want.
If making a sweet pie, add the sugar if you prefer, but it is not needed.
This makes 2 pie crusts.
The nutrition facts are for ONE WHOLE pie crust. Divide by however many pieces you cut.
Recipe by Veggies Don't Bite, visit our site for more great plant-based recipes.
Nutrition
Calories: 1069kcalCarbohydrates: 94gProtein: 33gFat: 70gSaturated Fat: 5gSodium: 531mgPotassium: 242mgFiber: 17gSugar: 10gVitamin C: 2mgCalcium: 294mgIron: 7mg
Nutrition and metric information should be considered an estimate.
Never miss a recipe!
Sign up here and get a FREE quick and easy meal guide!