This vegan peach cobbler is made with juicy peaches and a gluten free buttery topping. It's made with 10 simple ingredients and done in 30 minutes!
This is a healthy, simple and perfect way to feed that dessert craving. It's easy to put together and rock your world delicious!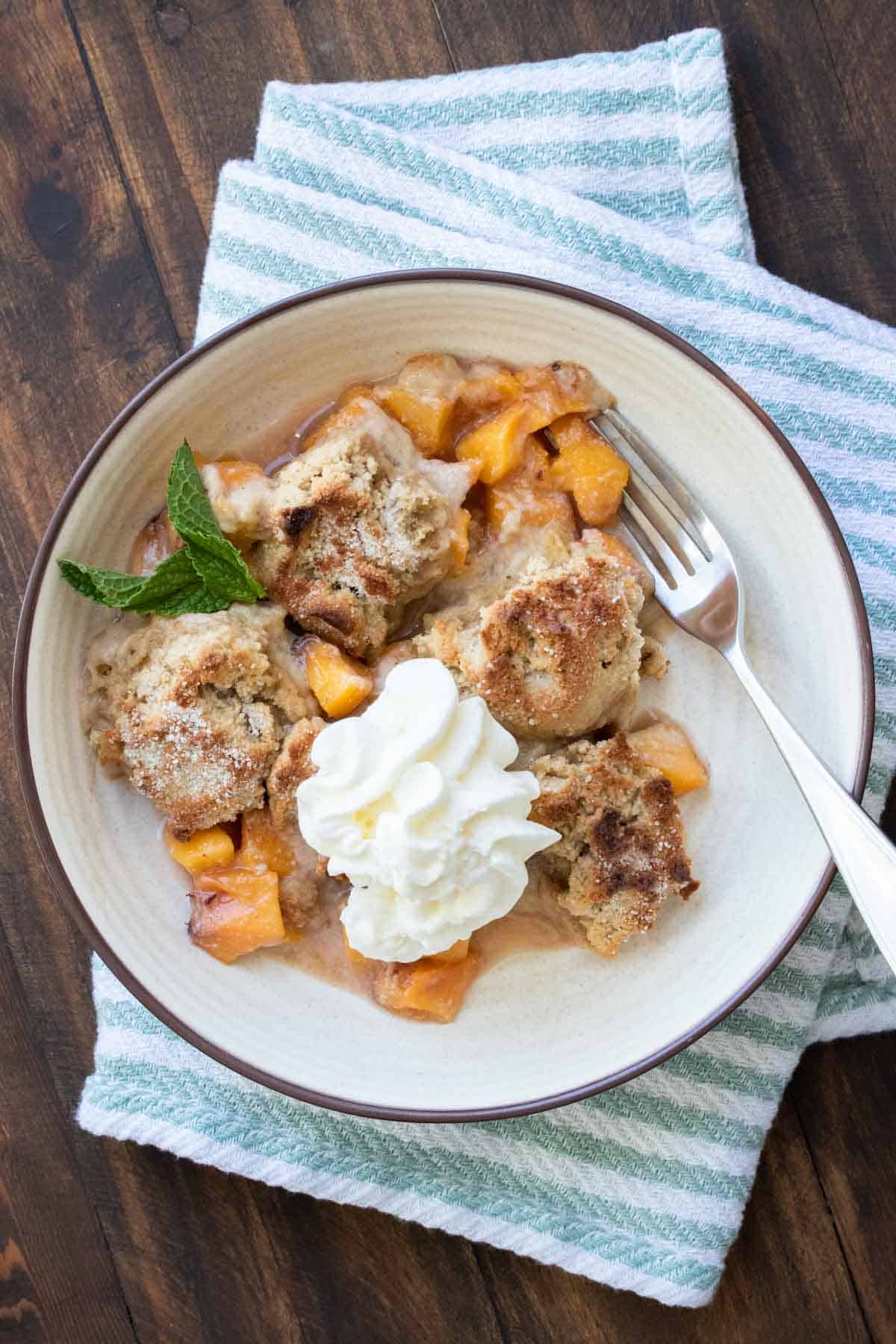 This post was originally published on January 12, 2020.
Peaches are one of my all time favorite fruits. So sweet and flavorful and perfect to use in dishes where you don't want to add too much extra sugar, like in this healthy peach cobbler recipe. You can make so many desserts with peaches, as well as tasty breakfast recipes, my peach overnight oats is a great example!
Ingredients
The best thing about this simple peach cobbler recipe is the biscuit topping. It's not only super quick and easy to make but it has the best flavor and texture, and it's gluten free!
I used my recipe from this vegan strawberry shortcake as a base and then added a peach filling for the most amazing result!
Here is what you need to make the healthy peach cobbler filling:
And for the gluten free topping:
Oat flour
Fine grain almond flour
Potato starch
Cashew or almond milk
Apple cider vinegar
Cane sugar - optional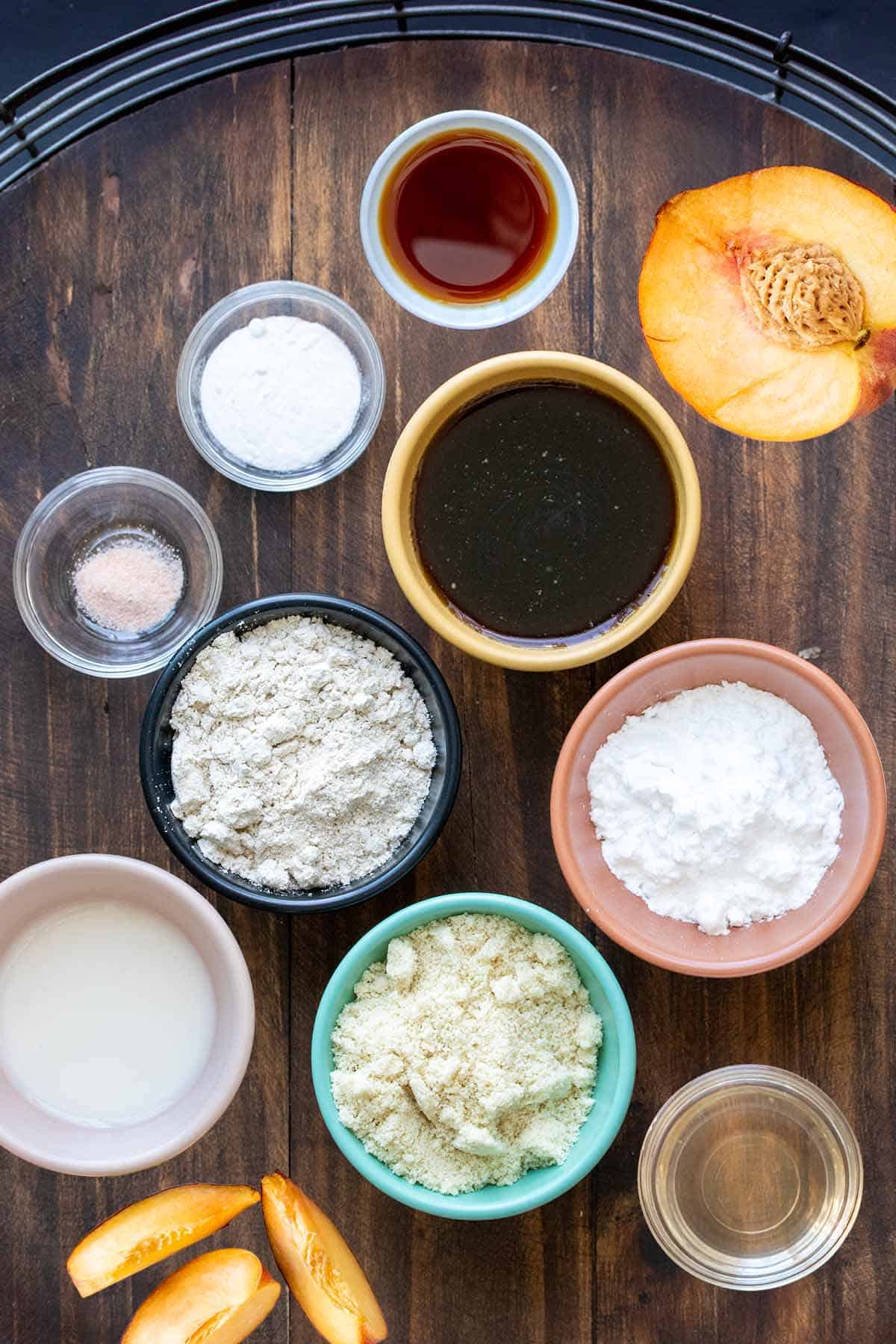 How to Make Vegan Peach Cobbler
Make this easy peach cobbler with fresh peaches with just a few simple steps in just 30 minutes!
Chop the peaches, I like to peel them with a vegetable peeler first.
Mix the filling ingredients in the baking dish.
Mix the biscuit topping and put it in scoops on top of the filling.
Bake.
Serve plain or with your favorite topping!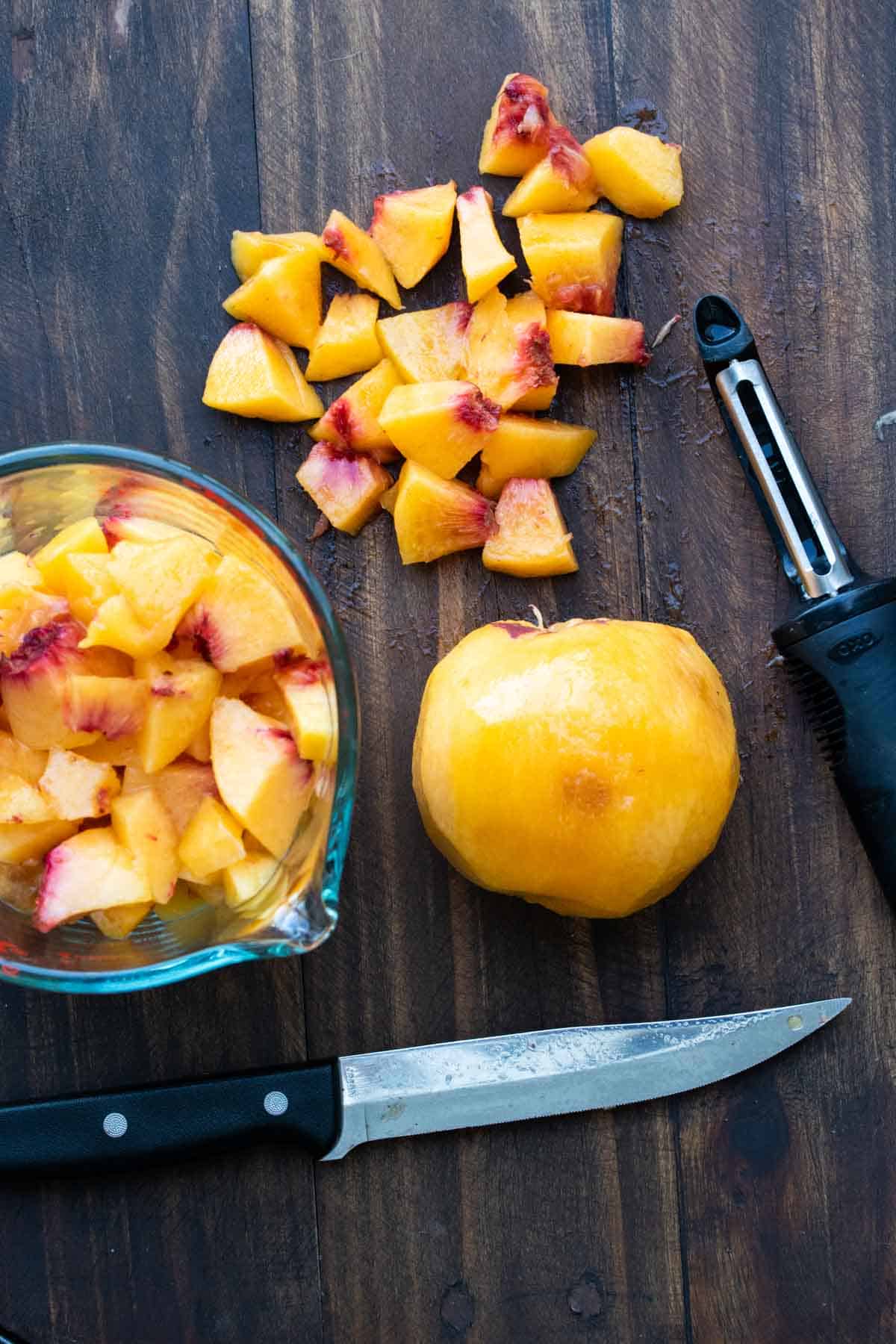 What to Serve With Peach Cobbler
There are many things you can top this healthy peach dessert with but my favorite toppings are:
Tips and Tricks
Personally I think this gluten free peach cobbler recipe tastes best using fresh peaches, but you can definitely use canned or frozen peaches in a pinch.

If you use frozen peaches, thaw them out completely and then follow the recipe below.
If you're wanting to use canned peaches, make sure you drain them completely first!

This vegan peach cobbler recipe uses maple syrup as a sweetener, however there are other sweetener options.

You can always use a date paste to help sweeten if you're trying to stay away from sugar.
You need to watch the texture of the biscuit topping however because date paste is not as moist as maple syrup so you may need to add some liquid.
Dry sweeteners are another option to use with the peaches but I find that maple syrup gives this a fabulous flavor. Plus it's so easy because it's the same sweetener I use in the biscuit topping.

I would not suggest using a dry sweetener for the biscuit topping because you'd really need to adjust the liquid ratio.

Be aware of the almond flour you use because some produce less fluffy results than others, I use fine grain.
You need accuracy with the flours to get the best texture when making this cobbler gluten free which is why I include precise weights in the recipe. If you don't have a scale, then you can purchase this fairly inexpensive one.
Make Ahead and Storage Tips
As with most cobblers, this vegan and gluten free peach cobbler really does taste the best fresh out of the oven with some vanilla ice cream thrown on top! However, you can do a little preparation ahead of time, and easily reheat leftovers.
The only part of this recipe that I would prep ahead of time is the peach filling.
The biscuit like topping needs to be baked as soon as it's made to keep it's texture. If you'd like you can pre-measure the dry ingredients.
Store leftover peach cobbler in the refrigerator in an airtight container for up to 4-5 days.
It will be safe at room temperature for about a day.
The best way to reheat cobbler is by warming it up in the oven to regain some of the crispness.

Put some foil over the top to keep it from burning and you'll be good to go.

You can also eat this vegan cobbler cold if you wanted. I mean there is nothing wrong with grabbing it out of the fridge and digging. No judgement here, I may have done it myself a few times!
More Gluten Free and Vegan Desserts
When this simple peach cobbler is gone and your sweet tooth starts calling again, make any of these plant based recipes: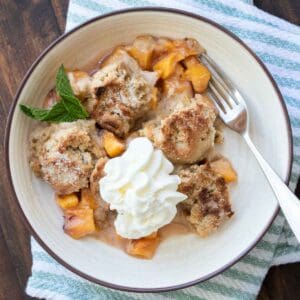 Vegan Peach Cobbler (Gluten Free)
This vegan peach cobbler is made with juicy peaches and a gluten free buttery topping. It's made with 10 simple ingredients and done in 30 minutes!
Ingredients
Filling:
4 cups chopped peaches 6-7 peaches
2 tablespoons maple syrup
Instructions
Preheat oven to 350 F (175 C).

Mix peaches and maple syrup in a square baking dish (8 x 8 or 9 x 9).

Put oat flour, almond flour, potato starch, baking powder and sea salt into a medium mixing bowl. Whisk until combined and there are no clumps.

Make a little well in the middle of the mixed dry ingredients. And pour in maple syrup, milk, vanilla extract and apple cider vinegar.

Slowly combine with a spoon or spatula, mix until just combined but don't over mix.

Allow to sit for a few minutes, use this time to put away the ingredients, put used items in the sink and wipe off the counters.

Drop spoonfuls on top of the filling, you should get about 16 large spoonfuls to cover the top.

Bake for 20 minutes, ovens vary but you want it to be just getting brown on the tips.

Sprinkle sugar on top, if using, and broil for 1-2 minutes to get a golden brown.

Once done, allow to cool completely. Then serve, add topping of choice it you want.
Notes
I measured the flours by scooping the measuring tool into the flour and then scraping the extra off with a knife. Make sure to measure the grams or use this method for accurate results.
Be aware of the almond flour you use because some produce less fluffy results than others, I use fine grain.
Recipe by Veggies Don't Bite, visit our site for more great plant-based recipes.
Nutrition
Calories: 236kcalCarbohydrates: 38gProtein: 6gFat: 8gSaturated Fat: 1gSodium: 41mgPotassium: 409mgFiber: 4gSugar: 21gVitamin A: 223IUVitamin C: 5mgCalcium: 123mgIron: 1mg
Nutrition and metric information should be considered an estimate.
Never miss a recipe!
Sign up here and get a FREE quick and easy meal guide!