This vegan version of stuffed cabbage rolls uses a meaty chickpea and lentil based filling. A perfect dupe for the traditional recipe!
Cabbage rolls are a classic favorite for us. This comes from my husband's old family recipe that I changed to create a meat free version. The texture and flavor are spot on!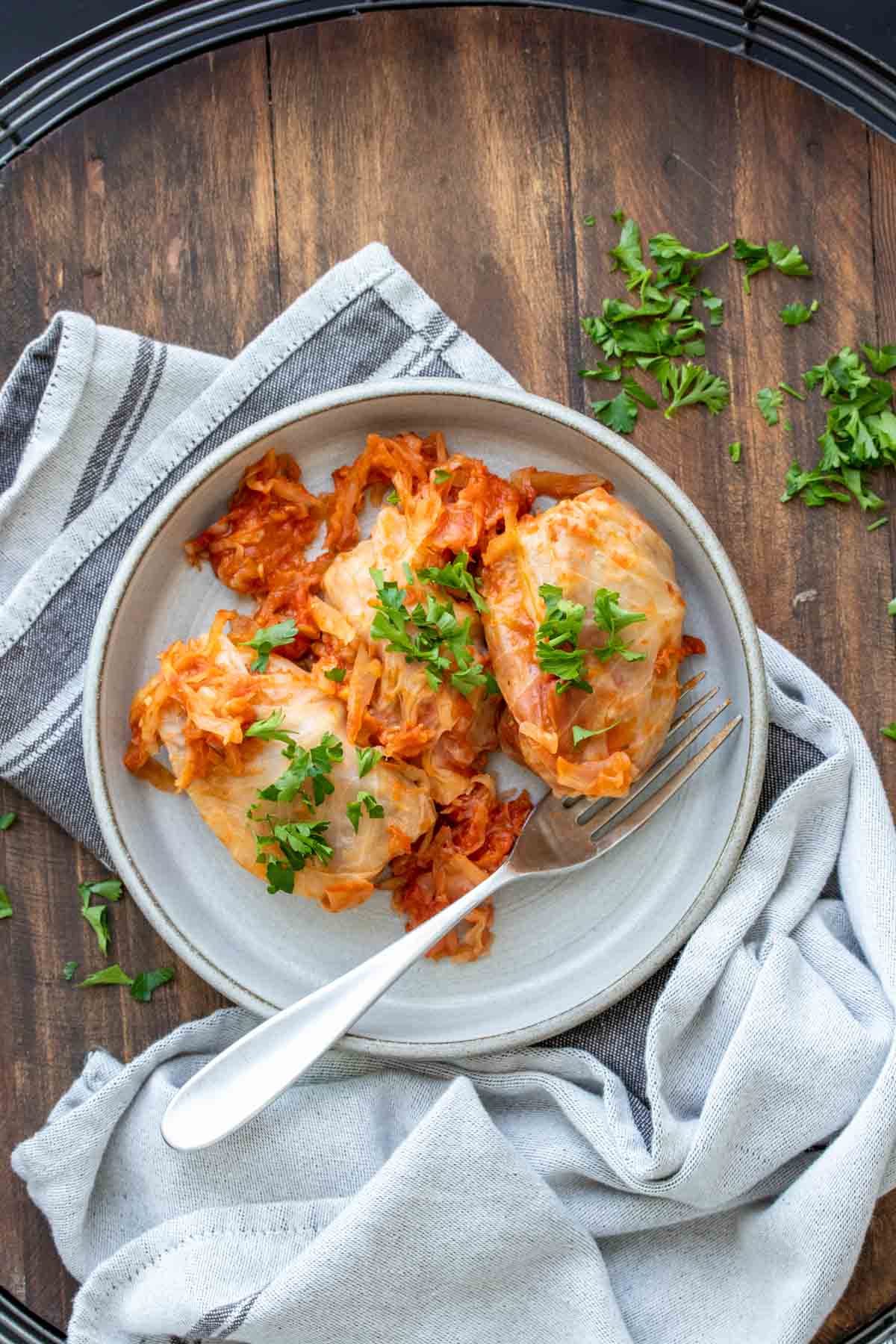 This post was originally published on January 13, 2022.
We love making our ancestors traditional recipes, much like my family's Greek vegan moussaka and vegan spanakopita, this cabbage roll recipe holds a special place in our heart!
This recipe is based on a traditional meal my husband grew up with and all I had to recreate it was an old recipe card without any measurements. He says I nailed it!
Ingredients
One of the greatest things about vegan stuffed cabbage is that it can function as a whole meal! You have protein, veggies, and grains all in one delicious sauce (that kids will actually eat), making life that much easier.
This recipe is packed with healthy and filling plant based ingredients for a satisfying meal that will keep you full!
Chickpeas
Lentils
Onion
Rice
Cabbage
Crushed tomatoes
Sauerkraut
Seasonings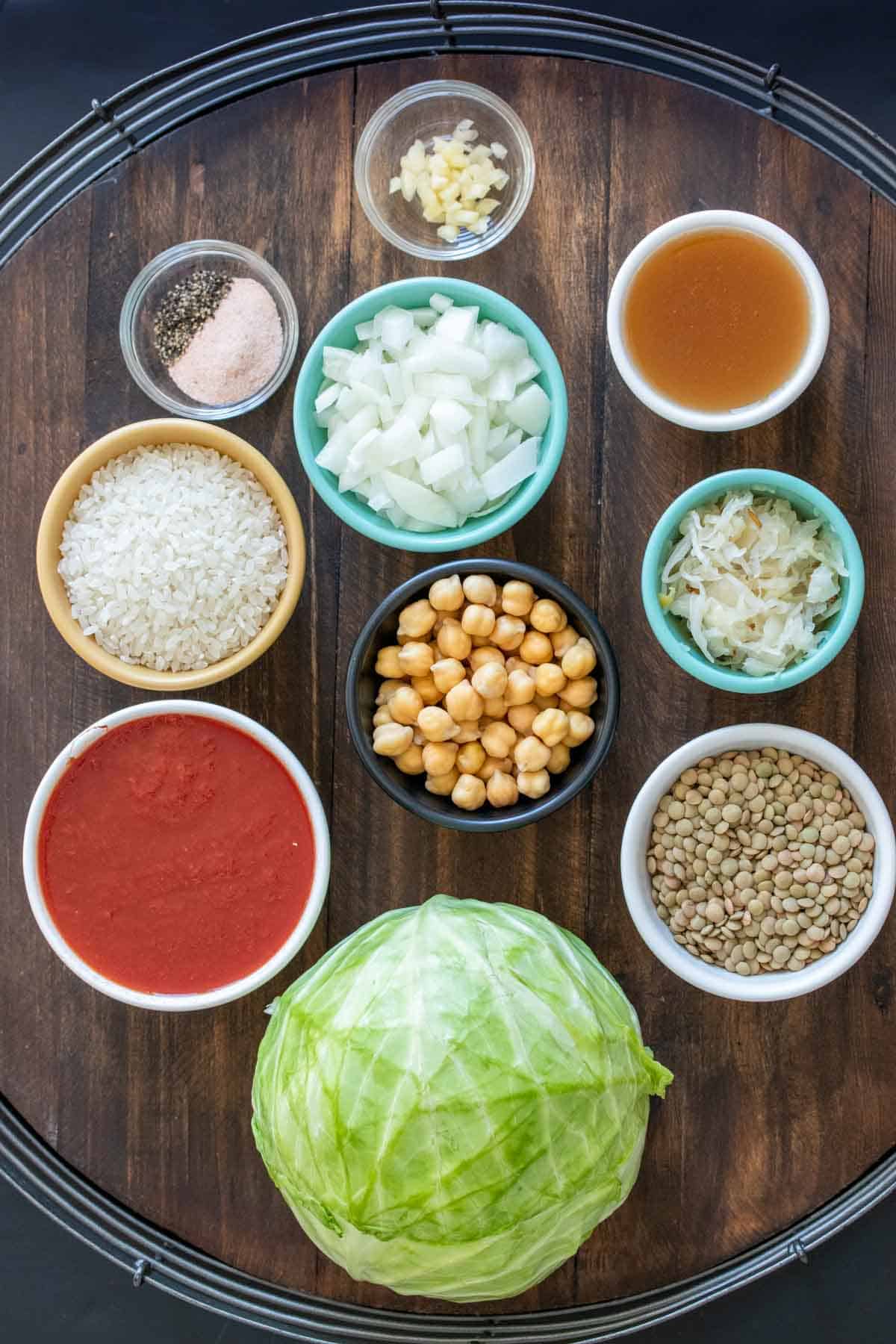 How to Make Vegan Cabbage Rolls
This is simply the best stuffed cabbage recipe because it's so forgiving (meaning don't worry if they fall apart a little), but there is a system you can follow to make it easier!
Sauté the beans and onions.
Pulse to make a meaty texture.
Add back to the pot and mix in the rice.
Fill cooked cabbage leaves.
Roll to form the stuffed cabbage.
Add them back into the pot.
Cover with the tomatoes and sauerkraut.
Cook.
Serve!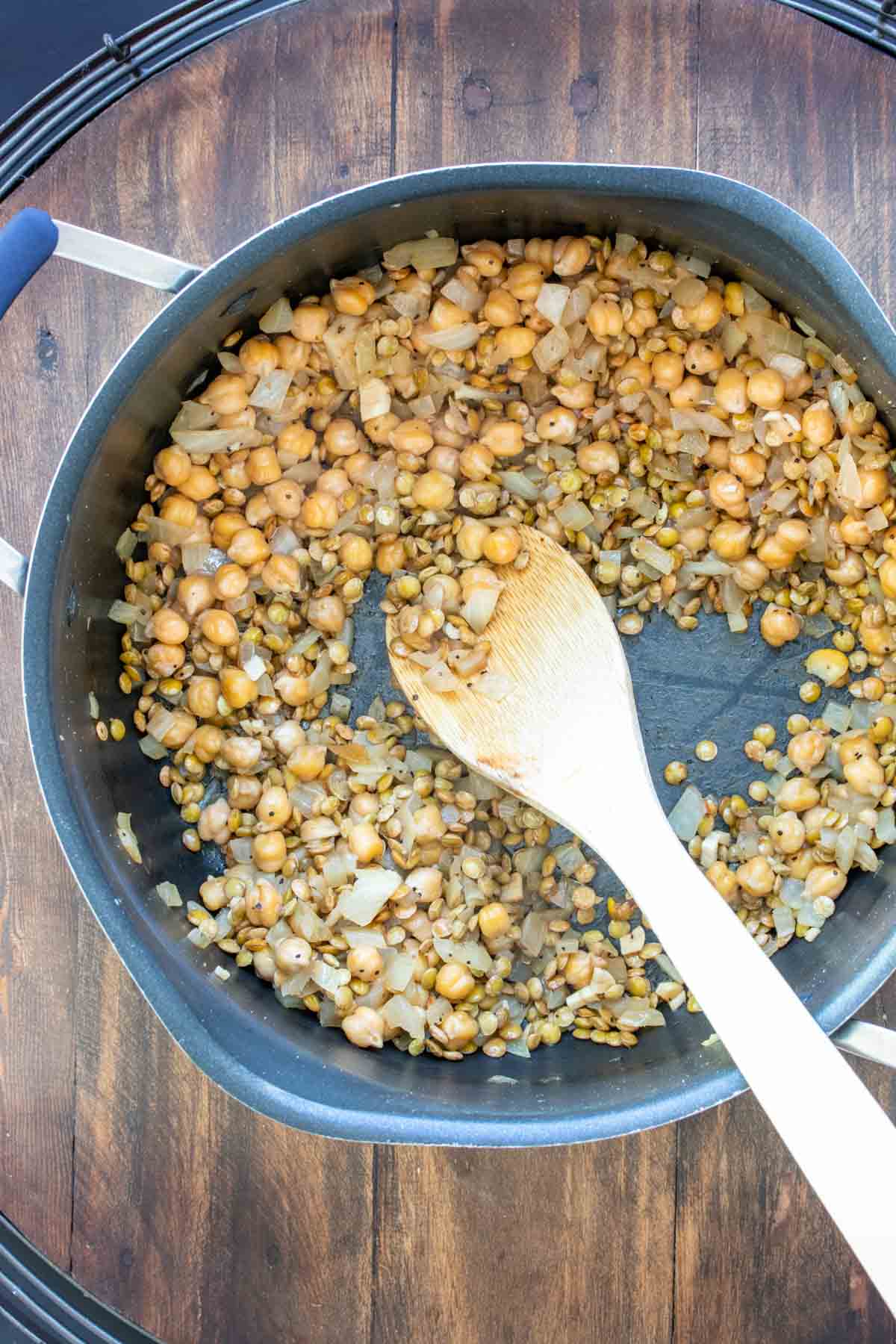 What to Serve With Cabbage Rolls
What I love about these vegan cabbage rolls in tomato sauce is that they serve as a complete meal. But, we all know having a variety of foods on the table is not only delicious (insert cheesy variety is the spice of life joke here), but necessary when you have selective eaters.
These other recipes will complement the stuffed cabbage nicely:
Preparation Tips
The best stuffed cabbage recipes avoid mushy cabbage! Once you've softened the cabbage head, cool it off by submerging it in cool water. This will not only make it easier to handle, but will stop the cooking process so you don't end up with mushy (yuck!) cabbage.
You can use brown rice if you prefer, the texture may change a little but flavor is the same.
Sneak more veggies into the cabbage filling like carrots, mushrooms, or spinach by sautéing them along with the onions.
A large stock pot or dutch oven works best for this cabbage roll recipe. It's large enough to prepare the cabbage and reuse for cooking the stuffed cabbage, less dishes!
Make Ahead and Storage Tips
Vegan cabbage rolls can be prepared up to three days in advance by making the filling and storing in the fridge.

Day of serving prep the cabbage, fill with prepared stuffing, and cook!

You can also make these ahead of time by freezing prepared, uncooked rolls. Just defrost before cooking.
Store leftover stuffed cabbage in an airtight container in the fridge for up to 4 days.
Leftover cabbage rolls can also be frozen for up to 3 months when sealed in an airtight freezer-safe container.
Note that the texture of the cooked cabbage will change when frozen. If you know you will be freezing them wait to cook until after defrosting.
You can reheat them the same way they're cooked, just make sure you have enough liquid in the pot so they don't burn; or microwave them for 3 minutes, or until hot in the center.
Common Questions
What are cabbage rolls?
Cabbage rolls are usually a rice and meat mixture wrapped up in cabbage leaves. Many different cultures have their own version with varieties of fillings and sauces.
Can you freeze vegan cabbage rolls?
You can, but with a few caveats. Cooked cabbage rolls won't hold up well when defrosted and reheated because of the moisture in the cabbage. Your best bet is to freeze the rolls just before cooking them, then defrost, cover with sauce, and cook!
How do you reheat vegan cabbage rolls?
The best way to reheat the cabbage rolls is the same way you cooked them, in a large pot with sauce or broth. If you're in a hurry, microwaving them will do.
More Dinner Recipes
For more wholesome and filling plant based meals the whole family will love, check out the following: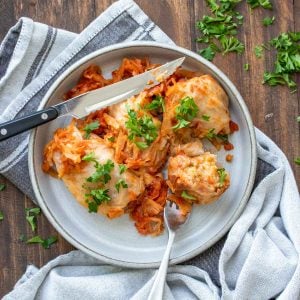 Vegan Stuffed Cabbage Rolls
This vegan version of stuffed cabbage rolls uses a meaty chickpea and lentil based filling. A perfect dupe for the traditional recipe!
Ingredients
½ cup dried chickpeas , soaked overnight
½ cup dried lentils , brown or green
1 cup chopped yellow or sweet onion
2 cloves garlic , chopped
Drizzle of oil or broth to sauté
1- 1 ½ teaspoon sea salt , start with 1 and add more if needed
¼ teaspoon ground black pepper
¾ cup uncooked white rice , see note
1 small cabbage head , you need about 24 leaves
28 ounce can of crushed tomatoes , if these have salt reduce added amount
16 ounces plain sauerkraut
3 ½ cups veggie broth , low sodium if needed
Parsley , optional as garnish
Instructions
Put cabbage head into a large pot and cover with water. Boil until softened, about 10 minutes.

Meanwhile, saute the onions with salt, pepper and oil or broth in a saute pan until they begin to soften. About 5 minutes.

Add garlic and saute 2-3 more minutes.

Add lentils and chickpeas. Cook a few minutes to brown.

Add 1 cup broth. Cook until broth is absorbed. About 5-7 minutes. Allow to cool a few minutes.

Pulse in a food processor until crumbled. Add back into the pan.

Add the rice and 1 ½ cups broth. Cook until the broth is absorbed, about 5-7 minutes.

When cabbage is done, cool by pouring out hot water and covering with cold water.

Cut off the hard tough bottom part and separate leaves. This is easy to do if you do it immersed in water. You should get about 24 leaves.

Pile up up the leaves and drain the water from the pot, you will use it to put the cabbage rolls in.

Put half of the crushed tomatoes into the bottom of the pot.

Lay out each cabbage leaf flat, and put 1-2 spoonfuls of mixture into each cabbage leaf. The amount will change with the size of the leaf.

Fold leaf sides into the center and roll up with the soft side first.

Place rolled up cabbage into the large pot making a few layers.

Add the rest of the tomatoes, sauerkraut and last cup of broth over the top. Spread around with a spoon to cover everything.

Cook covered over medium-low heat for about 40-45 minutes until rice and beans are cooked through.

Make sure to check amount of liquid, adding more broth if needed, so bottom doesn't burn.

When done, serve!
Notes
You can use brown rice if you prefer, the texture may change a little but flavor is the same.
This makes about 24 rolls. Serving size is 4 rolls.
Recipe by Veggies Don't Bite, visit our site for more great plant-based recipes.
Nutrition
Calories: 317kcalCarbohydrates: 64gProtein: 14gFat: 2gSaturated Fat: 1gPolyunsaturated Fat: 1gMonounsaturated Fat: 1gTrans Fat: 1gCholesterol: 1mgSodium: 963mgPotassium: 1138mgFiber: 17gSugar: 16gVitamin A: 458IUVitamin C: 82mgCalcium: 169mgIron: 6mg
Nutrition and metric information should be considered an estimate.
Never miss a recipe!
Sign up here and get a FREE quick and easy meal guide!