This tomatillo salsa verde is so flavorful you'll be putting it on everything. I never would have guessed how easy it is to make at home!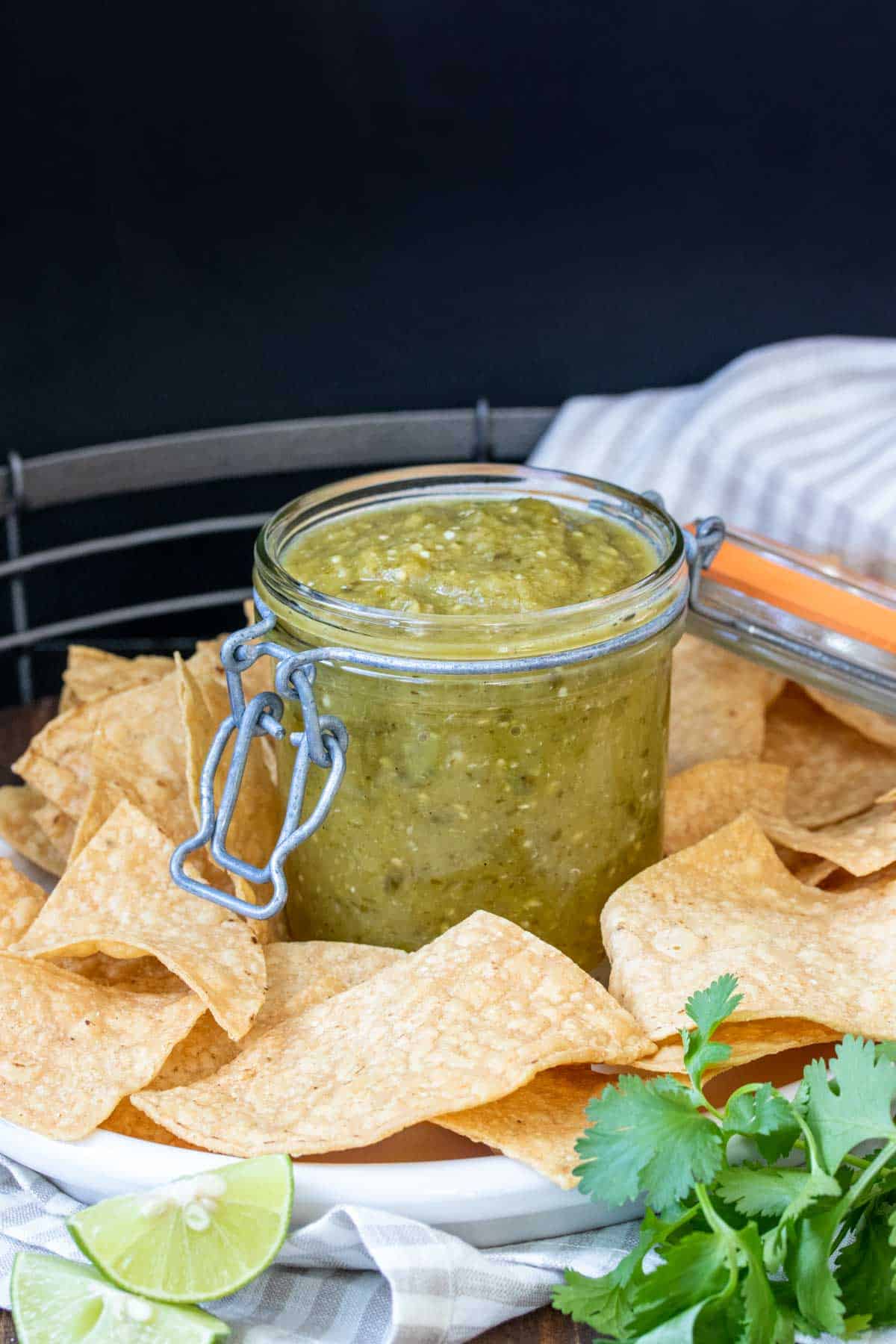 I love salsa on everything and anything, but have always turned to my trusted tomato based recipe. But this green salsa may be my new favorite!
Since variety is the spice of life, I try to mix things up with where I get my spice. Tomatillo salsa verde offers a nice heat along with incredibly fresh and delicious flavors.
It's so good on pretty much anything! It will keep for a week, but I doubt it will last that long because it is just that good!
Ingredients
Fresh and flavorful ingredients make up this easy salsa verde, here's what you'll need:
Onion
Tomatillos
Poblano peppers
Jalapeño
Garlic
Cilantro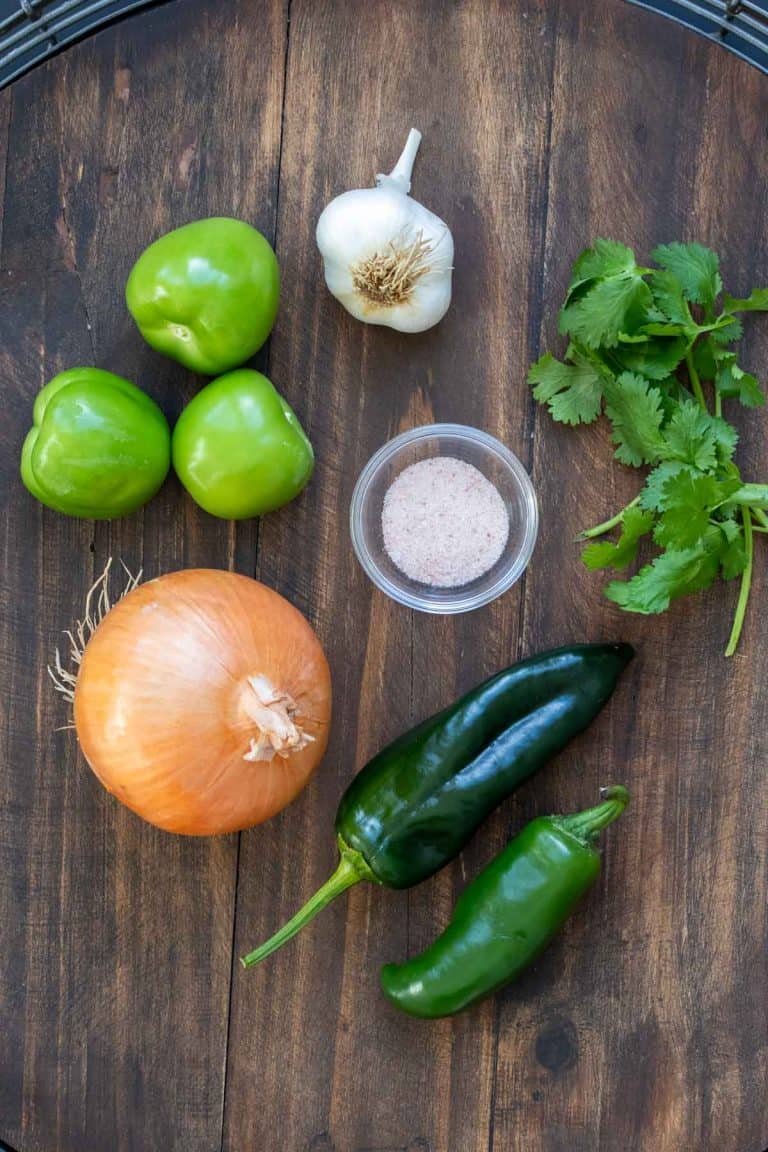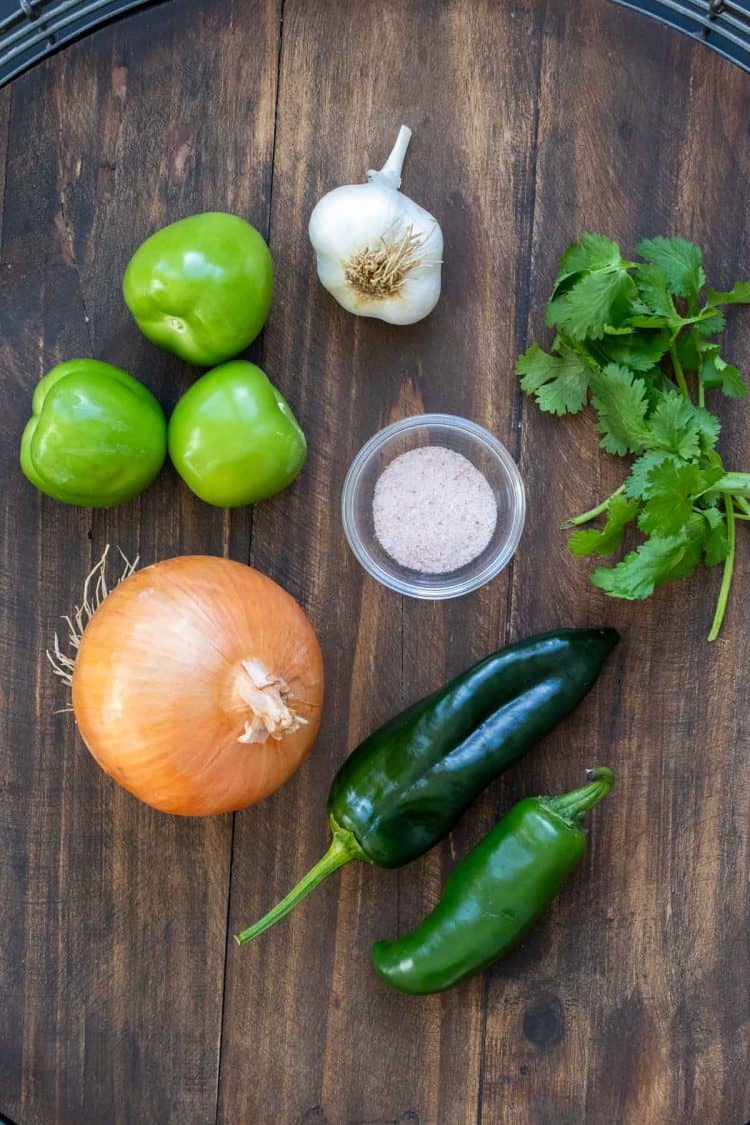 How To Make Salsa Verde
Making your own homemade tomatillo salsa is so easy and the flavors are so fresh, you'll never want to go back to store bought! Follow these simple steps:
Sauté everything.
Blend to your preferred consistency.
Enjoy!
Serving suggestions
This tomatillo salsa verde recipe is fabulous served as a dip with tortilla chips, but it's also great with these recipes:
Tips and tricks
You can use other peppers you prefer, keep the total amount similar.
For a milder salsa, stick to less spicy peppers like Poblano, Anaheim, or Guajillo peppers.
For spicier salsa use more Jalapeños, or add Serrano or Habanero peppers.
The spiciest part of peppers is the pith, or placenta, it's the part of the pepper that the seeds are attached to. This recipe calls for deseeding to keep the heat manageable. If you like FIRE hot, leave the pith for added spice.
If you can't find tomatillos, green tomatoes with a splash of lime juice will work.
For a chunkier salsa, just pulse a little bit to chop. If you like smoother salsa, blend it all the way.
This homemade salsa verde will keep in an airtight container in the refrigerator for up to a week.
Common Questions
Is green salsa the same as salsa verde?
Salsa verde literally translates to green salsa, so yes. There are different variations though of salsa verde itself, made from a variety of ingredients. More often than not it's made with tomatillos, but occasionally salsa verde is made with an avocado base, or other peppers, cilantro, and lime.
What is salsa verde used for?
Everything! The fresh flavor goes well with so many foods. I love using it as a dip with fresh tortilla chips. It's fantastic as a topping on tacos, burritos, anything; even use it as a sauce for enchiladas!
How do you make verde salsa from scratch?
Sauté all of the ingredients and then blend them to your preferred consistency.
How do you thicken salsa verde?
Cooking down the ingredients will help to release some of the moisture, helping to prevent the salsa from being too watery. You can also refrain from blending it super smooth. Worst case scenario you can add a little cornstarch to the blender to thicken things up.
How long will salsa verde keep in the refrigerator?
If sealed in an airtight container, salsa verde should keep fresh for up to one week.
More Salsa and Sauce Recipes
Homemade condiments are the greatest. They have the best flavors and help to dress up any dish! Check out these other plant based recipes to keep things interesting: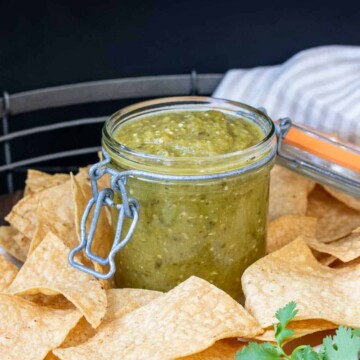 Homemade Tomatillo Salsa Verde
This tomatillo salsa verde is so flavorful you'll be putting it on everything. I never would have guessed how easy it is to make at home!
Ingredients
1 cup sweet or yellow onion , chopped
1 teaspoon sea salt
Drizzle of oil or broth to sauté if oil-free
1 pound tomatillos , peeled and chopped
2 poblano peppers , seeded and chopped (see note)
1 jalapeno , seeded and chopped (see note)
4 cloves garlic , minced
¼- ½ cup cilantro , adjust to your liking
Instructions
Sauté the onion, salt and oil or broth until the onions are soft and browning. About 5 minutes.

Add the tomatillos, peppers, garlic, cilantro and oregano and cook until the tomatillos have released their liquid and everything is beginning to brown. About 7-8 minutes.

Next, take the mixture and carefully put it in a blender, making sure not to get burned. Pulse to chop. Make it as smooth as you prefer.

Serve with chips and on everything!
Notes
You can use other peppers you prefer like serranos or other hot peppers. Keep the total amount similar to maintain similar flavor.
This makes about 2 ½ cups, serving size is ¼ cup.
Recipe by Veggies Don't Bite, visit our site for more great plant-based recipes.
Nutrition
Calories: 27kcalCarbohydrates: 5gProtein: 1gFat: 1gSaturated Fat: 1gSodium: 211mgPotassium: 187mgFiber: 1gSugar: 3gVitamin A: 182IUVitamin C: 27mgCalcium: 11mgIron: 1mg
Nutrition and metric information should be considered an estimate.
Never miss a recipe!
Sign up here and get a FREE quick and easy meal guide!