We love sushi but it can get pricy! So we learned to make it at home. This vegan sushi recipe will have you making this awesome treat quickly and easily!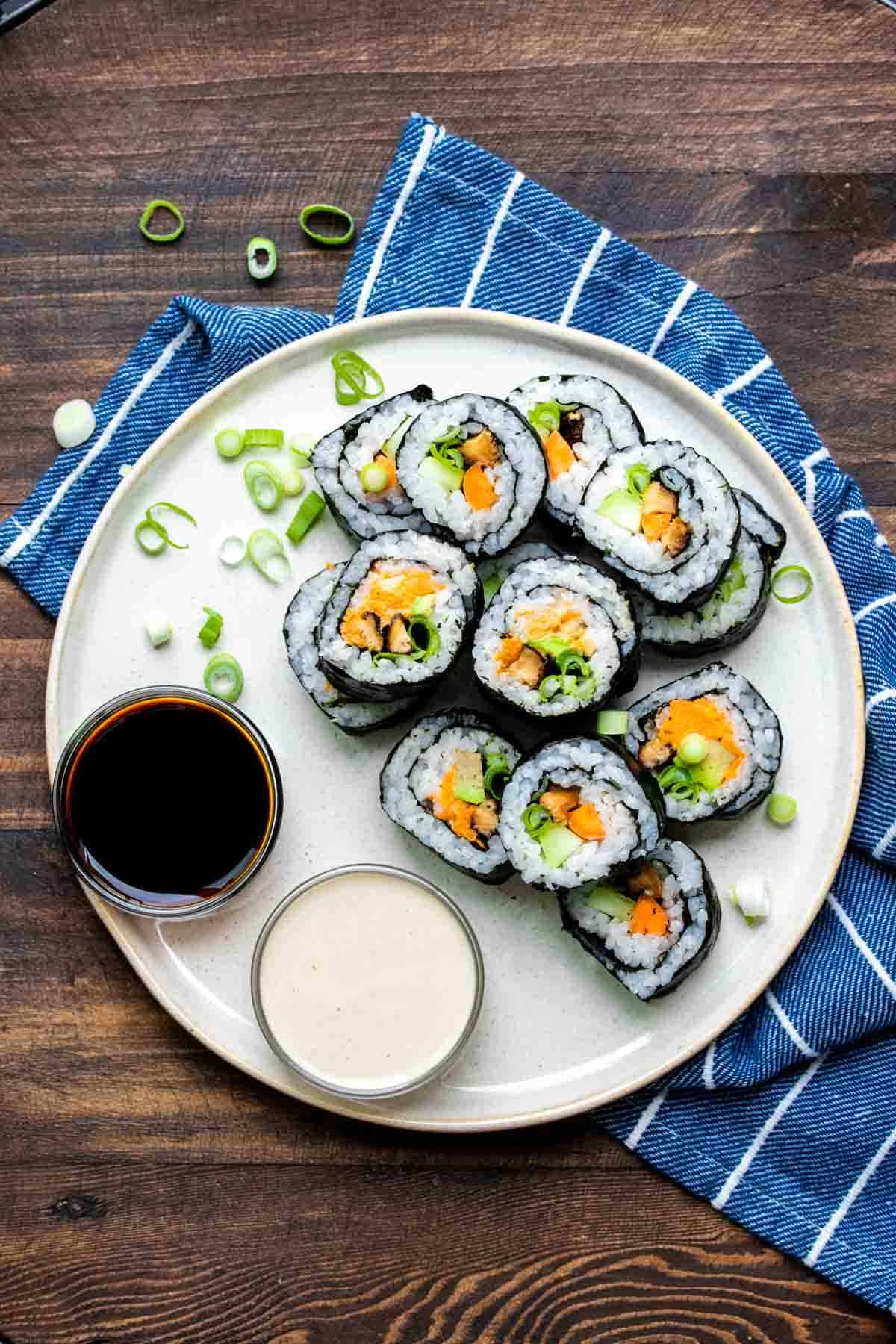 I love a good sushi roll. I can eat SO many and the bill hikes fast. So after learning how easy it was to make these at home, I can eat them any time! Bonus, the kids love to help and eat them too!
Vegan Sushi Ingredients
The right ingredients are key to making great sushi that holds together and tastes amazing. First off, you need to use sushi rice.
Sushi rice is sticky so will help keep your roll together. You could also use a black rice and cook it well, as that tends to be sticky too. It won't work as well as regular white sushi rice but it's a good alternative.
You also need to flavor the rice. The traditional ingredients are:
To hold the sushi roll together you need to use nori sheets, which are basically sheets of dried edible seaweed.
Then, you need the filling ingredients! These are endless and can be anything you like.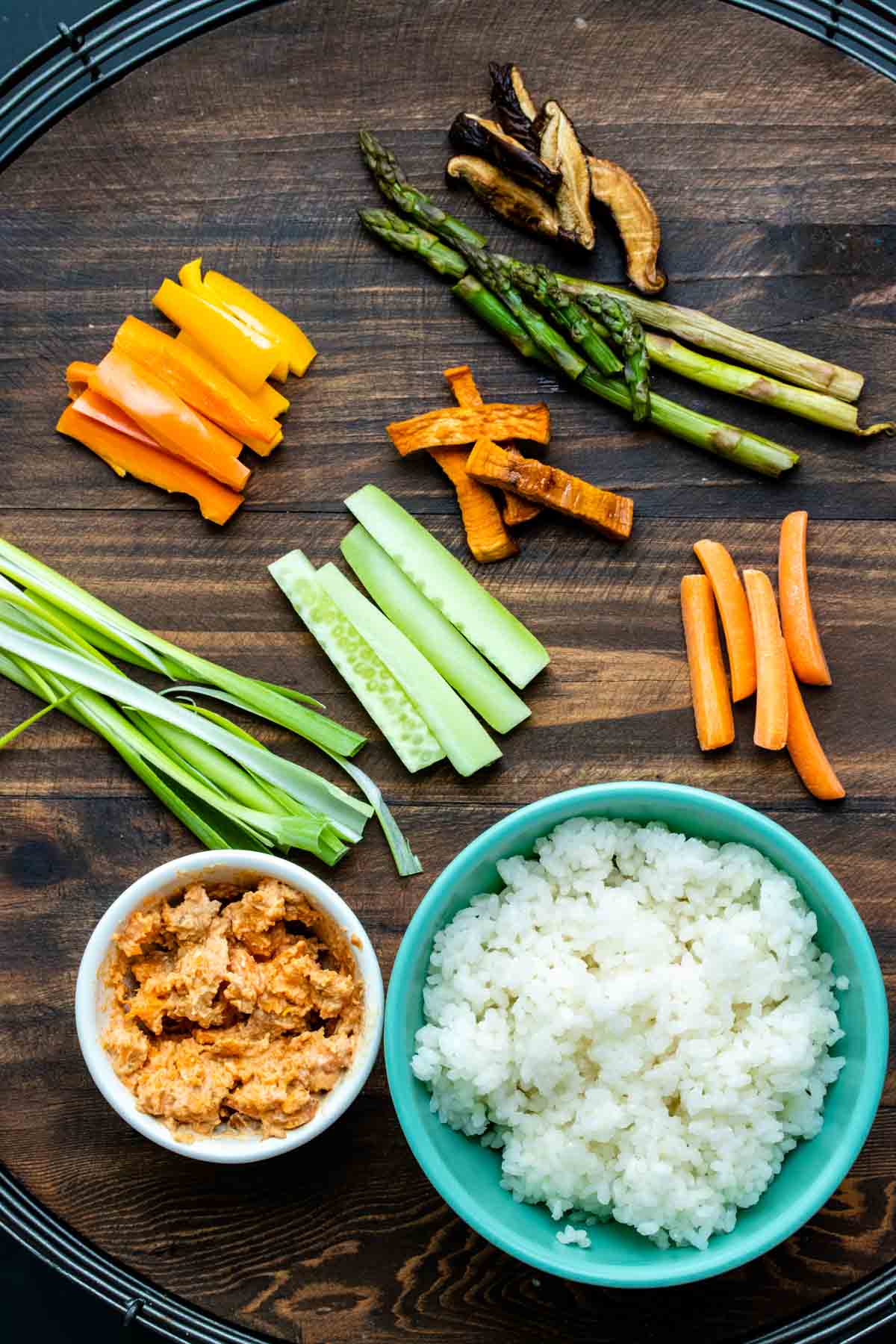 How to Make Vegan Sushi Step by Step
Making sushi is easier than you think, and you truly don't need a fancy set up. Here is how we made our own amazing vegan sushi rolls!
Lay down the nori sheet, spread rice over the top and line up your filling on one end.
Tuck one side over the ingredients and tighten up the tuck.
Slowly roll as you keep tightly tucking. If you are using sticky sushi rice then the end will easily seal, but you can also dip your finger in water and seal the end of the nori that way.
Cut with a sharp knife and serve!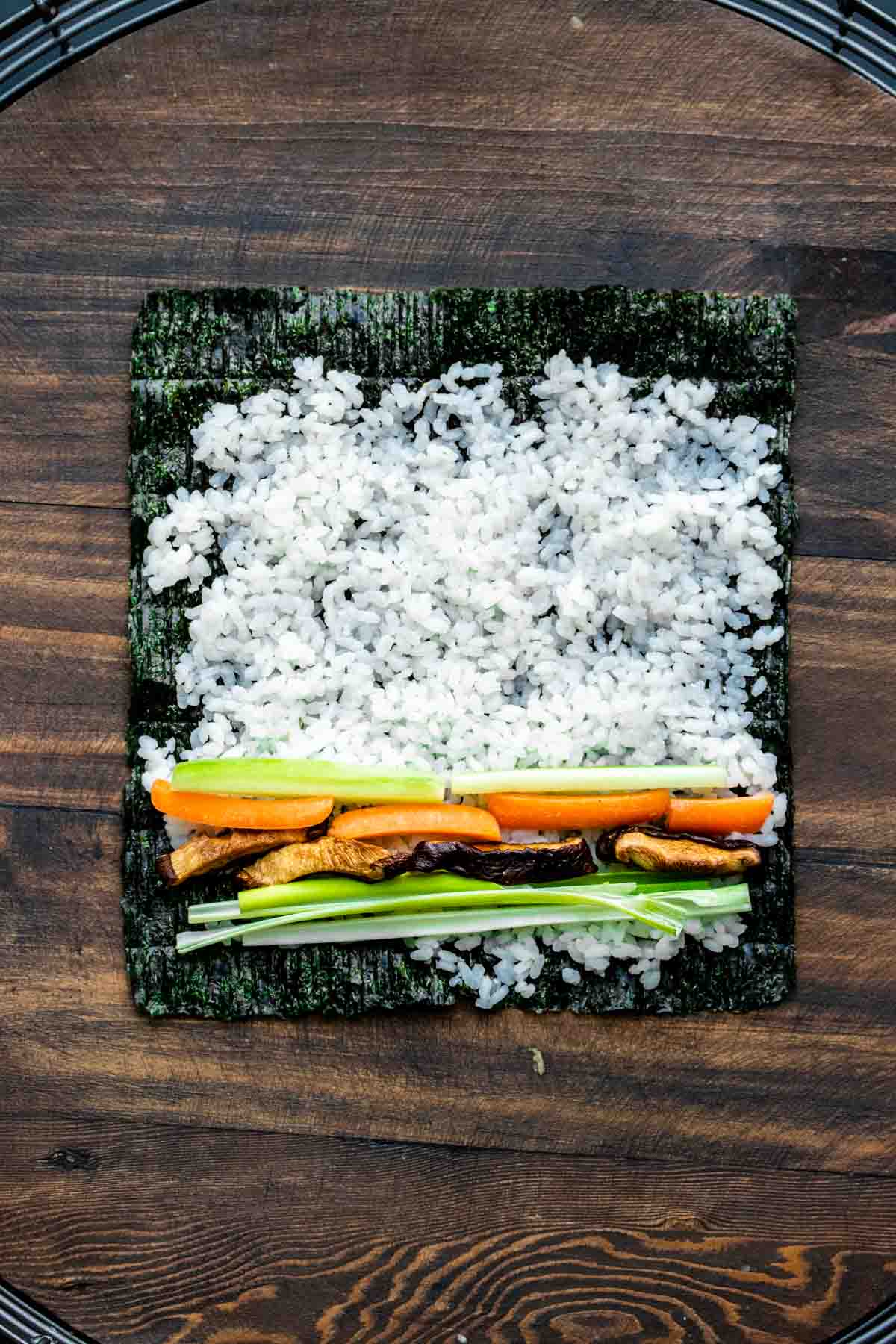 Vegan Sushi Basics
It seems daunting to make this amazing but expensive dish at home, but I am here to show you how easy it can actually be! The options to mix and match are endless, and you don't even need any special equipment!
Products needed to make sushi
While many people say you need specific equipment to make your own sushi, I have been successful many times without anything special.
If you use the right ingredients, like sushi rice instead of regular rice, and you don't overfill the rolls, you can get a nice tight result just using your hands.
However, if you're feeling fancy, here is some fancy stuff you can use:
You can also get a whole sushi making kit!
Sushi filling ideas
Here is a list of our favorite ways to fill our vegan sushi recipes!
Raw veggies
Avocado
Cucumbers
Carrots
Green onions
Peppers
Sprouts
Asparagus
Mushrooms
Lettuce
Tomato (surprisingly good!)
Radish
Purple cabbage
Cooked veggie ideas
Marinated mushrooms in soy sauce/Tamari
Marinated sweet potatoes in soy sauce/Tamari
Fried tempura style veggies
Other filling ideas
How to Prep Veggies for Sushi
When cutting your veggies, you want to make sure that you are using a sharp knife and cutting them into long strips. You can either cut matchstick like strips or keep them long like asparagus.
Dips for vegan sushi
The other thing I love about making sushi at home is the variety of dips you can make! Anything goes, so get creative! Here are some classics and non traditional favorites:
Soy sauce/Tamari
Soy sauce/Tamari mixed with wasabi paste
Fresh wasabi root (if you have never tried this it's a must try and many sushi places keep it secret in the back)
Ponzu
Chili garlic sauce
Spicy cilantro cream sauce (use the base of this to mix with anything!)
Vegan buffalo sauce (even mixed with the cream sauce base above)
Chopped green onions sautéed with garlic and mixed with soy sauce/Tamari
Pickled ginger
Tips For Making Sushi With Kids
Making sushi can be a fun family affair, at least until the little one starts throwing the filling ingredients at his brothers. At that point, just drink some sake.
But before that happens, here are some fun ways to involved the kids:
Let everyone pick filling ideas they like.
Arrange all the filling options in bowls or piles so they are easy to grab.
Give each kid a nori sheet and help spread the rice over the top since that can be tough for little ones.
Give them each a bowl or basket and let them select the filling ingredients they want.
Have them arrange them on one end of the rice covered nori sheet
Help them roll it up by covering your hand with theirs to ensure it will be tight.
Give them dip choices so that they can enjoy their creations!
Common Questions
What kind of sushi is vegan?
None of the sushi containing fish is vegan. However some restaurants have vegan roll options, or can accommodate with easy substitutions.
Is California Roll vegan?
Unfortunately it is not, California rolls contain crab or imitation crab, which is made from fish.
What is vegan sushi made of?
Vegan sushi can be made with mushrooms and sweet potatoes instead of fish. Other options include tofu, tempeh, hemp hearts, and veggies.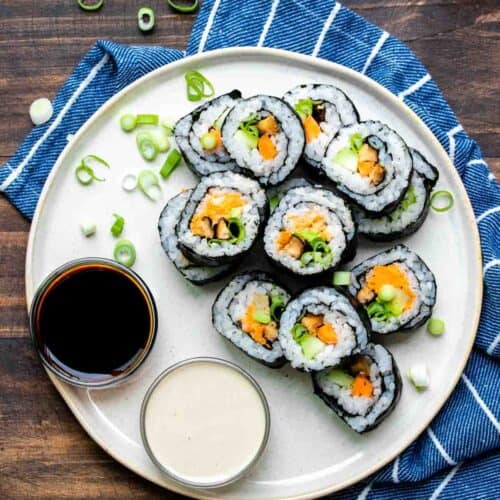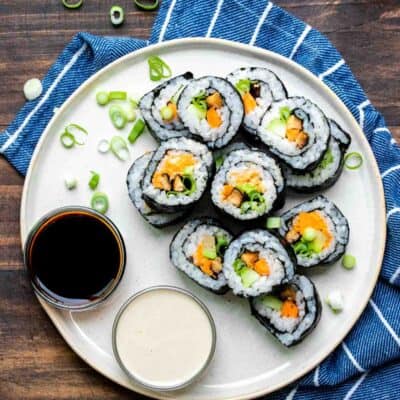 Easy Homemade Vegan Sushi Recipe
This homemade vegan sushi recipe will have you making your favorite delicious rolls at home in no time! The step by step directions make it easy to follow without any fancy tools.
Ingredients
Sushi Base:
4

Seaweed/Nori sheets or thinly sliced cucumber

4

cups

cooked sushi rice

(see note)

2

tablespoons

rice vinegar

1

tablespoons

sugar

1

teaspoon

sea salt
Cooked fillings:
Raw fillings:
6

slices

avocado

6

slices

cucumber

matchstick style

6

slices

carrot

matchstick style

6

slices

green onion

matchstick style
Serving suggestions:
Tamari

, soy sauce for non gluten-free

wasabi

fresh pickled ginger
Instructions
Base:
Mix vinegar, sugar and salt in a bowl and heat on the stove or the microwave until the sugar is dissolved.

Add the mixture to the cooked rice and mix well.
Fillings:
Make the marinated sweet potato and mushrooms by pouring the tamari over them and allowing them to marinate a bit while you prep the rest of the roll ingredients.

Bake at 400 for 20-25 minutes until crisping on edges. You can also saute them in a pan until crisp and cooked through.
Build the sushi:
Build by spreading 1 cup of rice onto nori sheet.

On one end lay filling ingredients of choice in a thin line. You want between 2-4 pieces of each filling ingredient. Don't use more than 4 or 5 fillings ingredients or it will get too big to roll.

Serve with dipping sauces like Tamari (soy sauce for non gluten-free)
Notes
Sushi rice is what gets it to stick well, you can use black rice as a second alternative too. Brown rice will not stick as well, keep that in mind.
You can pick and choose the fillings based on what you want. Don't use too many per roll or it will be overstuffed and break.
I made 4 rolls using the sweet potato, mushrooms, avocado, cucumber, carrot, and green onions. Serving size is 1 roll.
Nutrition facts are for sushi rolls only.
Recipe by Veggies Don't Bite, visit our site for more great plant-based recipes.
Nutrition
Calories:
278
kcal
Carbohydrates:
55
g
Protein:
7
g
Fat:
3
g
Saturated Fat:
1
g
Sodium:
813
mg
Potassium:
509
mg
Fiber:
6
g
Sugar:
7
g
Vitamin A:
7672
IU
Vitamin C:
7
mg
Calcium:
28
mg
Iron:
1
mg
Nutrition and metric information should be considered an estimate.
Never miss a recipe!
Sign up here and get a FREE quick and easy meal guide!