While there are many things wrong with diet culture, a major issue is its effect on foodways and how it influences people into thinking the food from their culture may be deemed bad or wrong.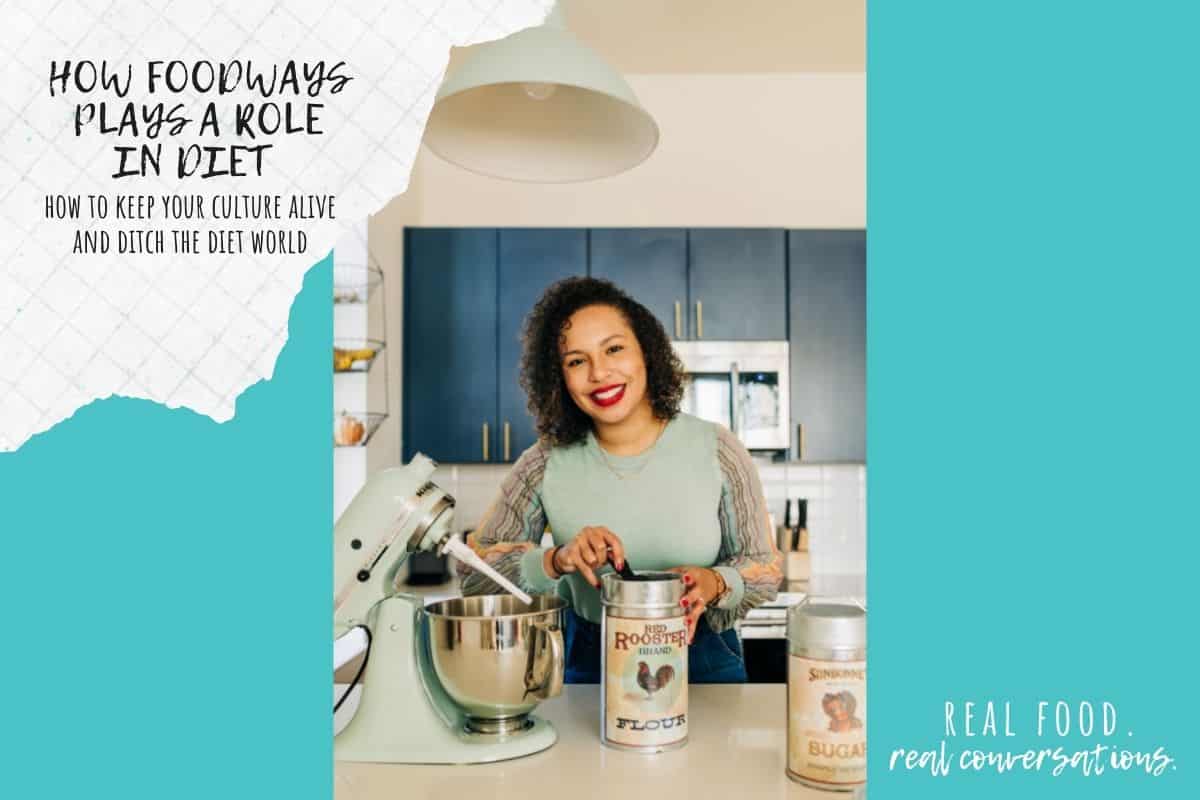 There is no reason (other than a medical one) why you can't eat a food that is part of you and your culture. Just because our diet world likes to demonize certain foods, it doesn't mean it's right.
Listen in to hear more about why this shouldn't happen and how to eat what makes you feel good while including all the foods you love!
Podcast: Play in new window | Download | Embed

Subscribe now! Apple Podcasts | Google Podcasts | iHeartRadio | Stitcher | TuneIn | Deezer | RSS | More
Dalina Soto MA, RD, LDN is a Spanish speaking registered dietitian. Dalina works as one of the few Spanish speaking RDs in the Philadelphia area and virtually across the country, teaching her clients how to ditch the diet mentality and keep their culture alive.
Check out her Free Workshop: 3 Ways to Ditch Diets!
What are Foodways?
When we talk about foodways we mean what, how and why people eat as related to their culture or traditions. It isn't just about the actual food people eat but also about the reasons behind it, how it gets prepared, etc.
Foodways encompasses the social, cultural and economic practices behind a person or groups of persons food.
How Diet Culture Affects Foodways and Traditions
Much of the science based training behind food (and diet culture), and how food affects health, is based on Eurocentric research (much like the history of BMI).
This research doesn't include people in different countries, so how can we apply this science worldwide? We all know that even people within one culture are different in their bodies, the way they react to certain foods, what they can handle, etc. But yet, we apple the same science to them and to people in all different cultures.
Instead of digging deeper and expanding our research, we apply stereotypes to all. The United States is a melting pot of cultures, it's the foundation of our country. So it's time to start being more culturally aware in many areas, especially when it comes to health and wellness.
It is time to update the science to include things like social determinants of health, not just how food and exercise relate to our bodies.
How to Eat and Keep Your Foodways
One of the main things we need to start focusing on is the mental health aspect behind how we look at food. We need to move away from the diet culture message of what is "right" or "wrong" and away from extremes.
Extremes sell, middle grounds do not. This is why we see extremes in main stream media and social media. But extremes also cause issues with our mental health, so it's up to us to control what we consume.
There is a hierarchy of needs when it comes to our wellbeing: shelter and money are first. Then we can talk about nutrition. However, we often are made to feel like nutrition comes first and if you don't have the means then you are SOL (shit out of luck!).
This is far from the truth. The sooner we can start using that hierarchy to help others guide their wellness, the more success we will have.
First, start with reducing stress. Move away from what diet culture says you can and can't have. Honor what you have access to, and what you eat culturally. White rice is a great carbohydrate, and we need carbohydrates for energy. If you like it eat it, if you like brown rice, eat that. Both will provide carbohydrates.
Try frozen and canned produce. Did you know that produce meant for freezing and canning is picked at peek ripeness? It's a great option for people!
Take the fear away from what is sold as scary. A lot of the fear mongering behind foods isn't based on real data. It's base is sales in nature and while it can have success in making the sale, it wreaks havoc to our mental health.
The bottom line is you get to choose, you don't have to do something that doesn't feel right. Once we can give the education to those that need it, it's up to them to use what they learn to make decisions for what they eat.
Intuitive Eating and Culture
The first thing we need to do is get back to the root of eating. Eating is not just nourishment but also for the enjoyment of the food, the coming together with those we love, and even the creative process of making food.
We then need to dismantle the fear based information we consume and educate ourselves on where it all comes from, much of it is for sales, clicks, etc.
Once people get down to the facts and basics and being to understand how food nourishes and works for their body, they stop being fearful.
Then, we can learn to enjoy food, reduce stress surrounding it and live a life of better wellness.
Also, we can bridge that intuition into other areas of wellness, moving our body for mental health because we want to and because it feels good versus because we have to in order to achieve a certain look or size.
Once we reframe and shift our mindset away from fear mongering and into what works for our bodies, we begin to shed the fear we were taught.
Tips For Intuitive Eating
Dalina has one tip when it comes to the journey of intuitive eating: take it one day, one meal at a time! Such a simple idea, but one we all need to work on.
Every time you eat is a new beginning, we will move back and forth along this continuum of wellness but making sure we stay focused on the here and now, be present in the current moment, will help us move towards our freedom with food and wellness overall!
Don't forget to check out Dalina's Free Workshop: 3 Ways to Ditch Diets!