This go-to guide on how to eat more veggies gives you easy tips and ideas to make a healthy diet sustainable and delicious!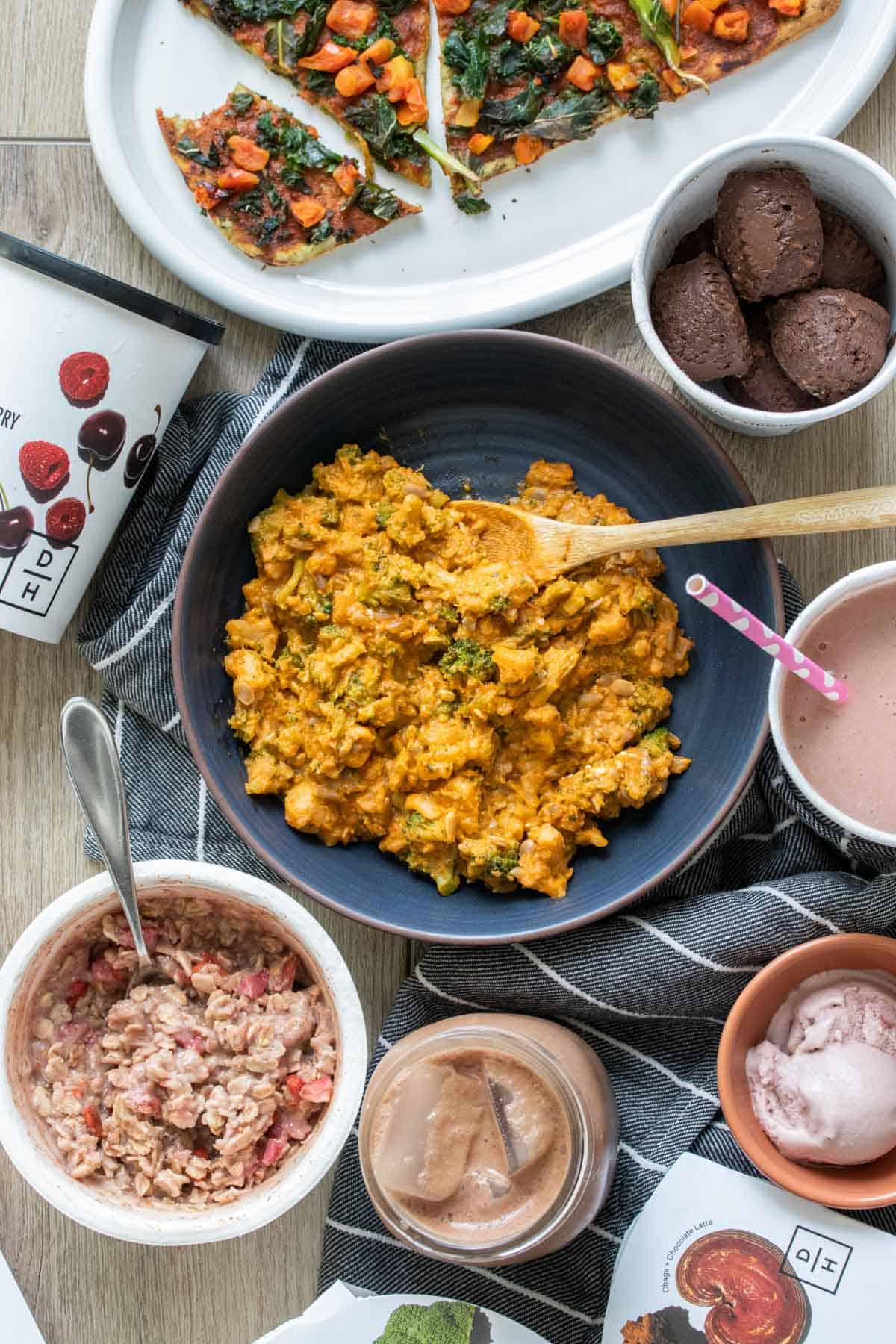 This post was sponsored by Daily Harvest but the content and opinions expressed are fully my own.
Getting more vegetables into your diet can seem daunting and let's face it, not something you may crave. But there are ways to make it less stressful, more delicious and something you will want to keep doing!
It doesn't have to be difficult though! There are plenty of ways to easily incorporate vegetables into your meals, sometimes without even noticing. All it takes is a little initial motivation and effort, and before long it will be second nature.
Benefits of Vegetables
Our body is amazing, it gets us through each day and all that is thrown at us. It is constantly working to make sure all of your bodily systems function with success, and to do this it needs fuel. Fuel comes from nutrients found in food and a lot of those nutrients come from vegetables!
While many of us may have a vision of limp, steamed, tasteless veggies this is simply not the only reality! Veggies can be absolutely delicious, easy to make and crave-able when done right.
It's so important that we fuel our body with all it needs including carbohydrates, protein and fats along with all the vitamins and minerals. Eating a diet rich in vegetables can do this and making it a lifestyle instead of a once in a while thing will help you feel strong, nourished and amazing.
How to Prepare Veggies
One of the great things about vegetables is that you can prep them ahead of time, which makes them easy to add to meals! Additionally, if you have them washed and cut up you can grab them for a quick snack along with dips.
Most veggies can be prepared and stored for up to a week. However, after a few days they will start to loose some flavor and crispness.
Here is a list of some common veggies that can be cut up in advance and stored raw:
Asparagus
Bell Peppers
Broccoli
Carrots
Cauliflower
Celery
Cucumbers
Green Beans
Tomatoes
Easy Ways to Add Veggies to Your Diet
If you have time, stocking up and prepping veggies in advance can make it easy, but what if you just don't have the time or energy to prep? Can you still find ways to easily get veggies in your diet?
The answer is yes!! My best suggestion is looking into brands that provide nutritious veggie-filled food ready to go. One of my favorites is a brand called Daily Harvest.
I love Daily Harvest for many reasons, but mostly because:
Easy to prepare and ready quickly (see the easy process below!)
Everything is plant-based and gluten-free which means I don't have to check for secret dairy or gluten!
Filled with nutritious ingredients like veggies, grains and fruit (and no preservatives so fresh fresh fresh!)
Tastes amazing
Variety is great with over 90 options!
They deliver right to you so no need to go anywhere
It's super flexible so you are able to get them when you want or need, can skip when you don't and can swap out things you don't like (no beets for me! Ha!)
You can try Daily Harvest out for yourself and use code VEGGIESDONTBITE for up to $40 off your first box.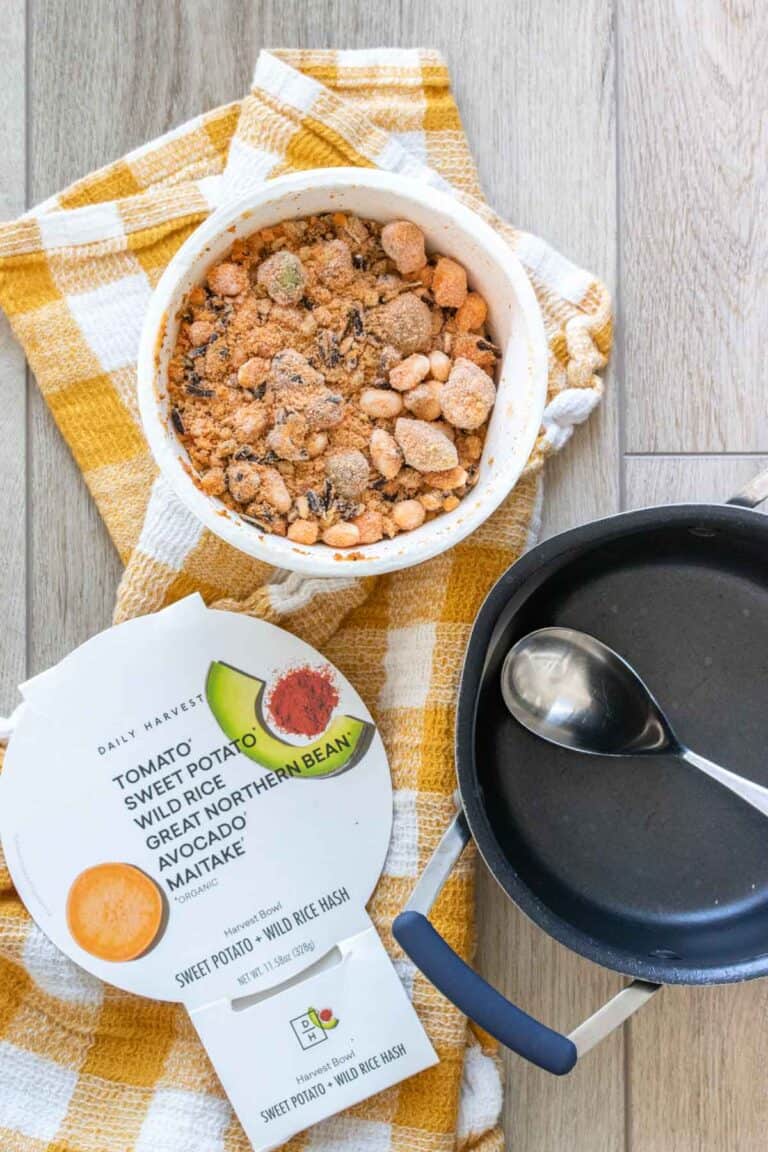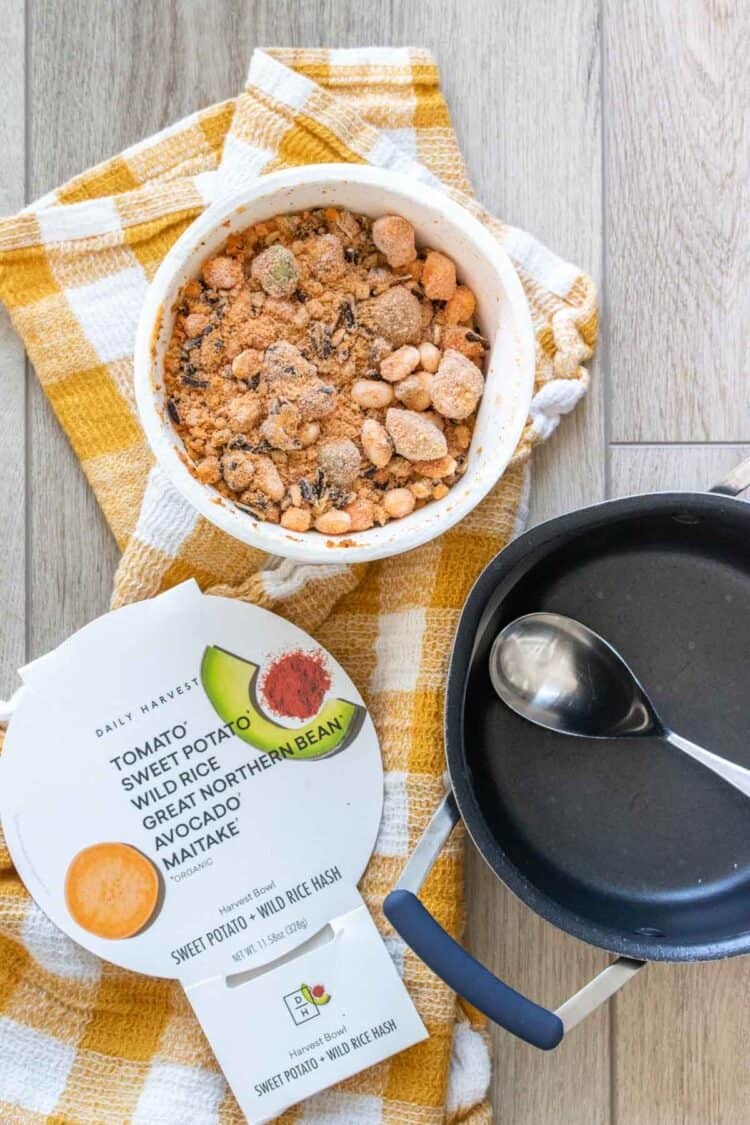 Breakfast
Start your day off with some veggies in a variety of ways! There are so many things you can eat first thing in the morning that have veggies.
If you go the direction of using a brand like Daily Harvest, make sure the choices for breakfast have options for items that have veggies in them and that there is a variety of options. Daily Harvest not only has fruit and veggie filled smoothies but also options like oat bowls, chia bowls, and forager bowls.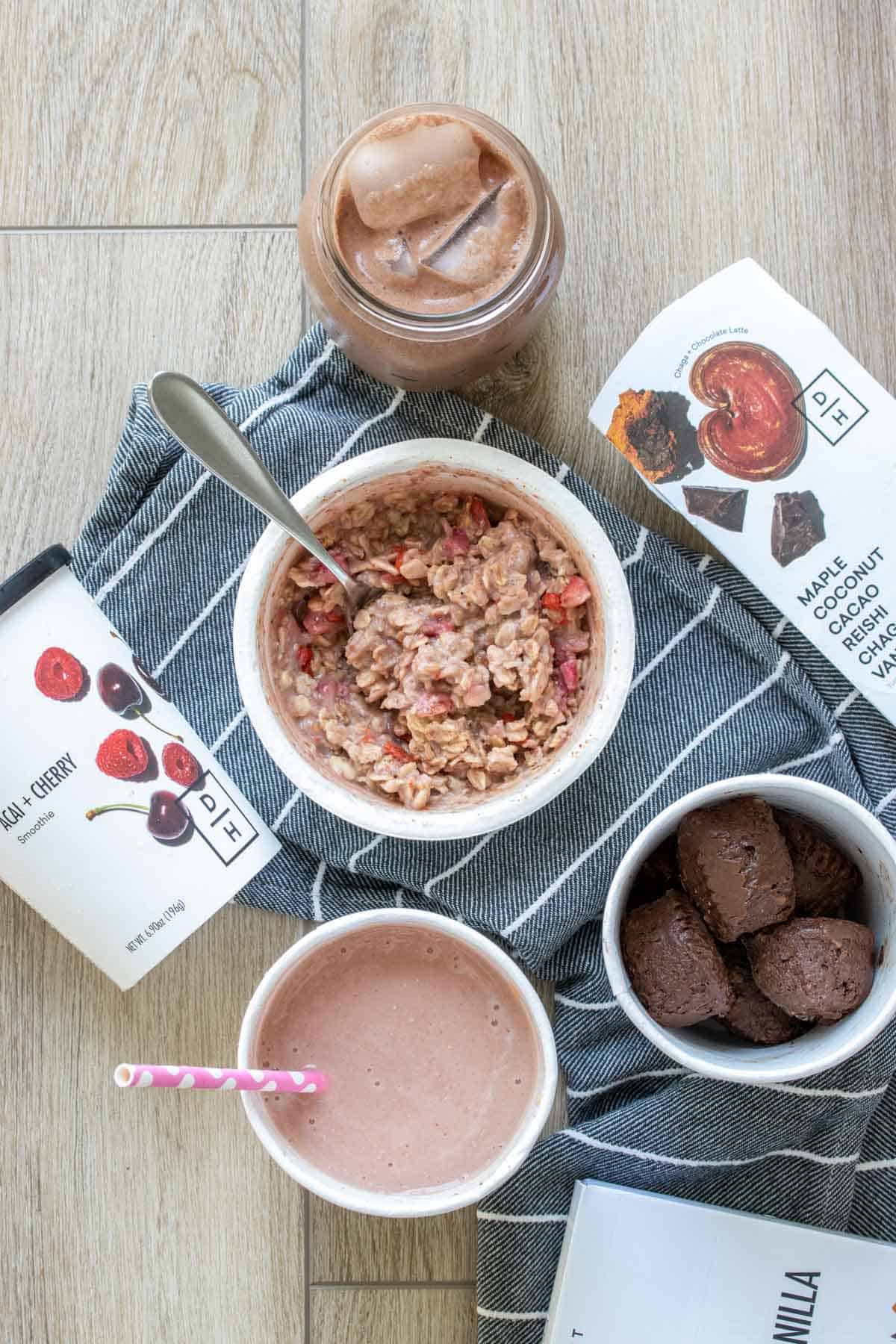 You can also make smoothies at home by using your favorite smoothie recipe and simply adding in some greens! Spinach has such a mild taste, you won't even know it's there. Kale is another good option but can be a little more noticeable.
Here are a few veggie packed smoothie ideas to try out if you want to make them at home:
Having smoothies prepped and ready to go makes it even easier when your mornings are crazy and you just don't have the time. The smoothies from Daily Harvest have such a wide range of flavors and ingredients such as kale, spinach, parsnips, carrots, cauliflower and sweet potato. Who would think that you could use all of these in a smoothie and have it taste amazing?!
I not only love how the natural sweetness of the fruit comes through, but also how easy it is to make them. You literally fill the cup with frozen ingredients with whatever liquid you want (but I highly suggest a creamy one like oat milk), dump into a blender and blend!
Some of my favorite ready to go Daily Harvest smoothies are:
If sweet and fruity isn't your thing, try out another option such as the oat bowls or forager bowls mentioned above. I love a warm brekkie in cooler months! These are a few that speak to me and get me excited for breakfast:
If you are a make breakfast from scratch kinda morning person, here are some other great breakfast ideas to make at home:
Lunch and Dinner
Here's where the food really gets good! It's fun to get creative with these meals.
Daily Harvest has gone above and beyond with creativity. I mean seriously, check out these favorites of mine:
Harvest Bowls: These hearty and tasty dishes feature flavors like Cremini + Asparagus Pot Pie, Broccoli + Cheeze, Artichoke + Lemon, and Red Lentil + Cumin. Their Harvest Bowls are ready in minutes in the microwave or on the stove and the bowlsa re 100% compostable, so no extra dishes!
Flatbreads: Who doesn't love a good flatbread? Try the Tomato + Basil, Portobello + Pesto, or the Pear + Arugula. Just pop in the oven for 20-25 minutes, add an egg or another protein if you want, and you're done.
Soups: Cozy, comforting, and completely delicious! They have flavors from the classics to the adventurous and everything in between like Tomato + Zucchini Minestrone, Sweet Potato + Miso, Lentil + Mesquite Chili.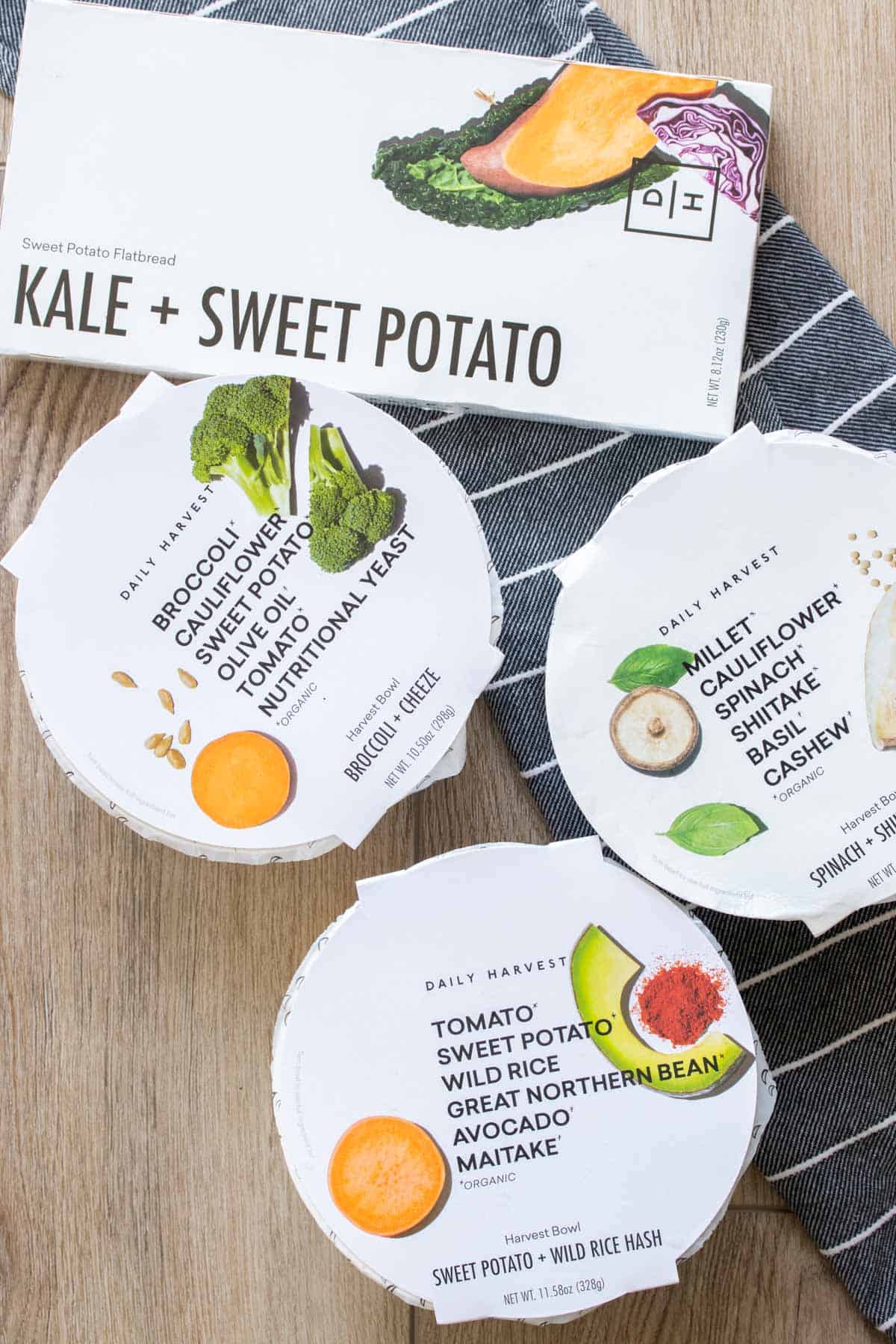 When you have the time and feel like making your own creations, try out these veggie packed family friendly recipes:
Once you are accustomed to eating veggies all the time, you can start moving in to more vegetable heavy dishes. Here are some of our favorites:
Snacks
When those in-between-meals-hunger hits, grab some veggies to nosh on! There are plenty of healthy snack options out there, and when they are loaded with fruits and veggies even better.
Daily Harvest offers so many meals that can also be a great snack, but also ready-made Bites to help satisfy those hunger pains while delighting your taste buds! The Hazelnut + Chocolate is perfect for my sweet tooth, and the Espresso Bean +Tahini can't be beat. These bites are amazing for a quick on the go snack, and you legit will have zero idea they have veggies.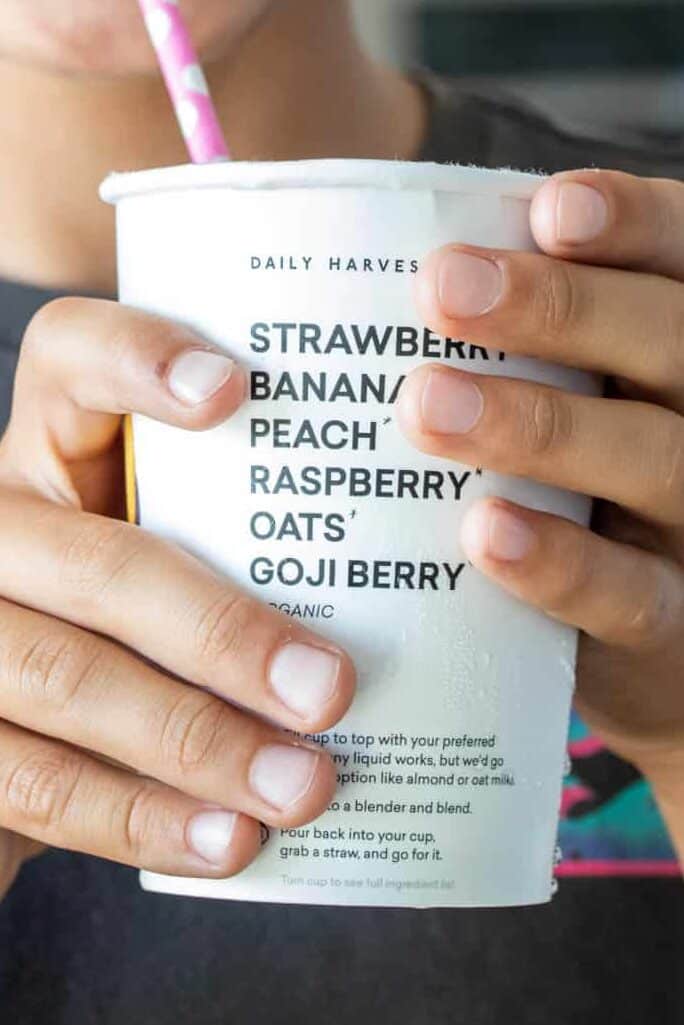 When you have a second to sit and eat, pair those prepared vegetables with dips. Try one of the following each week to mix things up:
Common Questions
How can I eat more vegetables when I hate them?
Work them into recipes that help to hide them! Mild veggies like spinach, carrots, zucchini, and even bell peppers can easily be incorporated into meals that don't taste like veggies. Sneak them into your smoothies, into soups, tacos, or pasta sauces. You can also look into a delivery service like Daily Harvest to make it easy!
How do I eat 5 servings of vegetables a day?
Have small servings all throughout the day at each meal and for snacks. It's actually easier than you might think. Just ½ cup is one serving, that's only about 6 baby carrots!
What are 2 realistic things you could do to eat more vegetables?
Throw some spinach in a fruit smoothie, add veggies to a sandwich, eat veggie loaded soups, or swap out chips for veggies to pair with your favorite dips. Oops, that was more than two!
How much greens should you eat a day?
It is recommended to eat about two cups of leafy greens every day.
How much does Daily Harvest cost?
They have a variety of flexible plans you can choose from! You can use code VEGGIESDONTBITE to get $25 off 9-13 items in a box, $30 off 14-23 items in a box, or $40 off 24-26 items in a box.