As we learn more about our bodies, strategies on how to improve gut health are becoming more and more popular. Listen in for things we can do!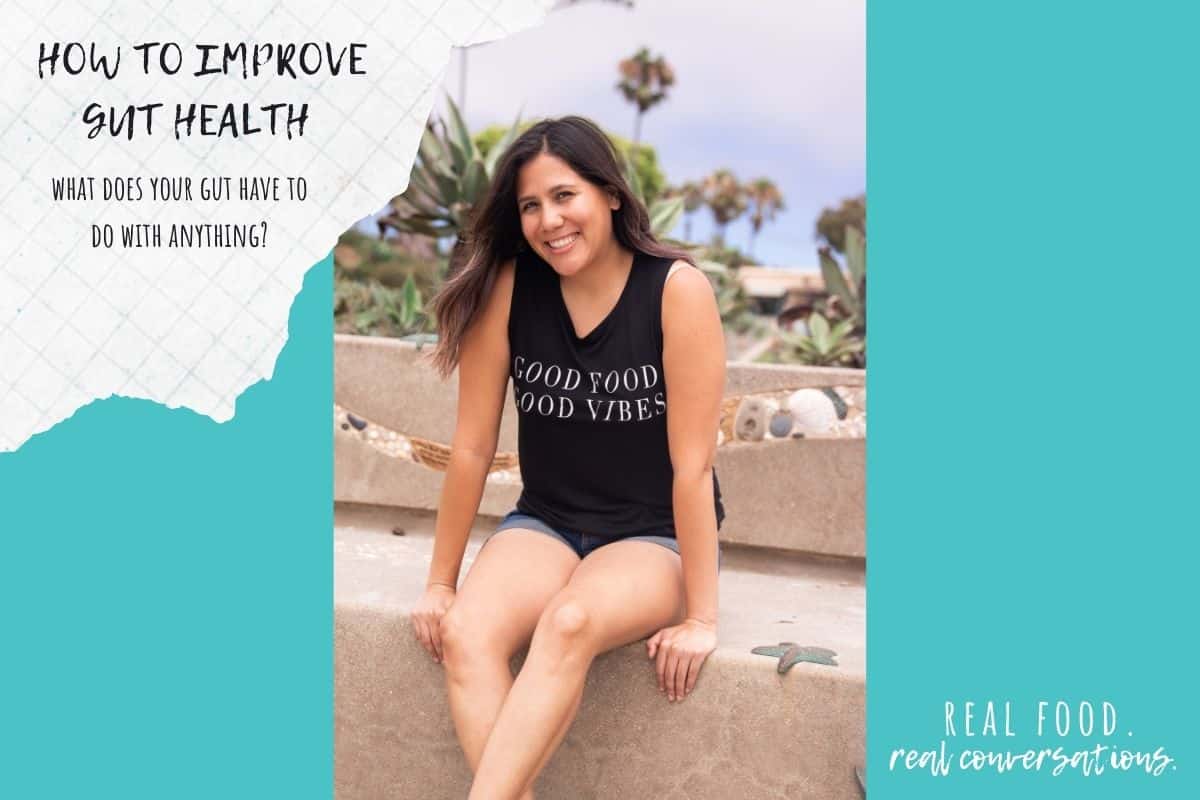 Gut health is coming into the forefront of conversations about our health more and more lately. As the science behind it grows, we are realizing how important it is!
Podcast: Play in new window | Download | Embed

Subscribe now! Apple Podcasts | Google Podcasts | iHeartRadio | Stitcher | TuneIn | Deezer | RSS | More
Amanda Sauceda is a Registered Dietitian Nutritionist specializing in mindfulness and gut health. Amanda quickly realized that gut health is more than digestion, the microbiome, or the food we eat; it is also about honoring our gut feelings.
This is why she created The Mindful Gut™, it is a holistic way of helping people to find their gut-friendly foods and lifestyle. Amanda has a virtual private practice where she runs group programs. Ps. Her favorite food is pizza!
What is Gut Health?
Gut health is an overall term that relates to looking at your gut and how it benefits you both mentally and physically. It is multifaceted and includes many areas.
The first thing people think about is digestion, but gut health also includes your microbiome and even honoring that inner wisdom, or what people call your gut feeling.
Symptoms of Struggling Gut Health
There are two P's to look out for when it comes to something being off with your gut:
Persistence- is the pain continuous and not going away?
Pain- are your symptoms painful and can't be alleviated?
If your issues resolve or are temporary, it's most likely not a major issue. However if the pain won't go away and lasts over a long period of time, there is a good chance you need to look at your gut health.
Another thing you should look out for is the list of "okay foods" you have. If it is getting smaller in number (meaning you are restricting foods due to a diet of some sort), this can feed into the problem because food diversity is so important.
How to Help Gut Health
Working on better gut health has many pillars that can be involved. Here are some things that Amanda work on with clients:
Looking at trusting your gut, listening to that inner wisdom and your body overall.
Resting and recharging. Stress can impact our gut health so much.
Eating with intention. Choosing food for why it is good for you, not because someone else told you to eat it.
Kitchen confidence. It's one thing to talk about what is nutritious but knowing the how is what helps get it done.
Purpose over perfection. There is no such thing as a perfect gut. It's a balancing act and it's okay to not be all or nothing.
Importance of Good Gut Health
First and foremost you want to feel good and happy. But there is more than that when it comes to gut health.
Your gut can impact your entire body, so keeping it in a happy range is so important.
It can affect things like:
Blood sugar
Bone health
Immunity
Skin
Heart health
Cardiovascular system
Mood and mental health
Foods That Heal Your Gut
Your gut loves and needs fiber! Some experts even say that 95% of the people in our country have a fiber problem.
Here are the reasons our gut loves fiber:
It helps feed the gut good bacteria. Fiber acts as a prebiotic, food for our bacteria to grow into a diverse microbiome.
It helps move food through our body so we don't have constipation and issues with our bowel movements.
It regulates our blood sugar and cholesterol.
It helps you stay fuller longer and satisfied with what you eat.
It acts like a broom to help clean things out of your digestive system.
It's also important to eat a diverse amount of foods. Food variety is so important so you can get all the vitamins and minerals your body needs.
Another thing that is great for gut health is fermented foods. Things like kimchi, sauerkraut, tempeh, etc They act as a probiotic which helps your microbiome.
Foods to Avoid
There is no one food or blanket recommendation when it comes to avoiding food, and in fact this can be a red flag. Food should be enjoyed and not restricted.
It should be what works for you and your body. Pay attention to how you feel and what foods may bother you. Identifying your personal threshold of how much and how often you can have foods that may bother you is important.
It's also important to step back and look at the whole picture. If your body is in a state of distress, it may not be the food in particular that is the issue, but more-so the overall state you are in.