Learning how to live with diabetes can feel overwhelming and impossible. Our guest today shares how she not only lives but thrives!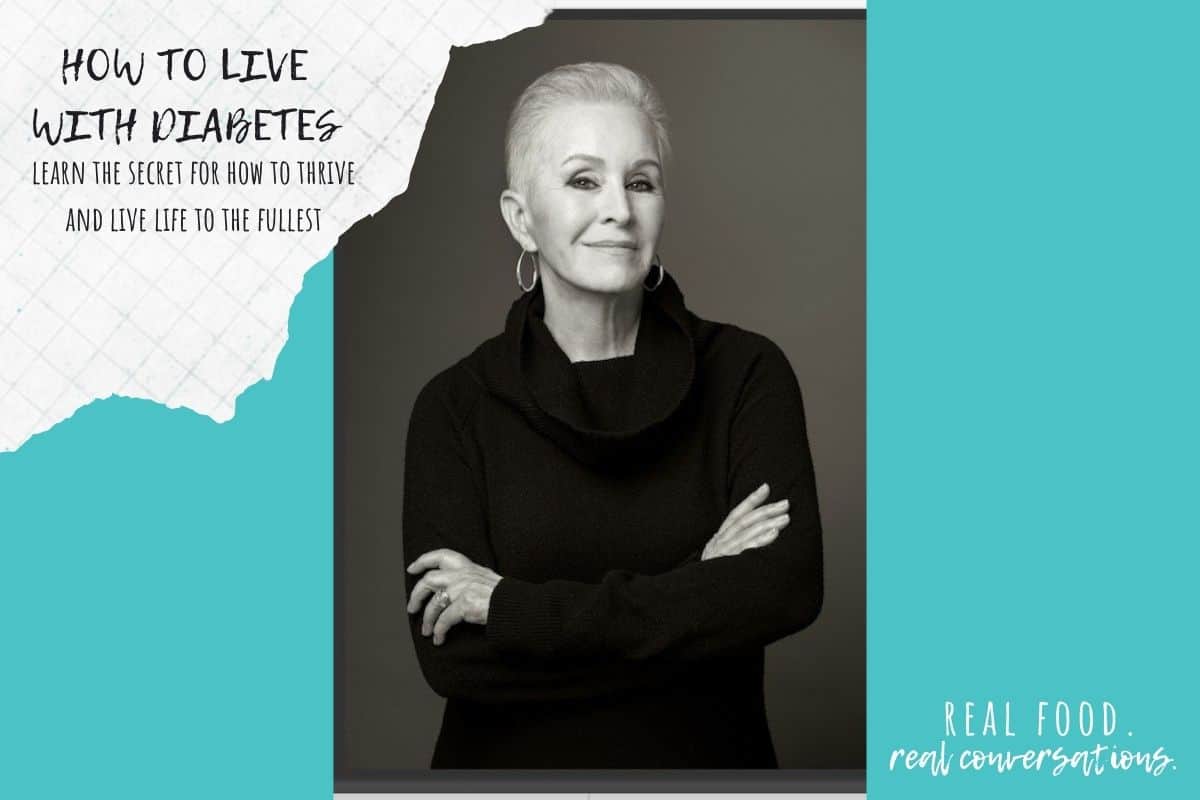 Lynne Bowman has been living with diabetes and enjoying life to the fullest. She loves to share her story to help others do the same!
Podcast: Play in new window | Download | Embed

Subscribe now! Apple Podcasts | Google Podcasts | iHeartRadio | Stitcher | TuneIn | Deezer | RSS | More
Lynne has been featured at women's expos throughout the country, speaking on kitchen table culture, community planning and the gift of diabetes. She teamed with actress Deidre Hall to write and publish Deidre Hall's Kitchen Closeup (2010) and Deidre Hall's How Does She Do It? (2012).
In a previous life, she worked with Silicon Valley companies as a creative director, winning national awards. She was Creative Director at E&J Gallo Winery, Advertising Manager at RedKen Laboratories, and held various other positions with agencies and clients in San Jose, Los Angeles, and on the East Coast.
She has also worked as an actress, makeup artist, screenwriter, illustrator, legal journalist and television Weather Person. She is the mother of three grown children, with one absolutely perfect grandchild, and one more on the way.
Sign up for "Lynne's List" and receive the recipe for Mimi's Badass Brownies, plus The Seven Sugar Substitutes That Will Change Your Life.
Can You Live a Full Life With Diabetes?
Yes! Not only can you live a full life but you can thrive. While we now know that we can do things to prevent chronic disease, there are still instances where no matter what we do, we have to live with it. But this doesn't mean you are destined for an unfulfilled life!
Learning how to manage your diabetes is possible, other than medicine, between what you put into your body, how often you exercise and how you manage your mental health there are so many things you can do.
How to Manage Daily Life
When it comes to day to day life, nourishing your body with lots of plants, whole foods and getting in movement along with any medicine you need, should be part of your routine.
A whole food plant-based diet is so beneficial for chronic disease. Plants give us nourishment we need and help us avoid the saturated fat that animal products contain.
While adding some animal products from time to time is still okay when you want to maintain some balance, making sure they are high quality is important.
It's also important to take care of your mental health. Yoga, meditation and mindfulness can all help control stress. As can doing things like family dinners, movie nights and other ways to connect with those you love. When we keep ourselves in a mostly stress free state this helps our health overall. The mind and body are very connected!
Sleep is another thing our body needs in order to stay at optimum health. Our diets, exercise and mental well being can be so influenced by how rested we are!
It's also very important to check in regularly with your doctor and see your doctor should you feel something is wrong.
Things to consider/watch out for
Learning how to live life with diabetes comes with complications and extra things you need to think about. Here are a few things you want to keep in mind:
Read food labels to check for ingredients you can't have
Listen to your body and detect any changes early
Think about your meals ahead of time
Learn strategies that work for you
Watching the glycemic index of food you eat
You should always listen to your medical professional
Can Diabetes Go Away?
Everyone is different, so there isn't a one size fits all approach. In general, diabetes cannot be reversed or go away. However, when it comes to type 2 diabetes people can go into remission and symptoms can get better with lifestyle changes if caught early enough.
Some things people have done when it comes to relieving symptoms are:
Changing their diet to be mostly whole food plant-based
Add more fiber to your diet
Increasing amount of exercise
Losing weight if needed
Tips For Managing Daily Life
Managing a life with diabetes can be stressful, here are some tips to help you get on your way to do it easier!
Have nutritious food that you can eat ready to go that you can quickly grab when you are hungry
Load your meals with greens and other veggies, there are so many easy ways to pack them into meals
Keep snacks handy that you can eat
Learn how to alter your favorite foods so you can continue eating them
Find support in your local community
Find lower glycemic index foods for those you love that are high