This vegan black beans recipe uses dry beans and is easily made on the stove, in the instant pot or in a crock pot. The flavor is unreal!
I love keeping a large batch of these black beans in the fridge to use all week long. They are so versatile for things like burritos, salads or even a quick and easy grain bowl.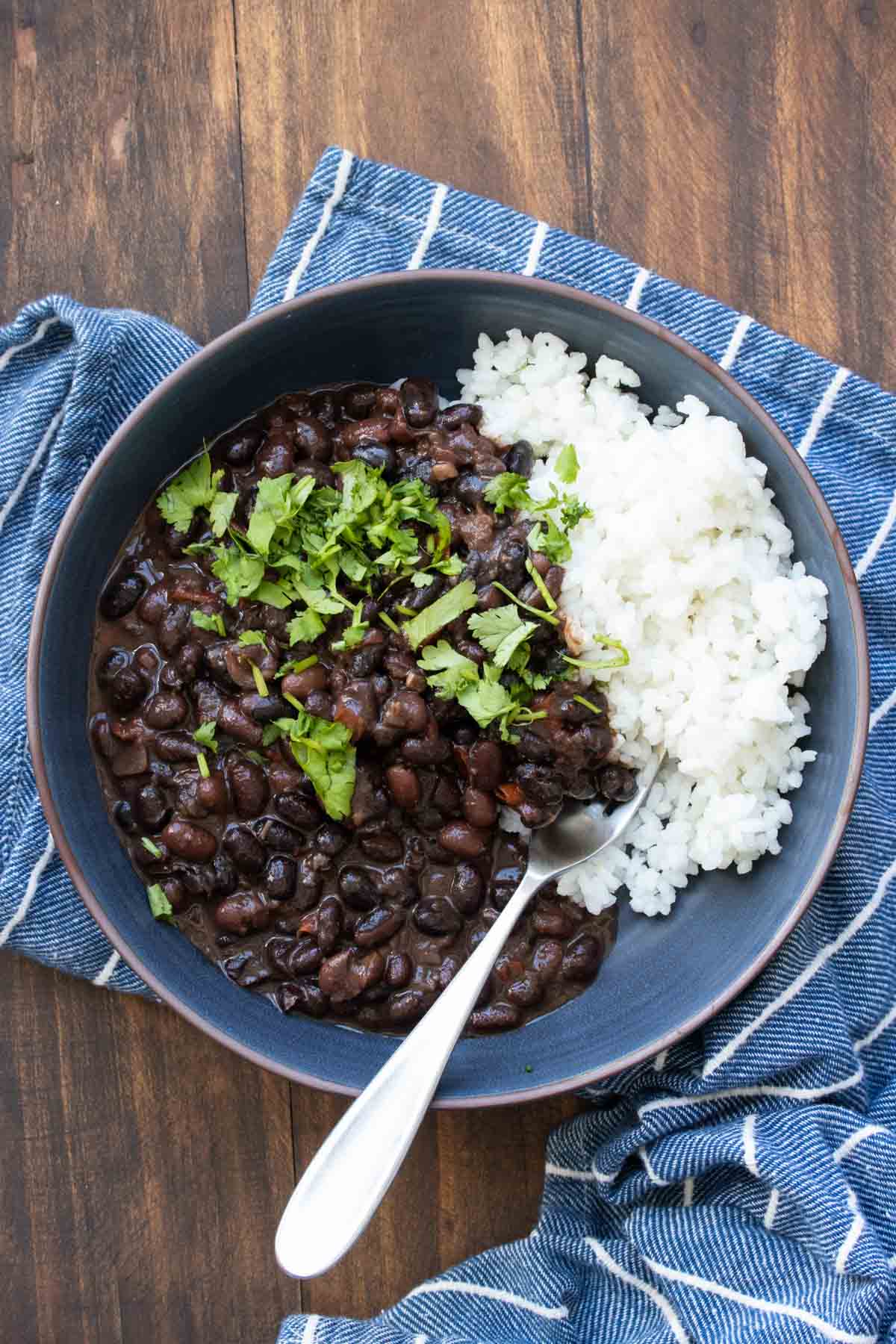 This post was originally published on April 9, 2020.
Learning how to make black beans from dry beans is much easier than you think. It is also so much tastier than the canned version, and can save you money! Use them in black bean burritos, black bean enchiladas or simply eat with rice!
Are Black Beans Vegan?
On their own yes, black beans are naturally vegan. However, some black bean recipes use chicken or beef broth and sometimes even lard. Make sure to check the label if buying canned, or ask if you're out at a restaurant. However, by cooking dried black beans yourself you can control the recipe and use only plant based ingredients!
Ingredients
Like other beans, black beans come in 2 ways, dried or canned. While using canned black beans is pretty self-explanatory, it's good to know how to cook dry black beans as well.
You could simply use beans and water, but where's the fun in that? The seasonings for black beans can be adjusted to your taste, but this is our favorite go-to:
Dried black beans 
Red onion
Red pepper
Garlic cloves 
Vegetable broth
Red wine
Balsamic vinegar
How to Make Black Beans From Scratch
This Mexican black bean recipe is one of our top family favorites. Even since I created it, we eat it at least once a week. Cooking black beans on the stove is so simple, yet so dang flavorful. We simply sauté some greens or toss a salad, then serve these beans with them over rice.
Sauté the veggies.
Add the rest of the ingredients and cook until thickened.
Serve over rice or however you prefer!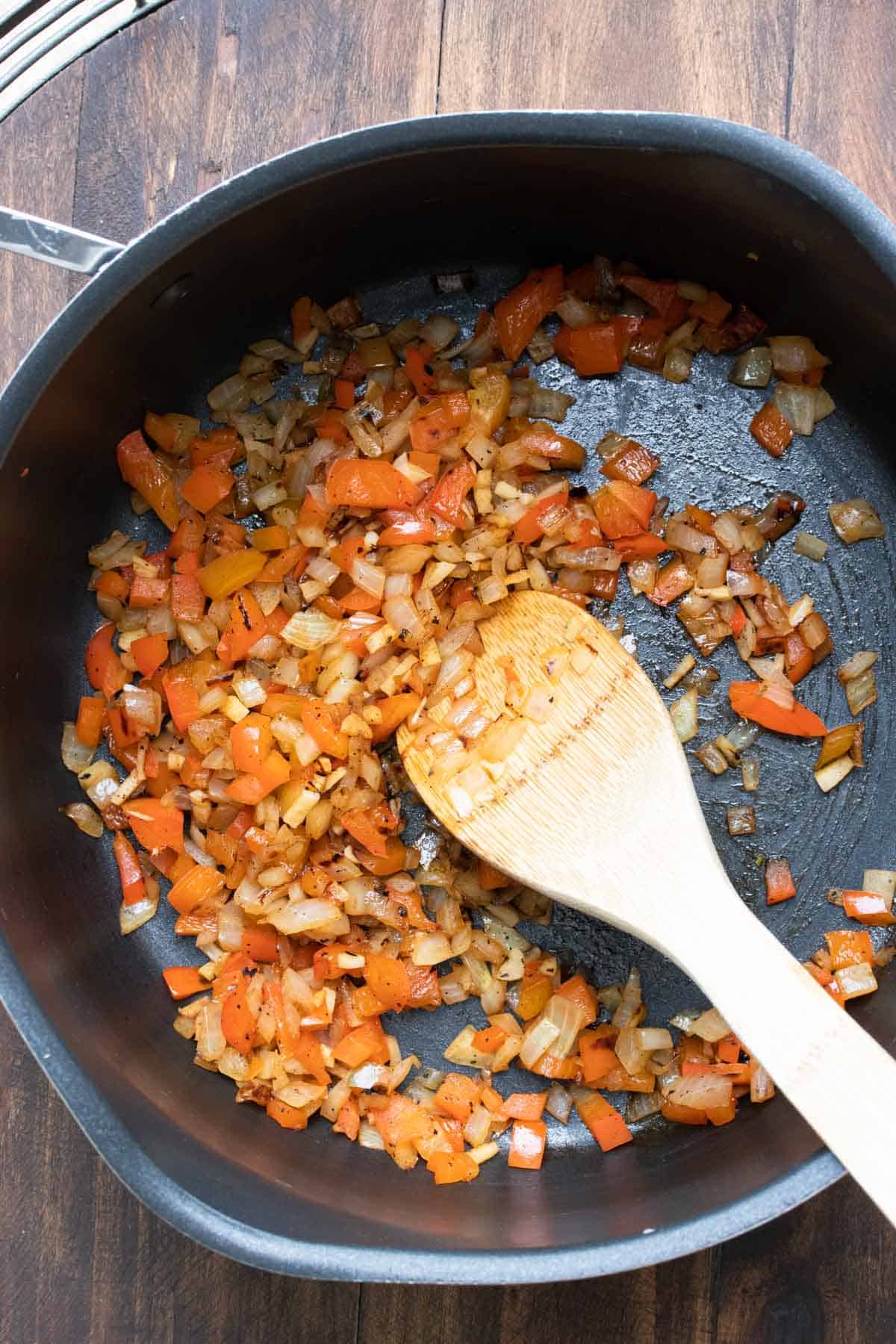 How to Make Black Beans in the Instant Pot
You can definitely cook beans in a pressure cooker. It's actually our current choice! Follow the same directions, I use the sauté setting on my Instant Pot. Then add everything else in and cook on manual setting with the valve in the sealed position for about 30 minutes.
You will need to reduce the amount of liquid however since it doesn't cook off as much as it does on the stove top.
How to Cook Black Beans in the Crock Pot
If you want a really flavor infused option, cook dried black beans all day in the slow cooker. I still suggest sautéing the veggies first because the flavor really increases when you do this.
But after that you just dump the rest of the ingredients into the crock pot and cook on high for 3-4 hours or low for 6-8 hours. You need to test at the 3 or 6 hours mark to check for doneness. Also you will need to add about 1 cup more water here because more evaporates since it cooks all day.
Do black beans have to be soaked before cooking?
There are multiple reasons why soaking black beans is recommended.
Cooking time. Soaked beans cook in less time.
Digestion. Soaked beans are usually easier to digest.
In my post all about cooking chickpeas, you read about how soaking the chickpeas is highly recommended. They are pretty hard to digest if not soaked and take a lot longer to cook.
On the other hand my post on cooking lentils showed how lentils do not need to be soaked. They cooked pretty quickly as is and are easier to digest over all.
Black beans fall a little in the middle. While soaking them will decrease your cooking time, it doesn't decrease it by all that much. However, if you do have a hard time with digestion, you may want to give them a soak.
One thing I did learn though, is unsoaked beans have more flavor since they cook longer and absorb all the spices and seasonings more.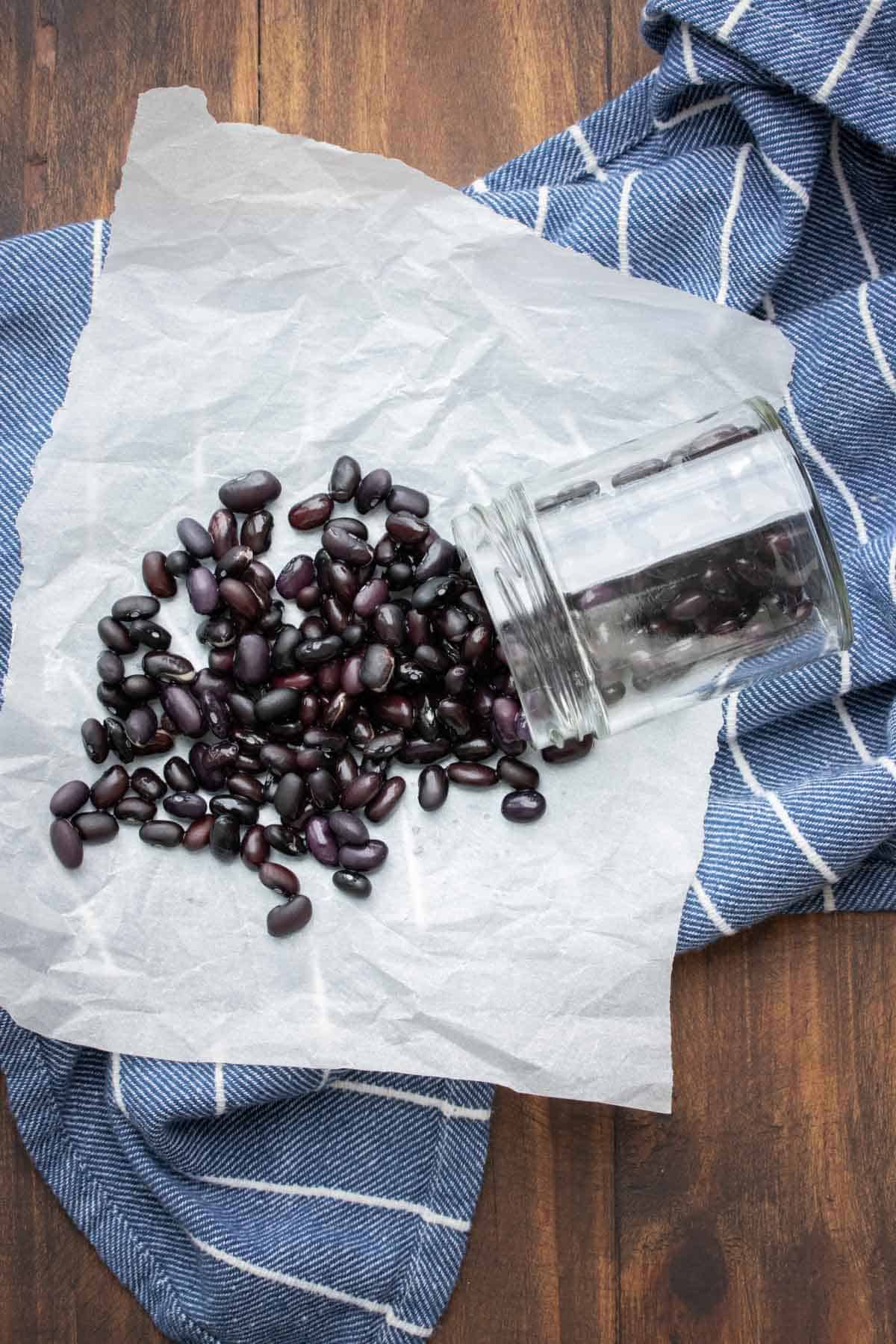 How to Cook Black Beans Fast
If you want to make black beans as quick as possible, you'll need to soak them. Ideally overnight or for at least 8 hours is best, but if you forget, you can use the "quick soak" method:
Put the black beans into a large pot and cover them with water.
Bring to a boil and boil for 2 minutes.
Remove from heat and allow them to sit for at least 1 hour.
You can then continue with the recipe you are using.
If you really want to know how to make black beans fast, learn to use a pressure cooker. It cuts down the cooking time by about half!
How to Store Black Beans
The great thing about dried beans is if you put them into an airtight container in your pantry, they will last up to a year!
Cooked black beans last in the fridge for up to 3-5 days. Place them in an airtight container and keep them in the refrigerator. After that the start to break down and you lose flavor and texture, plus they start to go bad. And no one needs to eat bad food!
Freezing tips
I love batch cooking dried black beans and freezing them for future meals or to use in recipes. Here are my best tips:
Allow the beans to cool completely.
Once cool, put them in an airtight container. You can even put them into a ziplock bag.
If in a container, I like to lay a piece of plastic wrap all nuzzled up right on the top of the beans. This helps prevent freezer burn.
In the freezer, cooked black beans will last about 6 months before the quality starts to go downhill.
What to Serve with Beans
We eat these Mexican black beans in so many ways! They taste amazing with basically anything.
Serve any of these recipes with black beans for a delicious meal:
Black Bean Recipes
If you are a black bean lover like we are, here are some of my other recipes with black beans. You can most certainly use this recipe in them instead of canned beans! You will however need to adjust the spices and seasonings a bit.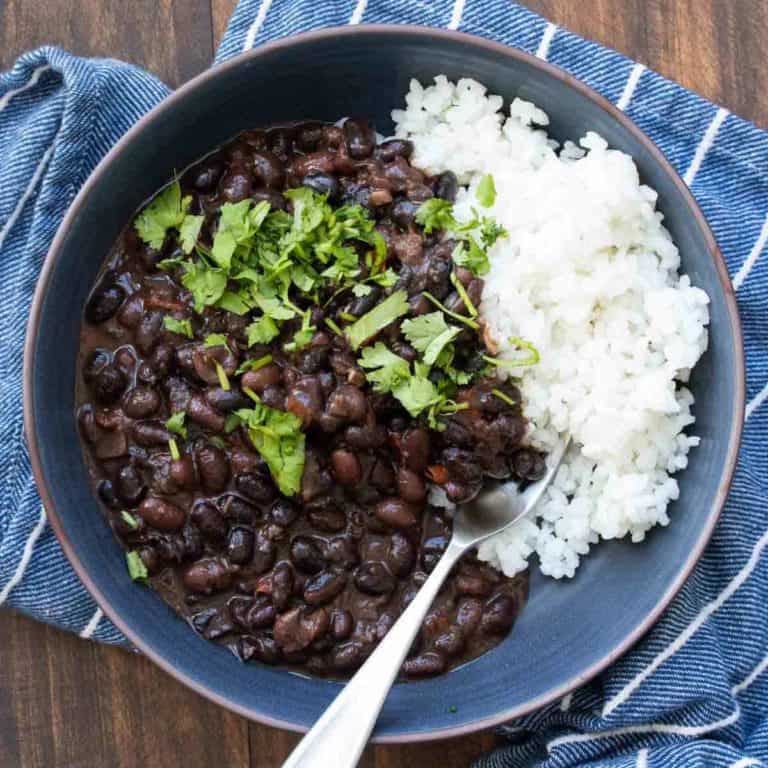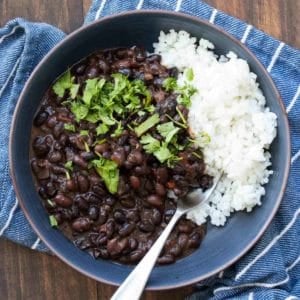 The Best Vegan Black Beans (with Recipes)
This vegan black beans recipe uses dry beans and is easily made on the stove, in the instant pot or in a crock pot. The flavor is unreal!
Equipment
pressure cooker (optional)

slow cooker (optional)
Ingredients
For cooking in the Instant Pot:
For cooking in the crock pot:
Instructions
Sauté onion, pepper and garlic with drizzle of oil or broth until softened.

Add the rest of the ingredients and bring to a rapid boil. About 10 minutes.

Cover, reduce to a simmer and cook for about an hour. Check for desired done texture preference along the way.

Serve however you want! These thicken as they sit, and get thicker in the fridge. They are even more flavorful the next day!
To cook in the Instant Pot:
Use the sauté setting to sauté the onions, peppers and garlic, or sauté on the stove.

Add the rest of the ingredients and cook on manual with the valve on the seal setting for 30 minutes.

Allow pressure to naturally release for 15-20 minutes.

Turn the valve to vent to finish releasing pressure.
To cook in the crock pot:
Sauté the onions, peppers and garlic on the stove.

Add them to the crock pot along with the rest of the ingredients.

Cook on high for 3-4 hours or on low for 6-8. Check at 3 or 6 hours for doneness and add more broth if needed. You want the liquid to cover the beans so they don't burn.
Notes
You can sub water for the broth but the flavor won't be as good.
If you don't soak the beans, they will need to cook an extra 20-30 minutes on the stove, about 5-10 in the Instant Pot and towards the end of the range for the crock pot. See the post for the quick soak method.
I also tried the spice mix: 2 teaspoons cumin, 2 teaspoons oregano and 2 teaspoons smoked paprika. It was also delicious, but we preferred the mix in the original recipe but I wanted to give the option for those wanting a more taco like flavor.
Makes about 6 cups beans, serving size is 1 cup.
Recipe by Veggies Don't Bite, visit our site for more great plant-based recipes.
Nutrition
Calories: 312kcalCarbohydrates: 55gProtein: 17gFat: 1gSaturated Fat: 1gPolyunsaturated Fat: 1gMonounsaturated Fat: 1gTrans Fat: 1gCholesterol: 1mgSodium: 448mgPotassium: 1266mgFiber: 13gSugar: 5gVitamin A: 972IUVitamin C: 34mgCalcium: 120mgIron: 5mg
Nutrition and metric information should be considered an estimate.
Never miss a recipe!
Sign up here and get a FREE quick and easy meal guide!