If you're looking for info on how to start a vegan diet, you've come to the right place! Our expert guest is sharing all her best tips and tricks to make it easy and seamless!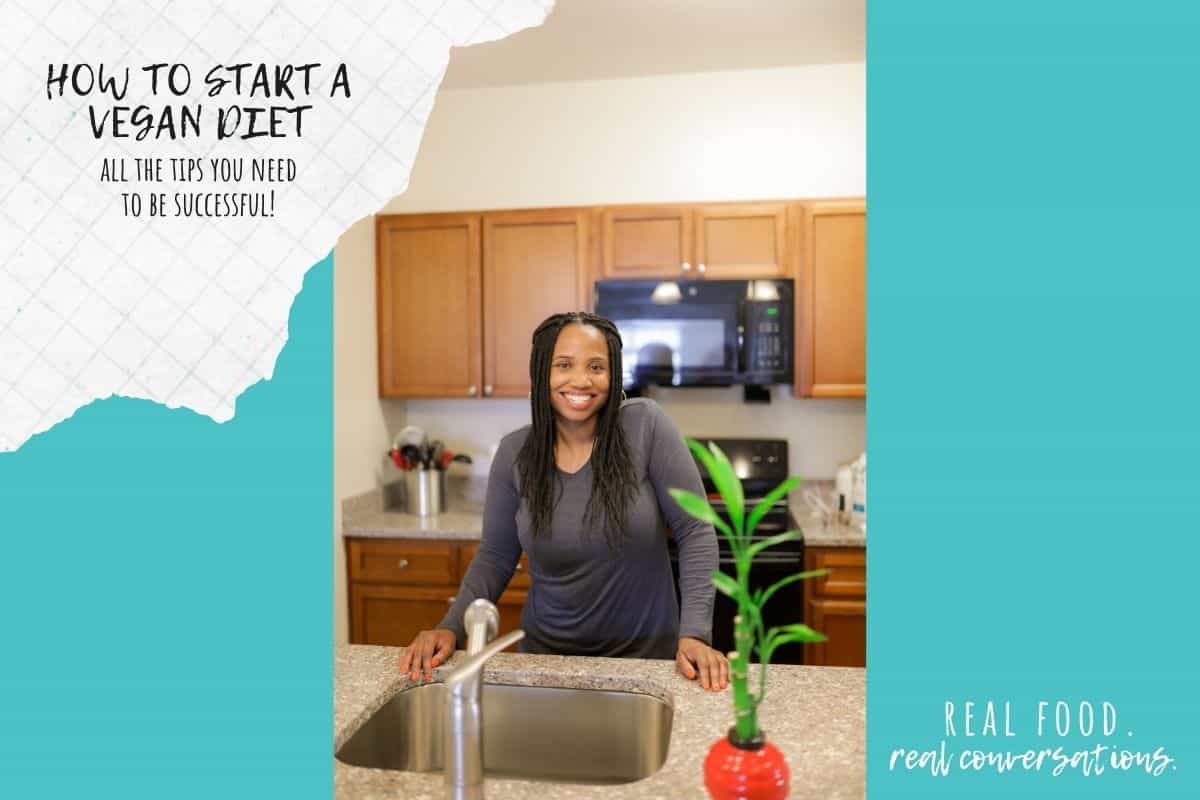 Change can be hard, but when you take it slow and commit to learning all you need to know it can be a lot easier than you think. Focusing on what works for you is most important!
Having the info you need to make a change is also very important. We only know what we know!
Podcast: Play in new window | Download | Embed

Subscribe now! Apple Podcasts | Google Podcasts | iHeartRadio | Stitcher | TuneIn | Deezer | RSS | More
Monique Koch started her vegan journey in April 2010 because it was a way for her to protest animal & human exploitation, preserve the planet, and improve her health.
Her purpose is to help everyday people learn about the benefits of vegan life with tips, recipes, and encouragement.
After struggling to find easy recipes with accessible ingredients, she decided to start my YouTube channel to share all the creations she was making for herself and her family.
A few years later, she started her podcast to have candid conversations with other vegans (especially other Black vegans) to inspire veganism in the Black community.
Monique believes in "progression over perfection" and this compassionate approach gives everyday people the support they need to stay vegan for life.
Make sure to pick up her free vegan starter kit!
What Is a Vegan Diet?
A vegan diet means you do not eat any products with animals. Veganism as a whole is not just about food though, it actually means that you live a life without any animal products.
Things like leather, wool and even animal products in make up are things vegan people don't use. When the focus is purely on the diet part, it's more accurate to say you eat a plant-based diet.
How Do I Start Going Vegan?
The most important thing to start with is asking yourself why you want to do it in the first place. Is it health? The environment? Animals? There is no wrong answer, only the answer that resonates with you.
As time goes on, you will go through moments that you really need to lean on your why. And your why may change! You need to make the decision for yourself because there is so much power in committing to something you really want!
A great place to start is veganizing your favorite meals, this will give you something familiar that you can still eat.
Focus on what you can eat and not what you can't eat. While many people think that you are eliminating so much, you are in fact adding in so much! There are so many new foods you will be exposed to and try that you may love.
What Should a Beginner Vegan Eat?
Other than focusing on finding vegan versions of your favorite meals, here are some ideas of simple meals you can make. The key is to keep it simple, eat things you love and making sure you are getting all your nutrients. Here are some ideas:
Pasta: Use your favorite sauce or find plant-based alternatives to meat and dairy to make your favorite recipe.
Smoothies: A great breakfast or snack and very easy to customize and add your favorite flavors.
Soups: There are many options that are vegan, and you can even make your favorite non vegan soups using veggie broth instead of chicken or beef broth and adding veggies or meat alternatives.
Find vegan versions of any staples you love like eggs, meat, cheese, ice cream, etc.
Tips for Success
The key to making a vegan diet part of your lifestyle is finding tips that work for long term success. Here are some ideas:
Just because you try one hting you don't like don't give up because there are so many options and other ways to make something you love. This applies to store bought things like cheese or recipes you try to make.
Be open minded to try and try again. All things take trial and error, you need to give yourself grace!
Start small, it doesn't have to happen over night. Change takes time and there is nothing wrong with that.
It's not a one size fits all support. We are all different humans so we can't expect a change like eating a vegan diet will be the same for everyone. It's okay for it to look different for you.
Give yourself grace with errors, it's okay to go back and forth on the spectrum of eating. If you eat things that aren't vegan one day you can go back to eating vegan again the next.
Protect your energy, if you follow someone that makes you feel bad consistently, unfollow them and then find someone that makes you feel good.
Don't forget to pick up Monique's free vegan start kit! She is an amazing resource for starting a vegan diet!