Have you heard of growing food indoors? You don't need to have a huge yard and ample garden space and today's guest shows us how!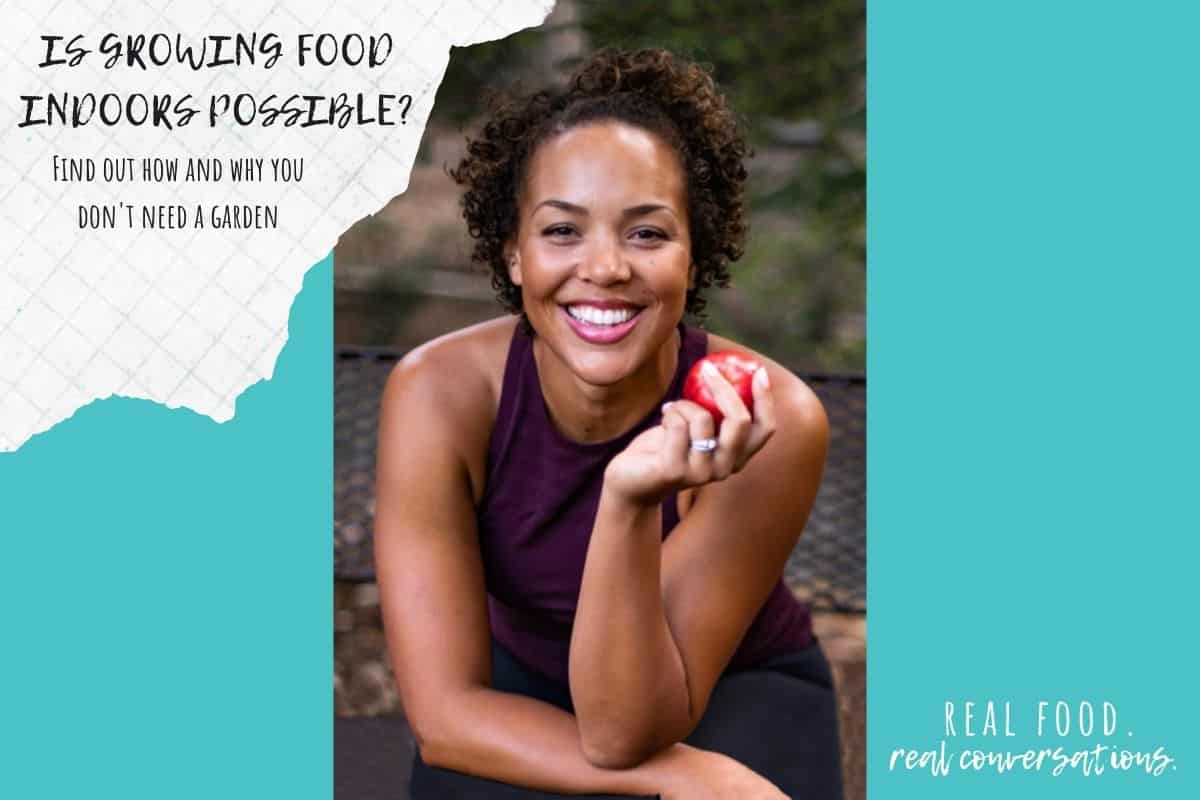 I love growing my own food but am lucky enough to have a garden. But what if you don't? Shouldn't all people have access to amazing home grown food? Not only does it save money, but the nutrients you get are amazing!
Podcast: Play in new window | Download | Embed

Subscribe now! Apple Podcasts | Google Podcasts | iHeartRadio | Stitcher | TuneIn | Deezer | RSS | More
Brittney Amey is a wife and mom of 2 who lives in Southern California. She is a former collegiate and professional volleyball player and now a volleyball coach and trainer.
She has become a health advocate, helping busy moms and families grow their own food and eat more plants. She uses her tower garden to show others that you don't need a lot of space or yard to grow your own food!
You can download her free gardening lesson plans here!
Brittney also shows people how to up their plant nutrition with plant concentrates using Juice Plus products, (receive free fruit + veggie chewables for kids up to 4 years old when you order).
Can you grow all your own food?
Unless you have a huge farm with sources for everything you need to eat a well balanced diet, you will probably focus on growing produce.
But even that has many benefits. Plants like lettuce and herbs are the easiest to grow and give you the fastest results. Fruiting plants are the most difficult and take longer to get product. Fruiting plants are things like strawberries, zucchini, broccoli, and tomatoes.
What do you need to grow your own food?
There are many ways you can grow food at home, ranging from planting in soil to using pots and even specialty like gardens like the tower garden.
When growing in soil, you'll need to invest in things like garden beds or grooming an area in your yard or different sized pots. You will also need to buy the actual seeds or seedlings.
You'll need to buy the right soil for what you are growing, along with fertilizers, growing enhancers, gardening tools and even items that will help keep plants tall and sturdy.
Another way you can grow your own food is using a tower garden, which is a vertical growing contraption. The benefit of this is that it can grow in any type of space, from small to large and even inside.
It also comes with everything you need to get started, even seeds so you can start growing right away.
Instead of watering yourself, the tower garden has a reservoir at the bottom that holds all the water and nutrients, and is a self watering system. It's fun to do with your kids, and really easy so great for beginners,
Produce can grow up to three times faster because of the water and nutrients constantly going through the garden, which also leads to it using 98% less water. Also, the inside rock wool cubes (eco friendly rock fiber) gives plants oxygen and constant moisture it needs for rapid growth.
Growing food indoors
Since plants need sun and bees to grow, it can be hard to grow many indoors. But things like the tower garden are starting to make it possible. This is great for people that live in colder climates or those that may not have access to outdoors from their home.
The indoor gardens come with LED lights to act as the sunlight, and some people even prop up a fan to simulate the outdoor wind. While it's best to grow things like lettuce and herbs indoors, you could grow other fruiting plants by using a brush to help spread the pollen like bees would.
Benefits of growing your own food
Growing your own food has so many benefits! Here are a few key ones:
Flavors of the food. The longer the food sits out, the more flavor is lost.
Nutrients. Food is most nutrient rich right from picking, and it slowly loses nutrients as time goes.
Less spray/chemicals. Even organic food is sprayed with things. While it's still really important to get in fruits and veggies, organic or not, when it is home grown it is at it's purest form.
Saving money. You can save money in the long run when you invest in growing food at home. The initial investment seems like a lot but once you are set up, it's quite cost effective.
Saving time and frustration when you need something. I can't tell you how many times I have run out of a veggie or fruit I needed. When I have them in the garden it's quick and easy to grab what I need.
Helps you get in more veggies and fruit. When you are invested in your own garden you have fresh produce at your fingertips to eat whenever you want.
Less waste. It's easy to pick and use what you need when you need it, instead of buying produce and letting them go bad.
It's a great activity for the whole family!
Helps you explore different types of produce. Going to the gardening center gets you excited to new things to try.
Tips for Growing Food
Here are some tips to keep in mind when you are starting, remember that like anything, the more you do it the easier it gets!
Start easy. Starting small with one or two things in a pot will get you excited and more comfortable. You can also start with something set up like a tower garden.
Start with easy things to grow like the lettuces, chards and herbs.
Your weather will make a difference so make sure you are growing the right things for the right time.
Make sure to check in with your plants and harvest regularly to avoid them overgrowing and sprouting flowers. You can even sing to them, apparently plants like that!
Don't forget to grab Brittney's free gardening lesson plans here!