Is there such thing as too healthy? There are signs to watch out for that show your road to health has become an obsession.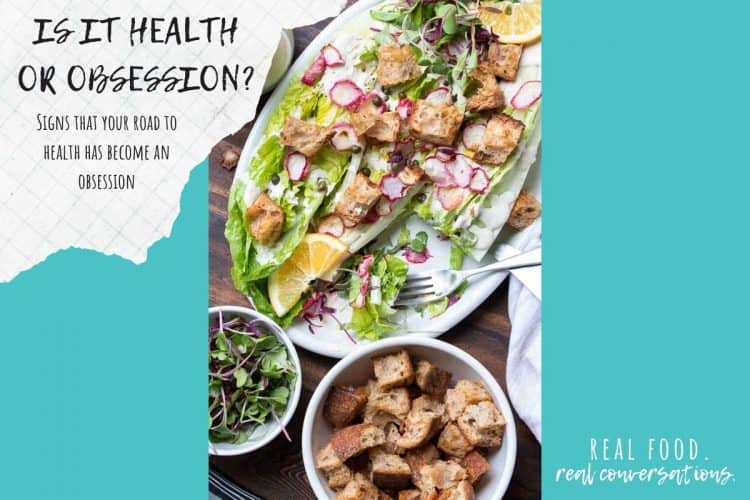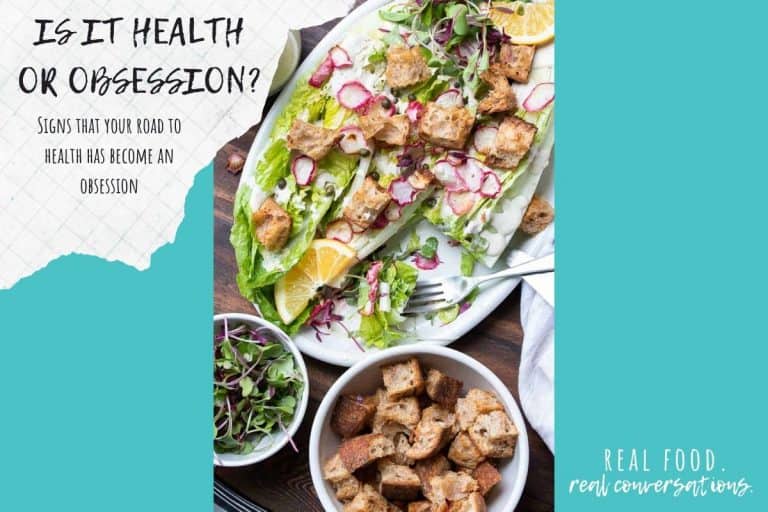 It's easy to fall victim on the next best thing when it comes to getting healthy. But overall health includes both a healthy body and a healthy mind. When you're living in extremes the stress that brings doesn't favor either your body or your mind.
Podcast: Play in new window | Download | Embed

Subscribe now! Apple Podcasts | Google Podcasts | iHeartRadio | Stitcher | TuneIn | Deezer | RSS | More
Black and White Food World
It seems that so often, our world is portrayed in a black and white way, with no room for fluidity. This is especially true in the food niche.
There are more diets (ways of eating) than I can count. And they all say they are the best. They all also claim to be a lifestyle, but isn't a lifestyle something that can grow with you?
Each one has it's own constraints, own rules, things you can and cannot eat. Each one has explanations why, many make sense. But I ask myself, why is bread okay and even encouraged in one diet but the devil in the other?
It makes your head spin, and often times triggers anxiety. At least it does for me. What happens when you are somewhere and your forbidden food is the only option? Do you starve? Or do you break the rules?
Too healthy can become obsessive
So in that situation above, either choice can lead to negative results. If you choose to starve, you're depriving your body of what it needs. Nourishment. You are telling yourself that it's better to stay hungry, even if that means feeling faint with no energy, than it is to break the "rules."
If you eat something against the diet you are devoted to, you are causing inner turmoil and triggering a stress response. Both scenarios lead to stress.
If you are constantly under stress, your body keeps triggering a stress response and chronic stress can have negative affects on your health. If you want to read more about it, check out this article by Harvard Health.
Recognizing a stressful diet
How do you know if your way of eating is causing you stress? There are signs that can tell you.
Do you go out to eat without worrying about where you are going?
Or do you constantly think about where you are eating, what you will order, etc?
Do you feel physical symptoms like rapid breath, tightness in chest, palpitations, sweating and nausea when you have to eat somewhere other than home?
Sometimes you need to worry about these things, like when you have a medical reason to watch out for certain foods. Allergies, intolerances, etc to certain foods are real reasons to avoid them.
However, when you are eating a certain way because you think it will change your weight, make you a better person, think you have to because your favorite celebrity says it's the best...you are causing harm when you don't need to.
If you think you may have an eating disorder, get professional help. Not someone you follow online (unless they are a credentialed professional), but a real expert in food disorders.
How I Stopped Being "Too Healthy"
If you look at history, food was a way to bring people together. We go out to eat to see friends we haven't seen in a while, we gather around a feast for holidays, we bake for those experiencing loss or tragedy.
Food is meant to be enjoyed and it brings people together. So when you allow stress into food you are missing out on some of it's joy.
Mindset is key, it can keep help you enjoy food no matter where you are. So first you need to decide why you are choosing to eat like you do. Your reason will help guide a path that avoids the stress.
Following a rigid health plan is fine as long as it's truly what you want and what your body needs. But if the reason isn't coming internally, you will respond with stress.
We eat mostly plants because of my husband's health. Our why is overall health reasons which is why we don't live in constraints and decide to be more fluid when we need it.
We found our perfect balance with gaining to overall health we are looking for and also enjoying everything we eat when and how we want to. I recently found out I need to be gluten-free, so with this new constraint, I need to be able to let go in other areas to balance out my anxiety.
Living as an influencer
When you have an online presence, you carry some responsibility to those that follow you. Whether you like it or not, it's really important to try and do things that won't cause harm.
Preaching a world of extremes can be damaging to some people. Which is why I have always been open with how we eat. I want others to know that it's okay to live in the fluid grey area.
Once I fully focused on this message, I started to build the tribe of people I always wanted. I love sharing my brand with all types of eaters. I love sharing that plants are not an all or nothing approach.
I want my boys to grow up in a food world that is not taboo, while we eat mostly plant-based at home because of my husband, we allow them to explore foods if they want.
When they get older, they will know what it feels like to have a healthy body and happy relationship with food, and they can figure out what is best for them.
I believe we have one life to live and we need to put ourselves first so that we can be the best us for those we love. Even if that means we make choices that may not be what others want or like, or even when they put others well being second.
If we can't take care of our mental health, we aren't allowing ourselves the joy of living life at it's best. Food is one way we can allow ourselves some grace, it's amazing and meant to be enjoyed in the way we each feel is best.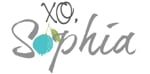 If you missed last week's episode, you can see it here!