If you're looking for weight loss without the stress of dieting, counting calories or tracking what you eat, then this guest is what you need!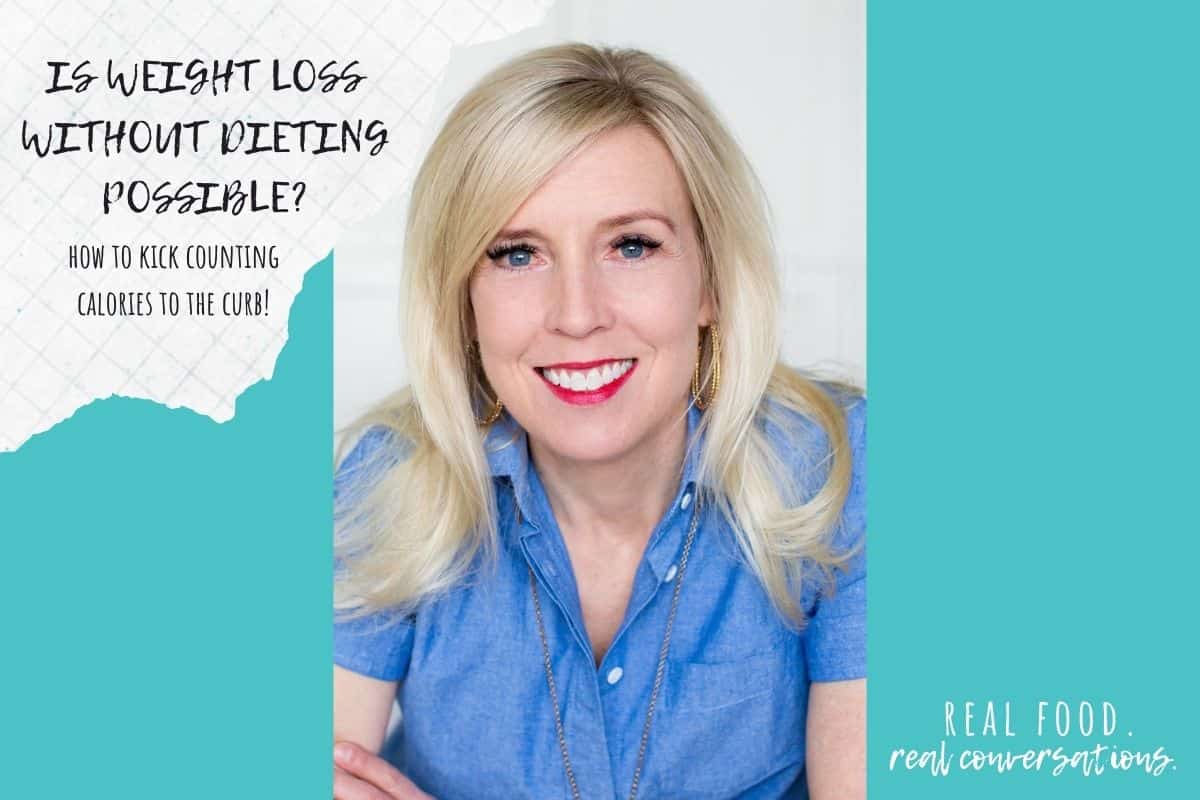 Does anyone really like to track all they eat, count their calories and cut out foods they love? I doubt most people do, but many feel they have to to lose the weight they want. Listen in as our guest today tells us otherwise!
Podcast: Play in new window | Download | Embed

Subscribe now! Apple Podcasts | Google Podcasts | iHeartRadio | Stitcher | TuneIn | Deezer | RSS | More
Claudia is a Registered Dietitian Nutritionist, a Board Certified Specialist in Sports Nutrition (CSSD) and a Strength and Conditioning Specialist/Trainer (CSCS) with a master's degree. Basically she's an overall health coach.
She created ONE-TWO PUNCH to simplify eating, provide education on nutrition and offer tools to have at your fingertips. The book came together from meeting with thousands of clients and creating a method that is easy, doable and sustainable.
Food touches every aspect of our lives and everyone needs to eat. Because of this, your relationship to food and your body is important, but it doesn't need to be hard. ONE-TWO PUNCH shows you how!
You can check out the book on Amazon or grab a free copy at ONE-TWO PUNCH (you pay $4 shipping) with code: VEGGIES.
When is Weight Loss Needed?
Weight loss is a very personal subject. Because everyone is different, there are many reasons that it may be an appropriate part of their health journey.
When you are not seeking a particular ideal or focusing on what social media tells you, weightless can be ok and you shouldn't feel bad or ashamed if it's something you want to do.
Some of Claudia's clients are telling her that they feel uncomfortable, they know they are over eating, stress eating, etc and they want help in stopping this habit.
While in essence the focus is working on the habits that are causing the weight gain, losing that weight is part of the process as well for them.
The body positivity and health at every size movement is amazing, however when taken to the extreme, some people may feel like they can't say they want to lose weight even if they want to for good reasons.
The point is that you need to pay attention to your body's signals, not what the outside world is telling you.
Also, there are some medical conditions that can be helped with weight loss. Things like diabetes and pre diabetes, high cholesterol, dislipidemia, etc.
Reasons Why Diets Don't Work
When a diet is creating a calorie deficit, this will work initially but it works until it doesn't. The way most diets go about it isn't sustainable for real life. Which is the main reason people give for stopping the diet.
We need to find a way to eat with how it works for our reality, we want to create a lifestyle not a short term thing.
Also, many diets cut large groups of food or tell you that you can't eat things you actually love. If we love certain things, why would we agree to never eat them again? Which brings us back to stopping the diet.
Our bodies need a balance of nutrients, and cutting out whole groups of them isn't something that is good long term. While we are all different, in general most of us need a balance of everything to function at our best.
Counting Calories
Overall, counting calories for every thing you eat is stressful. It's one more thing to do, and it doesn't allow you to be in the present moment so you can enjoy your food.
As you continue to count calories and bring stress, you create a system of chronic stress which can increase your cortisol. And in turn and increase of cortisol will make you store fat.
This goes back to the caveman days of fight or flight. Your body thinks it is in distress so it stores the fat for future use in order to keep you alive. Also, your other systems shut down in order to help you focus on fighting the stressor.
When certain stress hormones are released, it makes you crave carbohydrates, which then makes you want to eat them and can lead to overeating. And the cycle continues.
Cutting Out Food Groups
Another extreme of dieting is cutting out large groups of food, like carbs, fat or sugar.
This can makes you feel deprived and then you go overboard and want it. When you stop the diet, you can go completely the other direction. It's human nature.
Think of it like a pendulum, when you bring it all the way to one side and let go, it goes to the other side. It doesn't stop in the middle.
But the goal is to sway in the middle, not live in the extreme. With time, you can learn the strategies needed to be that middle.
If you learn to understand your inner cues, then you can face life's challenges and be able to live in a balanced state. You can eat part of the pizza and feel satisfied instead of eating the whole pizza and feel stuffed and uncomfortable!
Tips
A few tips that Claudia has that you can do right now are:
When you go to get something to eat, stop and roll your shoulders back. Take a big deep breath and ask yourself what you are feeling? Ask if you are actually hungry.
While scheduled eating can help some people find a structure to eating, pause and do the above strategy. Ask yourself if you are hungry or if you are simply eating because it's noon, etc.
Make sure you are hydrated. Think about how much water you have had and see if it's really hunger you are feeling or if you need to drink some water. Sometimes we eat when we are actually thirsty.
Sleep is also so important. When you aren't getting enough sleep your hormones are out of balance and this can signal the stress hormones we talked about above, which will in turn make you crave carbs and bring you to that cycle all over again.
Overall the body isn't the same every day. We experience different levels of stress, move in different ways and have different levels of hormones. A strict diet that treats you the same way every day is not allowing you to be mindful and present.
And don't forget to grab a free copy of Claudia's book at ONE-TWO PUNCH (you pay $4 shipping) with code: VEGGIES.