If you're looking for a super easy but incredible salad, this lentil quinoa salad is it. Super healthy and perfect for picnics or a warm summer day.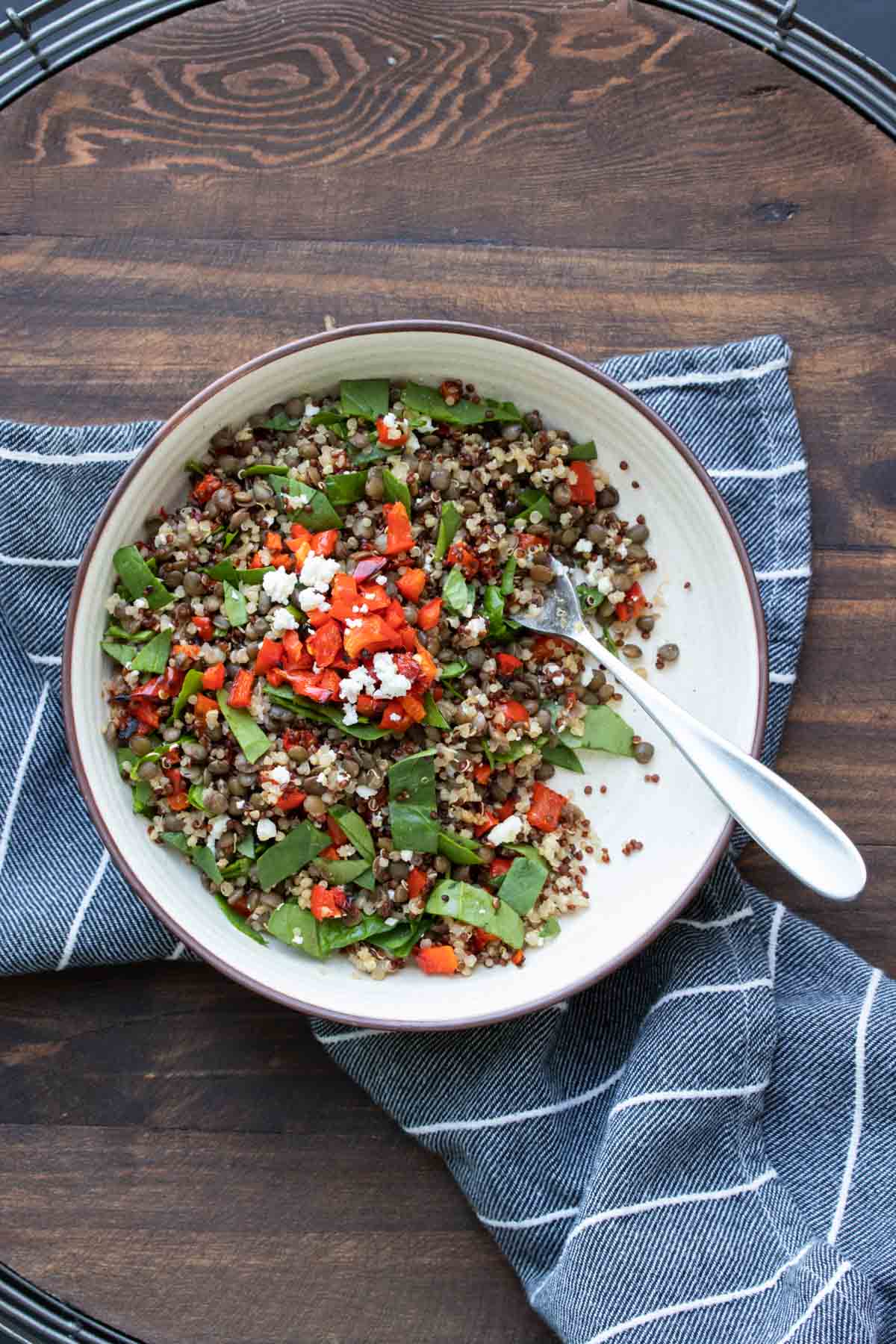 This post was originally published on April 21, 2014.
This recipe has been a tried and true go-to meal for me for many years. It can be make extremely fast and easy with precooked ingredients, and is always a hit at parties!
The Best Fast and Easy Salad
This salad is amazing for so many reasons:
Lentils and quinoa are great sources of protein and fiber
It's really easy to make
It's filling and satisfying
The flavor is amazing
Kids love it (you can finely chop the spinach and red peppers to make it super kid friendly)
Because you can buy precooked quinoa (usually in the freezer section), precooked lentils (can or vacuum sealed), store bought feta and jarred roasted pepper, this salad can be made in under 10 minutes.
But you can also make everything from scratch to keep it uber healthy. So it's easily adaptable for the time you have on your hands.
Tips for making ahead of time
If you want to make everything here from scratch, it is all easily done ahead of time so the day of it still goes really fast.
For details instructions on how to cool the lentils and the quinoa, plus all the information you need about their amazing health benefits, see the following posts:
Steps for Making Lentil Quinoa Salad
These are the easy steps you need to make this amazing salad.
Cook the lentils.
Cook the quinoa.
Roast the pepper if roasting from scratch.
Gather the ingredients.
Mix well and serve!
How to add more veggies
You can definitely add more veggies to make this your own. I suggest roasting them first, much like you would the peppers, then adding.
Some ideas that would be delicious are:
Zucchini
Cauliflower
Broccoli
Brussels Sprouts
Squash
Sautéed greens like chard or kale
Raw kale
Common Questions
Are lentils good cold?
Yes! In fact, I love lentils cold. They are a great bean to have in the fridge ready to use in many ways. from salad toppers, to wrap filling and even mixed into dips!
Which is healthier, lentils or quinoa?
Neither! They both give some great nutrients and are awesome sources of protein and fiber.
Can you substitute quinoa for lentils?
You can, but they are both very different in taste and texture. So it depends on what you are making. If you are making a salad, absolutely. But if you are using lentils to make a burger where their texture is needed, nope.

Nutritionally they are both great sources of protein and fiber. So if that is what you want, then either will give you both.
How long can this sit out?
Because this salad doesn't have any meat or dairy, it can sit out much longer than your traditional salad. If kept in the shade, it's good for about 2 hours.
How do you store lentil quinoa salad?
This is best stored in an air tight container in the fridge for no longer than a week.
More Healthy Salads You Might Like: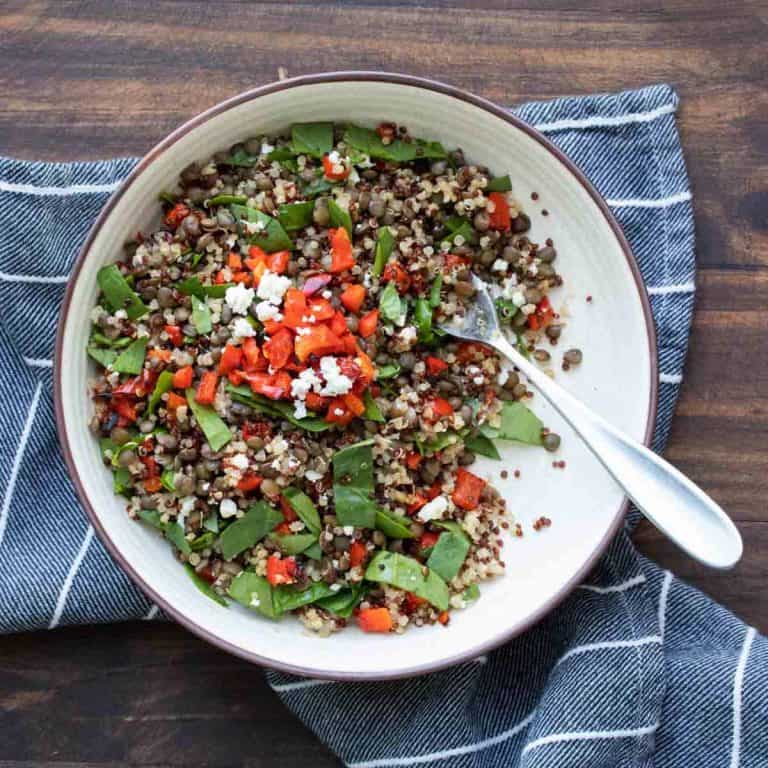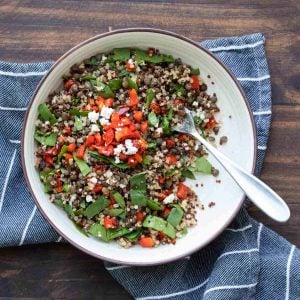 Lentil Quinoa Salad
This recipe has it all: protein, iron, veggies and the health benefits of quinoa. So easy to put together and a great spring dish!
Ingredients
4 cups cooked quinoa , use frozen for a fast version (about 1 ¼ cups dry quinoa)
1 cup roasted peppers , chopped (red, yellow or a mix, roast your own or use jarred for fast version)
2 cups fresh spinach , chopped
2 cups cooked lentils (I use Trader Joe's precooked refrigerated lentils for a fast version)
1 tablespoon lemon juice , add more for extra tang if preferred
1 tablespoon  balsamic vinegar
¾-1 teaspoon sea salt , taste and add more if needed
½ teaspoon ground ground black pepper
½ cup vegan feta , optional but recommended
Instructions
Mix all ingredients in a bowl. Place in the fridge to chill. Best served cold but it can also be eaten warm.

If cooking quinoa or lentils day of, once cooked mix spinach in with both while they are warm. It will wilt the spinach a little bit.

If using jarred peppers and they are jarred with oil, rinse a little or dab with paper towels if you prefer no oil.

Serve alone or as a side!
Notes
Oil isn't needed in this recipe if using the feta since it has whole food fat from the cashews. If you aren't using it, and want some oil, drizzle a little of olive oil or oil of choice.
Nutrition information includes the feta.
Recipe by Veggies Don't Bite, visit our site for more great plant-based recipes.
Nutrition
Calories: 440kcalCarbohydrates: 67gProtein: 21gFat: 11gSaturated Fat: 2gSodium: 899mgPotassium: 925mgFiber: 14gSugar: 5gVitamin A: 1589IUVitamin C: 23mgCalcium: 85mgIron: 8mg
Nutrition and metric information should be considered an estimate.
Never miss a recipe!
Sign up here and get a FREE quick and easy meal guide!