Is a strict vegan lifestyle possible when navigating life today? Listen to find out how it can be done successfully and with a healthy outlook.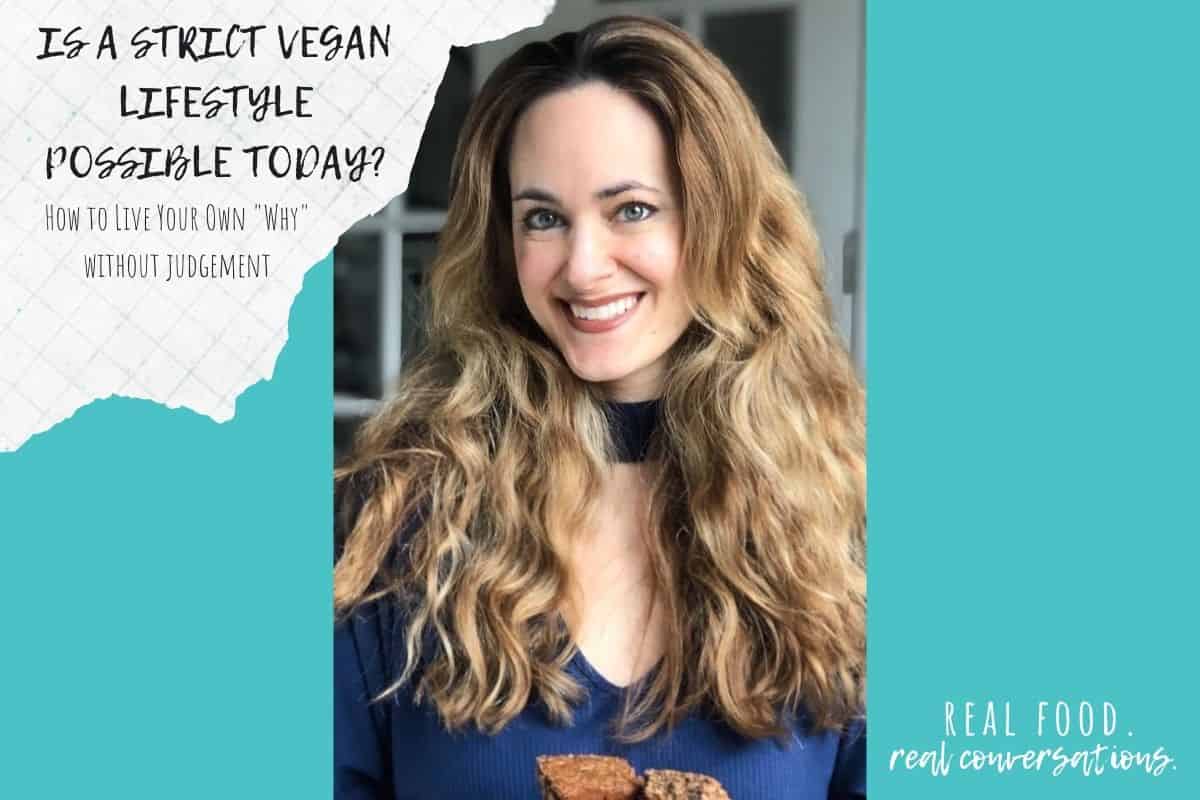 We are all different, and when it comes to our life choices, we should each be doing what is best for us. But choosing to live a vegan lifestyle can work if it's something you want to do!
Podcast: Play in new window | Download | Embed

Subscribe now! Apple Podcasts | Google Podcasts | iHeartRadio | Stitcher | TuneIn | Deezer | RSS | More
Brandi Doming is the creator of the vegan blog The Vegan 8 and cookbook author of The Vegan 8 Cookbook. She went vegan to help control her husband's debilitating gout. Their lives and health improved dramatically.
Brandi loves to show that vegan food can be absolutely delicious, comforting and easy! She creates delicious vegan comfort food in a healthier way.
All her recipes are 8 ingredients or less, not counting salt, pepper or water. And she is an expert on oil-free cooking and baking and welcomes any and all eaters!
Check out her 8 Ingredient Vegan Desserts eCookbook and her hard copy The Vegan 8 Cookbook!
Reasons for Diet Choices
Some people choose to eat a certain way for health reason, some choose it for ethical reasons, and some make the decision for environmental reasons.
There are many different diets that claim to be the "healthiest" out there, but the diet choice that people choose for ethical or environmental reasons is the plant-based or vegan diet.
While Brandi started her vegan journey to help her husband's health, she also evolved to continue that choice for ethical reasons.
What is a Vegan Lifestyle?
A vegan lifestyle is when you abstain from eating or using all animal products. This includes meat, dairy, eggs, honey and even using products that are made of down feathers, leather and wool. If something comes from an animal it isn't part of a vegan lifestyle.
The difference between living a vegan lifestyle and simply eating plant-based or vegan food, is that you transfer those thoughts into all areas of your life. From the clothes your wear, to the car you buy, to the beauty products you use.
Foods not allowed on a vegan diet
The basis of a vegan diet, is the lacking of any animal based foods. But there are some things that people don't realize contain animal based ingredients. Here are a list of things that are not included in a vegan diet:
Meat
Dairy- including milk, cheese, butter, etc
Eggs
Honey
Gelatin- in common foods like Jello and gummy candy
Food you can eat while vegan
As we talk about the food that vegans do not eat, there is plenty that they can eat. So many of the things we use in our cooking are naturally vegan. Here is a list of natural things we don't think about that are vegan:
Fruits
Veggies
Pasta
Grains- rice, farro, etc
Quinoa
There are also many other products out there that are naturally vegan. Things like some sauces, dips, chips, snack foods, etc are vegan. They are not made with any animal based products.
There are also many that are made with vegan alternatives like vegan cheese and meat products. These days you can find almost anything vegan if that is what you choose.
Other things to think about in a vegan lifestyle
While food is a big part about being vegan, there are other things you need to keep in mind when you want to live a full vegan lifestyle. Here are a few things to consider:
Leather in things you wear like clothes and shoes
Leather in your car
Wool in clothing, blankets, furniture etc
Animal based ingredients in beauty products
Animal testing on anything
Down feathers in pillows
Is a Vegan Lifestyle Healthy?
The concept of healthy is different for each person. Because I believe health encompasses both body and mind, you need to take care of both in order to reach overall health.
Vegan food can be highly processed and lacking of essential nutrients. But whole food plant-based food encompasses more of a nutritious angle. So while you can live a vegan lifestyle, this doesn't mean you are filling your body with wholesome food.
Along with that, the reason why you are living a vegan lifestyle makes a difference with the health of your mind. If it gives you peace and happiness to live a vegan lifestyle, then your mind will be healthy.
So both must be taken into account when it comes to overall health. If you give your body the nutrients it needs to function correctly, and you take care of your mental health, you can certainly live a healthy lifestyle while vegan.
Losing weight by being vegan
Many people think that eating a vegan diet will automatically help them lose weight. While it is possible to lose weight on a vegan diet, it is not necessarily because of the vegan diet itself but instead on the things you are eating overall.
Because a vegan diet doesn't include dairy products and you are used to eating a ton of cheese, simply cutting that out will help reduce fat and calories. But at the same time, if you replace that cheese with a store bought vegan cheese instead of something else, you may not lose any weight at all.
Losing weight is very personal and to do so in a healthy way you should see a licensed professional, but overall if you go from eating only meat and cheese and swap that with loads of fresh vegetables, fruit and nuts, you will be filling your body more wholesome ingredients and taking one step towards losing the weight you want.
Kids and a Vegan Diet
Making sure your kids are getting all they need health wise on a vegan diet is key. Talking to your pediatrician and having them guide you on your kids health is important, so before you make any major changes talk to them first.
But it is possible to have kids that are fully vegan, like Brandi does with her daughter. She is healthy and thriving and gets regular check ups by her doctor to make sure.
Another side to this is that you want to make sure your child's mental health is taken care of. Kids can be mean and bullying can center around food and what your child can and can't eat.
Teaching kids to be proud of what they eat and stand up for themselves is important, like it is in any area of their life. So keeping an open line of communication and talking about issues as they arise is a good idea. Brandi has done this with her daughter with success.
Starting a Vegan Diet
Starting a vegan diet can be overwhelming. Going about it slowly and with a plan is the best way to achieve long term success. Many people jump into it and get stuck on what to eat. They end up eating the same thing over and over, then get bored and quit.
Here are some things you can do in order to start a vegan diet and have it be successful:
Stock your pantry with things you can eat instead of focusing on what you can't eat
Start with things you love and have those stocked
Spices really bring flavor into food so buy all the spices you love
Make sure you have a variety
Find recipes online with the main ingredients you already love
Replace the animal ingredients in recipes you already love with vegan alternatives, like lentils for meat in tacos