Mashed chickpeas, piles of veggies, and a mayo free creamy base make this vegan mashed chickpea salad sandwich the perfect all in one recipe!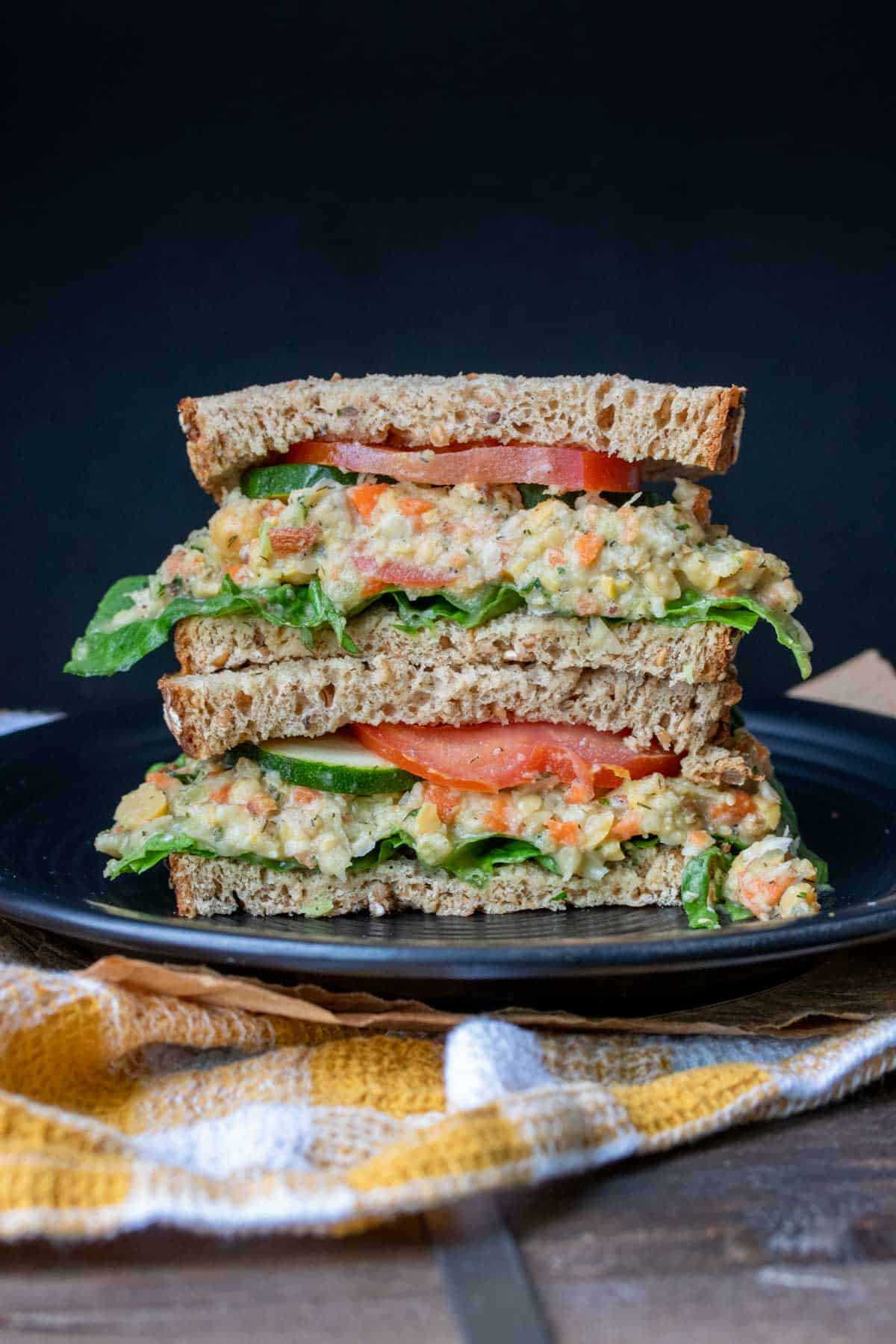 This recipe was originally published on 5/20/15
A good go to sandwich is a must. But many are loaded with unnecessary fat and leave you feeling all kinds of yuck. That's why I took this smashed chickpea salad, and reworked it so it was filled with whole healthy ingredients!
Making a Chickpea Salad Sandwich
There is more than one way to get the effects of tuna without the actual tuna. That mayo filled fish based sandwich is a classic. But that doesn't mean it can't be altered to fit a healthy diet.
What do vegans eat on sandwiches?
The basic answer here is anything. Just like a tortilla, you really can put almost anything between bread.
Here are a few of my faves:
Veggies– all and any, I slap them on like no tomorrow!
Sauce– the pinnacle of finishing off the flavor of a meal, just spread it on with a heavy hand
Cheese– whether you're dairy free or not, throw this on for an extra oomph and if you're fancy, melt it
Protein– Portobello mushrooms, baked tempeh, avocado, whatever it is, putting a good protein base on a sammie helps keep you fill and satisfied
Mimicking the feel of the classic tuna salad, but in a healthy way, isn't that hard. You need to think of two main things: the main protein and the creamy base.
There are many ideas out there on replacing tuna in a vegan tuna sandwich. Jackfruit, artichoke hearts, hearts of palm and chickpeas are the top choices. I chose the later, making this mashed chickpea salad sandwich the perfect easy meal.
Are chickpeas in a can good for you?
While you certainly can use dried chickpeas (and I definitely choose them for some recipes that I feel need them for ultimate texture, like my vegan taco meat), the canned variety are perfect for this recipe.
I feel that they mash a bit better, which helps contribute to the creamy base (more on that below). With the use of BPA cans now, I don't feel there is any harm in using canned chickpeas.
We all need to make our own decisions, but for me, balance and low stress plays a huge role in living the perfect food space for me. Want to learn more? Check out my group Balancing Plant-Based!
In this chickpea salad sandwich, I use the chickpeas as the tuna sub plus I use them to contribute to the creaminess of the base. I also use something called Aquafaba.
What is Aquafaba?
Aquafaba is literally the liquid from a can of chickpeas. It took the vegan cooking world by storm some years back.
It was discovered by Joel Roessel when he noticed that it frothed much like egg whites. It now is used as an egg replacer in many things, from baking to actual meringue!
With the baking world using it non-stop, I decided to take a different spin (big surprise here) and use it in a savory recipe.
So I frothed it up by beating it on high to make it creamy and fluffy, then mixed it into my chickpea salad base to add to the creaminess of the chickpeas. No mayo needed! You can definitely add a bit of oil when you beat it for an extra creamy flavor, but it isn't totally needed.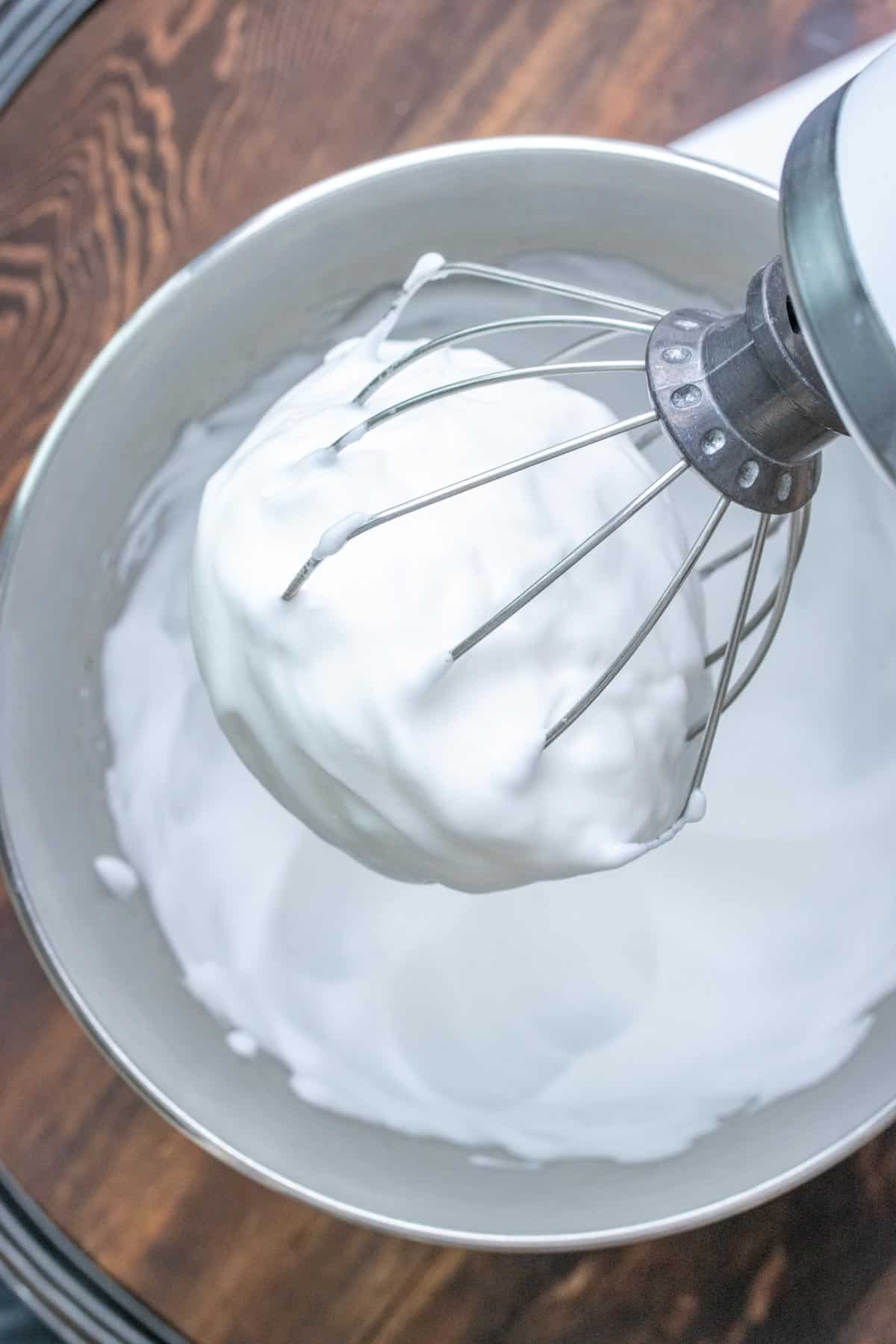 Can I make my own Aquafaba?
Yep, you sure can. If you soak your dried chickpeas instead of using canned, save the liquid and reduce it like explained in this post here all about making your own Aquafaba.
How long does Aquafaba last?
Aquafaba can hang in the fridge for about a week.
But my trick, is whenever I open up a can of chickpeas, I pour the liquid into ice cube trays, then once frozen, I dump the aquafaba cubes into a plastic bag.
Boom, instant aquafaba for things like smashed chickpea salad sandwiches, baked goods, and those crazy moments when I attempt things like meringue.
How To Make a Mashed Chickpea Salad Sandwich
Once you get the Aquafaba down, it's as easy as pulse and mix. You can even do a super fast version, and skip the aquafaba mixture altogether.
Pulse to chop. 
Make the aquafaba and mix.
Top your bread.
Serve!
Other chickpea salad sandwich ideas:
Try using up leftover roast veggies in your sandwich next time.
Sprinkle with your favorite seeds for extra crunch (I like pumpkin seeds).
Arugula would give this sandwich a nice peppery kick.
Try different fresh herbs such as torn basil leaves.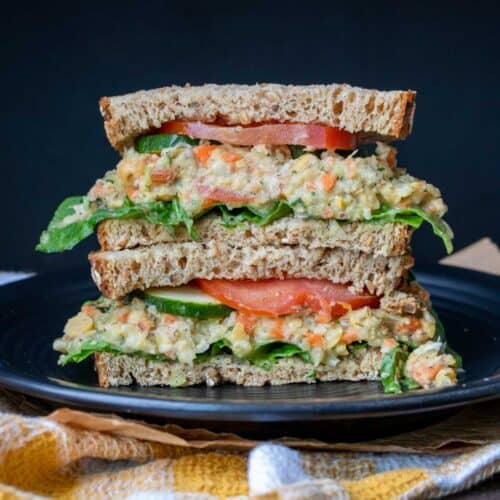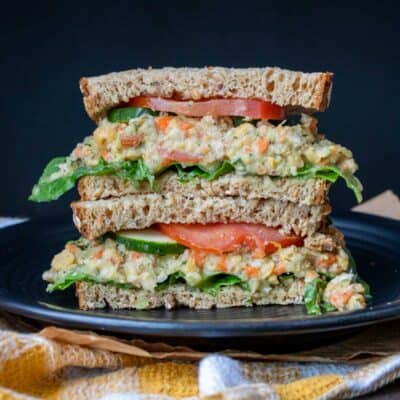 Vegan Mashed Chickpea Salad Sandwich
Mashed chickpeas, piles of veggies, and a mayo free creamy base make this vegan mashed chickpea salad sandwich the perfect all in one recipe!
Ingredients
1 1/2

cups

chickpeas

, drained and rinsed, about one 15 oz can

6

tablespoons

chickpea brine

, the juice from can of chickpeas (can drizzle some oil in with this if you want an extra creamy result)

1/2

cup

almonds

, or pumpkin seeds for nut free version

1/2

cup

roughly chopped carrots

1/2

cup

roughly chopped celery

1/4

cup

roughly chopped pickles

1

tablespoon

roughly chopped fresh dill

1

tablespoon

pickle juice

1

tablespoon

lemon juice

1/2

teaspoon

sea salt

1/4

teaspoon

garlic powder

1/4

teaspoon

ground black pepper

1/4

cup

chopped cilantro

, optional for added level of flavor
To serve:
4

slices

your favorite sandwich bread

Sliced cucumber

Lettuce

Tomato
Instructions
Drain the can of chickpeas, reserving the juice.

Put almonds, carrots, celery, pickles and dill into a food processor. Chop into small pieces and put into a large bowl.

Next add the chickpeas into the food processor and pulse until chunky. Take out all but 1/4 cup and add to the bowl.

Puree the leftover chickpeas into a paste.

Add the chickpea paste, pickle juice, lemon juice, salt, garlic powder and pepper into the bowl and mix well.

Add the reserved chickpea brine (you can store the rest for future use), and beat with a stand mixer (with whisk attachment) or beater until it begins to get thick and creamy. You can drizzle a bit of oil here if you want an extra creamy result.

Add it to the bowl and fold into the mixture.

Serve on bread with cucumbers, tomatoes and lettuce!
Notes
If you want a really fast version and don't want to mess with whipping the brine, then simply add 1/2 cup chickpeas instead of 1/4 when pureeing to a paste, then mix with the chopped chickpeas and veggies.
Makes 2 cups chickpea mixture. Serving size is 1/2 cup.
Nutrition facts are for the mashed chickpea filling only
Tips to prep ahead:
Chop veggies and beans beforehand so all you need to do the day you make it is put it all together.
Recipe by Veggies Don't Bite, visit our site for more great plant-based recipes.
Nutrition
Calories:
216
kcal
Carbohydrates:
23
g
Protein:
9
g
Fat:
10
g
Saturated Fat:
0
g
Polyunsaturated Fat:
0
g
Monounsaturated Fat:
0
g
Trans Fat:
0
g
Cholesterol:
0
mg
Sodium:
419
mg
Potassium:
389
mg
Fiber:
7
g
Sugar:
4
g
Vitamin A:
2830
IU
Vitamin C:
3.9
mg
Calcium:
91
mg
Iron:
2.5
mg
Nutrition and metric information should be considered an estimate.
Never miss a recipe!
Sign up here and get a FREE quick and easy meal guide!