Looking for the perfect easy recipe for a quick dinner? These gluten-free vegan black bean burgers are low fat, full of protein and take 10 minutes to prep!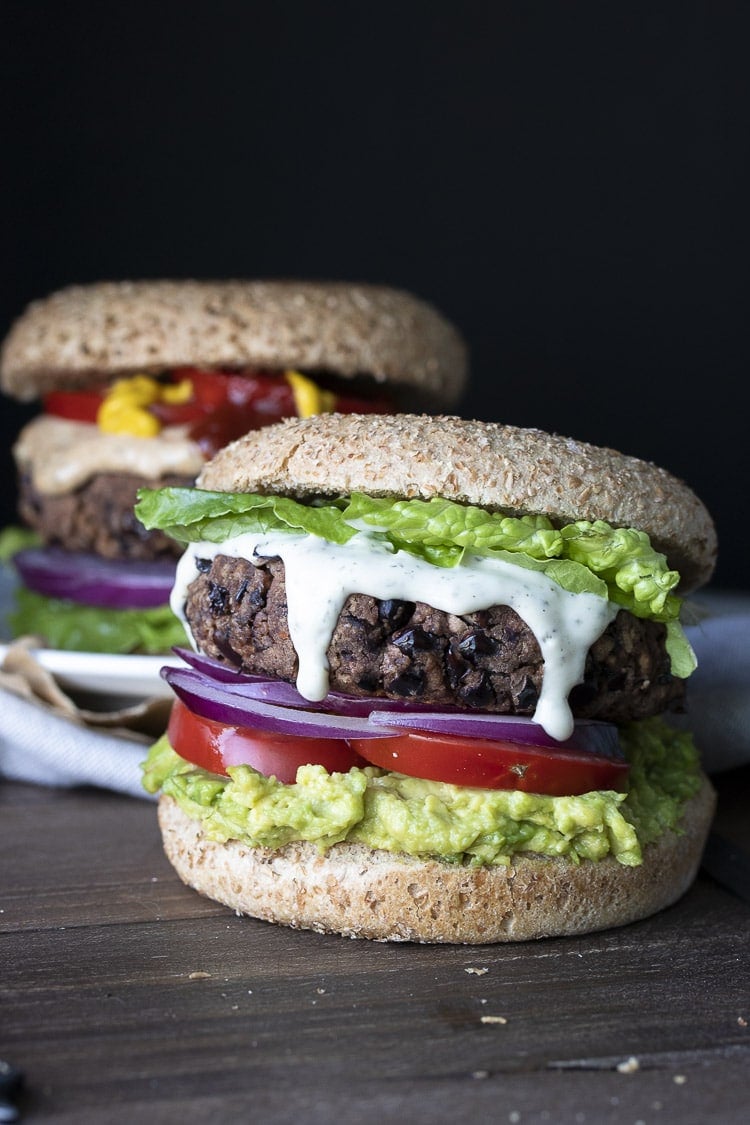 This recipe was originally published on 8/12/18
These homemade veggie burgers are made of only 7 ingredients, most of which you typically have on hand, and are perfectly customizable so that everyone gets what they want, aka no more whining that the burgers have something a certain child doesn't want.
Gluten-Free Vegan Black Bean Burgers
We all have those crazy days (or weeks or months) where the thought of dinner sends us into a tailspin. Having healthy easy dinners in our back pocket is key. Which is why I love this gluten free and vegan black bean burger recipe!
It is not only easy, but it's quick to prep and customizable for all my personalities (aka children) and good enough to go back to over and over.
Making a homemade veggie burger that is just right in texture and flavor can be tricky. So here are some answers to the questions I get asked the most.
What are the best vegan burgers?
I am a homemade veggie burger snob. So when it comes to finding my favorites two things always stand out the most. Texture and flavor.
You need to have the right amount of liquid to solid ratio so that they aren't mushy or overly dry but still stick together.
You also want your burgers to taste like something other than bread or beans. This is where add ins and spices play a big role.
How do you bind a veggie burger without eggs?
I get asked this question all the time. There are so many ways to get your burgers to stick together! Eggs are definitely not needed. Here are some of my favorite key binding ingredients:
beans
potato
ground flax and water
breadcrumbs
oats
How do you make veggie burgers that don't fall apart?
This comes down to the ratio of moisture to dry you have along with your binder. If you have the right combination of ingredients, the right amount of moisture and a binder, then you will get burgers that are tough enough even for a grill.
You also need to make sure you are forming them well. They need to be mashed and firmly shaped into a patty.
Another thing to keep in mind is if you are cooking them in a pan, make sure not to try and flip them too early. If you do, they have the potential to fall apart.
Why are my veggie burgers mushy?
Moisture. Are you sensing a theme? LOL! It's easy to make a mistake and add unwanted moisture to your homemade veggie burgers.
veggies not cooked when they should be, or not cooked enough
not using enough binder
your bean ratio is too high
using grains that are not fully cooked
cooked them at too high of a heat, medium is perfect or they will develop a crusty outside and mushy inside.
How to store homemade veggie burgers
You can definitely make black bean burgers ahead of time and store for when you are ready. Storing them uncooked gives you a fresher burger since cooking and storing tends to dry it out. But there are different things I do depending on when I will eat them.
If we are eating the burgers within 1-3 days, I store them in the fridge. Here are my best tips:
store the burger mixture in an airtight container whole
put on the counter to bring to room temp when you are ready to cook them
shape into patties then cook
If we need to freeze the burgers to eat at a later date, here is what I do:
shape the mixture into patties
cover each patty with plastic wrap
wrap the plastic covered patties with tin foil
store in an airtight container
defrost on the counter to bring to room temp when ready
reshape the patties if they fell apart at all then cook
Options for customizing homemade black bean burgers
This recipe is a perfectly flavored stand alone vegan burger recipe, but adding in a variety of ingredients can really help to switch up the flavor so you don't get sick of eating the same thing.
There are loads of options, but here are some of our favorite ingredients to add:
red, green or sweet onions
spinach
corn
sautéed peppers
roasted chiles
mushrooms
carrots
chives
cilantro
parsley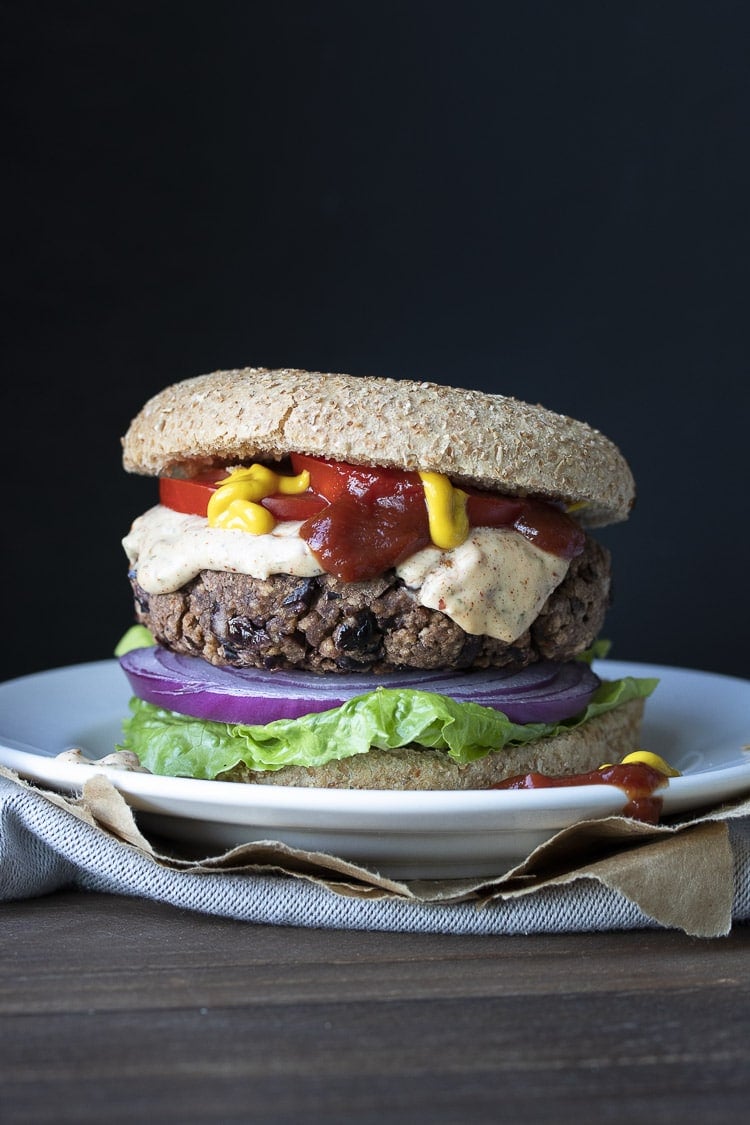 How to serve gluten-free vegan black bean burgers
Other than the versatility of the add ins when making homemade bean burgers, I also love the many ways you can serve them. There are so many options that you can literally eat them every week and not get sick of them. Here are our favorite:
in a bun the traditional way
use lettuce as a wrap
crumbled over a salad
crumbled over nachos
in a wrap
crumbled in a quesadilla
as part of a panini or grilled cheese
How to make homemade gluten-free and vegan black bean burgers
Mix all ingredients in a bowl. Put in any add ins you want.
Allow the mixture to set in the fridge while you clean up a bit. 
Shape into patties and cook.
Build how you want and devour. 
If black bean burgers aren't your favorite, or you want to switch it up try out these Vegan Chickpea Burgers!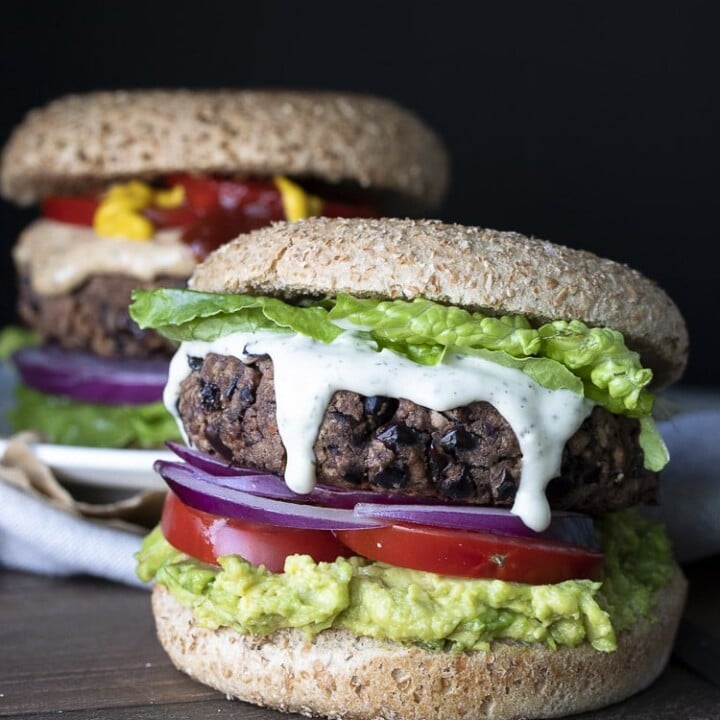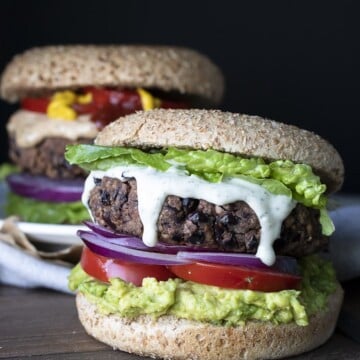 Low-Fat Easy Vegan Gluten Free Black Bean Burgers
Looking for the perfect easy recipe for a quick dinner? These gluten-free vegan black bean burgers are low fat, full of protein and take 10 minutes to prep!
Ingredients
30 ounces black beans, drained and rinsed , I used two 15 ounce cans
¾ cup breadcrumbs , gluten free if needed
2 tablespoons low sodium soy sauce or Tamari (add optional ½ teaspoon salt if you need it saltier)
1 tablespoon hot sauce (add less if you are very sensitive to spice)
2 teaspoons garlic , finely chopped (about 3 cloves)
1 teaspoon maple syrup
½ teaspoon liquid smoke (if you don't have this on hand, you can also add smoked paprika, start with 1 teaspoon and add more as you prefer)
Optional add ins (no more than ½ cup total):
Red or green onions
Herbs- cilantro, parsley, etc
Use any toppings you prefer, like ketchup, mustard, tomato, lettuce, onion, and avocado
Serve on buns or lettuce wraps
Instructions
Mix all ingredients in a bowl, mashing with your hands until half the beans are mashed and you still have some chunks.

Allow the mixture to settle in the refrigerate while you clean up (about 5 or so minutes). This helps the breadcrumbs fully absorb and the texture to firm up.

Cook on a griddle, outdoor grill, or pan for 6-8 minutes on each side. You could also bake them in the oven if you prefer. Bake at 375 F (191 C) for about 15-20 minutes on each side.

Build your preferred burger using any toppings you desire. Serve on buns or even lettuce wraps.
Recipe by Veggies Don't Bite, visit our site for more great plant-based recipes.
Nutrition
Calories: 213kcalCarbohydrates: 40gProtein: 12gFat: 0gSaturated Fat: 0gCholesterol: 0mgSodium: 458mgPotassium: 11mgFiber: 12gSugar: 1gVitamin C: 2.3mgCalcium: 2mgIron: 0.1mg
Nutrition and metric information should be considered an estimate.
Never miss a recipe!
Sign up here and get a FREE quick and easy meal guide!