This is the best list of unique must-have vegan stocking stuffers for the holiday season! Find affordable ideas in a variety of categories that everyone will love!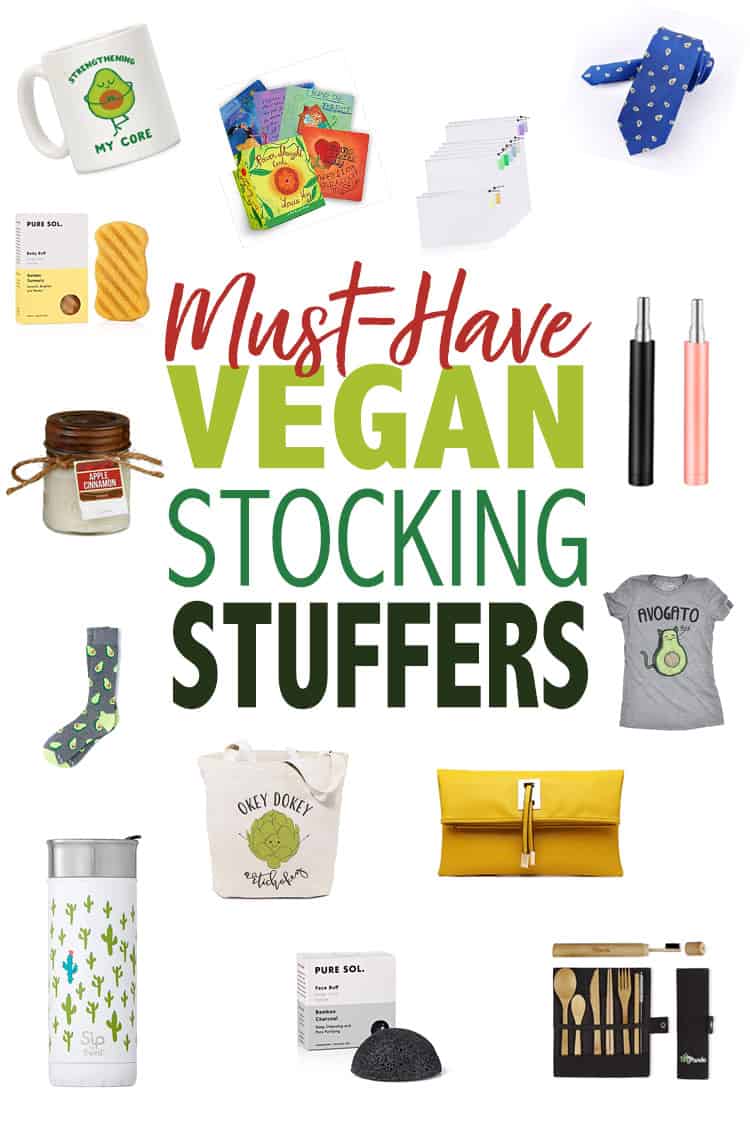 There are so many options and ideas out there so I have taken the work out of it. From kids to adults to food ideas, grab a few items of this list for your friends and family!
Vegan Stocking Stuffers
Holidays can be a tricky time when it comes to finding gifts that everyone will love. I really enjoy getting things for others and like to make sure it is something they will enjoy.
So I created a list of different and fun ideas in a few areas that I think will be helpful when putting together your holiday gift list. It has a span of inexpensive to a little pricer but still affordable items.
Vegan stocking stuffers for kids
Getting gifts for kids can be tricky enough, but what can you fill their stockings with? I have a great list of options for kids of all ages!
Temporary Tattoos for Kids, Non-Toxic FDA Approved Cartoon Theme Fake Tattoos Stickers for Children Boys Girls Halloween Birthday Party Favors Supplies (Animal Tattoos)
Kids love these things! Temporary tattoos are small enough to fit in their stocking and the best part is that it is usable and doesn't take up space like other items.
FlyFlag Eco-Friendly Modeling Clay, Air Dry Molding Magic Clay, Ultra Light, Non Toxic for Kids, Teens, Creative Art DIY Crafts, Best Kids Gifts Ever, 24 Colors
This non toxic modeling clay for kids is a great extra item. You can buy the pack and divide it among all the littles in your life.
Linus the Vegetarian T. rex
This cute book has the best story line! The illustrations are adorable and the story keeps kids attention. We own it and I even read it to my son's class last year!
Crayola Bathtub Fingerpaint 5 Color Variety Pack, 3 Ounce Tubes (Bluetiful Blue, Screamin' Green, Radical Red, Flamingo Pink, Royal Purple)
Kids love to take baths and these washable non toxic bath paints are the perfect way to keep them busy! I love the individual tubes I can divide between all my boys.
Piggy Paint - 100% Non-toxic Girls Nail Polish, Safe, Chemical Free, Low Odor for Kids - 4 Polish Gift Set (Scented)
This non-toxic nail polish is awesome. We have used it before (yep my boys liked to paint their nails when they were younger!) and it goes on great and stays on.
Vegan stocking stuffers in beauty
It's so hard finding beauty products that aren't filled with chemicals or tested on animals. This list has a few different options that intrigued me!
Kopari Coconut Lip Glossy- Hydrating and Moisturizing Coconut Oil, Vitamin E and Shea Butter Lip Gloss With 100% Organic Coconut Oil, Non GMO, Vegan, Cruelty Free, Paraben Free, Sulfate Free 0.35 Oz
I love a good lipgloss! And you can never have too many tubes, I love keeping one in a variety of places to make it easy.
ZOYA All Snuggled Up Quad, 8.8 Oz
A good quality but non toxic nail polish is always a score. Easy to throw into a stocking and goes a long way.
The Seaweed Bath Co. Exfoliating Detox Body Scrub, Awaken Scent (Rosemary & Mint), Natural Organic Seaweed, Vegan, Paraben Free, 6 oz.
This company makes great beauty products. Both their lotions and scrubs are so refreshing and make you feel like you're at a spa!
pureSOL Konjac Facial Sponge - Activated Charcoal - Great for acne
Perfect for that teen, or adult, looking for a more natural way to calm their skin. It's such a unique stocking stuffer or small gift!
Kopari Aluminum-Free Deodorant | Non-Toxic, Paraben Free, Gluten Free & Cruelty Free Men's and Women's Deodorant | Made with Organic Coconut Oil | 2.0 oz
I have heard great things about this all natural deodorant! I have yet to try it but it's a better choice for every day use than the aluminum filled kind.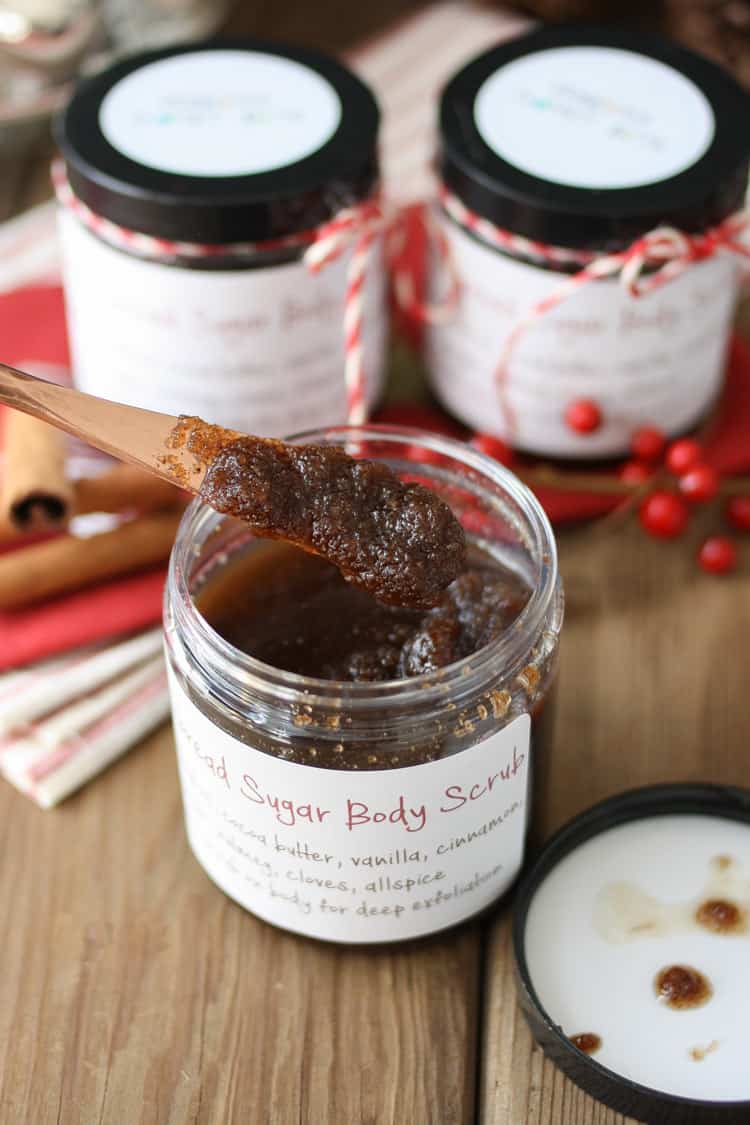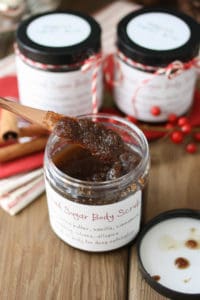 This is a homemade body scrub I created that smells incredible. It's made with simple real ingredients and is easy to make!
Vegan stocking stuffers in food and drink
While food in your stocking isn't always typical, it's always fun to get a little treat. I also love gifting consumable products because they don't take up space and introducing people to new items is awesome.
If you're looking for a great vegan candy list, my post is full of great ideas! Remember that ingredients change, so always double check. This list was verified through multiple websites online.
Endangered Species Panther, Fair Trade Dark Chocolate Bar, 88% Cocoa - 3 Ounce Bars (12 Pack)
I love a good dark chocolate bar! There is such a different between good chocolate and bad chocolate. Dark is by far my favorite.
The Kombucha Shop Kombucha Brewing Kit with 1 Gallon Glass Brew Jar, Kombucha SCOBY and Starter Pouch, Temperature Gauge, pH Strips, Loose Leaf Tea and More
Kombucha is becoming more and more popular, we love it! This is a fun gift for the adventurous friend or family member.
The Tao of Tea, Hibiscus Ginger Tea, Loose Leaf, 3.0 Ounce Tin to make 50 cups
A nice tea is perfect for that friend that loves to relax and have a cozy night in. This hibiscus ginger flavor is caffeine free so great for anyone.
BIENA Chickpea Snack Puffs Variety Pack | Gluten Free and Grain Free | Plant-Based Protein (6 Pack) (Packaging May Vary)
These are one of my favorite snacks! Bean based, so great for anyone avoiding gluten and also vegan and organic. I love this variety pack!
Vegan stocking stuffers in clothing
Clothing can be a bit tricky, but if you find the right thing for the right person it's a great option for stocking stuffers. I loved all these ideas I found for the veggie or animal lover in your life.
Hot Sox Women's Animal Series Novelty Casual Crew Socks, bees (Blush), Shoe Size: 4-10
I loved all the colors of these socks and how fun they are! They would be great for wearing with boots and other closed toe shoes.
Cotton Idea Funny And Cool Animal Crew Dress Scoks for Men Cozy Pack Size 10-13
These are perfect for your favorite animal lover, especially one that's adventurous with their dress socks.
Men's Avocado Necktie - Avocado Necktie - Avocado Tie - Avocado gift - Avocado Necktie for Men
This tie decorated with mini avocados is so cute! I like the blue basic background with just a touch of flair.
Vegan Definition Shirt - Funny Vegan Joke - Women Men Kids
If you know a jokester or funny guy (or girl), this tee is perfect. Looks basic but when you look at the actual words it's pretty hilarious.
Vegan stocking stuffers in accessories
Accessories are one of my favorite areas to both give and get gifts. There are a lot of options so I tried to give unique ideas and a little bit of everything.
The Cotton & Canvas Co. Okey Dokey Artichokey Reusable Grocery Bag and Farmers Market Tote Bag
Reusable bags are a huge trend and need in most of our lives. They really can be used for anything from groceries to travel. This graphic is adorable and perfect for your favorite veggie lover.
Abshoo Women Clutch Purse Evening Faux Leather Clutch Bags (Yellow)
I have a clutch addiction so I had to include at least one. I love the simple but fun style of this vegan leather option!
Aira Soy Candles - Organic, Kosher, Vegan, in Mason Jar w/Therapeutic Grade Essential Oil Blends - Hand-Poured 100% Soy Candle Wax - Paraffin Free, Burns 60+ Hours - Apple Cinnamon - 8 Ounces
Who doesn't love a good candle! Apple cinnamon is probably one of my favorite holiday scents and this one sounds like it will be amazing. With over 60 hours of burning it will last you quite some time.
LookHUMAN Strengthening My Core White 11 Ounce Ceramic Coffee Mug
This brands coffee mugs were so funny! I love a good play on words (as you can tell with all of my options) and this one is so funny. Check out the other options they have too!
2 Pack Reusable Metal Straws Collapsible Stainless Steel Drinking Straw Portable Telescopic Straw with Case Black/Rose Gold
This is something I need myself! I cannot stand paper straws and the idea of using a metal or glass straw at a restaurant really grosses me out. I love that these fold up super small and can easily fit into a clutch or even pocket.
Other ideas for vegan stocking stuffers
Power Thought Cards: A 64 Card Deck (Box Set)
I thought this was a really neat idea. Starting your day, or ending it, with a positive affirmation can only be a good thing. I think these would be a great conversation starter for the dinner table.
2 Pack Bamboosty Eco Friendly Bamboo Cutlery Set 6 Piece Pack of Wooden Utensils with Reusable Bamboo Spoon, Fork, Knife, Chopsticks, Bamboo Straw and Reusable Straw Cleaner For Travel and Camping
These are a perfect gift for someone who likes to picnic or camp. Eco friendly and reusable!
purifyou Premium Reusable Mesh Produce Bags with Tare Weight Tags | Set of 9 | Superior Double-Stitched Strength | for Grocery Shopping, Fruits, Veggies, and Snack Bags | Washable
While many of us have reusable grocery bags, a lot of us don't thing about the produce. This is a perfect stocking stuffer for the eco friendly lover!
S'ip by S'well 20316-A18-04710 Travel Mug, 16oz, Looking Sharp
How cute is this travel mug?! I love how bright and cheery it makes me feel and those colors are my favorite!
Vegan Burgers and Burritos: Easy and Delicious Whole Food Recipes for the Everyday Cook
I couldn't leave this list without my personal favorite, my cookbook! This is the perfect cookbook for the burger and burrito lover...and also the sauce lover as it has 19 different sauce recipes! If you'd like other book suggestions check out my list of favorite cookbooks!