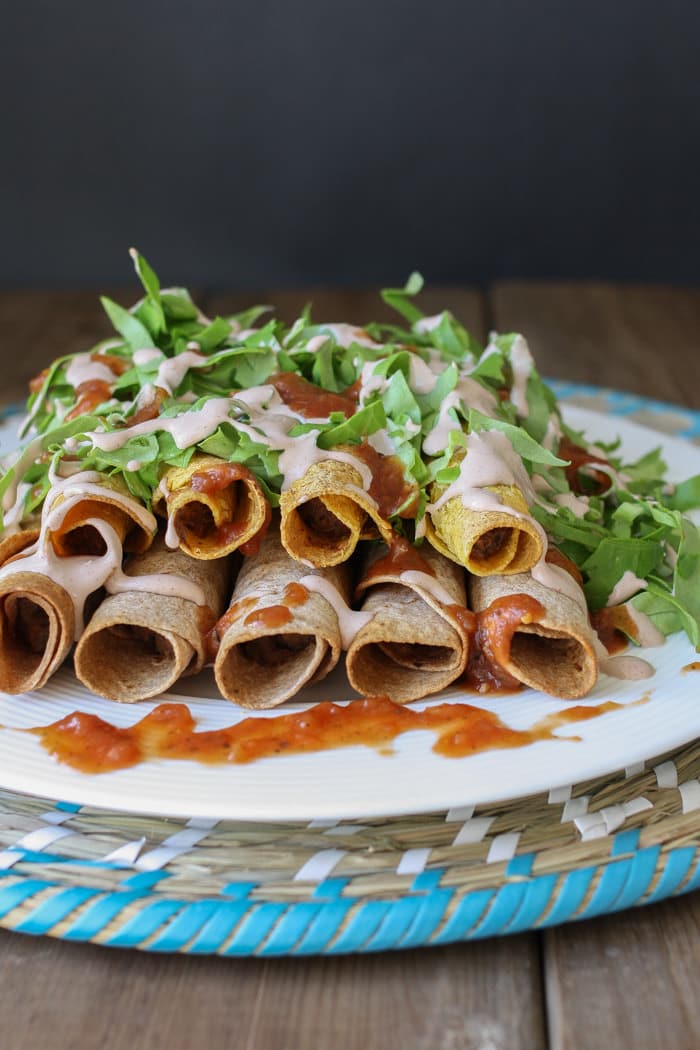 Tacos…a perfect meal. In our house, you can make anything into a taco. I love that tacos are all encompassing, they have the protein, veggies, flavor, and best of all hot sauce! They are definitely in our weekly rotation and range from simple to fancy, crunchy to soft. These particular bites of heaven evolved when I happened to be shopping at my favorite market, Jimbos, on a day when they got fresh local organic nopales. What are nopales you ask? I didn't know either, in fact when I first saw them I was a little bit intimidated. Nopales are cactus paddles. Since I have a "blog year" resolution to expand my horizons and create things out of my comfort zone, I bought a few and came home to my computer to figure out what in the world I was going to do with them.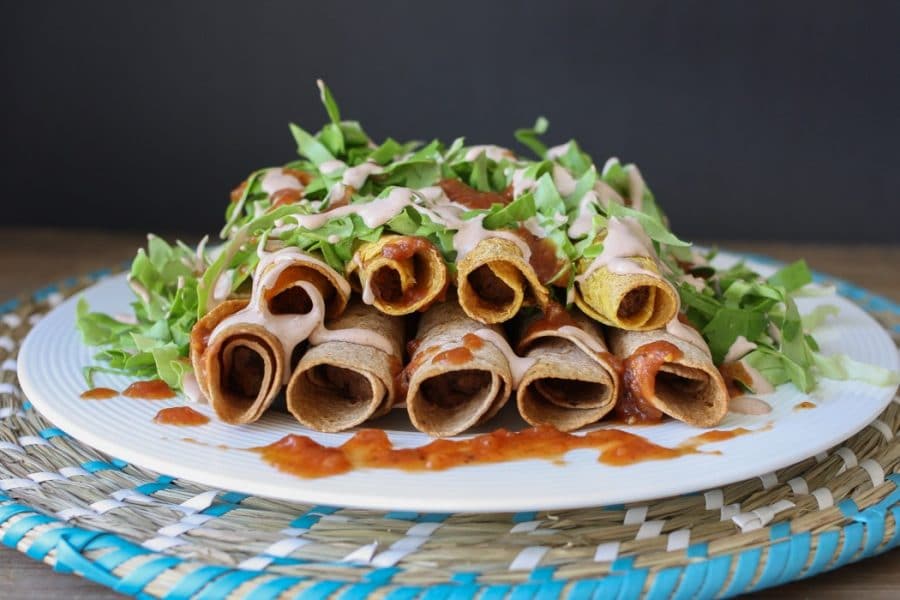 The first thing I read when researching this new ingredient, was how good they are for you. Not only are they a really low calorie vegetable, but they are filled with goodies like fiber, vitamins and minerals. I was super excited to experiment! I decided that to make it something my family would try, husband and kids included, I needed to present it in familiar form… and tacos are not only familiar but as I said before, you can put anything in a taco! Cleaning the nopales was a bit stressful because you want to make sure to get all the needles out, but once I got them cleaned they were easy to chop. Just watch out for the gel like substance that they ooze, kind of gross but it evaporates when cooking. I got to work pulling other ingredients together and came up with these easy to make and super healthy crunchy rolled tacos!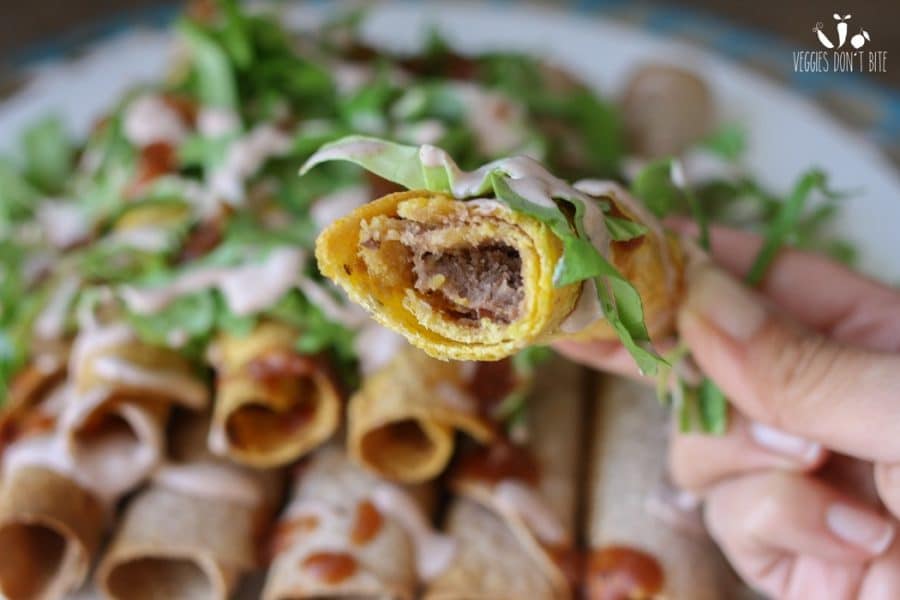 These beauties have pretty much everything: protein, iron, veggies…and they are an awesome kid meal. Your little ones will have no idea how many nutrients they are getting. The veggies inside are pureed enough so they are not chunky and noticeable, but still there making their bodies strong. I did not include spice in the seasonings because I really wanted to keep these kid friendly, but you can always spice it up! They also have no oil, because none is needed, and can definitely be made subbing silken tofu for the nuts in the sauce if you have a nut allergy. I made them with both corn and whole grain flour tortillas and they both were great. My family preferred the corn, as they did get a little bit crunchier, but they are very tasty with any tortilla you chose. They are so much better for you than the store bought versions, and can be frozen for later use! What are you waiting for?! Let's get cooking!
Nopales, Black Bean, and Potato Rolled Tacos with Smoky Taco Cream
Servings: Makes 15-20 tacos, depending on size of tortillas
What's better than a health filled crunchy rolled taco topped with awesome ingredients? Nothing. Get your comfort on with this delicious and simple to make recipe.
Ingredients:
Toppings:
1 cup salsa of choice (more or less depending on preference)
Smoky Taco Cream (see recipe below)
2 cups shredded lettuce
Smoky Taco Cream:
note: If you aren't using a high speed blender make sure to soak the nuts for at least two hours to over night. You can also make this cream nut free by using silken tofu instead of the nuts and water. Because you are cooking the veggies with broth you may not need extra salt. I did not, but add if you prefer more. You can sub the cactus paddles with another veggie like any pepper or even zucchini. You can even simply use any veggies you have in your fridge as long as you keep the total veggie amount (1 3/4 cup) the same.
Tips to prep ahead: Prepare the filling. Make Smoky Taco Cream.
Baby/toddler food idea: Serve filling only. Blend well and use liquid of choice to thin out to desired consistency. For toddler, bake rolled tacos only a few minutes so tortillas are still soft, cut up into small pieces and serve.
Instructions:
Preheat oven to 400.
Wash, clean (if needed get all the needles off the nopales using a knife, and be careful!) and chop nopales, potatoes and squash. Rinse beans. In a pan over medium heat, cover and cook the potatoes with ½ cup veggie broth until almost tender. Add cumin, garlic powder, nopales, and squash and continue cooking until everything is tender. Taste and add salt if needed. Add more veggie broth as needed so veggies do not stick. Remove from heat and set aside to cool.
Make Smoky Taco Cream by putting everything into a food processor, blender or high speed blender and puree until well mixed and smooth. If too thick you can add more water. Remove half of the cream and set aside, keeping the rest in the blender or food processor.
Add beans and cooled veggie mix to the blender or food processor and mix slowly until everything is chopped and combined but not a smooth paste.
Next, steam your tortillas with water so they don't break while rolling. You can do this in the microwave by wrapping them in damp paper towels and cooking for 2 minutes.
One by one add a few spoonfuls (depending on tortilla size) at one end of the tortilla. Roll tightly into a rolled taco and seal end with a touch of mixture. You can use a wooden toothpick to hold them in place while cooking as well.
Bake at 400 degrees on a parchment lined cookie sheet for 20-25 minutes or until crisp. Once done serve topped with shredded lettuce, drizzle the remaining Smoky Taco Cream and add salsa.