One pan, ten minutes prep and a mouthwatering dinner that's an all in one meal. These harissa vegetables, rice and chickpeas will quickly be your new low prep favorite!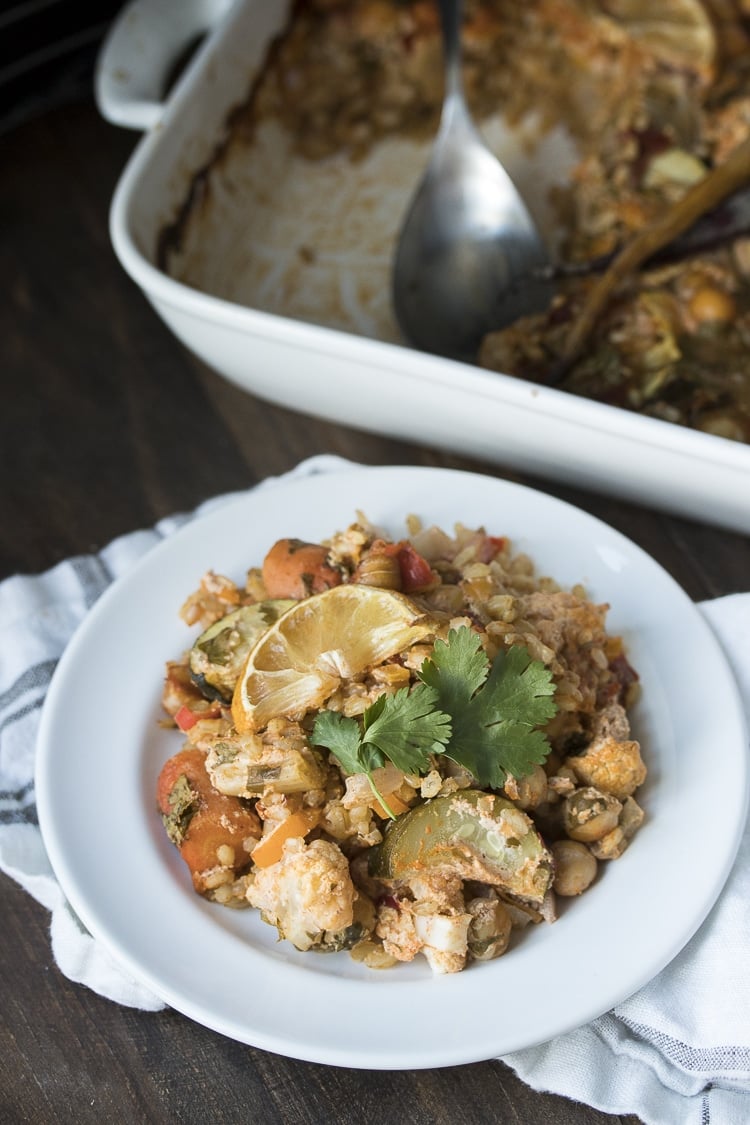 This is a sponsored conversation written by me on behalf of Silk. The opinions and text are all mine.
For those nights when you need a fulfilling meal, but want it be healthy and only have the energy to chop a few things before you just can't anymore...I bring you this one pan low prep wonder of a meal. It's a chop and mix right into the baking pan then shove it in the oven while you wrangle the rest of life's nightly duties kind of recipe. Life changed!
But How Can You Get A Really Good Meal With Low Prep And One Pan?!
The key to these easy one pan meals is flavor. To get good flavor with simplicity you need good ingredients. There are two key ingredients that come into play here: yogurt (yep you heard me!) and a harissa flavored salsa.
If you aren't a huge fan of spice or can't find a harissa salsa, then any salsa really works! As much as I love my sweet yogurt treats (see this 2 ingredient instant frozen yogurt!), I really love quick and easy ways to make my savory meals creamy.
Throwing yogurt into a sauce not only amps the cream, but its is just so darn easy. You really need a good quality dairy free yogurt to get it just right, which is why I personally use Silk's new Almondmilk Yogurt Alternative. And I'm not just saying that because Silk is sponsoring this post (I stock up on my Silk yogurt every week!).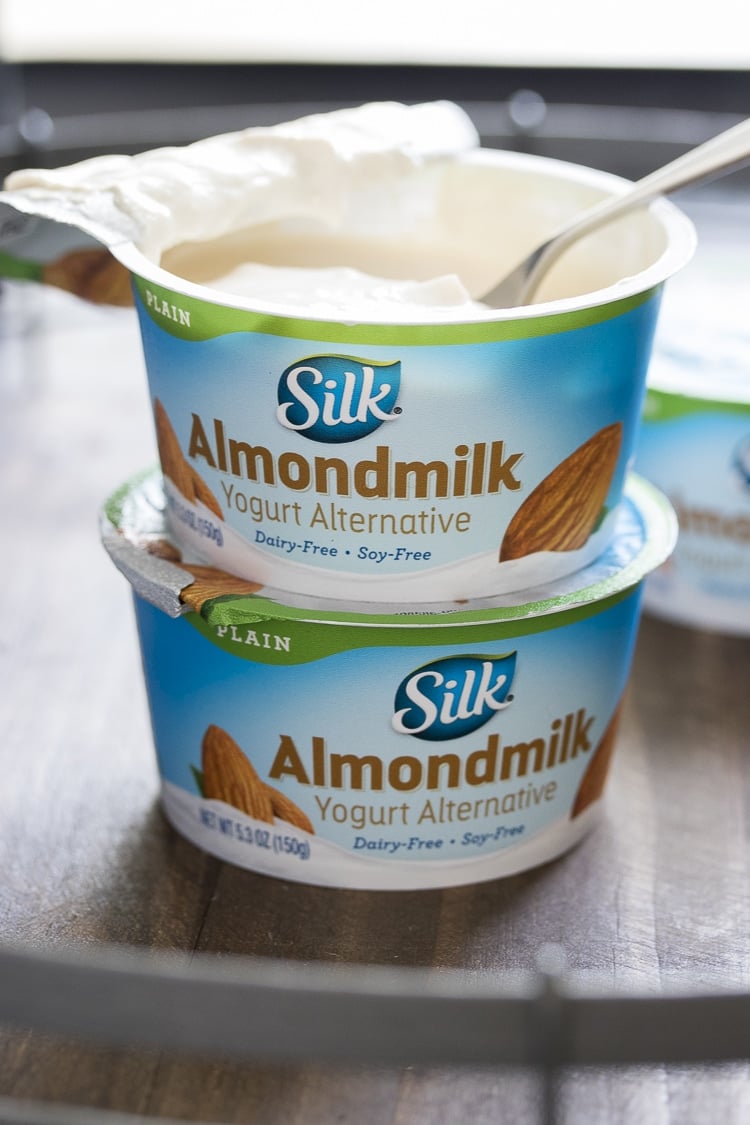 My favorite things about Silk Almondmilk Yogurt:
Creamy, not just "dairy free" yogurt creamy, but creamy
My kids eat it like it's going out of style (read, no whining)
It has 5-6 grams of protein
5 single servings cup flavors (because who wants to get bored?!)
OK, So How Do I Make These Amazing One Pan Harissa Vegetables?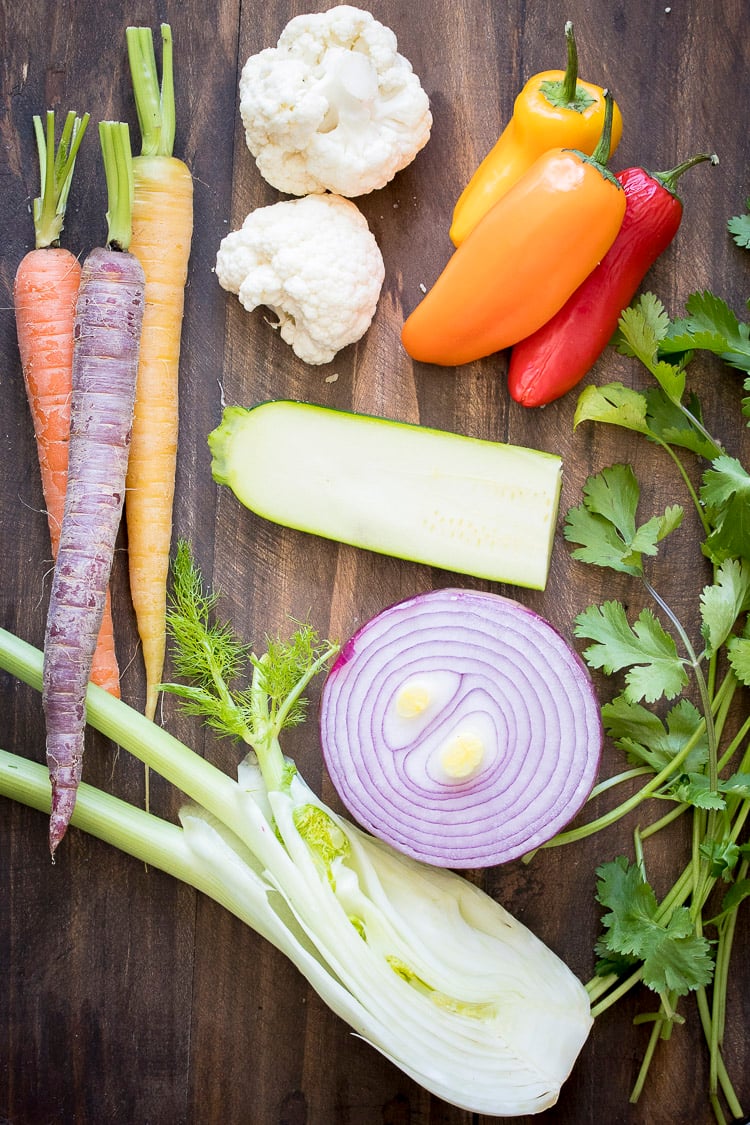 Easy! You chop. Then mix and bake. All in one pan! Seriously. Best clean up ever. Look at my step by step photos of how this all looks as you create this perfection:
First, you mix the rice with the liquidy parts. Then you throw in the finely chopped ingredients.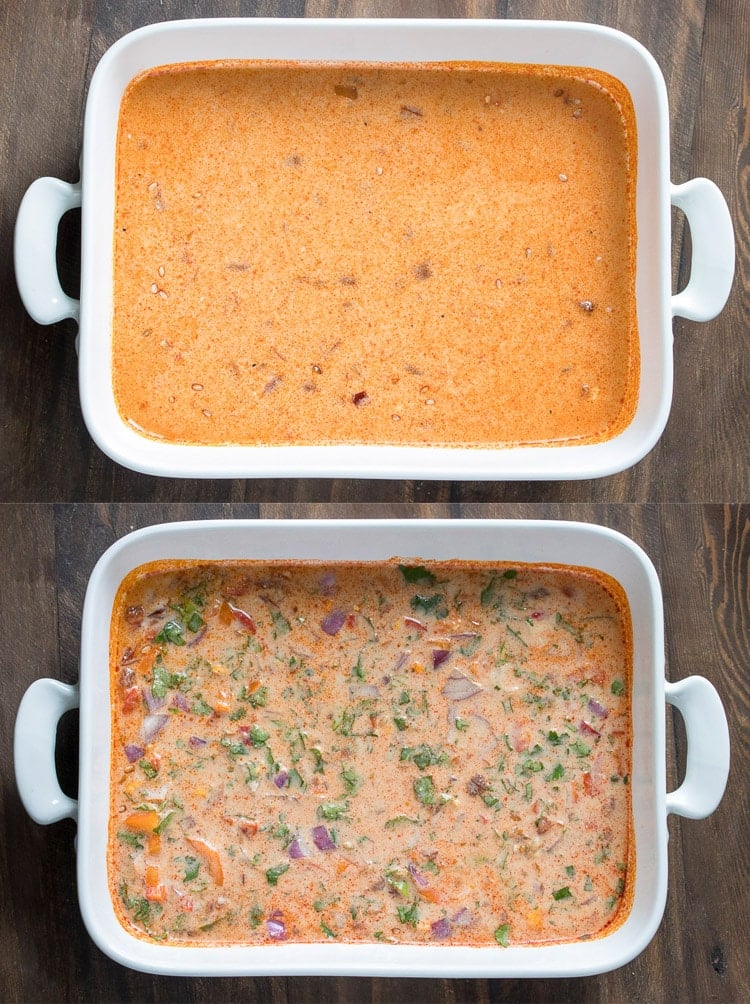 Then you put in the coarsely chopped veggie chunks and beans. Put it in the oven and let the oven do the rest of the work while you wrangle your children, prep lunches, throw in laundry...anything!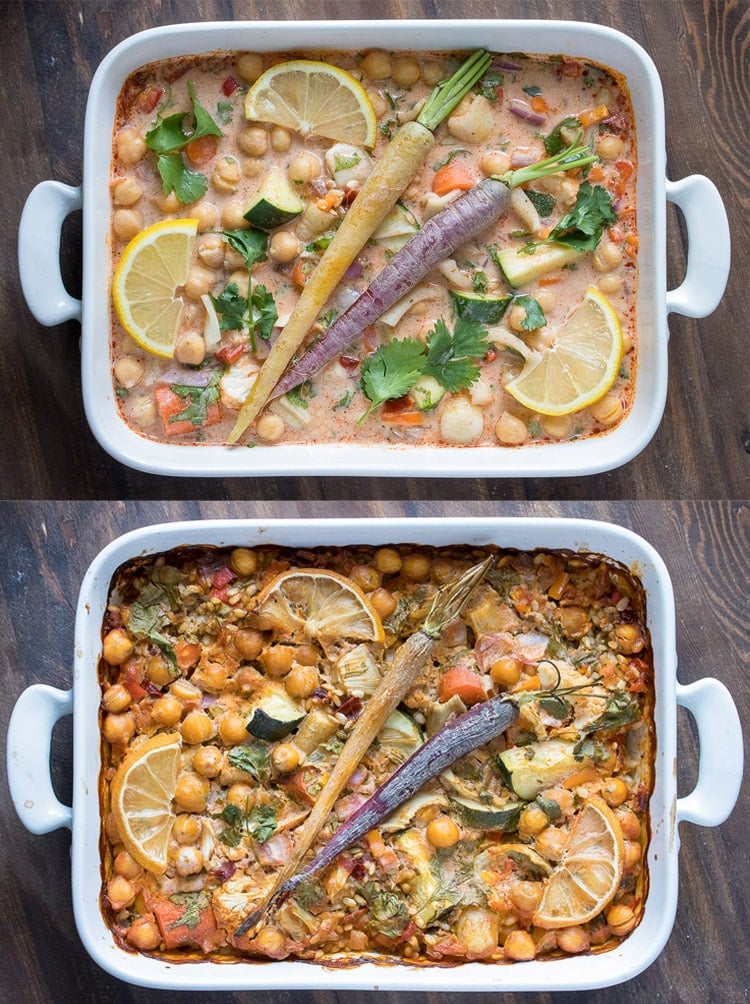 These Harissa Vegetables Have It All
Once it's all ready, your little angels are showered and ready to devour your wonderful meal. It has veggies. It has protein. It has grains. Its an ALL IN ONE MEAL!! And of course your cherubs will gobble it all up without a complaint. Ha, fat chance. Someone always complains. However 2 out of 3 did devour this one so I call that a mom win.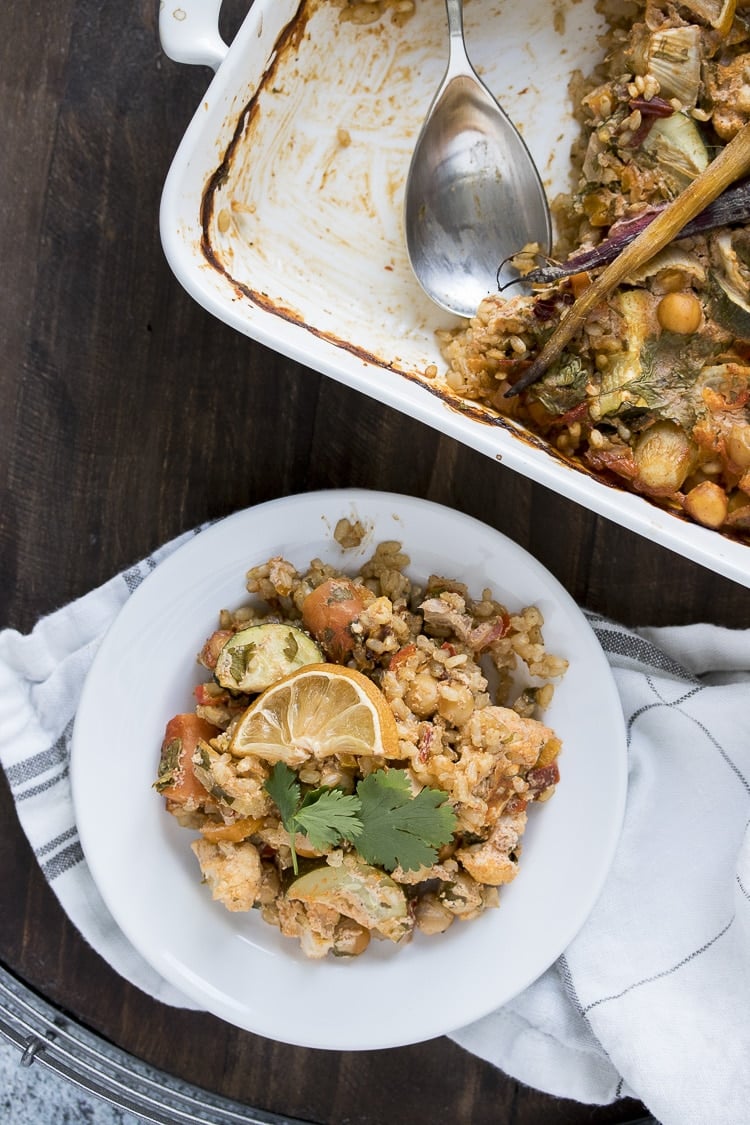 Have yogurt monsters at home? Use Silk's store locator to find your nearest market. Grab yourself a coupon for the trip. Get a few extra plain flavors so you can make this meal. You're going to love it and I am going to love you for giving it a try. Win win!
Other great chickpea recipes to try: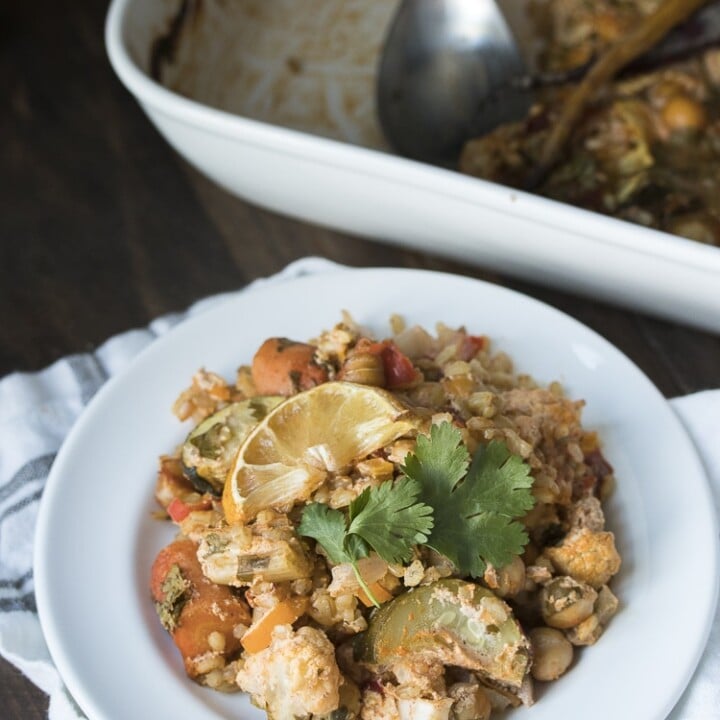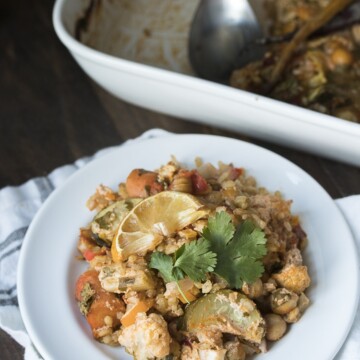 One Pan Harissa Vegetables, Rice and Chickpeas
One pan, ten minutes prep and a mouthwatering dinner that's an all in one meal. These harissa vegetables, rice and chickpeas will quickly be your new low prep favorite!
Ingredients
1 cup uncooked brown rice (see note)
2 ½ cups veggie broth , low sodium if needed
1 ¼ cups dairy free plain yogurt , I use Silk brand almond milk yogurt
½ cup Harissa salsa (see note)
½ cup chopped red onion
½ cup chopped tri color sweet peppers , or just red or yellow pepeprs
¼ cup chopped cilantro
2 tablespoons lemon juice , plus optional thin lemon slices for garnish
1 teaspoon salt , adjust depending on sodium in broth
1 ½ cups cooked chickpeas , rinsed and drained (about one 15 ounce can)
½ cup roughly chopped cauliflower
½ cup roughly chopped carrots
½ cup roughly chopped fennel
½ cup roughly chopped zucchini
Instructions
Preheat oven to 375 F (190 C)

Combine the rice, broth, yogurt, salsa, red onion, peppers, cilantro, lemon juice and salt in a 9 x 13 baking dish. Slowly mix the ingredients.

Add the beans and veggies and stir again.

Place the lemon slices on the top if using.

Bake 60-65 minutes or until the rice is cooked and the liquid is almost gone.

Let it settle for about 10 minutes, then serve. The remainder of the liquid will be absorbed as it settles, so don't overbake because the rice will get too dry.

I like my rice with a more al dente texture so you can always add more broth if needed and cook extra if you prefer your rice well done.
Notes
I tried both long and short grain brown rice. Both will work but I preferred the texture of the long grain. The short grain lends to a stickier end result.
You can sub the broth for water but the end result will not be as flavorful. Make sure to add the salt if you do this.
Do not use Harissa paste, this is a true Harissa flavored salsa. If you can't find Harissa flavored salsa then any salsa can also work.
If you need this mild in spice then use a mild salsa since Harissa is pretty spicy.
Veggies are roughly measured, I used heaping cups.
You can also switch up the veggies to whatever you have in your fridge!
Tips to prep ahead
Baby/toddler food idea
Use a mild salsa. Overcook serving for baby to make it mash-able.
Recipe by Veggies Don't Bite, visit our site for more great plant-based recipes.
Nutrition
Calories: 245kcalCarbohydrates: 39gProtein: 6gFat: 6gSodium: 757mgPotassium: 299mgFiber: 4gSugar: 3gVitamin A: 2225IUVitamin C: 23.8mgCalcium: 30mgIron: 1.1mg
Nutrition and metric information should be considered an estimate.
Never miss a recipe!
Sign up here and get a FREE quick and easy meal guide!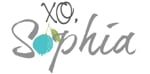 This is a sponsored conversation written by me on behalf of Silk. The opinions and text are all mine.