This peanut butter chia pudding recipe takes only 7 ingredients about 30 minutes to come together. It's creamy, delicious and dairy free!
Chia seed pudding is a perfect healthy breakfast or snack. It can even be packed into jars with lids for an on the go option!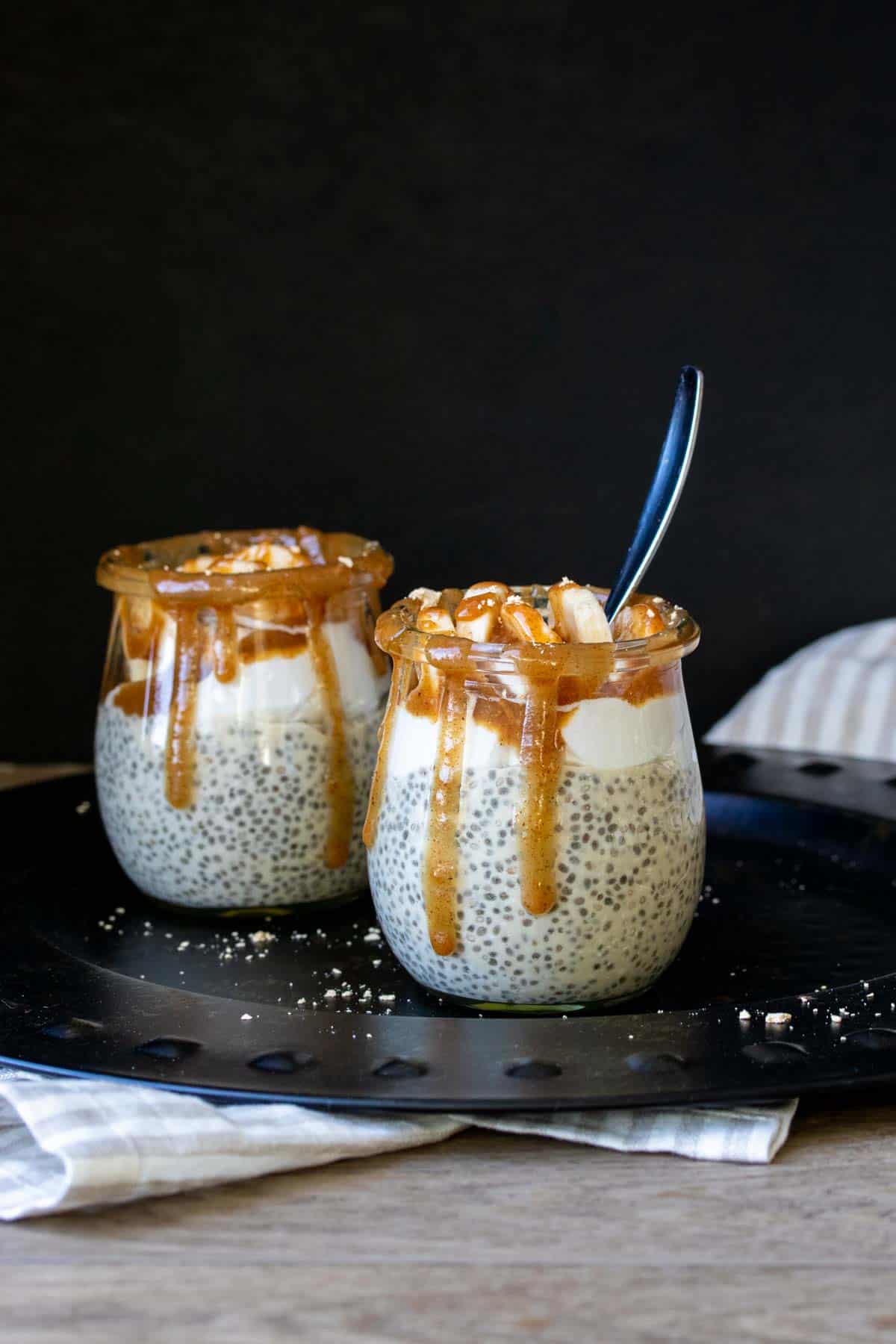 This post was originally published on January 10, 2022.
You can customize this chia pudding recipe with any flavors you like. The based peanut butter flavor goes great with so many additions like bananas, berries, my homemade vegan caramel, or even my vegan chocolate sauce!
Ingredients
Only a few simple ingredients are needed to make this peanut butter chia pudding recipe:
Dairy free milk
Dairy free yogurt
PB2 powdered peanut butter (but you can see the notes on how to use regular peanut butter)
Salt
Sweetener
You can also add toppings like bananas and caramel to give it an added layer of flavor!
The magical ingredient in this recipe is PB2 Peanut Butter Powder. What is this you ask? Glad you did!
I fell in love when I discovered cashew powder because it helped me to create Butternut Squash Pasta and Creamy Vegan Potato Soup.
Peanut butter powder is similar, made by pressing out the majority of the oil which greatly reduces the calorie and fat content giving it 90% less fat and 70% fewer calories than classic peanut butter, while still giving you tons of plant-based protein!
Working with a fine powder instead of peanut butter makes it so much easier to incorporate in a wide variety of recipes! Mix it into your smoothies, create snacks, desserts, and baked goods, or simply mix with water to create a peanut butter spread.
Easily adding peanut butter flavor to so many recipes is amazing, but it gets even better! PB2 peanut Butter Powder is gluten-free, vegan, kosher, and free of preservatives.
How to Make Peanut Butter Chia Pudding
It's so easy to make this chia pudding recipe, here are the simple steps to take:
Measure the ingredients into a bowl.
Quickly whisk everything.
Top and enjoy!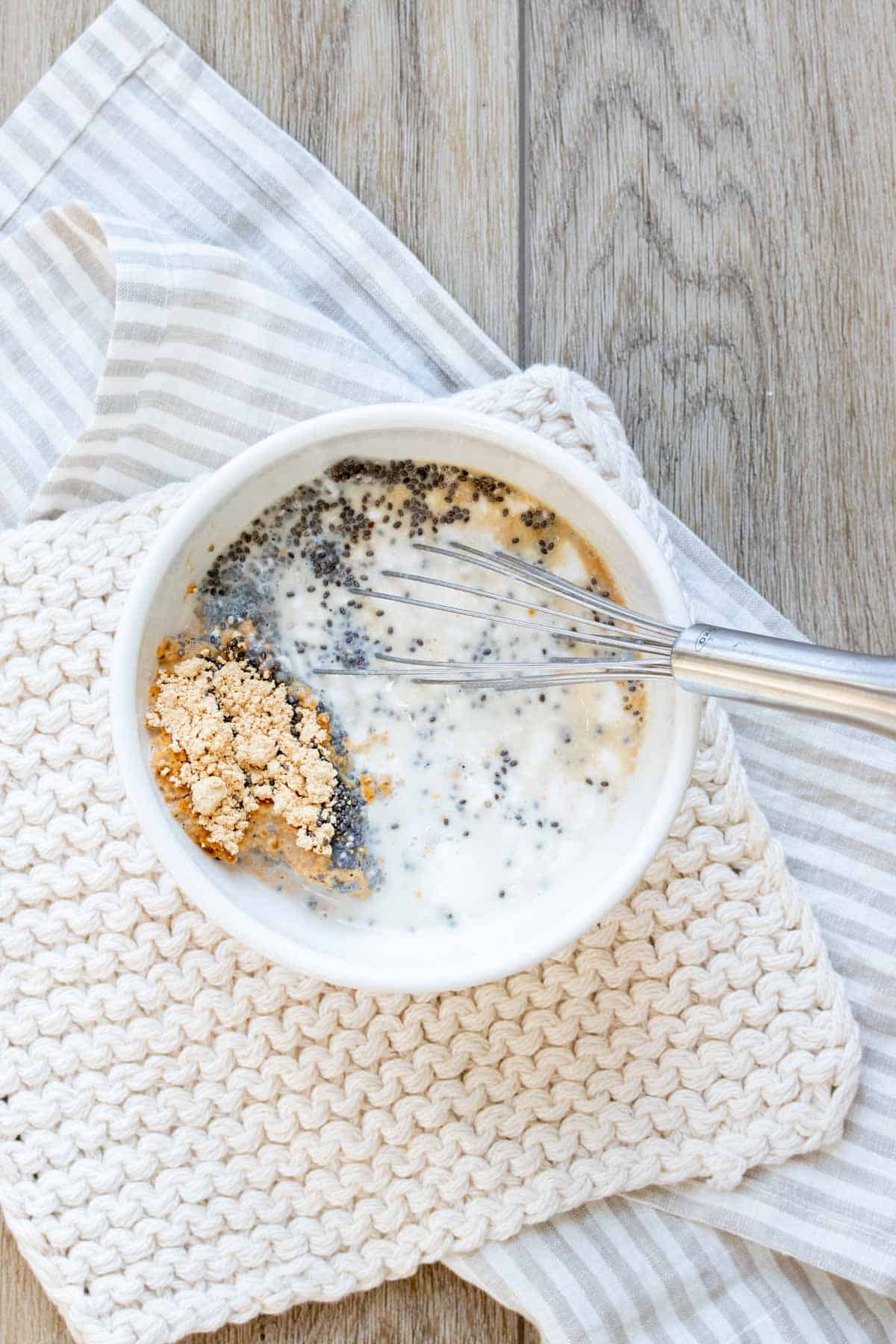 Flavor Suggestions
If you like extras as much as we do, try mixing in or topping this overnight chia seed pudding with any of these tasty options:
Sliced bananas
Chopped nuts
Berries
Preparation Tips
For the best peanut butter chia seed pudding make sure to check out these helpful hints:
The creamier the milk the more rich and creamy the end result will be. Cashew milk is good for this.

You can also make chia pudding with coconut milk, almond milk, or any other dairy free milk of choice.

Yogurt can be left out but it really helps making it creamy.
Powdered peanut butter keeps the fat and calorie content lower. You can substitute it for 2 tablespoons of peanut butter.
To avoid clumping whisk everything as quickly as possible. You can also mix everything but the chia seeds and then add them in last.
If you're not a fan of the texture of chia seeds, blend everything in a high speed blender.
You can leave it out, but for a sweeter flavor mix in your favorite sweetener such as maple syrup.
Make Ahead Tips
This pudding can be made completely up to 24 hours in advance.
You can also mix up everything but the chia seeds and flavor additions and store for up to 3 days.

Just stir in the seeds at least 30 minutes before serving.
Common Questions
Is Chia Seed Pudding bad for you?
It depends what you put in it, but usually chia seed pudding is a healthy dish. Keep the ingredients simple with plant based whole foods to make it as healthy as possible.
What is chia seed pudding?
This pudding is made by mixing milk with chia seeds and any other flavors or sweeteners. When chia seeds are exposed to moisture they expand creating a thick texture. The seeds have a neutral taste and take on the flavor of whatever they are mixed with.
What are the benefits of chia seeds?
Chia seeds are high in fiber and contain antioxidants, iron and calcium.
More Vegan Breakfast Recipes
Kick off your day with any of these delicious and nutritious plant based recipes:
More PB Powder Recipes
Already a fan of PB powder and need more ways to use it? Try these plant based recipes out: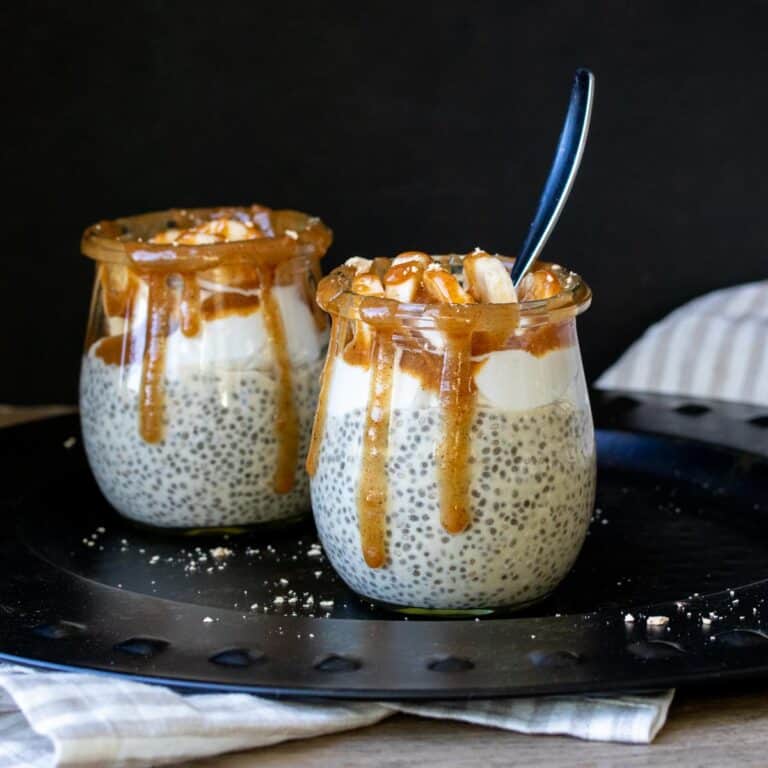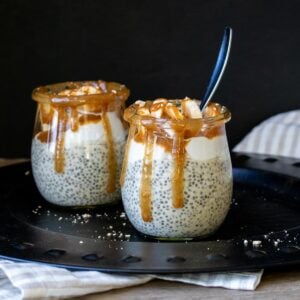 Peanut Butter Chia Pudding
This peanut butter chia pudding recipe takes only 7 ingredients about 30 minutes to come together. It's creamy, delicious and dairy free!
Ingredients
¾ cup dairy free milk of choice , the creamier the milk the richer the flavor will be
¼ cup plain dairy free yogurt , see note
¼ cup chia seeds
2 tablespoons PB2 powdered peanut butter , see note
1-2 tablespoons sweetener of choice , I used maple syrup (optional for added sweetness)
1 teaspoon vanilla extract
Pinch of salt
Optional toppings:
Sliced bananas
Homemade caramel
Chopped nuts
Peanut butter , or powdered peanut butter mixed with a little milk in a 2:1 ratio
Instructions
Add all ingredients into bowl.

Whisk well to combine. Do this quickly so it doesn't clump. You can also whisk everything but the chia seeds, then slowly add the chia seeds in while whisking to prevent them from clumping.

Allow to set in the fridge at least 30 minutes, you can also make this the night before.

Top with what you prefer and enjoy!
Notes
You can omit the yogurt but it gives a creamier end result. You can also use a thick and creamy milk like coconut milk from the can to get the same creamy flavor.
The powdered peanut butter helps give this recipe a delicious yet lower fat and calorie option. If you do not have it, you can use 2 tablespoons peanut butter.
Recipe by Veggies Don't Bite, visit our site for more great plant-based recipes.
Nutrition
Calories: 187kcalCarbohydrates: 22gProtein: 7gFat: 9gSaturated Fat: 1gPolyunsaturated Fat: 5gMonounsaturated Fat: 1gTrans Fat: 1gCholesterol: 1mgSodium: 245mgPotassium: 112mgFiber: 8gSugar: 8gVitamin A: 36IUVitamin C: 4mgCalcium: 188mgIron: 2mg
Nutrition and metric information should be considered an estimate.
Never miss a recipe!
Sign up here and get a FREE quick and easy meal guide!