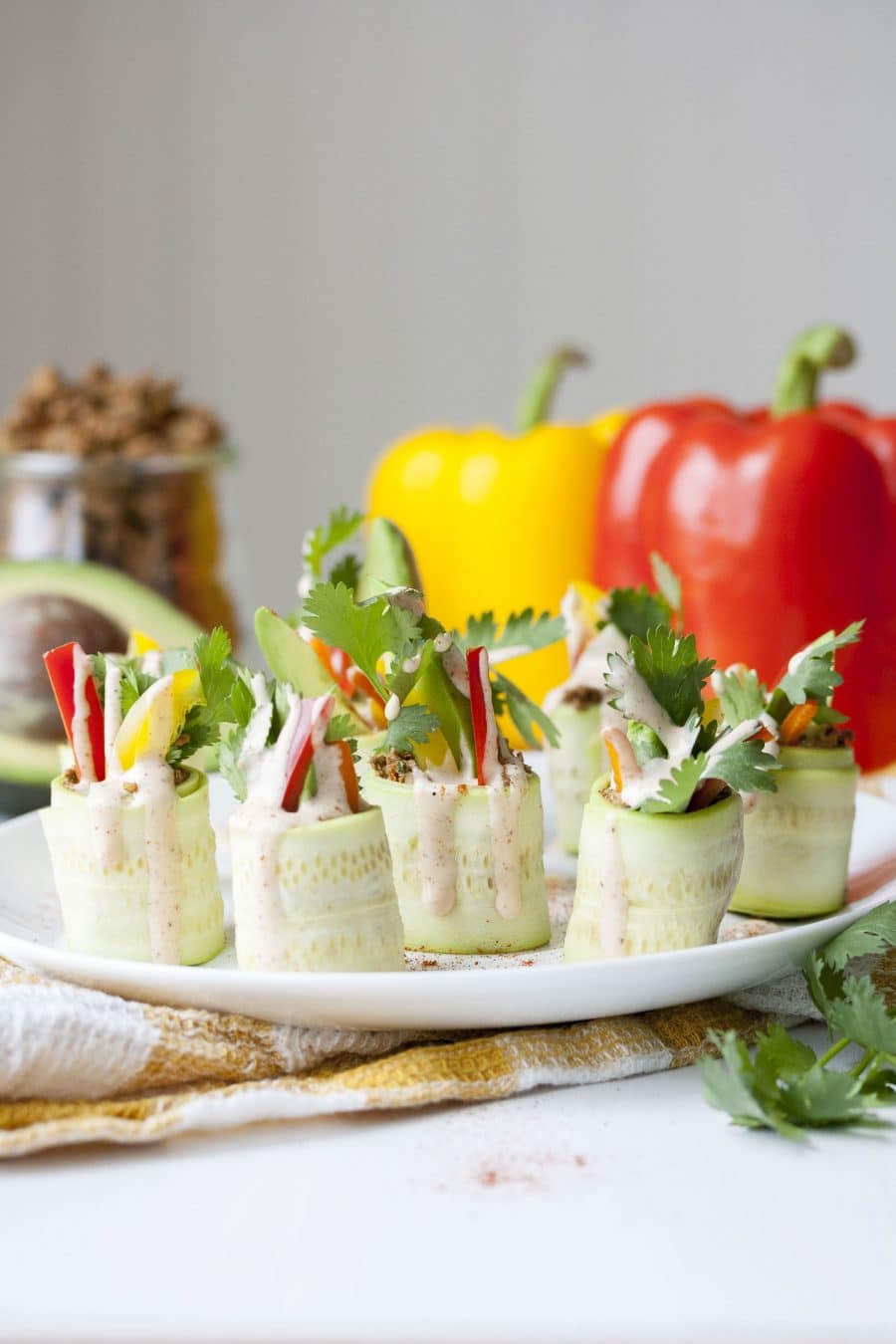 With summer coming I have started to crave healthy raw food. Anyone else feel me? Well have no fear because I have created some fully raw, uber tasty, and surprisingly filling and satisfying food for you to balance with those cookies you just baked.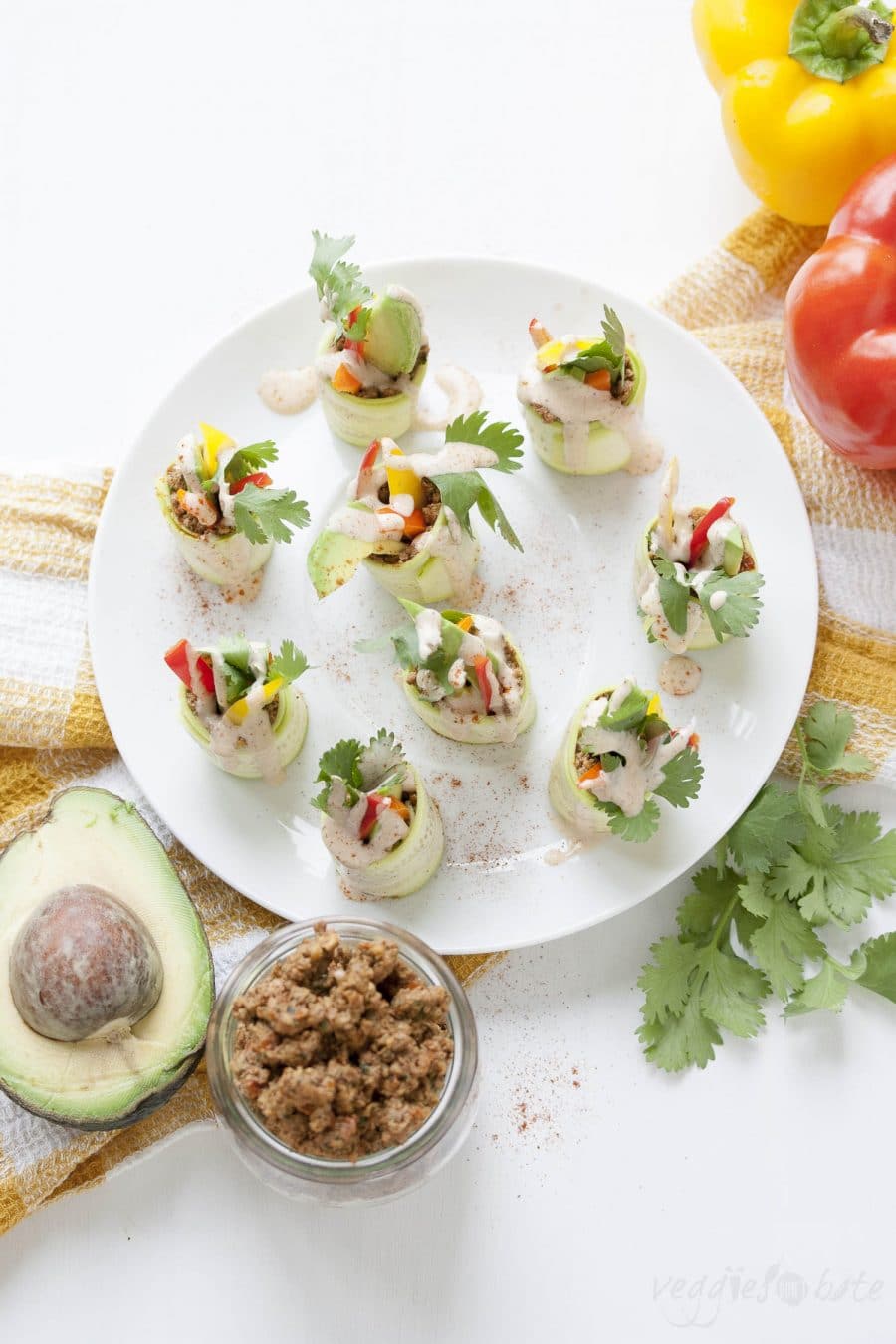 Sidenote, even though I talk about using NOW Foods raw walnuts here, this post is not sponsored. I do work with them and have a post coming soon using one of their new awesome products, but in this post I simply wanted to show you all the nuts that I use.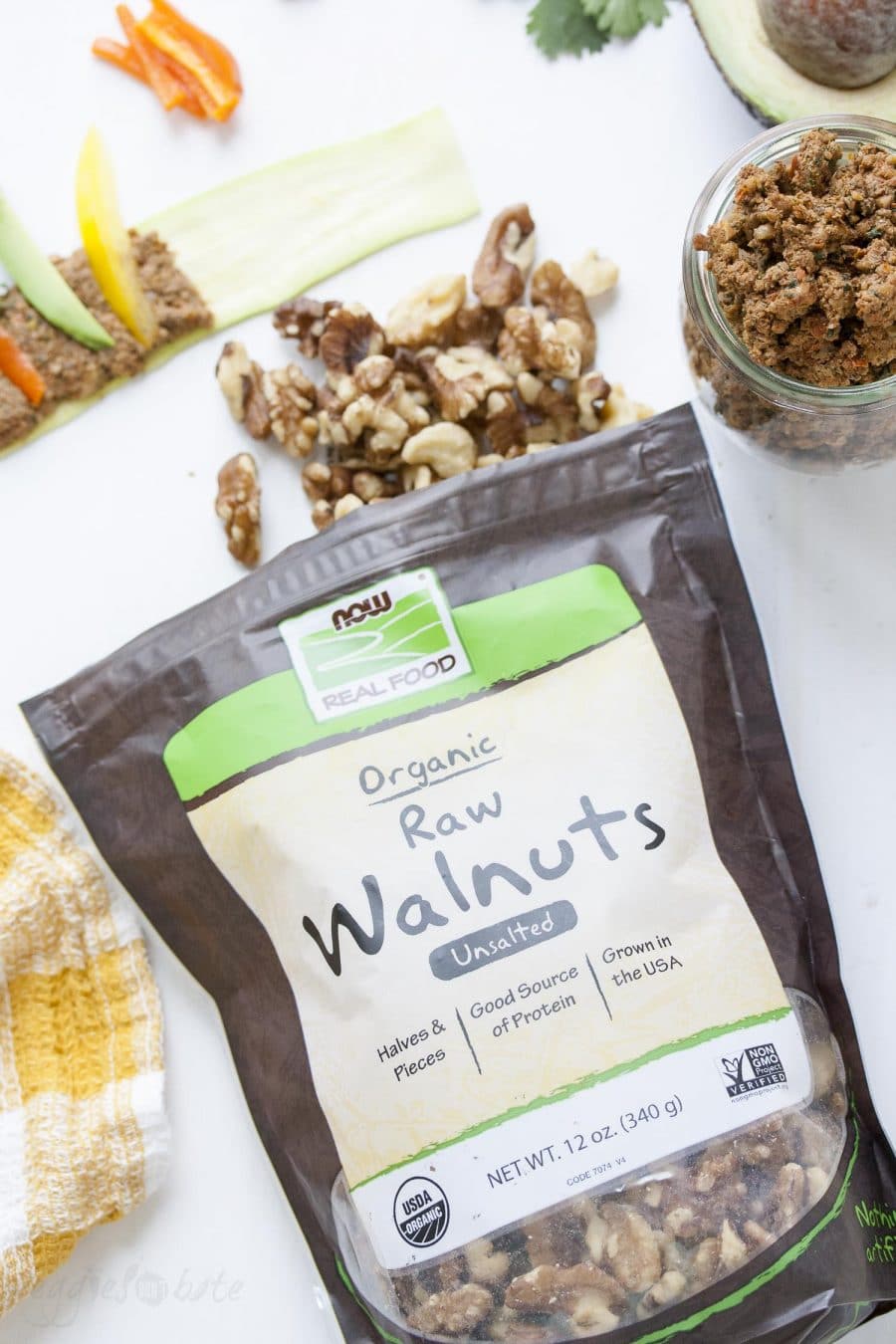 Now that that is settled, let's move on to your next creative project: raw zucchini roll ups! These are the perfect appetizer, snack, dinner (I ate at least 20 one night)...you name it.
They are filled with veggies (duh) and the "meat" filling is AHmazing. I took a creative spin on it, I wanted to do something different than all those other raw meaty crumbles out there, so I decided to add veggies IN the mix! It worked brilliantly!
Not only did they add to the texture, but you cannot taste them and so you are getting an even extra dose of veggies for free.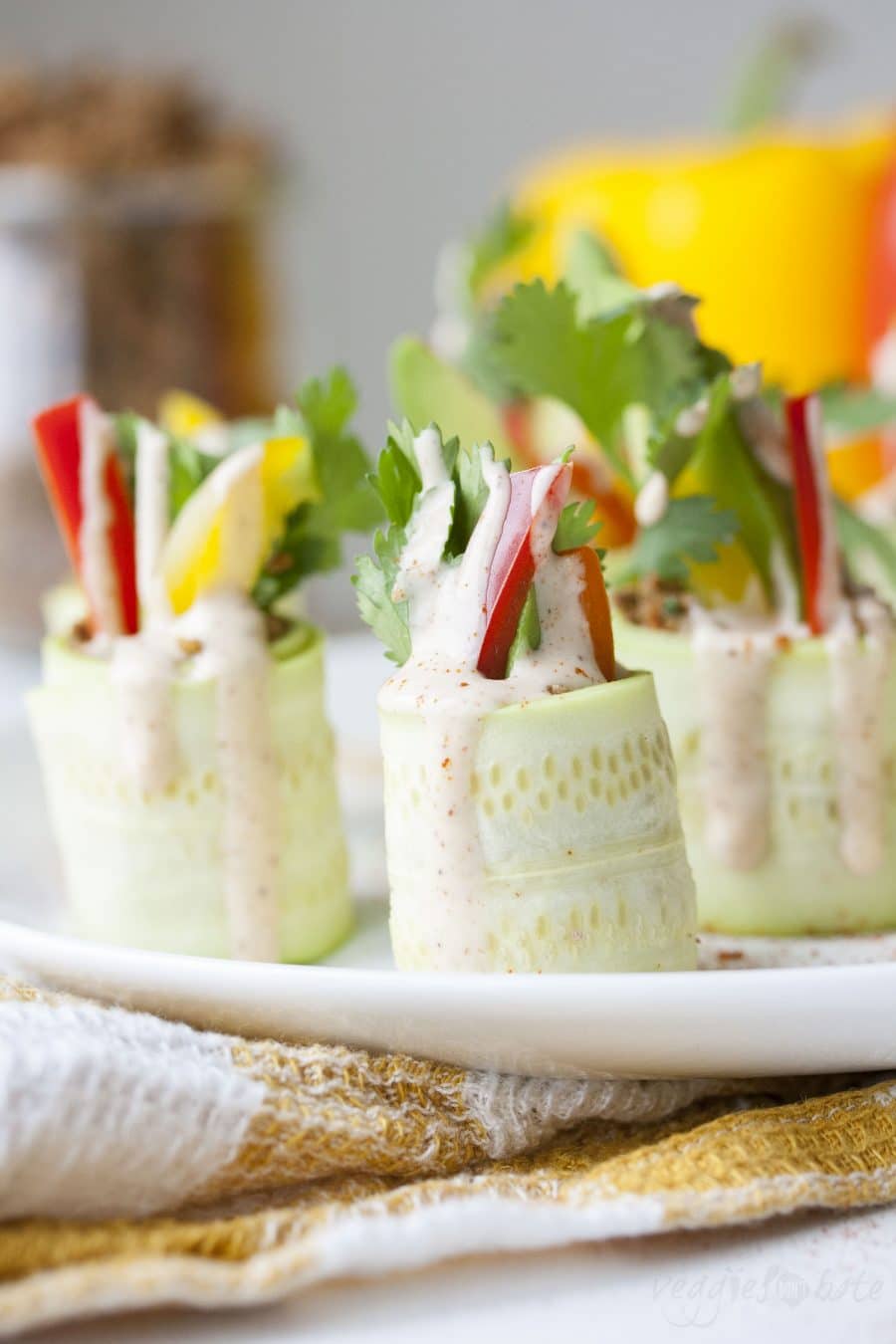 So what did I sneak in? Well, we have the regular raw "meat" go-tos: walnuts and sun dried tomatoes. And then we have my unique additions: zucchini and mushrooms.
The key here is that you need to peel the zucchini. This leaves behind the softer, milder in flavor, veggie middle. Plus you add in mushrooms, caps only, and get a powerhouse of a mixture!
Both of these add some chewiness to the texture plus give it that uniqueness I was going for. I'm tell ya friends, you need to try this! The sky is the limit on what you can put it on.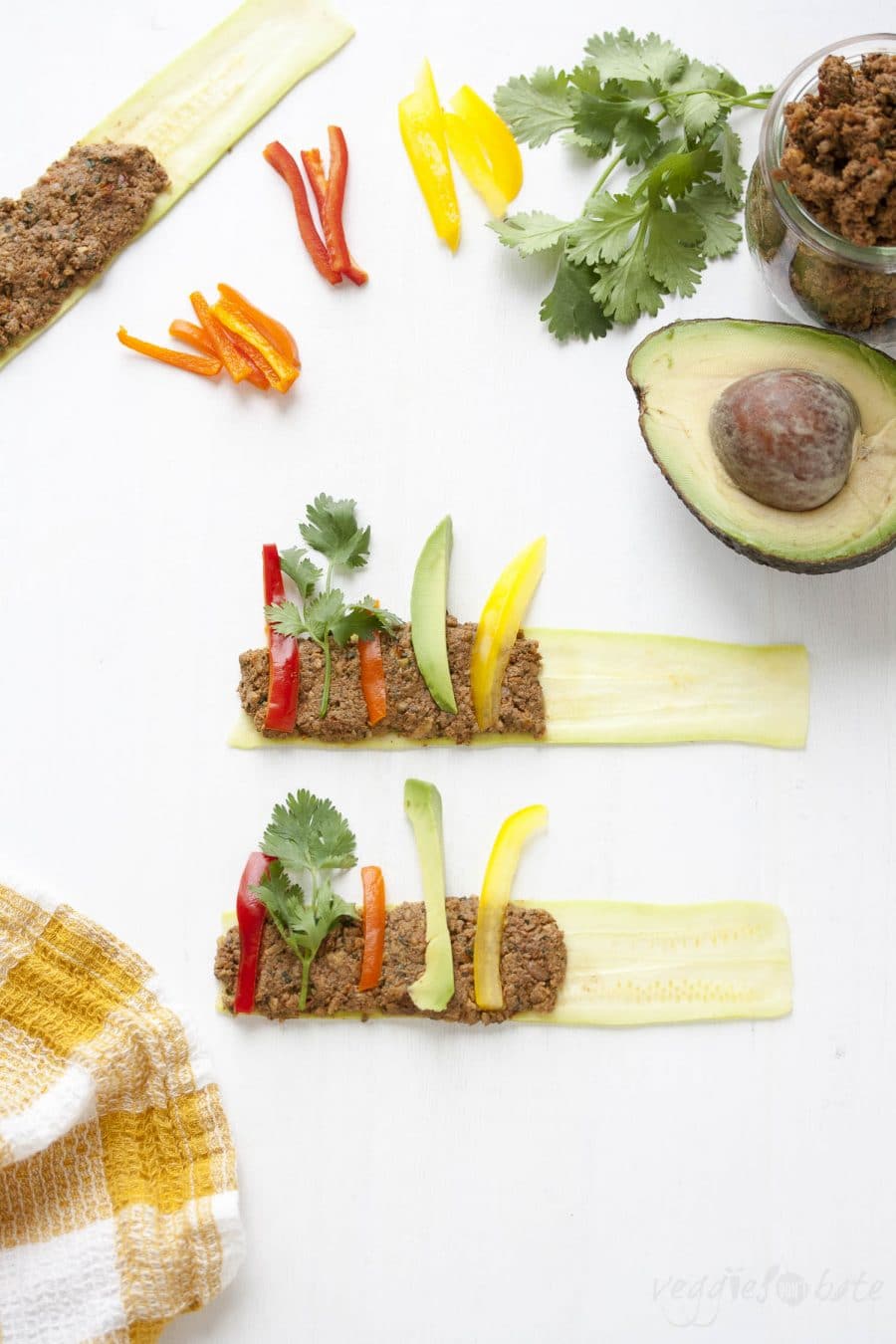 Ways you can use the raw veggie walnut "meat"
as a nacho topping
a dip for crackers and veggies
in a wrap, taco, or burrito
on pizza
directly into your mouth
and of course, these raw zucchini roll ups (<-- best option for bikini prep)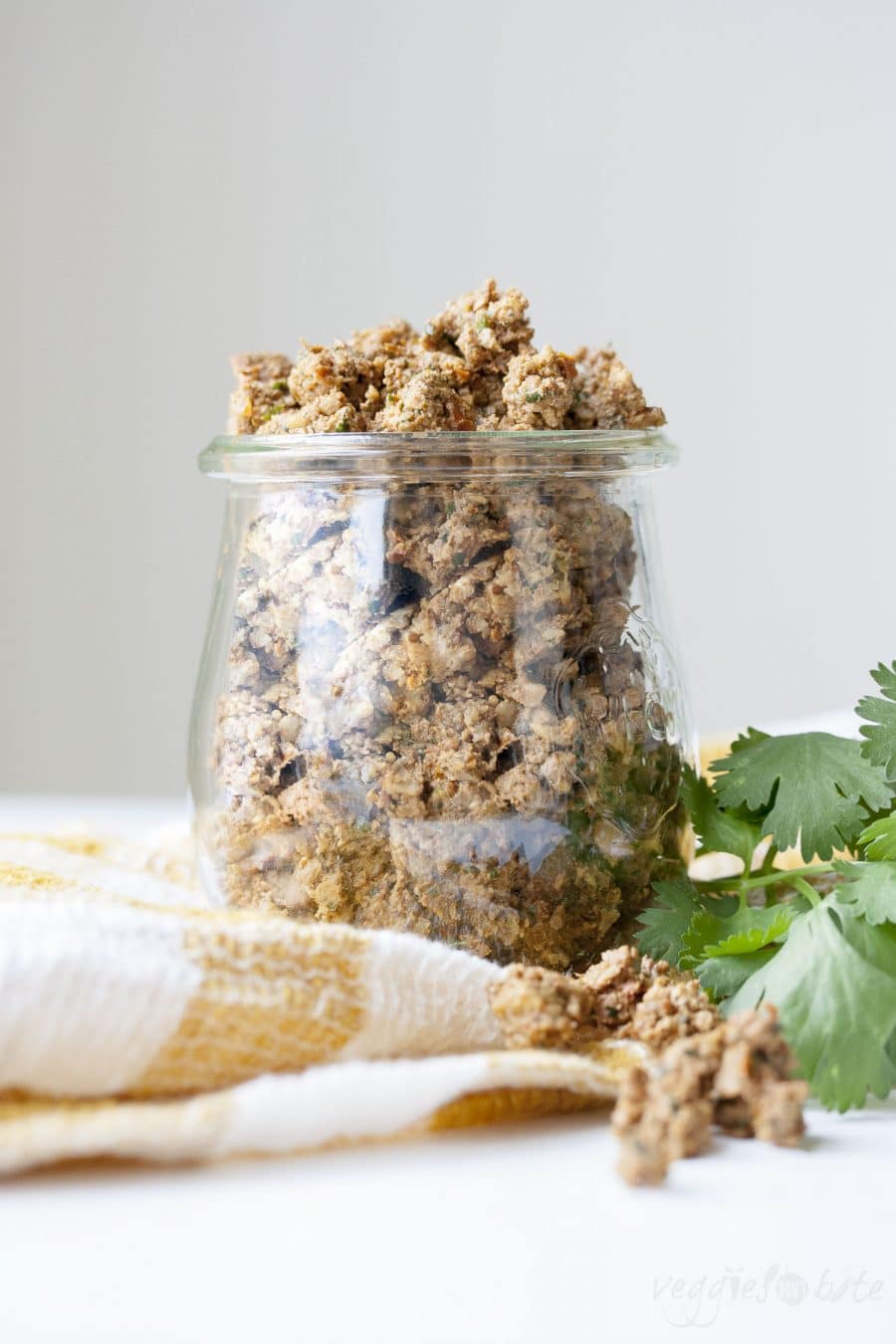 Check out these other great appetizers!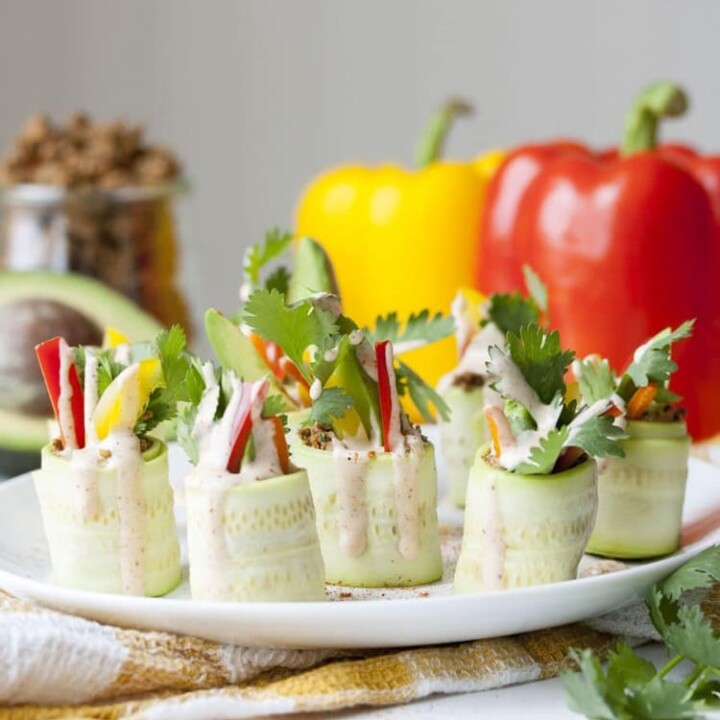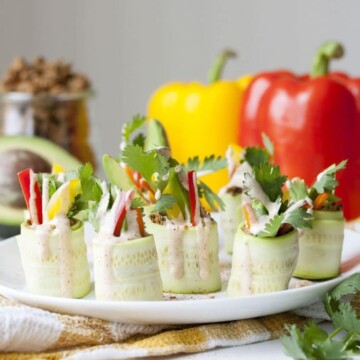 Raw Mexican Zucchini Roll Ups with Veggie Walnut "Meat"
Fresh, flavorful, filling and the perfect finger food, these raw zucchini roll ups will blow you away! Filled with a unique twist on raw walnut "meat".
Ingredients
Raw Mexican Veggie Walnut "Meat"
Roll ingredients:
1 medium sized zucchini
1 yellow pepper
1 red pepper
1 avocado
Chili Taco Crema (if you don't make or have raw cashew milk, replace it with water in this recipe to keep this full raw)
Extra cilantro optional
A few pinches of sea salt to salt zucchini
Instructions
If you are using dried sundried tomatoes, place them in a bowl of hot water to soften them.

Peel the small sized zucchini until you have peeled off all of the green areas, you should see a light yellow green color underneath. They are slippery so if you peel over the trashcan hold tight so it doesn't fall in (don't ask me how I know this). Slice the peeled zucchini until you fill a ¾ cup, and add it to a food processor.

Now put in the mushrooms, sundried tomatoes, cilantro, garlic, lemon juice, smoked paprika, chili powder, cumin and salt into the food processor.

Next add the walnuts on top of the other ingredients. Make sure you add the ingredients in the order stated. It's important to have them this way to achieve the texture of a meaty crumble.

Pulse the ingredients slowly until you get a crumble like texture. Don't do this too fast or you will get walnut butter (again don't ask me how I know this). It takes some patience but it will eventually get crumbled.

Once it is ready put the mixture into a bowl and set aside. The longer it sets, the better the flavors marinate and come through.

Peel and then slice the medium sized zucchini into very thin strips, you should get about 16 if you sliced them thin enough, I used a mandolin. Salt them and allow them to sit while you prepare the rest in order to draw out some of the water.

Slice the yellow pepper, red pepper and avocado into matchstick sized slices. Make the Chili Taco Crema if you haven't.

In order to assemble, wipe the salt off of the sliced zucchini. Lay one flat and spread some of the meat onto the slice, covering about half.

Next lay a layer of peppers, avocado, and cilantro on top of the meat aligning the bottom edges of the veggies to the zucchini slice so the top of the veggies stick above the slice of zucchini. Then drizzle a touch of crema over the meat and veggie area.

Then starting on the end that has meat and veggies, carefully begin to roll until you reach the other end of the zucchini. You may need to secure the end of the zucchini with a dab of taco crema.

Assemble on a plate, drizzle some more crema and devour!
Notes
Any variety of mushrooms works but I prefer crimini or baby bellas. The Chili Taco Crema makes 3 cups so you can either half the recipe or make the whole thing to use with other things. Tips to prep ahead: Make meat and crema so all you need to do is put the rolls together the day you are making them. Baby/kid food idea: Cut filling veggies thin and small. Roll them tightly and make thinner rolls. Allow kiddos to dip them into the taco crema (make it mild).
Recipe by Veggies Don't Bite, visit our site for more great plant-based recipes.
Nutrition and metric information should be considered an estimate.
Never miss a recipe!
Sign up here and get a FREE quick and easy meal guide!