This raw peanut butter cup parfait is super easy to make and tastes like something you would get at a fancy restaurant. It is full of protein and sweetened only with dates!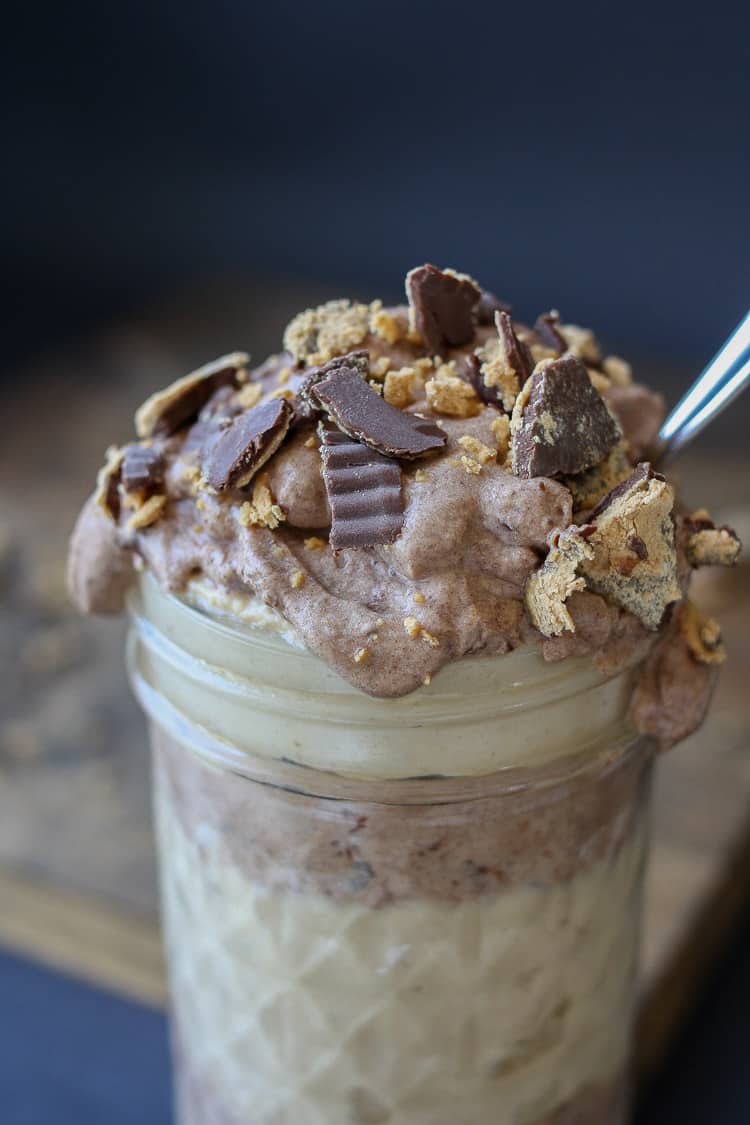 Ok, so I am really getting into the raw dessert thing. First, they are so easy to make. And second, they are delicious. That's a win win in my book! This creation came about when I was really craving something smooth and silky, but quick. I had some cashews that I was soaking for my usual batch of Cashew Walnut Cream Sauce, so I "borrowed" a few to play around with. Well, my playing around led to this delicious dessert that my boys won't stop asking for!
I used peanut butter for the flavor of the cashew layer, and decided to put the chocolate in the coconut cream layer. The coconut cream recipe is a variation of the coconut cream I made for my Raw Churro Cheesecake Cups, super easy and quick. I made both layers with the intent on putting it together right away, but unfortunately due to the tragic fires that took over San Diego County that day, I never got to it until the following day. I really appreciate all the notes and good thoughts from my followers that were sent our way. We are safe and sound, as is our home, however there are many unlucky families that lost everything. I will forever think of them every time I make this dessert and will constantly be reminded about how lucky I am to have my kitchen and be able to do what I love...create recipes to share with all of you!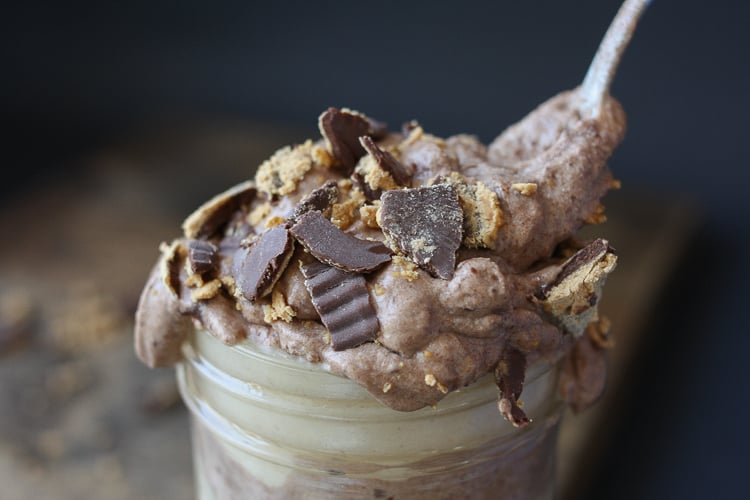 In having to wait to put this together, I was able to see how much more flavorful the separate layers became when left alone for some time. I of course tried both layers the night I made it, who can wait?! But when I put these together the following day, it was that much better! The coconut cream really took in the chocolate and created this rich mousse like flavor that was amazing. The peanut butter layer was deeper in taste and complemented the chocolate so well. You can of course make this and eat it right away, but if you're looking to make it ahead of time, it only gets better with age!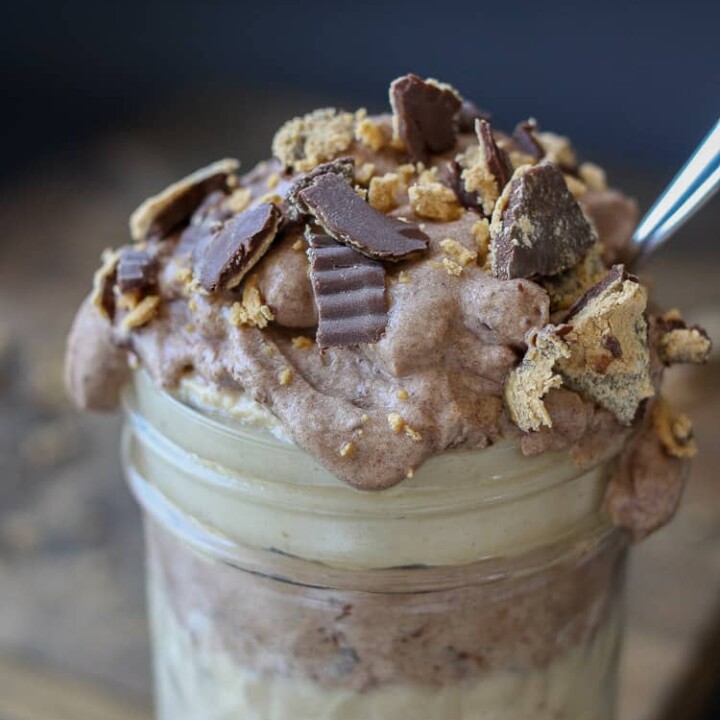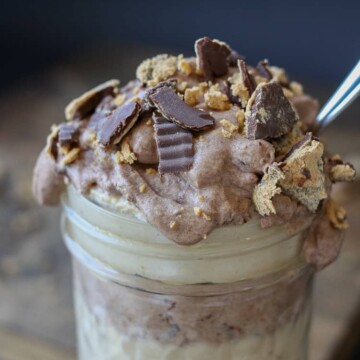 Raw Peanut Butter Cup Parfait
]This raw dessert is not only easy to make but tastes like something you would get at a fancy restaurant. It is full of protein and sweetened only with dates. Does not get much better than that!
Ingredients
Peanut butter parfait:
1 cup soaked macadamia nuts
1 cup soaked cashews
½ cup peanut butter
10 dates
½ - 1  cup almond milk or more if you want to lighter and thinner
Chocolate coconut cream:
1 can full fat coconut milk placed in refrigerator overnight, or you can buy actual coconut cream
1-2 tablespoons date paste can also use maple syrup or coconut palm sugar
2-4 tablespoons unsweetened baking cocoa or cacao powder
Instructions
Place all peanut butter parfait ingredients in a food processor, blender or high speed blender and pulse until nuts and dates are chopped well.

Slowly add milk until you get a thick and moving consistency, but be careful that it doesn't become too thin.

Next, to make chocolate coconut cream, take the can of coconut milk out of the refrigerator and open it.

Using a spoon, remove the harder white thick layer from the top, reserving the clear coconut water for a later use if you want. It makes a great addition to smoothies! Using a hand or stand mixer, mix the coconut cream layer with the rest of the ingredients until light and fluffy.

Layer in cups or mason jars starting with peanut butter parfait layer and ending with chocolate coconut cream layer, making 3 layers of each. Top with cacao nibs or crumbled Peanut Butter Cups for added presentation.
Notes
Soak nuts overnight if not using a high speed blender, but if crunched for time, soak in warm water for at least 2 hours.
Any milk of choice works here, you can even use dairy milk if you don't mind it not being totally vegan. You can also add more dates if you want it sweeter.
You can use cocoa or cacao powder for this recipe. If using cocoa, make sure it is unsweetened. Add it 1 tablespoon at a time until you achieve the flavor you want.
If you want to add presentation, top with cacao nibs or crumbled Justin's Dark Chocolate Peanut Butter Cups.
You can make both these layers one day and leave them overnight to allow flavors to soak in before serving, this gives a deeper more flavorful taste to both.
Recipe by Veggies Don't Bite, visit our site for more great plant-based recipes.
Nutrition
Calories: 898kcalCarbohydrates: 50gProtein: 23gFat: 74gSaturated Fat: 13gCholesterol: 0mgSodium: 206mgPotassium: 963mgFiber: 11gSugar: 26gVitamin C: 0.6mgCalcium: 86mgIron: 6mg
Nutrition and metric information should be considered an estimate.
Never miss a recipe!
Sign up here and get a FREE quick and easy meal guide!