This zucchini noodles with pesto recipe is simple yet popping with flavor! You can enjoy it raw or cooked, plus it's vegan and super easy to prepare.
Customizing this recipe is easy to do, and keeps it feeling fresh and new every time!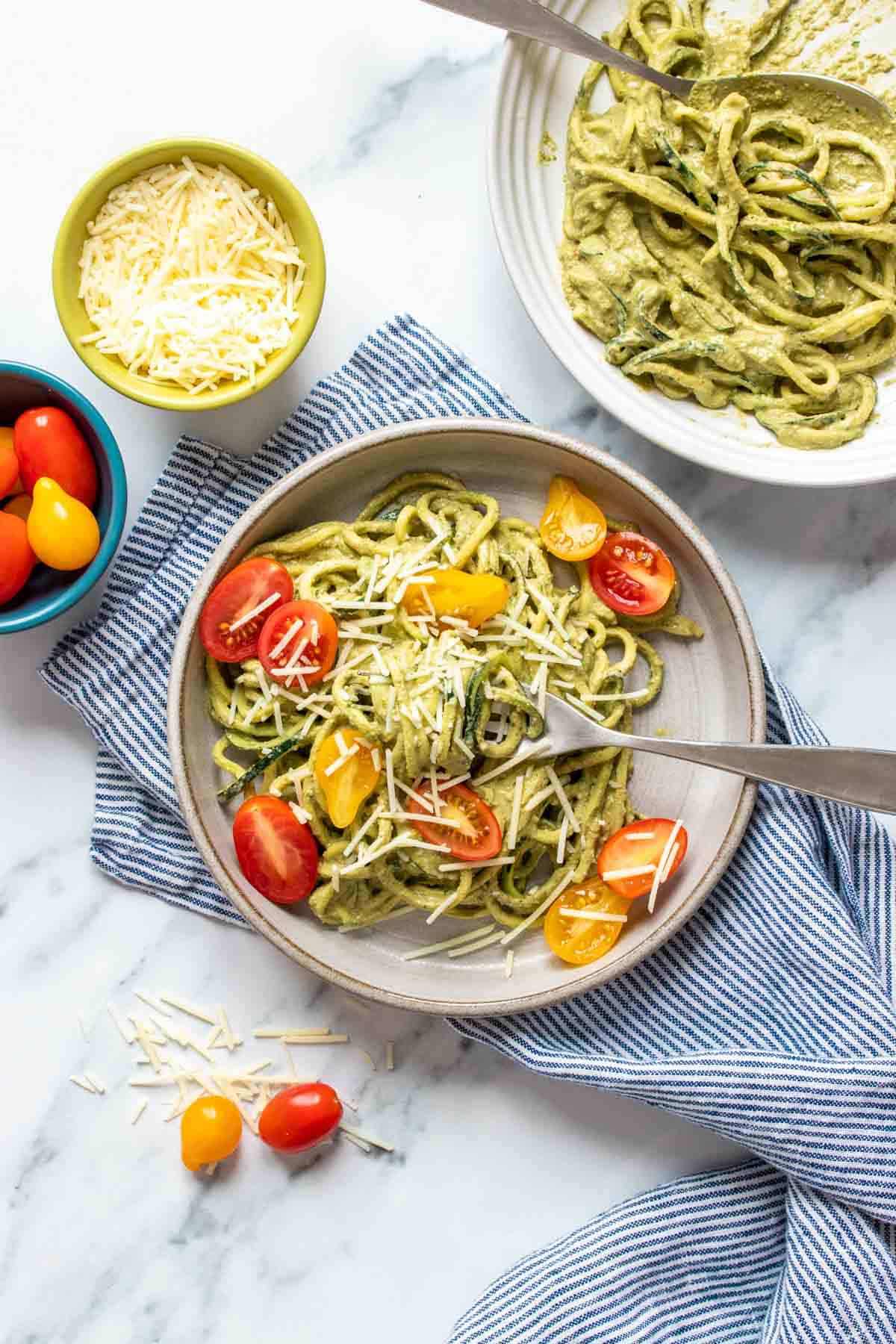 This post was originally published on June 16, 2014.
You can use any pesto you love to make these pesto zoodles, we are big fans of my vegan basil pesto, kale pesto and broccoli pesto! You can also use my raw marinara sauce for an added twist.
How to Make Zucchini Noodles
Zucchini noodles, AKA Zoodles, are a great way to add extra veggies into your meals. They feel like a noodle, but they add extra nutrition and flavor. Zoodles and pesto are a match made in heaven for a simple and fresh meal!
Ingredients
We're keeping it super simple with this zucchini noodle recipe! But the good news is that you can really switch it up in any way you love. Here is what I used:
Zucchini
Fresh tomatoes
Pesto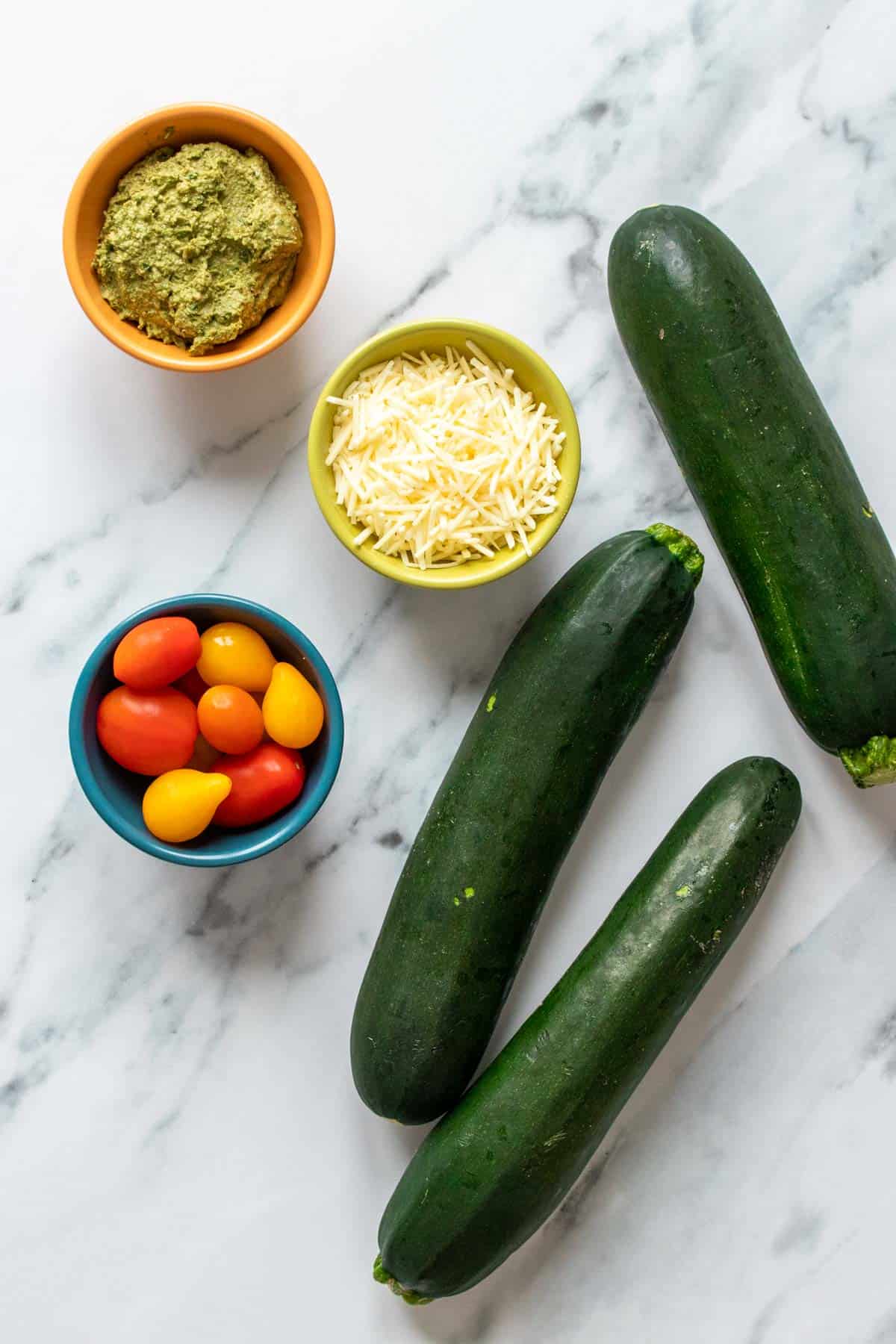 However here are some other things you can add in or sub to make it equally as delicious:
Mushrooms
Broccoli
Carrots
Any other veggies you love!
Making zucchini noodles
To make the actual zoodles, all you need is a spiralizer! There are a few different types of spiralizers out there:
Once you have your tool of choice, simply slice off one end of the zucchini, place it on the spiralizer and either use your hand or crank to rotate the zucchini and noodles will form! Many will end up leaving the core, you can chop it up and eat it or toss it.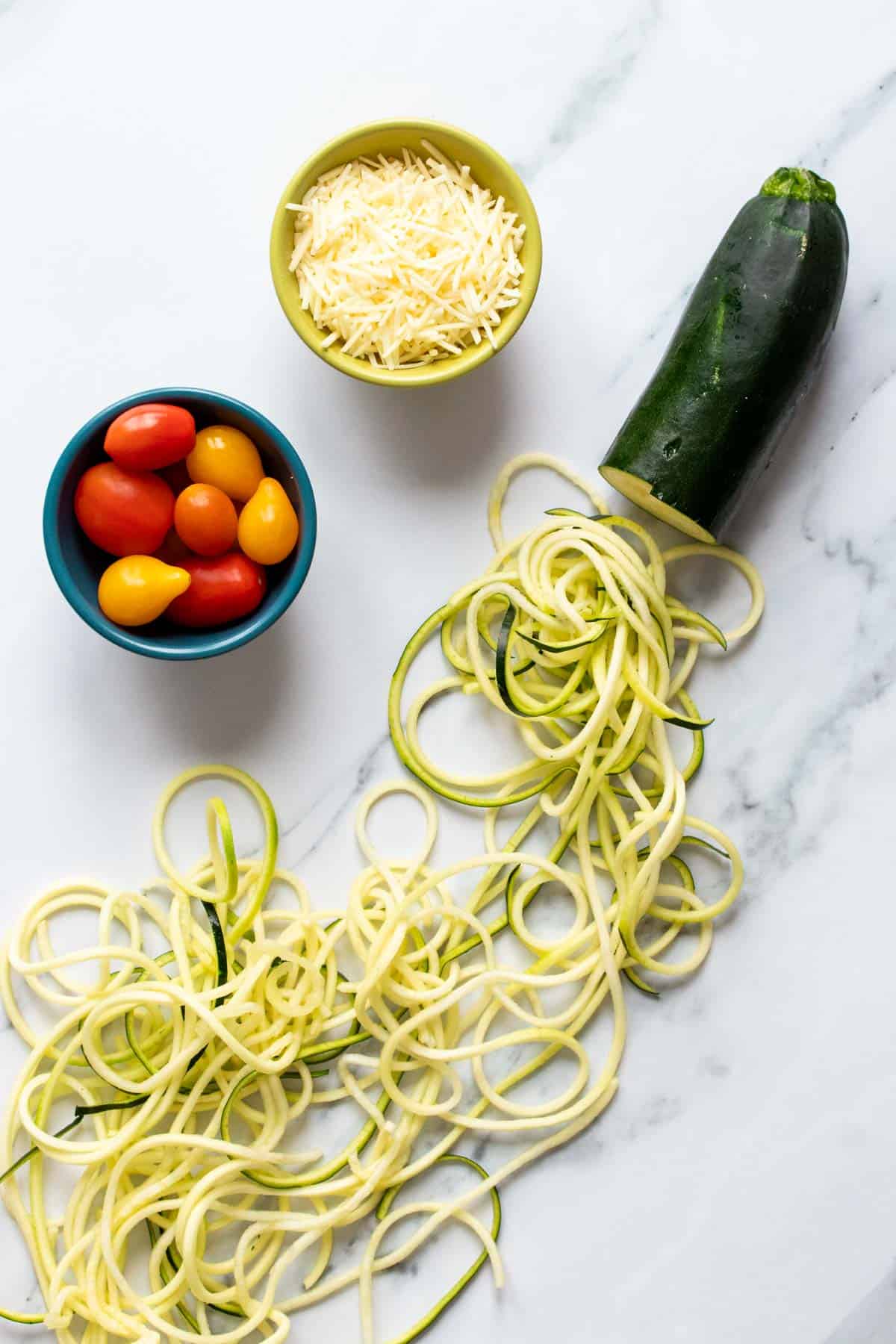 How to Make Zoodles without a Spiralizer
If you don't want to get a dedicated gadget for making these zucchini noodles there are other ways of making them. Each method is a bit more labor intensive than using a spiralizer, but they work!
Mandoline - If you already have one of these you can make thin slices lengthwise, then use a knife to cut the slices into thin noodles.
Julienne Peeler - This is similar to a vegetable peeler but it has teeth on the blade that create thin noodles. They will be straight instead of curly but the taste is the same.
Vegetable Peeler - The simplest of kitchen tools everyone should have in their kitchen! Use the peeler to create thin slices lengthwise. You can either leave them wide, or slice them into thin noodles.
Step by Step Instructions
Making this zucchini noodles with pesto recipe is so simple. Here is all you need to do:
Mix with the zucchini noodles with the pesto.
Serve as is or if you prefer it warm, you can warm it on the stove or even a microwave!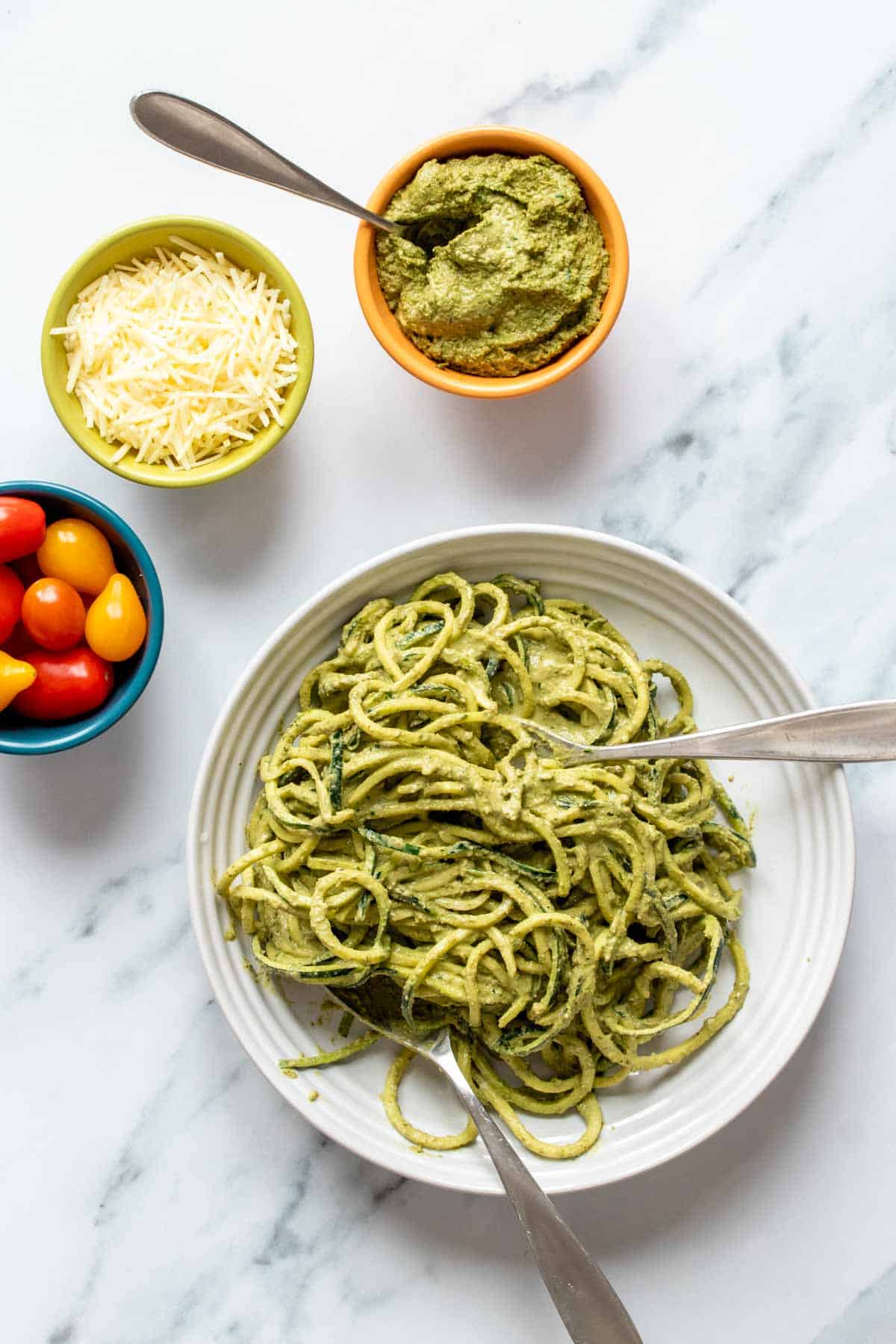 How to cook zucchini noodles
Zoodles can be eaten raw or cooked, which is one of the reasons why this recipe is so easy to make! However they can be overcooked very easily resulting in a mushy mess that nobody wants! Make sure to err on the side of raw for the best texture.
If you'd like to warm them up here are a few ways you can do so:
Add to warm sauce - The best way to prevent overcooking is to heat the sauce you are serving with and mix them in, the heat from the sauce will warm them up while keeping that al dente texture.
Sauté - Heat a skillet over medium heat with a drizzle of olive oil or broth, add the zoodles and cook for 1-2 minutes.
Microwave - Pop them in the microwave for 30 second intervals until you reach your desired temperature. Usually a minute will do it.
Boil - Not the most convenient method, but you can bring a pot of salted water to a boil, then add the zoodles and cook for one minute before draining.
Bake - Some people like to bake zoodles, but it does take a bit of extra time. Spread the zucchini noodles on a rimmed baking sheet in as much of a single layer as you can.
Serving Suggestions
Pair this dish with any of the following plant based recipes for a complete meal:
Storage Tips
Zucchinis will release moisture as they sit, so you want to keep them as dry as possible.
Line an airtight container with paper towels.
Place the spiralized zucchini on the paper towels and seal the lid.
Keep them in the refrigerator for up to 3-5 days depending on the freshness of your zucchini.
It is not recommended to freeze zoodles as their texture can be a bit mushy once defrosted.
Common Questions
How do you make zucchini noodles not soggy?
The trick is to avoid overcooking them. The best way is to add them to a warm sauce or quickly sauté. See above for more details.
Can you add pesto straight to pasta?
Yes you can! If the noodles are warm already the pesto is light enough that it will warm up as well. You can also warm them together once mixed.
Do you salt zoodles before cooking?
Salting the zucchini noodles will draw out extra moisture. This isn't a necessary step, but if you do make sure to blot them before cooking or eating.
More Veggie Filled Recipes
Pack in the vegetables with these tasty plant based recipes: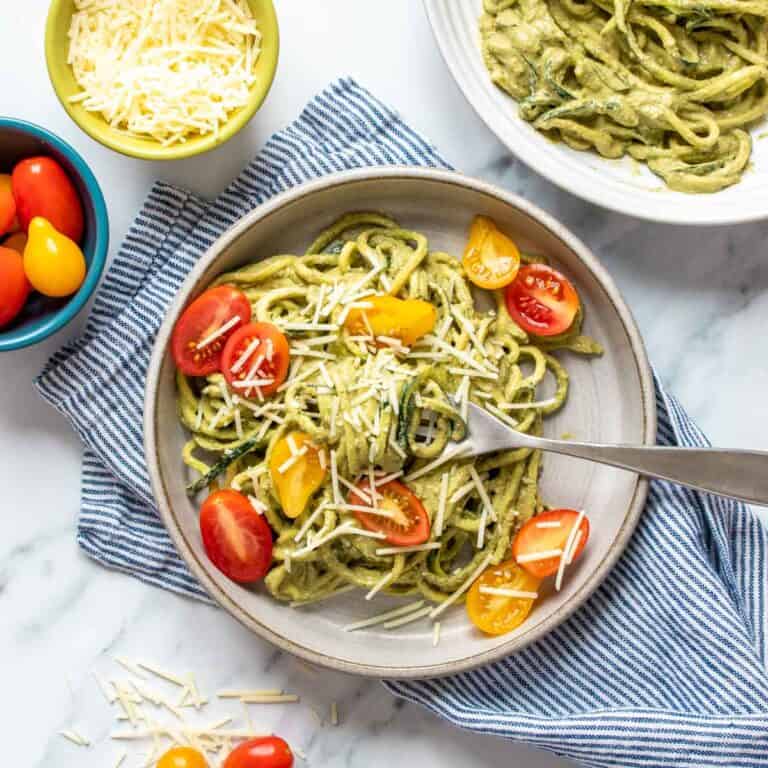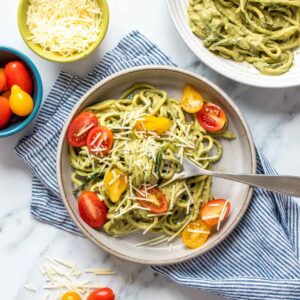 Zucchini Noodles With Pesto
This zucchini noodles with pesto recipe is simple yet popping with flavor! You can enjoy it raw or cooked, plus it's vegan and super easy to prepare.
Instructions
Using a spiralizer, spiralize the zucchini. You can also buy it this way to make it really easy.

Mix the spiral zucchini with the pesto. If you want it warm, you can also saute the zucchini noodles with the pesto in a pan.

Top with tomatoes and parmesan. Add any other veggies or sauces you prefer.

Enjoy!
Notes
Adjust the pesto and cheese amount to suit your preference.
You can add any vegetables you like to make it a more veggie heavy meal.
Recipe by Veggies Don't Bite, visit our site for more great plant-based recipes.
Nutrition
Calories: 235kcalCarbohydrates: 14gProtein: 7gFat: 16gSaturated Fat: 1gPolyunsaturated Fat: 1gMonounsaturated Fat: 1gCholesterol: 1mgSodium: 352mgPotassium: 757mgFiber: 4gSugar: 7gVitamin A: 636IUVitamin C: 50mgCalcium: 41mgIron: 6mg
Nutrition and metric information should be considered an estimate.
Never miss a recipe!
Sign up here and get a FREE quick and easy meal guide!