This pasta with roasted butternut squash uses an amazing combination of flavors that will switch up your boring pasta routine. Bonus that it's so easy!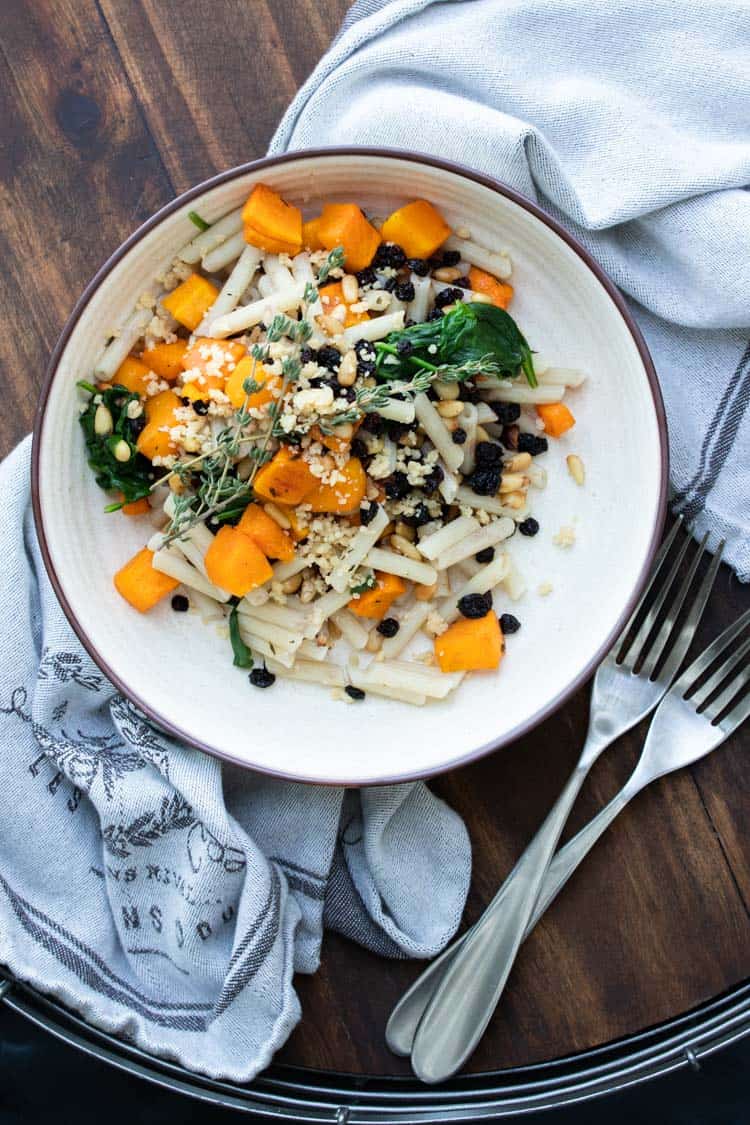 This post was sponsored by NOW Foods but the content and opinions expressed are fully my own.
This post was originally published on 11/12/2015
This easy fall themed pasta dish has a unique mix of flavors. I love the combination of the flavors and the added greens make this a great all in one meal!
Vegan Butternut Squash Pasta
Throwing together pasta dinners is a common occurrence in our house, so I'm always coming up with different combos to keep things exciting. While we love my creamy butternut squash pasta, I wanted something without the creamy factor this time. This recipe includes the use of sesame oil, just a touch because a little goes a really long way with flavor.
Sesame oil is usually part of Asian cooking, but in this non Asian recipe, I loved the combo of it with the sweetness of the butternut squash. Throw in the buttery pine nuts and sweet touch of the currants and it's a fabulous combo!
Can I prep this recipe ahead of time?
Yes! It's a great recipe to prep ahead. Here is how I make my nights easier by having all the parts ready:
I make the veggie mix by roasting, cooling it off completely and storing in an airtight container.
When I am ready to make this recipe, I reheat the veggie mix either in the microwave or putting it back in the oven for a short time.
I cook the pasta, then throw in the spinach like the directions say.
Then mix all together and top with my awesome vegan Parmesan!
How do I roast butternut squash?
The key with roasting veggies, especially winter squash, is making sure the pieces are similar in size. Butternut is a tougher squash so I have a certain way to do it so it's a bit easier.
Using a vegetable peeler, peel the tough outer skin until you get to the orange part.
Cut the squash in half lengthwise and scoop out the seeds with an ice cream scooper.
Lay cut side down and cut it in uniform slices.
Chop each slice into small cubes. The smaller they are, the faster they will cook.
Bake at 400 F/ 200 C until soft in the middle and crispy on the edge. It will caramelize a bit if you let it get a little crisp.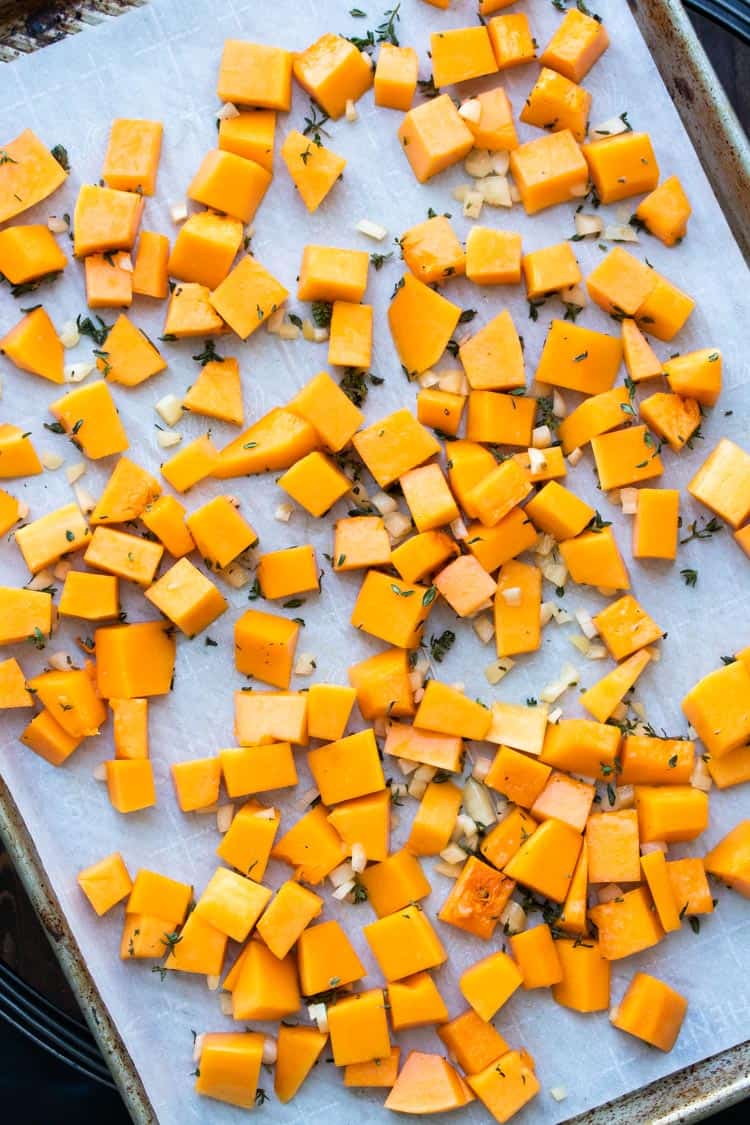 What is the best pasta to use?
When it comes to pasta, we like to stick to mostly gluten free at home since we can't handle too much gluten. But with gluten free pasta, it varies SO much on what is good and what isn't.
One of my top picks, is the Living Now Quinoa Penne. This pasta has great texture, much like your normal run of mill pasta. It's made with rice, quinoa and amaranth. I love that they use amaranth in it! My kids devour it, which is the final topper for me.
Another bonus is that it is free of the 8 major common allergens, making it awesome for anyone out there with multiple allergies!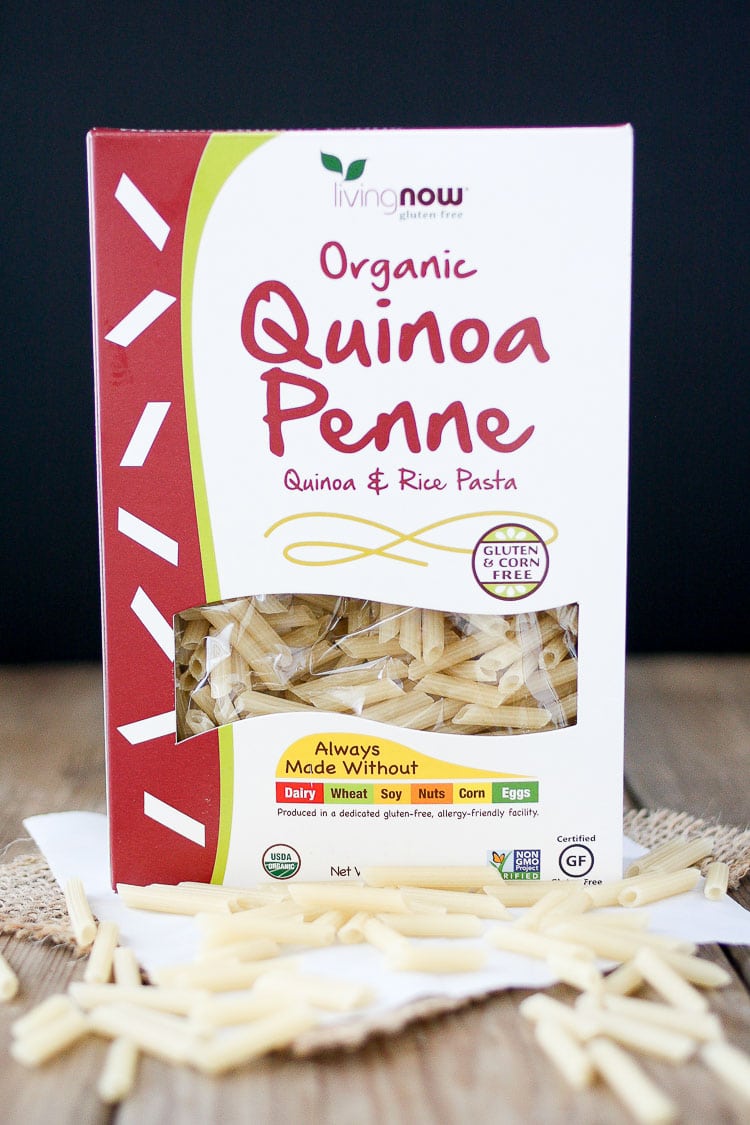 How to Make Pasta with Roasted Butternut Squash
This butternut squash and spinach pasta is super easy to make. The oven does most of the work so you can move on to more important tasks, homework, laundry, you get the drill!
Roast the butternut squash.
Make the pasta.
Mix all together.
Serve!
What else can I serve this with?
Can I sub in other veggies or nuts?
Yes! Any veggies you have in your fridge would work great, here are some suggestions:
cauliflower
kale
zucchini
acorn squash
pumpkin
sweet potatoes
brussels sprouts
If you don't want to use pine nuts, here are some other nuts that would work well:
walnuts
pistachios
pecans
Here are some other pasta recipes you may love!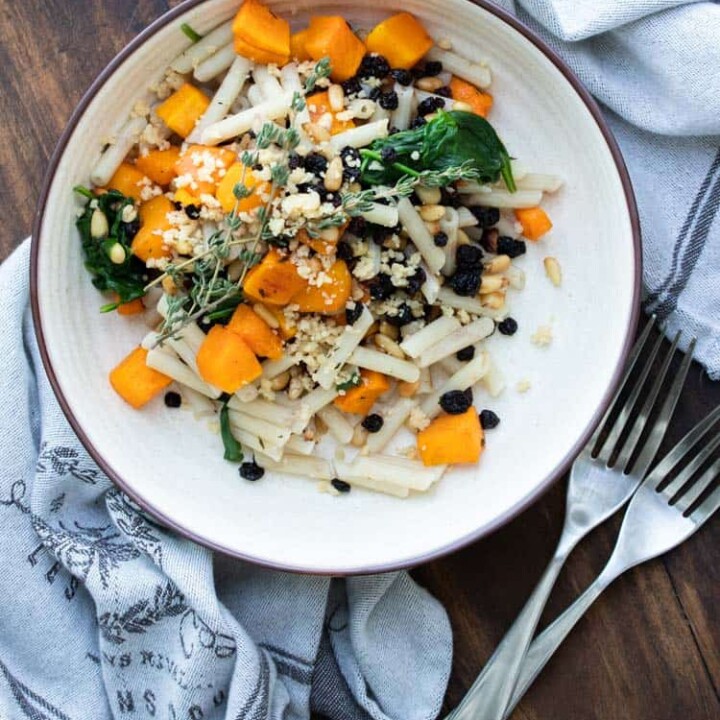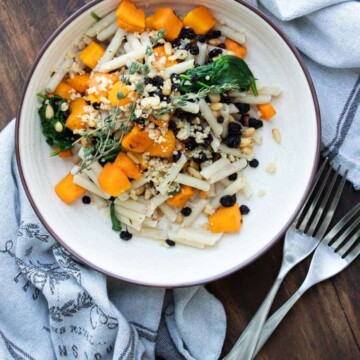 Pasta with Roasted Butternut Squash
This pasta with roasted butternut squash uses an amazing combination of flavors that will switch up your boring pasta routine. Bonus that it's so easy!
Instructions
Preheat oven to 400°F/200°C

Combine butternut squash, garlic, sesame oil, thyme and salt in a large bowl. Mix well.

Roast for 30 minutes. Add pine nuts and currants and sift around to incorporate in. Roast another 10 minutes.

Meanwhile, cook pasta according to directions. Put fresh spinach at the bottom of a pasta strainer. When pasta is ready pour hot water and pasta over the spinach to slightly "cook" it.

Pour cooked pasta and spinach into a large bowl and add roasted squash mix. Combine well and serve topped with vegan Parmesan.
Notes
To get the diverse flavor in this recipe sesame oil is a must, however if you don't use oil, feel free to roast with veggie broth and add some sesame seeds for some flavor. However the overall taste will be altered.
Tips to prep ahead:
Wash and chop all veggies and herbs.
Baby/toddler food idea:
Puree roasted butternut squash, add garlic, thyme and spinach if desired. For older baby, cook pasta until slightly overdone and soft. Chop in a food processor with butternut squash, spinach, garlic and thyme.
Recipe by Veggies Don't Bite, visit our site for more great plant-based recipes.
Nutrition
Calories: 846kcalCarbohydrates: 135gProtein: 24gFat: 27gSaturated Fat: 2gSodium: 301mgPotassium: 1464mgFiber: 11gSugar: 32gVitamin A: 17805IUVitamin C: 44mgCalcium: 172mgIron: 7mg
Nutrition and metric information should be considered an estimate.
Never miss a recipe!
Sign up here and get a FREE quick and easy meal guide!