This roasted whole butternut squash is the perfect addition to your fall meals. The flavors are customizable, rich, comforting and delicious!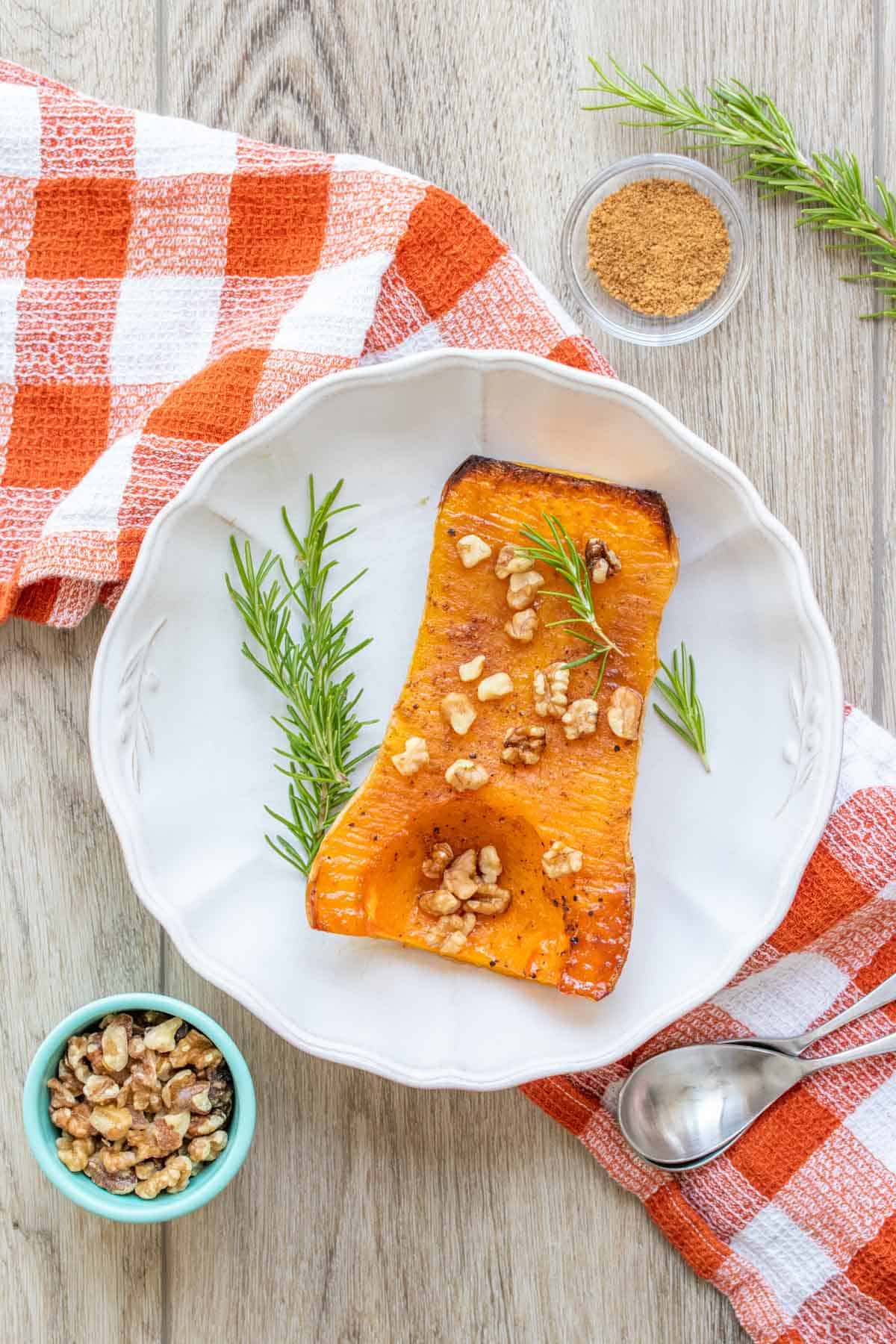 While we love butternut squash, cutting it feels like you went a round in the ring with Mike Tyson! So roasting it in full form makes it so much easier, plus so versatile. Eat it as a side, or scoop it out to use in any fall recipe!
The slightly sweet, nutty, and earthy flavor is so comforting. And, I love that it can go with either sweet or savory flavors! It's one of those foods that helps to make it easier to sneak in more veggies to your diet.
Ingredients
For a simple roasted butternut squash, gather these items:
You can also add extra flavor with any combination of the following:
Brown or coconut sugar
Nutmeg
Nuts like pecans or walnuts
Thyme
Sage
How to choose a butternut squash
When roasting squash you want to make sure you pick a good one! Here are a few tips for selecting the perfect butternut squash:
Look for an even beige color. Green spots indicate that it isn't quite ripe.
Avoid any deep cuts, bruises, or soft spots. Some light scratching is normal.
Like melons, you want a squash that feels heavy when you pick it up.
Find one with an intact, firm, brown stem.
How to Bake a Whole Butternut Squash
You can bake this in full form or cut it in half for a more flavorful version. Here is how to roast the halves:
Slice the ends off, cut it in half and scoop out the seeds.
Add oil (if using), salt and pepper and roast cut side down.
Once it is soft to the touch (learn from me, use a fork to test) then add any toppings you prefer.
Serving suggestions
Roasted butternut squash makes a great side dish along with these dishes:
You can also roast up a bunch to have on hand to add to these comforting recipes:
Tips and tricks
These suggestions will help you make the best roasted butternut squash:
Make it oil free by either leaving it out or using broth instead. The end result won't be quite the same but it will still work.
Skip the cutting and roast it whole. Just poke holes around it like you would a potato. Then coat in oil, salt and pepper if you want. Roast until soft, it may take closer to 60 minutes. Look for a skin that is browning and shriveled.
A baking sheet lined with parchment paper not only helps with the caramelization, but it makes cleanup a breeze too!
Roast more than one squash at a time and store it for later use.
Refrigerate roasted butternut squash in an airtight container for up to 3 days.
You can also easily freeze butternut squash for up to 3 months. Portion it out in smaller amounts and seal well in an airtight container, that way you can pull it out to use in recipes!
The best way to reheat butternut squash is in a 350°F oven for 10-15 minutes.
Common Questions
How do you roast a whole butternut squash?
Wash the squash, then poke holes around it with a fork. Cover in oil and seasonings if preferred and bake in a 400°F oven on a baking sheet for approximately 1 hour.
Do you need to peel butternut squash before roasting?
No you do not need to peel the squash before roasting. The flesh will separate from the skin very easily once roasted.
Do you have to peel butternut squash?
Since the skin is completely edible, it's up too you if you want to peel it or not.
More Easy Vegan Recipes
Knowing how to cook the basics is the key to making meals even easier. Once you can prep these staples, they're easy to have on hand to use for a variety of recipes: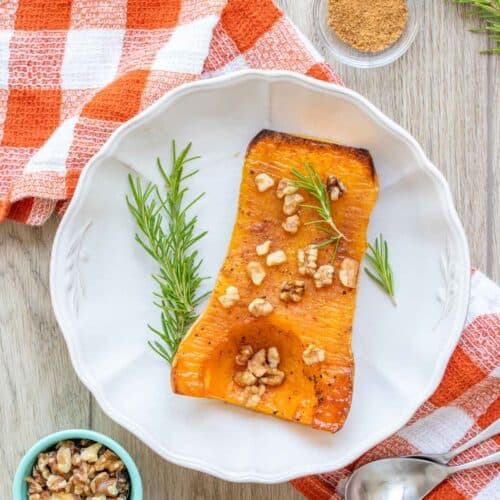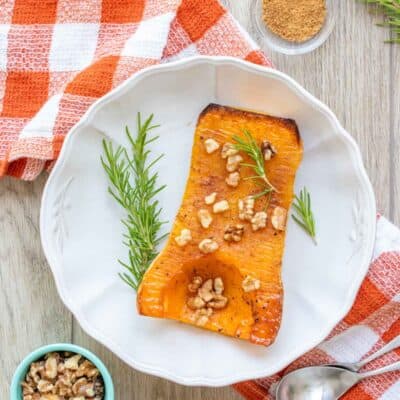 Roasted Whole Butternut Squash Recipe
This roasted whole butternut squash is the perfect addition to your fall meals. The flavors are customizable, rich, comforting and delicious!
Ingredients
1

butternut squash

, medium sized

2

tsp

of your favorite roasting oil or butter

I like olive oil (see note for oil free)

¼

teaspoon

sea salt

1/8

teaspoon

ground black pepper
Optional toppings:
Brown or coconut sugar

Maple syrup

about 1-2 tablespoons

Cinnamon

about ¼ to ½ teaspoon

Nutmeg

about 1/8 to ¼ teaspoon

Nuts like pecans or walnuts
Instructions
Preheat the oven to 400 F/ 205 C

Cut the ends off of the squash and then cut in half length wise.

Scoop out the seeds.

Brush with oil or butter. Add any additional toppings now or waiting until the last 10 minutes of roasting. If using nuts, add them at the end or after it's done baking.

Place on a parchment lined baking sheet cut side down.

Bake for 45-50 minutes until soft to the touch. If using toppings, you can also add them about 10 minutes before it is done. Mix them all in a bowl with a little more oil or butter, or if using maple you don't need to add extra oil/butter. Turn halves over and brush with the mixture. Continue to roast cut side up.

Allow to cool and use with your favorite recipes or enjoy as is!
Notes
If you are oil free you can skip it but the end result won't be as rich and moist. You can also try and use broth to get some moisture in there.
If you want to roast this whole instead of cutting it, poke holes around it like you would a potato. Then rub the oil, salt and pepper on the outside (optional). Then roast until it is soft, it may take closer to 60 minutes or more if doing it whole. You want the skin browning and shriveled.
Recipe by Veggies Don't Bite, visit our site for more great plant-based recipes.
Nutrition
Calories:
51
kcal
Carbohydrates:
11
g
Protein:
1
g
Fat:
1
g
Saturated Fat:
1
g
Polyunsaturated Fat:
1
g
Monounsaturated Fat:
1
g
Sodium:
69
mg
Potassium:
330
mg
Fiber:
2
g
Sugar:
2
g
Vitamin A:
9966
IU
Vitamin C:
20
mg
Calcium:
45
mg
Iron:
1
mg
Nutrition and metric information should be considered an estimate.
Never miss a recipe!
Sign up here and get a FREE quick and easy meal guide!