This vegan white cheese sauce has an amazing sharp flavor and perfect for those that love a lot of flavor. Plus, it's easy and healthy!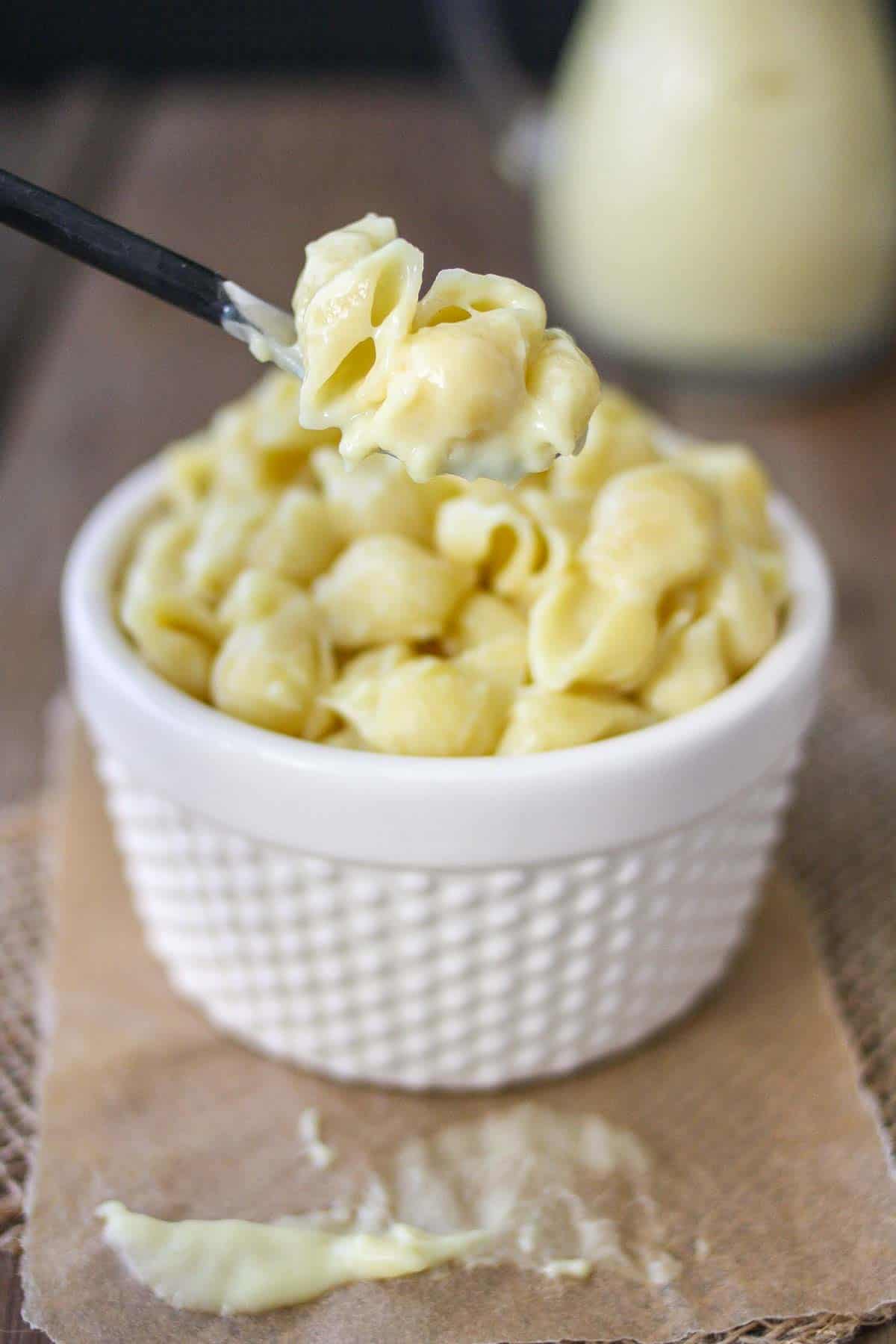 This recipe was originally published on 12/3/2015
This incredible cheesy sauce came as a variation to my original vegan cheese sauce when I wanted something a little fancier in flavor. And it turned out incredible! Sharp (which you can adjust) and creamy as the original.
This vegan white cheese sauce is creamy and sharp with that perfect bite, just like all the dairy filled cheesy sauces you eat at a restaurant....except that this vegan white cheese sauce is actually created with vegetables and all whole foods!
This cheese alternative goes great as an baked vegan mac and cheese, try it out and let me know what you think!
Ingredients
It is important to follow the recipe the way it is written for the best results. There are a few substitutions you can try that are outlined below. Here is what you will need:
Potato
Yellow pepper
Yellow carrots
Onion
Roasted garlic
Apple cider vinegar
Mustard seed powder
Chickpea miso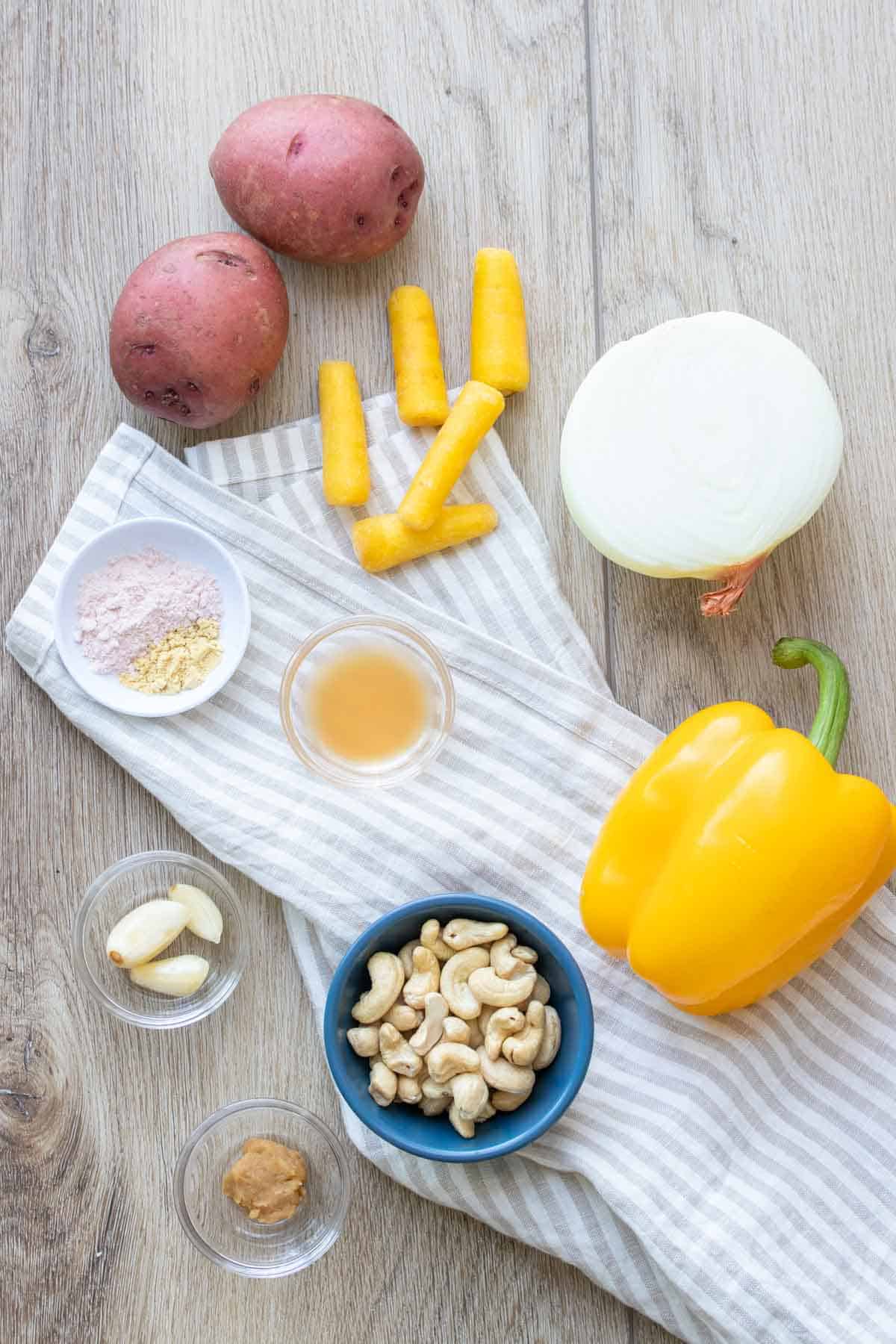 How to Make Vegan White Cheese Sauce
Making your own plant based cheese sauce is actually super easy to do! Here are the simple steps:
Boil and roast.
Blend.
Pour over noodles.
Stuff face!
Serving suggestions
Don't just stop at mac and cheese! Use this creamy sauce in more ways like:
Substitution Suggestions
The recipe is best when made exactly as written, but there are a few substitutions you can try:
If cashews aren't an option you can try other nuts like macadamias, walnuts, or pine nuts. Just note that the flavor will be different.
To make a completely nut free sauce try using sunflower seeds or white beans instead. (I didn't care for the sunflower seed version but others have.)
You can also make this without the cashews completely but the texture will not be as thick and creamy.
Red potatoes are best but any other starchy potato will do. Just avoid using sweet potatoes or other root veggies.
Chickpea miso creates the right flavor, white miso can be used but the taste will be more mild.
Tips and Tricks
These suggestions should help you have the best success when making your own cheese sauce:
If you don't have a high speed blender, make sure to grind or soak those cashews to give yourself the chance of getting that ultimate creamy texture.
Adjust the consistency of the sauce by thinning it out with the veggie cooking water or even just plain water.
Measure the vegetables packed in not just loosely scooped up.
Prepare this sauce in advance by cooking the veggies and roasting the garlic. Keep it in the fridge in an airtight container until you are ready to use it.
You can also freeze this sauce, just seal in a freezer safe airtight container and freeze for up to 3 months. When you defrost, leave it on the counter all day so it can slowly come to room temp.
Reheat this in the microwave or in a pot with a splash of nondairy milk (I use cashew) and stir well. Pour in splashes of milk and mix until you have the right consistency. You might need to add more salt depending on how much milk you add.
Common Questions
What is vegan cheese sauce made of?
Vegan cheese sauce recipes use a variety of different ingredients and methods. After lots of testing this recipe was created with potatoes, veggies, cashews, and seasonings to create a thick and creamy sauce.

What do vegans use for cheese?
It's so easy to make your own homemade vegan cheeses, but there are some plant-based store bought cheeses available as well that taste great. See below for more homemade recipes, and check the refrigerated section of your grocery store to find the store bought kinds.

How do vegans get cheese flavor?
Often dairy free milk and nutritional yeast are used to create the cheese flavor, but I've had more sucess with veggies, chickpea miso, and vinegar.

Is there a vegan cheese that tastes like cheese?
This sharp sauce for one, and my classic one is great as well! Vegan Parmesan is also really easy to make and tastes so good!

More Vegan Cheese Recipes
Now that you know how easy it is to make your own plant based cheese you have to try out these other flavors:
I am SO excited to hear what you think about this cheese sauce version! My original vegan cheese sauce is still to this day my most popular recipe. This unique twist to the original is so good, and has a delicious sharp bite. So make, share, and get your dairy loving friends to give this a try.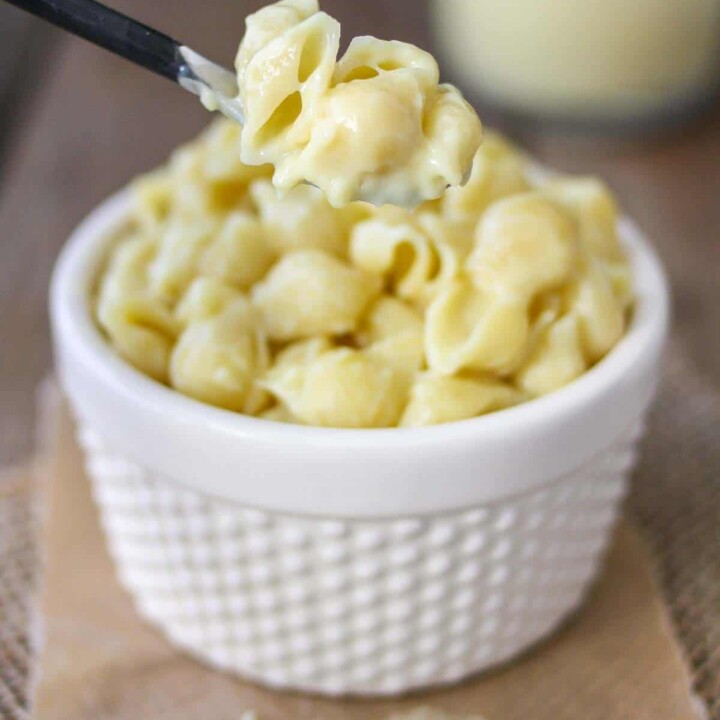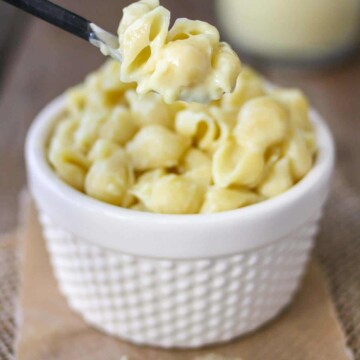 Amazing Vegan White Cheese Sauce
This vegan white cheese sauce has an amazing sharp flavor and perfect for those that love a lot of flavor. Plus, it's easy and healthy!
Ingredients
2 cups cooked potato (about 3-4 potatoes, see note)
2 tablespoons cooked yellow pepper (about ⅓ of a medium sized pepper)
3 tablespoons cooked yellow carrots (about 4-5 yellow baby carrots or one medium sized)
5 tablespoons cooked sweet or yellow onion (about ½ a small)
½ cup raw cashews (see note)
1 teaspoon roasted garlic (about 2-4 cloves, depending on size)
2 teaspoons apple cider vinegar
½ - 1 ½ teaspoons mustard seed powder (use less or more according to how sharp you like the flavor, start with ½ and work up)
1 ¼ teaspoons chickpea miso (see note)
1 ½ teaspoons sea salt (can use less or more depending on taste preference)
Your favorite pasta if making Mac and Cheese
Instructions
Roast the garlic by peeling and wrapping it in tin foil with a splash of veggie broth. Roast at 400 F (205 C), in a regular or toaster oven, while you cook the veggies.

Put potatoes (peel if you don't want specks of skin), yellow pepper, carrots, onion and cashews in a pot and cover with water. If you don't have a high speed blender and are grinding the cashews, then don't boil but grind them dry and place them in the blender.

Cook over high heat until water boils, about 15 minutes if uncovered. Turn heat to medium and boil another 20 minutes, until potatoes are tender.

When done, drain water (keeping some to thin out sauce if prefer a thinner sauce), separate veggies and put the cashews in the blender. I use a fork to fish out the veggies, then drain the cashews over a pasta strainer.

Measure out the needed amount of each veggie and place each in the blender. Add the rest of the ingredients.

Blend on high until you get a creamy gooey consistency. If you have a tamper tool use it to help mix the sauce as it blends. If you don't have one, then you will need to stop and push down the ingredients every once in a while.

Taste and adjust ground mustard seed for a sharper flavor if desired.

If you want to thin it out, add some of the reserved cooking water, 1 tablespoon at a time until you get the desired consistency. Use it while it's nice and hot!
To use this sauce for a sharp flavored white Mac and Cheese:
Cook your pasta according to package directions.

Drain pasta reserving about 1 cup pasta water in case you want your mac and cheese a little thinner.

Add the pasta back into the pot and add desired amount of cheese sauce. Mix well. Try and add a touch more salt if needed.

Then add pasta water 1 tablespoon at a time, mixing well in between additions, until you get the desired consistency for your Mac and Cheese. If your pasta is too starchy (as some gluten free pastas are) you can also use regular water or even non dairy milk to do this. Add salt if needed, it most likely will since the sauce is no longer as concentrated. Devour!
Notes
Makes 3 ½ cups sauce. Serving size for nutrition info is ½ cup.
Nutrition info is for cheese sauce only.
I used red potatoes but any starchy potato will work, just don't use sweet. It also won't work to substitute with something that is not an actual potato (such as another root vegetable). 
If you are not using a high speed blender, you can grind the dry cashews into a fine powder using a coffee grinder (do not boil them for this method). You can also soak them overnight prior to boiling with the veggies.
You can make this nut free by eliminating the nuts, however you will lose some of the thickness and creaminess. It will still be pretty good in taste, but just lacking some of those elements. You can also try subbing with another nut if you are allergic to cashews, I suggest walnuts or macadamias, however the flavor will be different. I did try it with multiple nuts and liked the taste of the cashews best.
If you don't have chickpea miso, you can try using a white miso although it will be a little more mild in flavor so you may need more, especially if you want it nice and sharp tasting.
I did not add any liquid to this when I made it, but depending on what you use it for, you may want to thin it out with some water, water from the boiled veggies or pasta water if making mac and cheese.
You can reheat this in the microwave or in a pot with a splash of nondairy milk (I use cashew) and mix well. Add splashes of milk and mix until you have the right consistency. It may need more salt depending on how much milk you add.
You can also freeze leftovers in a freezer safe container as it freezes great. Defrost slowly when ready to eat. You may think it didn't freeze well, but as you heat it up the consistency comes back!
Tips to prep ahead:
Cook the veggies and roast the garlic. Store in the fridge in an airtight container until ready to use.
Baby/toddler food idea:
This can be mixed into any baby food or be used for a toddler as a dip. You could also just blend the veggies on their own for baby.
Cut the sharpness by reducing the mustard for younger kids.
Recipe by Veggies Don't Bite, visit our site for more great plant-based recipes.
Nutrition
Calories: 76kcalCarbohydrates: 8gProtein: 2gFat: 4gSaturated Fat: 1gSodium: 496mgPotassium: 200mgFiber: 1gSugar: 2gVitamin A: 1082IUVitamin C: 7mgCalcium: 12mgIron: 1mg
Nutrition and metric information should be considered an estimate.
Never miss a recipe!
Sign up here and get a FREE quick and easy meal guide!