This vegan pumpkin pie with pecan crust is easy to make and out of this world delicious! You won't believe how rich, thick and creamy it is!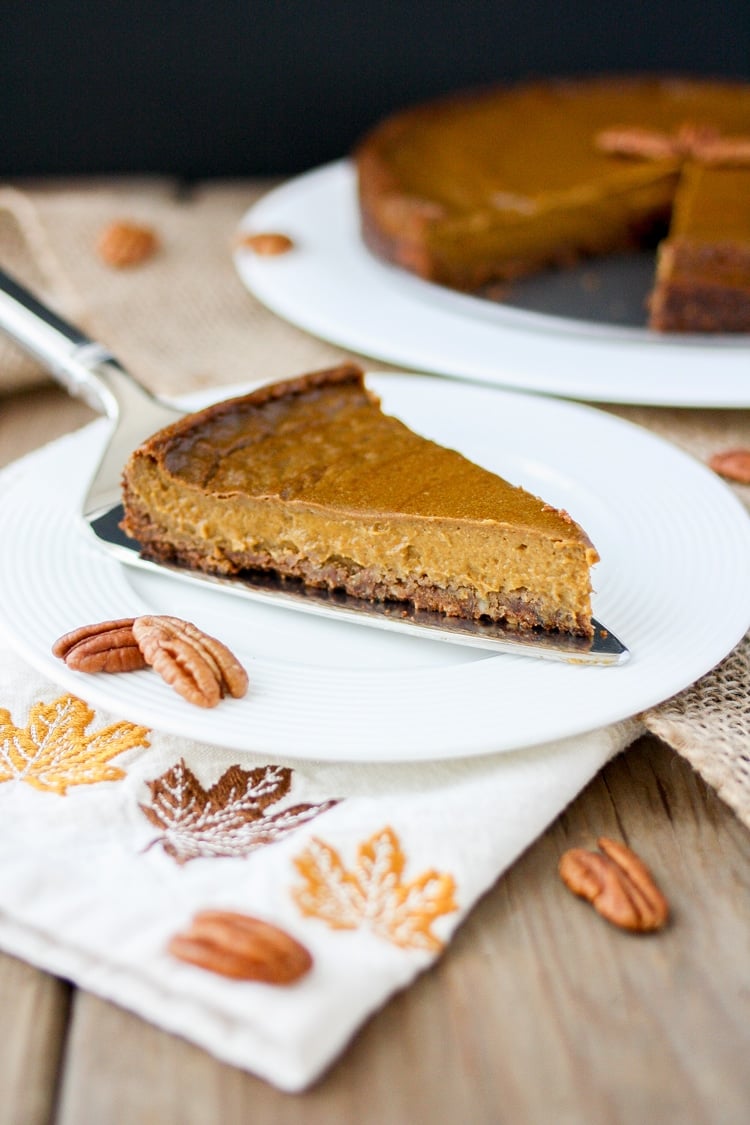 This recipe was originally published on 11/19/15
I love it when I hit the jackpot with creating my favorite non vegan recipes into equally amazing, if not better, vegan versions. This is one of those.
Vegan Thanksgiving Food
Thanksgiving, or "Christmas Practice" as I like to call it, gives me a chance to make all the foods that I love and want to eat more of at Christmas. I'm talking about recipes like:
But my favorite is pie. I have already created these pumpkin pie type recipes that we all love:
But there is nothing like a vegan pumpkin pie with pecan crust. And I mean: creamy, easy and the best damn pumpkin pie pairing you've ever tasted. And pecans are so buttery amazing delicious.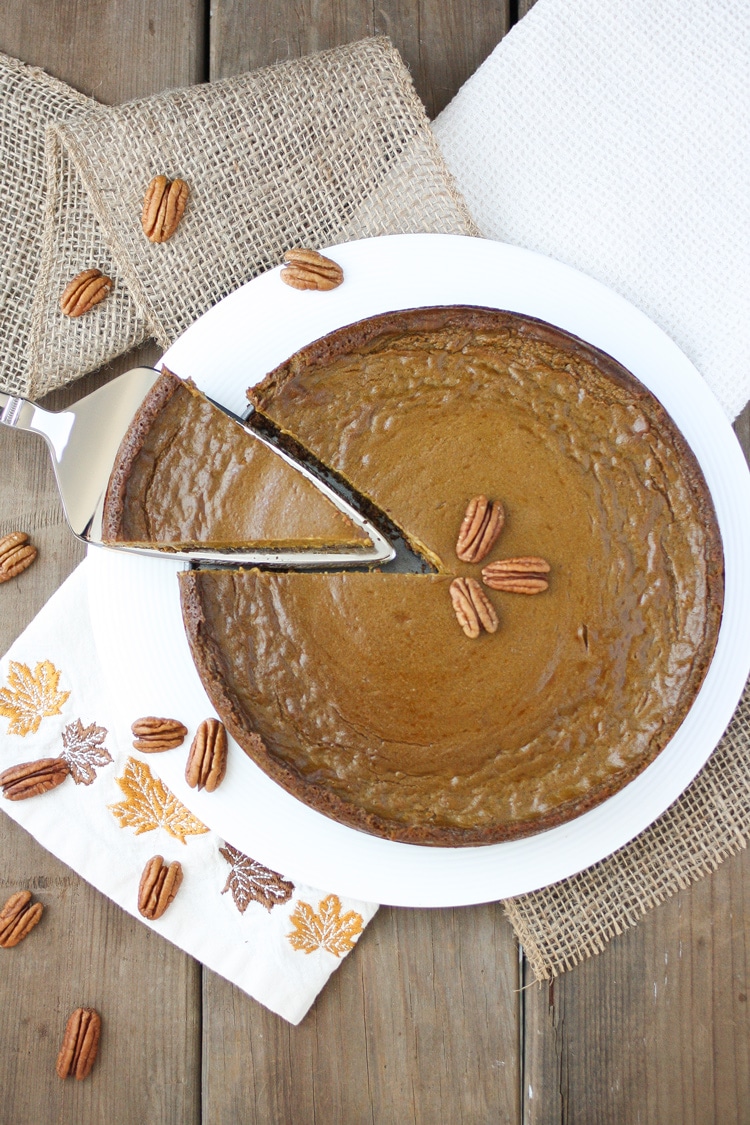 Does pumpkin pie contain dairy?
Typically, classic pumpkin pie is made with sweetened condensed milk. So it is not vegan. But it's very easy to make it vegan by substituting the milk with creamy dairy free alternatives.
Is pecan meal and pecan flour the same thing?
Yep! Meal can be a little grittier and not as fine but they are both ground pecans.
What do you use pecan meal for?
There are loads of great ways to use it! As a topping in oatmeal, over cereal or sprinkled over a salad. You can bake with it, use it as a crispy coating for things and make pie crust!
What is pumpkin pie spice made of?
Pumpkin pie spice is a combination of a few different spices to get that deep spice blend that gives the perfect fall flavor to pumpkin pie. Some of the spices used are:
cinnamon
ginger
cloves
nutmeg
allspice
Canned versus homemade pumpkin
In my experience, using homemade pumpkin doesn't get the best end texture. Unlike most of what I preach, when I say fresh veggies are best, when it comes to pumpkin pie, canned gives you the best overall texture.
Homemade pumpkin tends to be stringy and contains more water, so once baked, it isn't as firm and creamy. It yields a more jiggly end result and that's just not my cup of tea.
Tips to prep ahead
You can definitely prep ahead so that you can bake your pie fresh in a quick amount of time. Here are my suggestions for the most success with both the vegan pumpkin pie and the gluten free crust:
Make the crust batter but don't shape it. Store in an airtight container in the fridge.
Make the filling and store in an airtight container in the fridge.
Day of, put both out to allow them to reach room temperature before you put them together and bake.
Storage tips
Sometimes you pass out because of shock at how good a vegan pumpkin pie is, so you need to store the rest for when you come to. In this case, it's really important to store it right so you can enjoy it just like you did the first time.
Because this pie is vegan and contains no milk or eggs, you can leave it on the counter longer than classic pumpkin pie. I leave it out all day until dessert time. After that, I put it in the fridge until I'm ready to eat it again.
When you are ready to eat it, sometimes it's only minutes later because I simply can't get enough, there are many options:
put it back in the oven, covered in foil to prevent burning, and bake until warm
eat it cold because it's still amazing that way
allow it to reach room temperature
Making pumpkin pie with a pecan crust from scratch
This recipe is super easy! You can make it in a blender or food processor, and you can make the filling in just a bowl if you prefer.
Make the gluten free crust and press it into a pan.
Make the vegan pie filling and pour it into the crust.
Bake.
Devour!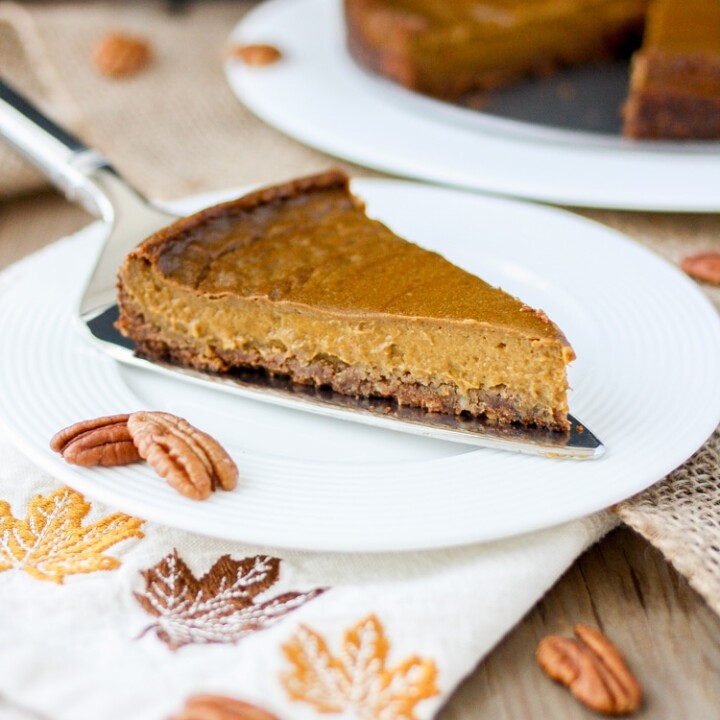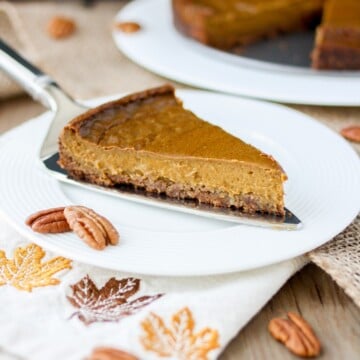 Vegan Pumpkin Pie with Pecan Crust
This vegan pumpkin pie with pecan crust is easy to make and out of this world delicious! You won't believe how rich, thick and creamy it is!
Ingredients
Filling:
1-15 ounce can pumpkin puree , about 1 ¾ cups
¾ cup coconut sugar
1 cup coconut cream , the top layer from about 1 can full fat coconut milk, stored in refrigerator for 2-3 days or freezer for 2-3 hours
¼ cup coconut butter , at room temperature (see note)
2 tablespoons arrowroot powder (see note)
1 tablespoon molasses
1 tablespoon pumpkin pie spice
1 teaspoon vanilla extract
¼ teaspoon sea salt
Crust:
1 cup raw pecans
½ cup rolled oats or oat flour , gluten-free if needed
2 tablespoons coconut butter
5 Medjool dates
2 tablespoons coconut sugar
¼ teaspoon sea salt
Instructions
Preheat oven to 350°F/180°C.

Place all crust ingredients into a blender or food processor and pulse until a dough like consistency forms. It should still look crumbly but when pressed together become dough like.

Pour into a 9 inch pie pan and press down and around the edges to form crust. You can also use a 9 inch springform pan. I liked the springform pan because it kept the crust from burning a bit better.

Then, place all filling ingredients into the blender or food processor and blend well.

Or, for a blender free filling, place pumpkin, sugar and coconut cream into a large bowl and whisk until combined.

Add in the rest of the ingredients and whisk well. Make sure your coconut butter isn't solid, if it is then very slowly warm it in the microwave so it can be melted when mixing. The filling won't turn out as smooth if you don't blend it, but will work in a pinch.

Pour filling into crust and bake, covering edges of crust in foil if using pie pan, for 40 minutes.

Start checking it at 30. If the pie starts to brown on the top too quickly, cover the whole thing in foil. It will still seem undercooked when done, but it sets more as it cools.

When it's cool to the touch, place the pie in the fridge to set for at least 3-4 hours, but preferably longer. It will set much more as it cools in the fridge.

Serve with coconut whip and let your taste buds dance!
Notes
The filling is nut free, so you can use a nut free crust to keep this completely nut free.
You can buy or make your own coconut butter. If you want to try leaving it out, add an extra 2 tablespoons of arrowroot powder.
To make your own coconut butter, place unsweetened shredded coconut in a blender or food processor and puree until a liquidy butter forms.
You can sub cornstarch for the arrowroot powder.
Using a high speed blender will yield the most fluffy and creamy result.
You can use either oats or oat flour in the crust.
Recipe by Veggies Don't Bite, visit our site for more great plant-based recipes.
Nutrition
Calories: 286kcalCarbohydrates: 27gProtein: 3gFat: 19gSaturated Fat: 9gSodium: 150mgPotassium: 202mgFiber: 3gSugar: 14gVitamin A: 445IUVitamin C: 1.1mgCalcium: 24mgIron: 1.5mg
Nutrition and metric information should be considered an estimate.
Never miss a recipe!
Sign up here and get a FREE quick and easy meal guide!