An easy to make super creamy and smooth vegan pumpkin pie all wrapped up in a pecan crust. Plant-based, vegan and refined sugar free. A dream come true!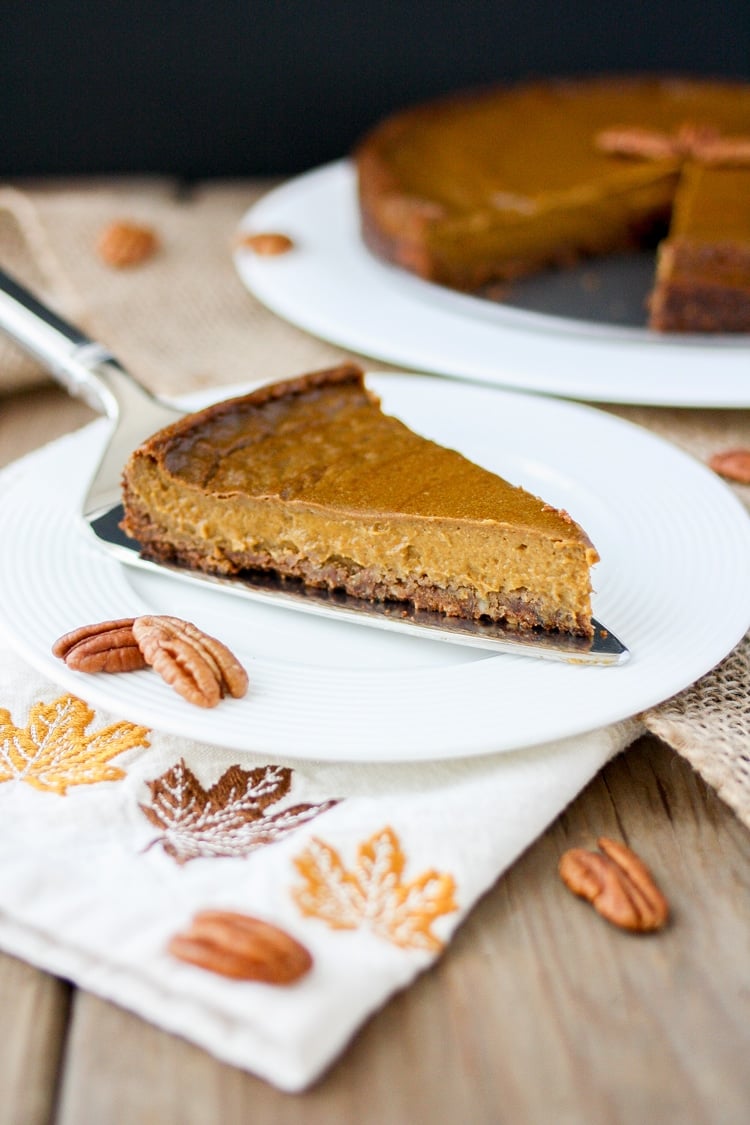 It's almost Thanksgiving, or "Christmas Practice" as I like to call it. I'm not going to lie, I'm a "Halloween is over so lets just get to Christmas" type of person. The only thing that gets me through this whole Thanksgiving thing is food. And by food I mean drool worthy side dishes like my Maple Roasted Brussels Sprouts, Peas with Scallions & Dill, Creamy Potato & Veggies Casserole or even my newest Roasted Butternut Squash and Spinach Pasta.
But the real king of the castle is pie. Last year I created this pumpkin pie with a twist, Layered Pumpkin Caramel Pie, so this year it was time for your classic. And by classic I mean: creamy, easy and the best damn pumpkin pie you've ever tasted, with a pecan crust of course. Pardon my language, but it's that good…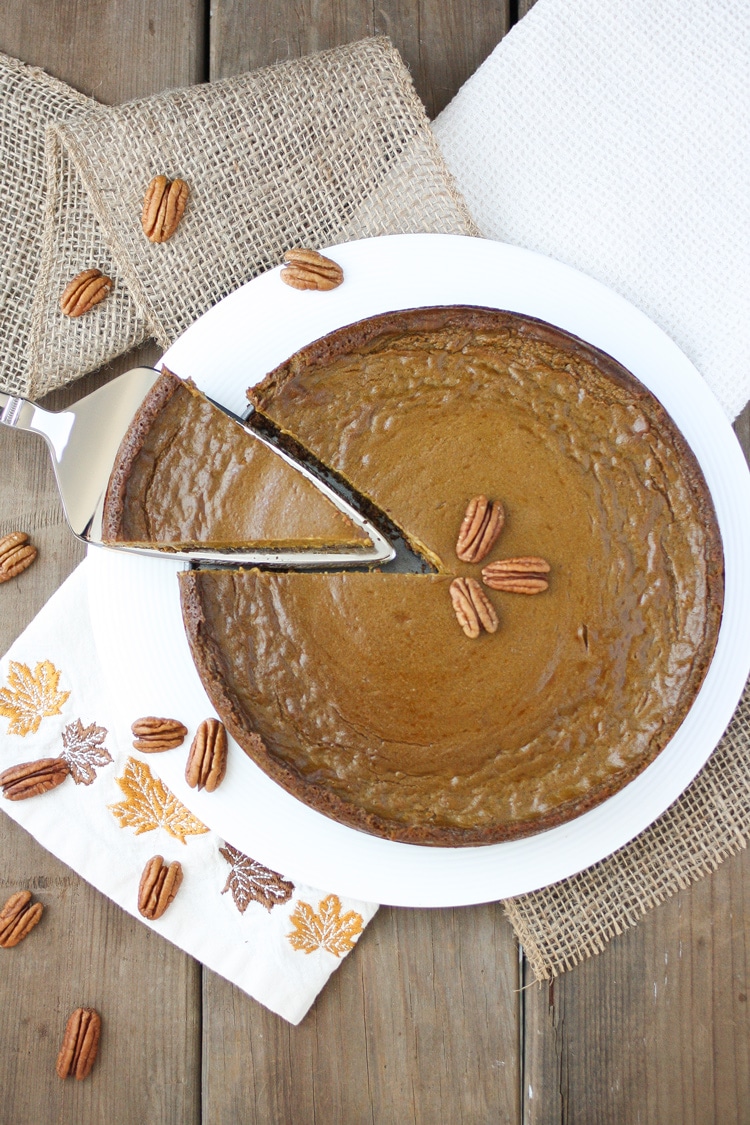 Even the toddlers ate it!
I was so excited when my son's preschool teacher asked me for a recipe for classic pumpkin pie. I had it on my list of blog creations anyway, but this really got me going. Not only could I spread the word that plant-based and healthy is also delicious, but I just love sharing my recipes with friends!
So, let's start with the crust. Pecan crust is by far my favorite pie crust ever. It's so buttery without all the unhealthy ingredients. And this pecan crust is just SO easy to make. You literally put everything in a blender or food processor and pulse until crumbly. Then you press it into your pie pan just like cookie dough. Of course, stop and shove a little in your mouth. Because who in the world could resist?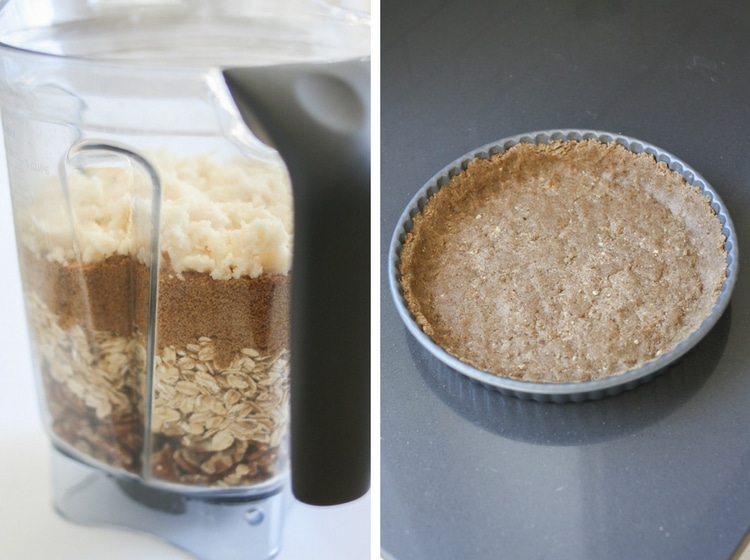 So creamy and smooth you can't stop eating!
Next up, the filling. Because a good pecan crust is nothing without an amazing filling. And this one is amazing. The touch of molasses along with the coconut sugar really brings out the delicious pumpkin pie flavor.
The extreme creaminess comes from the coconut whip, no plain coconut milk for this girl. When you want creaminess, go for the gold right?! I also added some coconut butter for texture and even more buttery taste. No jiggly light pumpkin pie for me. Jiggly is just gross, I'm a huge texture girl and my goal was thick and creamy, like a super thick custard. Goal. Achieved.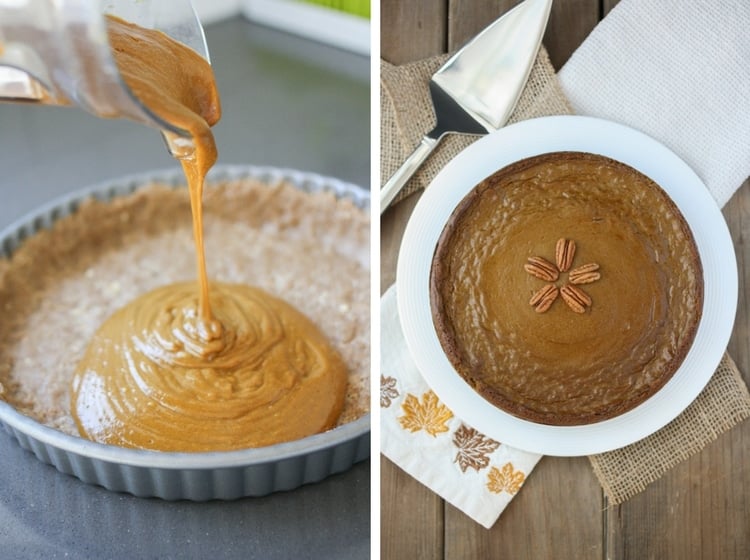 This pumpkin pie with pecan crust is like water, it's a life necessity.
In all seriousness, you NEED this pie. I still crave it as I sit here typing this post, and I've had it three times since it's creation. That feeling of my fork cutting through the creaminess of this pie makes my mouth water…I love that it doesn't have that "veggie" texture, but instead a true dessert.
As much as I love veggies, I want my dessert to taste like dessert. And I promise you, this absolutely does! I want to hear what you think about this pie. Did you moan like I did? How many pieces did you eat before you realized what you were doing? I don't expect you to control yourself in the presence of this creamy goodness…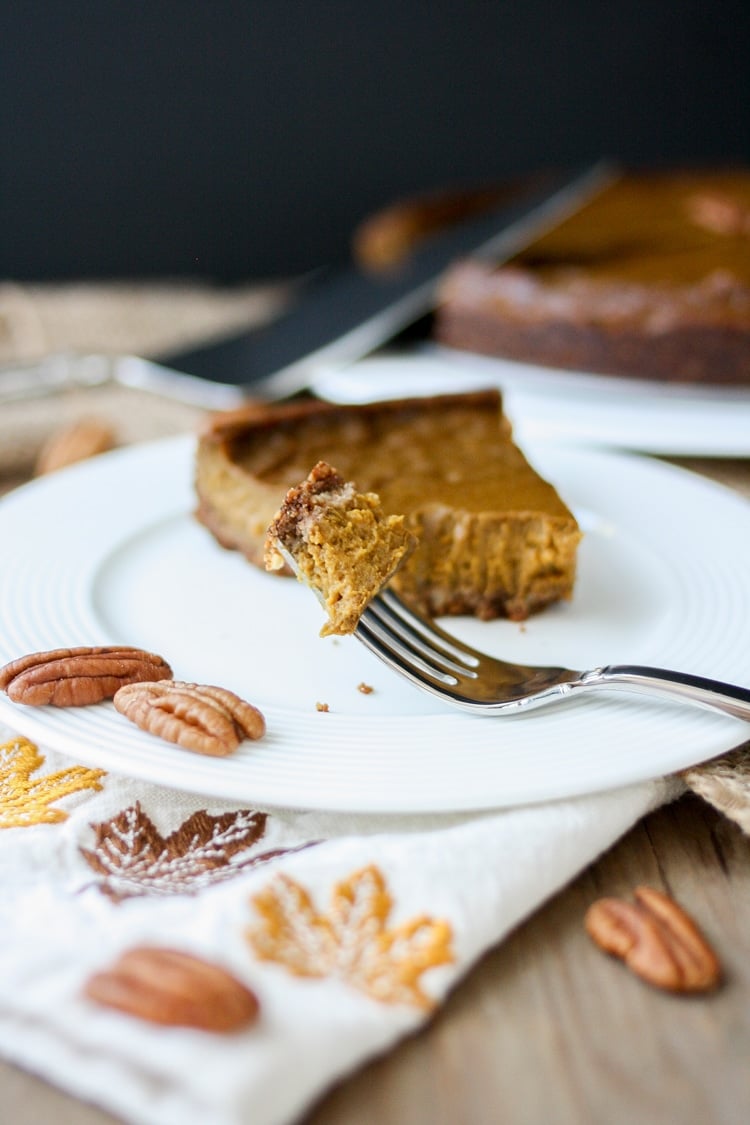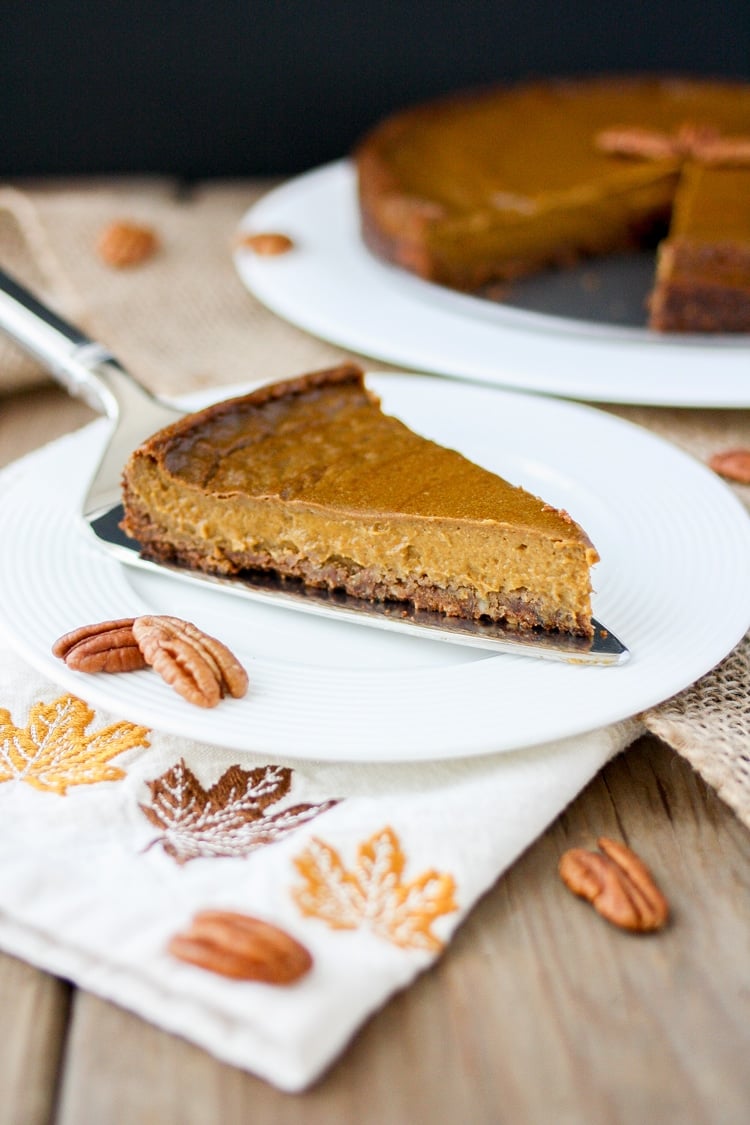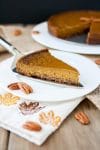 Simple Vegan Pumpkin Pie with Pecan Crust
Creamy, dreamy, easy pumpkin pie all wrapped in a pecan crusted present. Plant-based, vegan and refined sugar free. This is a Thanksgiving dream come true!
Keyword:
Vegan pies, Vegan Thanksgiving
Ingredients
Filling:
1-15

ounce

can pumpkin puree

about 1 3/4 cups

3/4

cup

coconut palm sugar

1

cup

coconut cream

, the top layer from about 1 can full fat coconut milk, stored in refrigerator for 2-3 days or freezer for 2-3 hours

1/4

cup

coconut butter

room temperature

2

tablespoons

arrowroot powder

1

tablespoon

molasses

1

tablespoon

pumpkin pie spice

1

teaspoon

vanilla extract

1/4

teaspoon

Himalayan pink salt
Instructions
Preheat oven to 350°F/180°C.

Pour into a 9 inch pie pan and press down and around the edges to form crust. You can also use a 9 inch springform pan. I liked the springform pan because it kept the crust from burning a bit better.

Then, place all filling ingredients into the high speed blender and blend well. A regular blender will also work, it just won't be as fluffy and smooth.

Or, for blender free, place pumpkin, sugar and coconut cream into a large bowl and whisk until combined.

Add in the rest of the ingredients and whisk well. Make sure your coconut butter isn't solid, if it is then very slowly warm it in the microwave so it can be melted when mixing. The filling won't turn out as smooth if you don't blend it, but will work in a pinch.

Pour filling into crust and bake, covering edges of crust in foil if using pie pan, for 40 minutes.

Start checking it at 30. If the pie starts to brown on the top too quickly, cover the whole thing in foil. It will still seem undercooked when done, but it sets more as it cools.

When it's cool to the touch, place the pie in the fridge to set for at least 3-4 hours, but preferably longer. It will set much more as it cools in the fridge.

Serve with coconut whip and let your taste buds dance!
Recipe Notes
The filling is nut free, so you can use a nut free crust to keep this completely nut free.
You can buy or make your own coconut butter.
To make your own, place unsweetened shredded coconut in a blender or food processor and puree until a liquidy butter forms.
You can use either oats or oat flour in the crust.
Nutrition Facts
Simple Vegan Pumpkin Pie with Pecan Crust
Amount Per Serving
Calories 286
Calories from Fat 171
% Daily Value*
Total Fat 19g 29%
Sodium 150mg 6%
Potassium 202mg 6%
Total Carbohydrates 27g 9%
Protein 3g 6%
* Percent Daily Values are based on a 2000 calorie diet.