An easy to make super creamy and smooth vegan pumpkin pie all wrapped up in a pecan crust. Gluten-free and no refined sugar makes it a dream come true!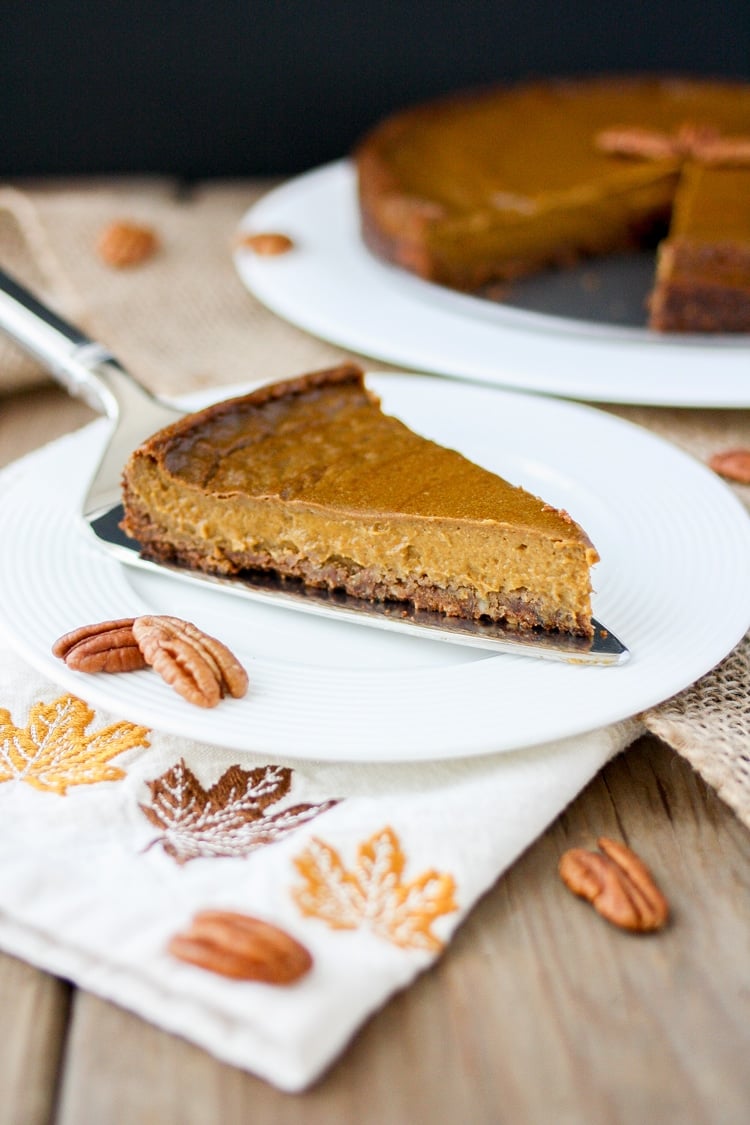 This recipe was originally published on 11/19/15
I love it when I hit the jackpot on a dessert that tastes like dessert but has all the good ingredients. I love a good meant to be healthy treat, but when a recipe becomes accidentally pretty darn healthy, I jump for joy.
Vegan Pumpkin Pie
Thanksgiving, or "Christmas Practice" as I like to call it, give me a chance to make all the foods that I love and want to eat more of at Christmas. I'm talking about recipes like:
But my favorite is pie. I have already created these pumpkin pie type recipes that we all love:
But there is nothing like a classic vegan pumpkin pie. And by classic I mean: creamy, easy and the best damn pumpkin pie you've ever tasted, with a pecan crust of course. Pardon my language, but it's that good…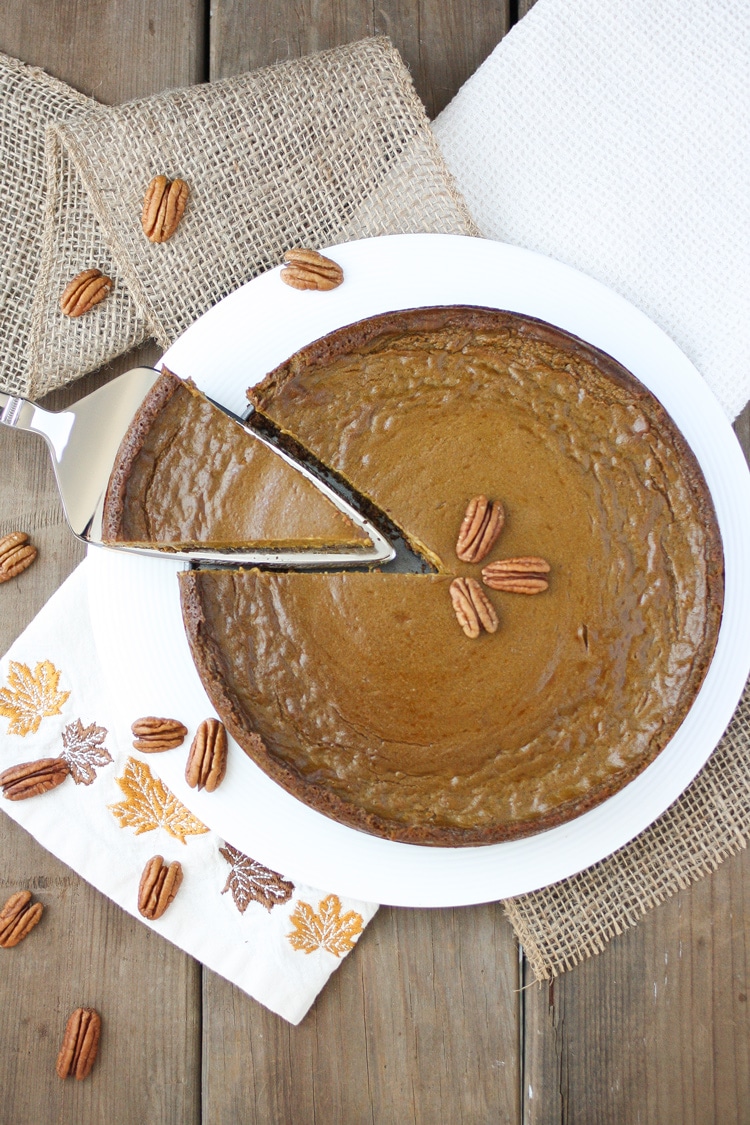 Does pumpkin pie contain dairy?
Typically, classic pumpkin pie is made with sweetened condensed milk. So it is not vegan. But it's very easy to make it vegan by substituting the milk with creamy dairy free alternatives.
Is there a substitute for evaporated milk in pumpkin pie?
There are many ways to do this. The main thing I have seen is using dairy free milk. Some recipes even use tofu.
But the ingredient I think yields the best result is the one I use here, using coconut cream. Coconut cream is the ultra creamy part of coconut milk. And it works perfectly.
Can I substitute almond milk for evaporated milk?
You absolutely can, but I personally don't think it give as creamy a result. Make sure you use a high quality brand so that it is thicker and creamier.
What is pumpkin pie spice made of?
Pumpkin pie spice is a combination of a few different spices to get that deep spice blend that gives the perfect fall flavor to pumpkin pie. Some of the spices used are:
cinnamon
ginger
cloves
nutmeg
allspice
Can I use homemade pumpkin instead of canned?
In my experience, using homemade pumpkin doesn't get the best end texture. Unlike most of what I preach, when I say fresh veggies are best, when it comes to pumpkin pie, canned gives you the best overall texture.
Homemade pumpkin tends to be stringy and contains more water, so once baked, it isn't as firm and creamy.
Tips to prep vegan pumpkin pie ahead of time
You can definitely prep ahead so that you can bake your pie fresh in a quick amount of time. Here are my suggestions for the most success:
Make the crust batter but don't shape it. Store in an airtight container in the fridge.
Make the filling and store in an airtight container in the fridge.
Day of, put both out to allow them to reach room temperature before you put them together and bake.
Storage tips for vegan pumpkin pie
If you don't end up eating all of the pie, which I'd be absolutely shocked because I can eat the entire thing myself, you want to make sure to store it correctly so it still tastes great the next day.
Because this pie is vegan and contains no milk or eggs, you can leave it on the counter longer than classic pumpkin pie. I leave it out all day until dessert time. After that, I would put it in the fridge until ready to eat it.
When you are ready, you can put it back in the oven, covered in foil to prevent burning, and bake until warm.
Making Vegan Pumpkin Pie
This recipe is super easy! You can make it in a blender or food processor, and you can make the filling in just a bowl if you prefer.
Make the crust and press into a pan.
Make the filling and pour into the crust.
Bake.
Devour!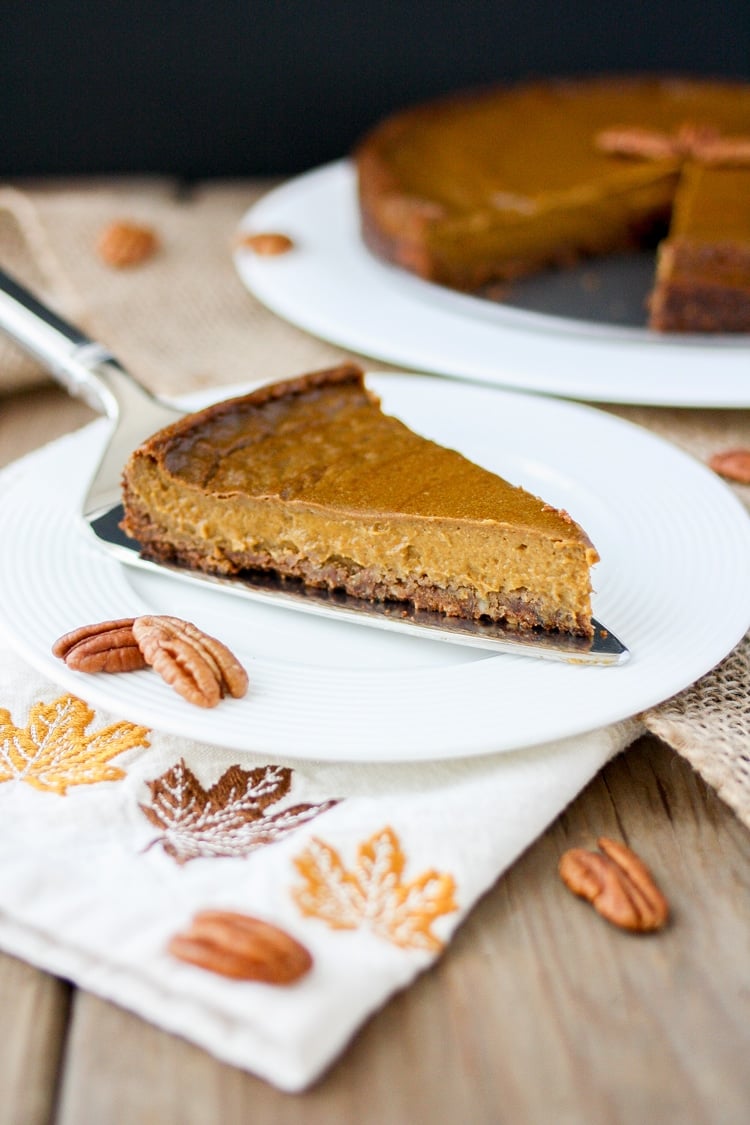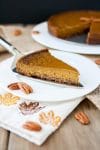 Easy Vegan Pumpkin Pie Recipe with Pecan Crust
An easy to make super creamy and smooth vegan pumpkin pie all wrapped up in a pecan crust. Gluten-free and no refined sugar makes it a dream come true!
Keyword:
Vegan pies, Vegan Thanksgiving
Ingredients
Filling:
1-15

ounce

can pumpkin puree

, about 1 3/4 cups

3/4

cup

coconut sugar

1

cup

coconut cream

, the top layer from about 1 can full fat coconut milk, stored in refrigerator for 2-3 days or freezer for 2-3 hours

1/4

cup

coconut butter

, at room temperature

2

tablespoons

arrowroot powder

1

tablespoon

molasses

1

tablespoon

pumpkin pie spice

1

teaspoon

vanilla extract

1/4

teaspoon

sea salt
Crust:
1

cup

raw pecans

1/2

cup

rolled oats or oat flour

, gluten-free if needed

2

tablespoons

coconut butter

5

Medjool dates

2

tablespoons

coconut sugar

1/4

teaspoon

sea salt
Instructions
Preheat oven to 350°F/180°C.

Place all crust ingredients into a blender or food processor and pulse until a dough like consistency forms. It should still look crumbly but when pressed together become dough like.

Pour into a 9 inch pie pan and press down and around the edges to form crust. You can also use a 9 inch springform pan. I liked the springform pan because it kept the crust from burning a bit better.

Then, place all filling ingredients into the blender or food processor and blend well.

Or, for a blender free filling, place pumpkin, sugar and coconut cream into a large bowl and whisk until combined.

Add in the rest of the ingredients and whisk well. Make sure your coconut butter isn't solid, if it is then very slowly warm it in the microwave so it can be melted when mixing. The filling won't turn out as smooth if you don't blend it, but will work in a pinch.

Pour filling into crust and bake, covering edges of crust in foil if using pie pan, for 40 minutes.

Start checking it at 30. If the pie starts to brown on the top too quickly, cover the whole thing in foil. It will still seem undercooked when done, but it sets more as it cools.

When it's cool to the touch, place the pie in the fridge to set for at least 3-4 hours, but preferably longer. It will set much more as it cools in the fridge.

Serve with coconut whip and let your taste buds dance!
Recipe Notes
The filling is nut free, so you can use a nut free crust to keep this completely nut free.
You can buy or make your own coconut butter.
To make your own, place unsweetened shredded coconut in a blender or food processor and puree until a liquidy butter forms.
You can use either oats or oat flour in the crust.
Using a high speed blender will yield the most fluffy and creamy result.
Nutrition Facts
Easy Vegan Pumpkin Pie Recipe with Pecan Crust
Amount Per Serving
Calories 286
Calories from Fat 171
% Daily Value*
Fat 19g29%
Sodium 150mg6%
Potassium 202mg6%
Carbohydrates 27g9%
Protein 3g6%
Vitamin A 445IU9%
Vitamin C 1.1mg1%
Calcium 24mg2%
Iron 1.5mg8%
* Percent Daily Values are based on a 2000 calorie diet.