A flavor bomb of an appetizer to blow the minds of cheese lovers everywhere. This easy smoky jalapeño ranch vegan cheese ball is the perfect party addition!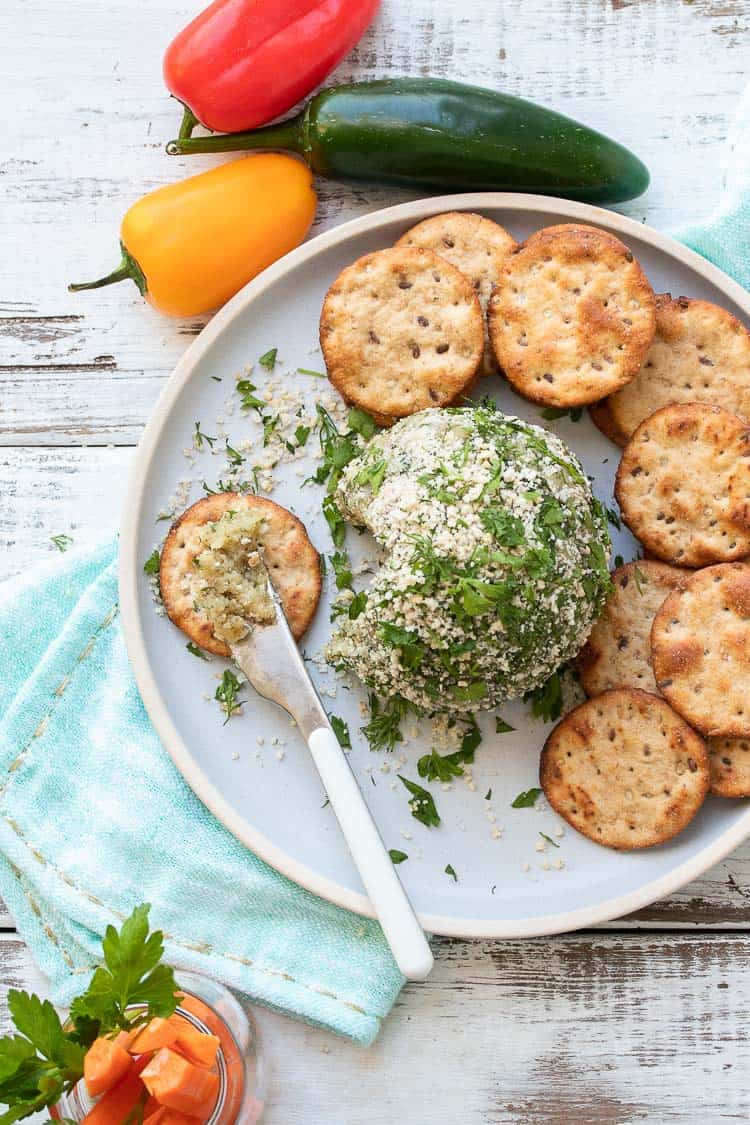 After everyone raved about the
Bruschetta Cheese Ball
I created a few months back, I knew I needed another member to my cheese ball fam. Perusing through Pinterest in the 3 seconds of down time I get (hear my sarcasm?), I came across the cutest little cheese ball Christmas trees.
Now historically I am quite a Pinterest failure, ask me about the star wars bday cake incident, but I knew I could make this one happen. At least at a level that was good enough for me.
If you know me at all, you know my heart beats for spice. Hot sauces everywhere are my jam, and I have been known to hoard them in my fridge. So with this cheesy ball of goodness, I had work in this love of my life.
My family is also obsessed with my vegan ranch. It's from my book, and it's legit the best ranch ever, vegan or not! So I combined our two loves to create this jalapeño ranch cheese ball and threw in a touch of smoky flavor for good measure.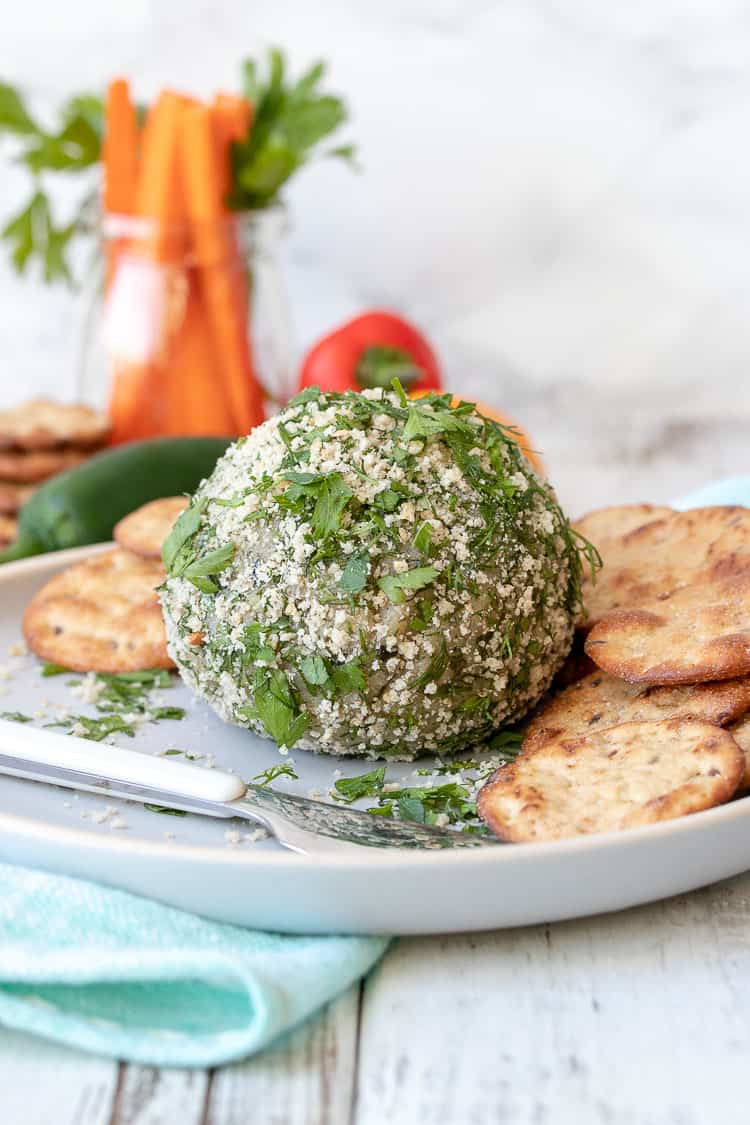 Spicy cheese ball in 5 easy steps
Grind the cashews. 
Blend everything. 
Shape and let set. Make it a cone if turning it into a Christmas tree. 
Coat with toppings if you want to. 
Stuff your face stat, before anyone else gets to it! 
Making a cheese ball Christmas tree
Coming from a professional Pinterest fail of all things cute and fancy, this Christmas tree cheese ball is totally legit doable. The best is that you can make it your own.
Here is how I did it, follow this version or do what inspires you, there is no wrong way to trim a cheese ball tree:
After the cheese ball is set, roll the cone shape you made in a plate filled with finely chopped herbs of choice.
Stand it up right, and stick in some slivered almonds. I randomly put them places, making sure to group them here and there.
Stick in little chopped pieces of red and yellow pepper. Use any veggie, or even fruit if you want. Pomegranate would be cute too!
Sprinkle with breadcrumbs to get "snow." They won't really stick but they settle pretty over the top.
And voila! Now you look like those fancy moms all over social media. Just don't show them the behind the scenes war zone. HA!
Speaking of feeling fancy, if you are stuck in a dinner rut and need some help with it, I have a comprehensive FREE guide on weekly meal planning that comes with a FREE 3 day meal plan and shopping list! Join here!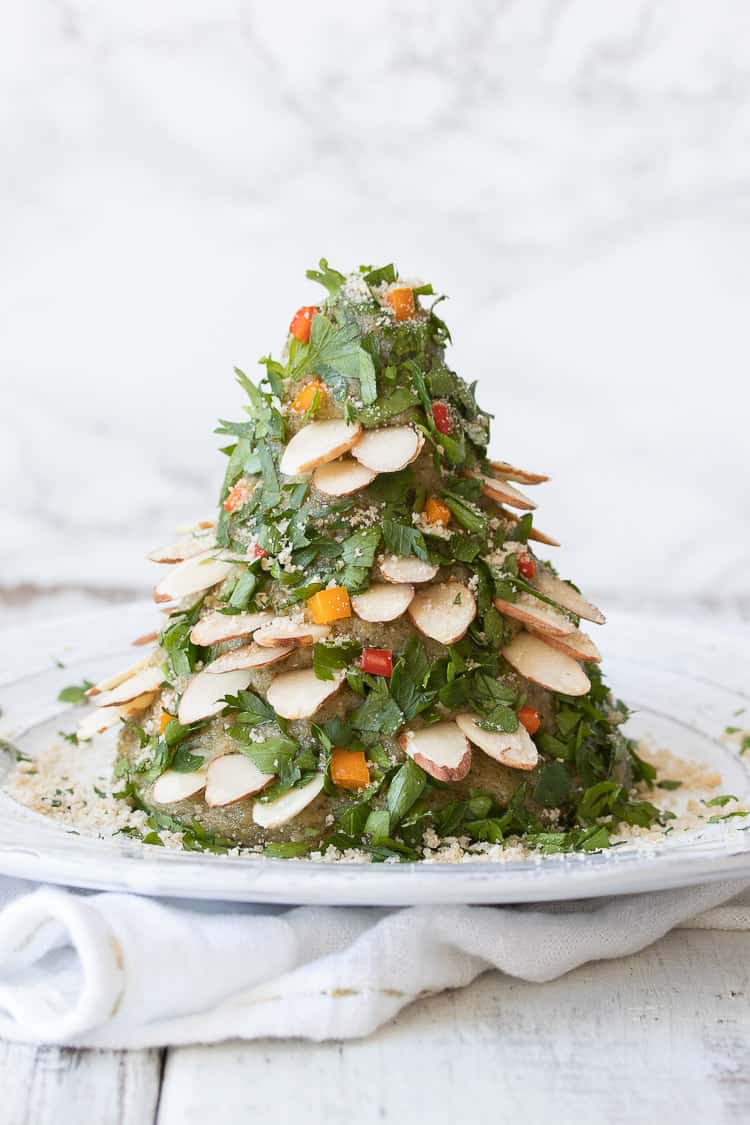 Looking for more delicious appetizers? Check these out!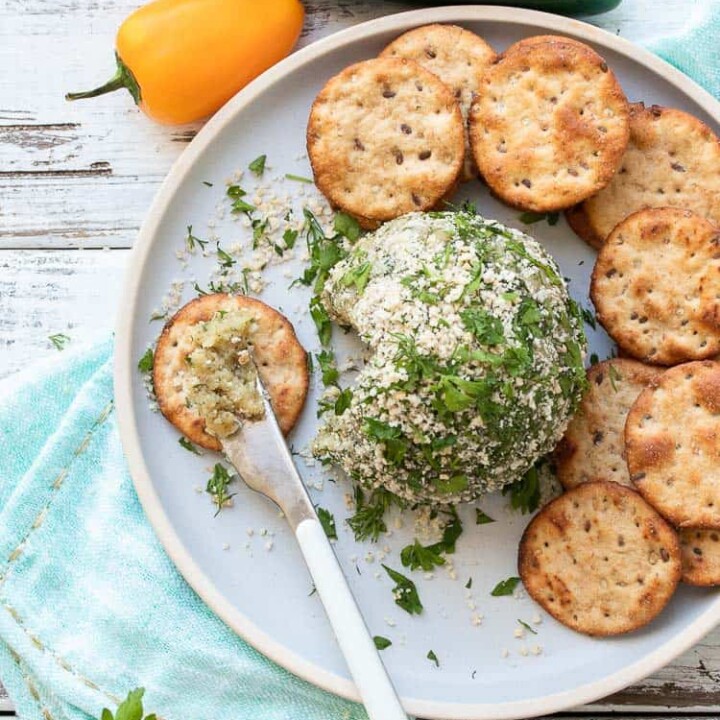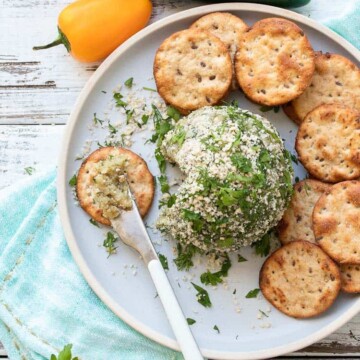 Smoky Jalapeño Ranch Vegan Cheese Ball
A flavor bomb of an appetizer to blow the minds of cheese lovers everywhere. This easy smoky jalapeño ranch vegan cheese ball is the perfect party addition!
Ingredients
1-2 jalapenos , chopped (depending on spice preference
1 ½ cups cashews
3 tablespoons distilled white vinegar
1 tablespoon lemon juice
½ teaspoon sea salt
⅛ teaspoon liquid smoke
1 teaspoon garlic powder
½ teaspoon onion powder
⅛ teaspoon mustard powder
2 teaspoon dried parsley
1 teaspoon minced onion
½ teaspoon dried dill
¼ teaspoon ground black pepper
Coating (optional):
½ cup crushed crackers or breadcrumbs , gluten free if needed
¼ cup finely chopped fresh herbs of choice
Christmas tree décor (optional):
Small round crackers , gluten free if needed
Skinny pretzel sticks , gluten free if needed
Slivered almonds
Chopped colored peppers or other veggies or fruit
Chopped herbs , like parsley dill or rosemary for the green of the tree
Breadcrumbs for the "snow" , gluten free if needed
Instructions
You can use the jalapeno fresh or sautéed. If sauteeing it, just use a touch of broth or oil to sauté until it softens and begins to get brown on the edges, but is still nice and green.

Grind the cashews in a food processor until you get a fine powder. You are grinding them dry, not soaked.

Add the vinegar, lemon, salt, liquid smoke, garlic powder, onion powder and mustard powder and blend until you get a smooth paste, scraping the sides as you go.

Add the parsley, minced onion, dill, pepper and jalapeños and pulse to incorporate. The reason you want to add them now is so they don't get fully blended into the mixture.

Now scrape out the mixture and place it in cheese cloth, a tea towel or just any piece of cloth. Wrap it up into a ball and rubberband it. If you are making a tree, then wrap it into a more cone shape, twist the top and secure there. See the post for photos.

Put it in a mesh strainer and then put that over a bowl (see photo in the post on this too). Place it in the fridge for at least 4-6 hours, but overnight is best. This will help draw out the small amount of moisture that is in the cheese, firming it up a bit. You don't have to use a strainer but that helps keep it's shape.

Now, if you simply can't wait and must eat this now, or just don't want to deal with cloth, then you can definitely eat this as more of a spread.

Once set, coat with topping of choice, I used crushed crackers, breadcrumbs and chopped parsley and dill.

If making a tree, then roll it in finely chopped herbs of choice. Set it upright on a plate. Then decorate with whatever you want. Stick in slivered almonds and/or skinny pretzels for branches. Use chopped veggies or fruit for the ornaments. And sprinkle with breadcrumbs at the end for a snowy effect. See the photo in the post on how I did mine!

Serve with crackers and veggies!

The cheese ball will soften the longer it is out of the fridge, but the flavor remains great!
Notes
You can use apple cider vinegar if you prefer but the distilled white vinegar gives it a much better tang.
This is a firmer/thicker cheeseball, if you want it a bit smoother and softer then add 1 tablespoon of water to the mixture. It will set softer but still be great.
Decorating it as a tree is optional for the holiday season. This is a great cheeseball to eat throughout the year so I have pictured both options.
The cheeseball is just as great without any coating at all. Make it any way that works for you!
Nutrition facts are for the main cheeseball with regular coating.
Recipe by Veggies Don't Bite, visit our site for more great plant-based recipes.
Nutrition and metric information should be considered an estimate.
Never miss a recipe!
Sign up here and get a FREE quick and easy meal guide!