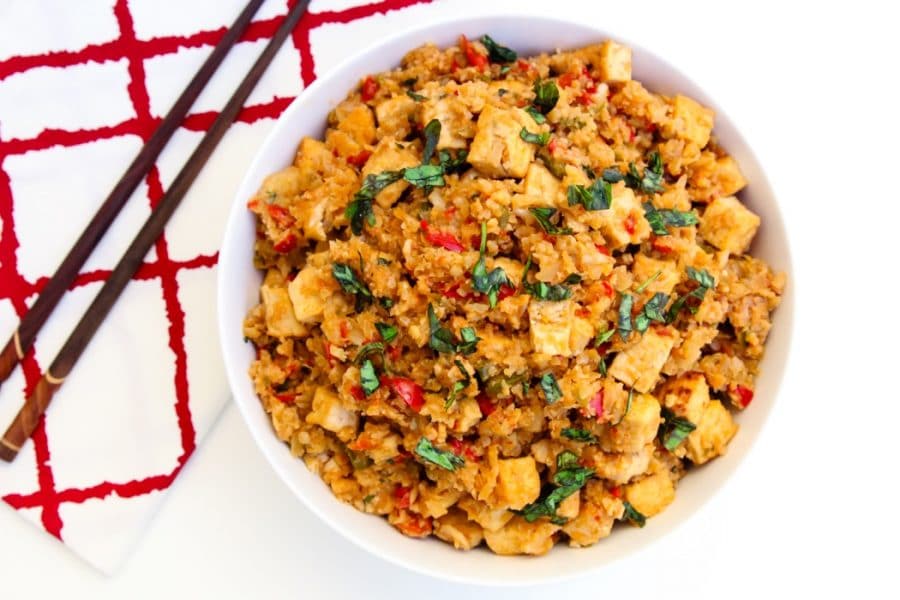 During the peak of my sickness I had many people asking if they could help me out. Friends, family and of course my husband, taking over so many of our household duties. But some of the sweetest offerings were from my blogging buddies! Anjali, of Vegetarian Gastronomy, was one of those sweet friends that offered to guest post for me while I wasn't up to much cooking. Well, we all know how time flies, so I am finally getting this great post up!
I met Anjali a while back at a workout class and it was great to personally connect with another blogger as most of my blogger friends are purely online (although there are some of them I so wish lived close by!). She is a super sweet and wonderful person and I am honored to share her recipe with you all…here is the awesome Anjali!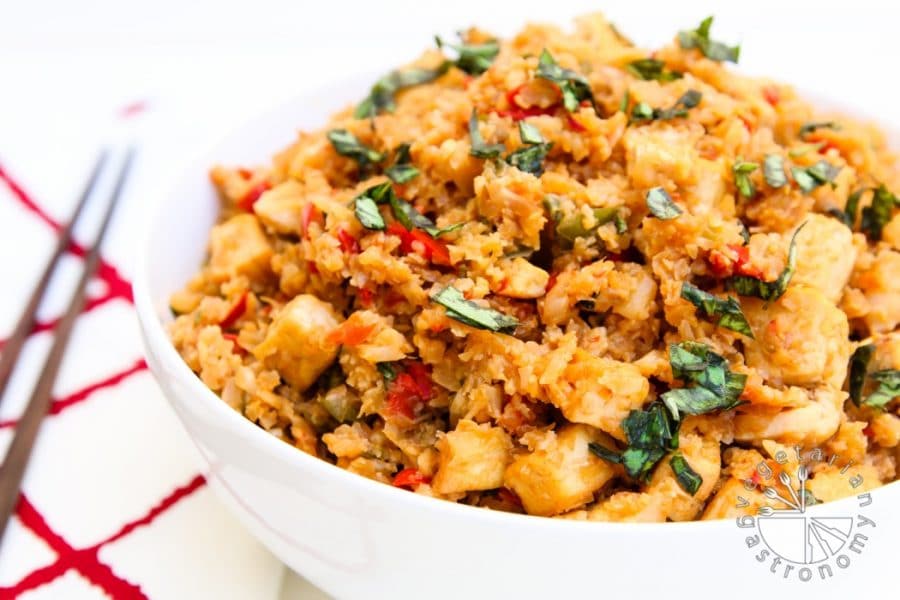 Stir Fry Cauliflower "Rice" with Tofu & Veggies (vegan, gluten-free)
I had the pleasure of meeting Sophia awhile back at one of my morning workouts. After chatting with her during class, I came to know about her wonderful site, Veggies Don't Bite. Being a foodie, I immediately looked her up and have since been following her amazing site. Watching her blog transform to the site it is today has been inspiring. Not to mention, her recipes and photographs are absolutely mouth-watering.
When Sophia mentioned that Asian food has been one of her cravings this pregnancy, I was excited to share my recipe for Stir-Fry Cauliflower "Rice" with Tofu and Vegetables!
This is my first time making use of cauliflower "rice", and I have to say this technique is absolutely genius. The main ingredient of this dish is, of course, cauliflower chopped finely into rice-size pieces and cooked to act like rice without the added carbohydrates. It's perfect for use in many cuisines, because similar to rice, it readily absorbs flavors from spices and sauces.
Since Asian food is a staple in my home and a family favorite, my first instinct was to make an Asian-inspired stir-fry cauliflower "rice" dish. To make this dish a complete and filling meal, I decided to add tofu, lightly pan fried for added texture, and a few fresh vegetables such as bell peppers and onions. One of the main perks about prepping this dish is that my food processor did the majority of the work, such as chopping the cauliflower down to 'rice'-size pieces and chopping the onions and bell peppers.
I kept the sauce fairly simple, comprised mainly of every day ingredients. It consists of tamari sauce, balanced with a little maple syrup for an element of sweetness, and combined with a small amount of coconut milk for creaminess. I also added some chili sauce for heat and topped it off with some green onions and freshly picked Thai basil from my backyard.
The resulting dish was delicious! It was very easy to make, healthy, packed full of flavor, and a well-balanced meal for the entire family. My husband and kids thoroughly enjoyed it and my 4 year old even took leftovers for lunch the following day to preschool. After watching my family devour this dish on several occasions, I always regret not making more!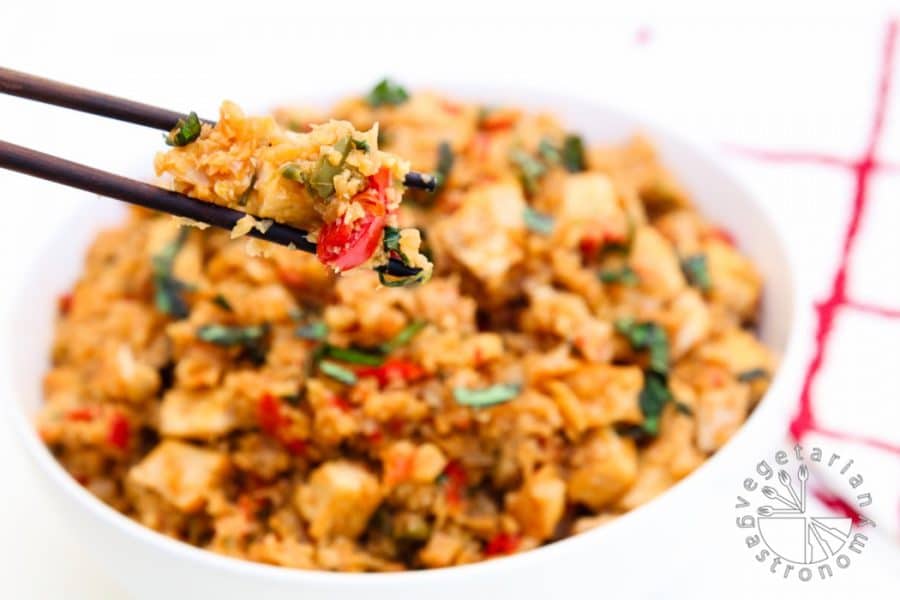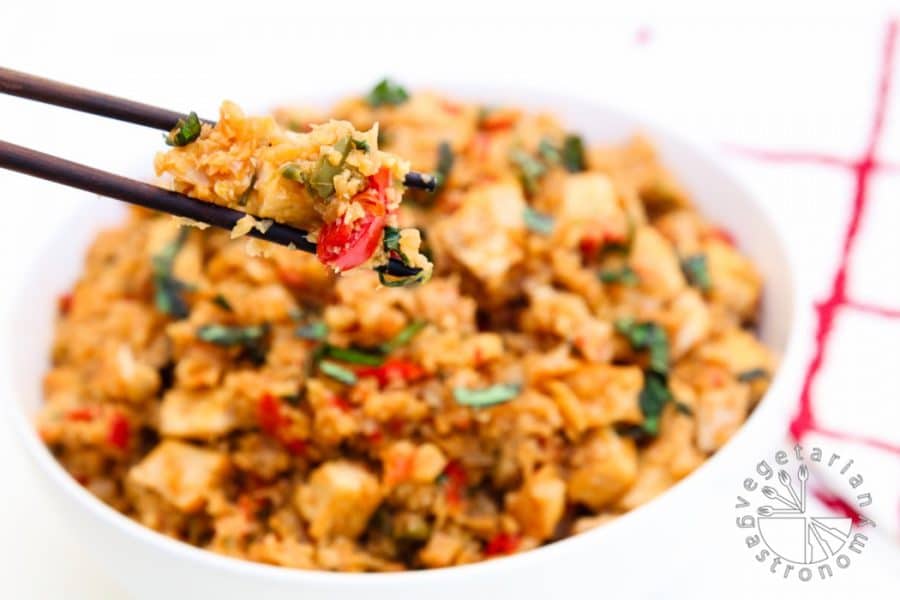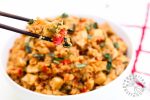 Stir Fry Cauliflower "Rice" with Tofu & Veggies (vegan, gluten-free)
Recipe Notes
INGREDIENTS:
1 large head cauliflower (should yield ~5 cups cauliflower "rice")
1 green bell pepper, diced into large pieces
1 red bell pepper, diced into large pieces
½ white onion, diced into large pieces
1 14-oz block firm tofu
6 cloves garlic, minced
1 ½ inch ginger, minced
¼ cup green onion, finely chopped
¼ cup thai basil, finely chopped
1 1/2 + 1 tbsp of your favorite neutral oil for stir-fry, divided (such as coconut oil, grapeseed oil, or canola oil)
For the Sauce:
4 tbsp Tamari sauce (such as San-J Tamari) or soy sauce (for a non gluten-free version)
3 tbsp coconut milk (lite or regular)
1 tbsp maple syrup
2 tbsp water
½ teasp corn starch
½ tbsp chili sauce, more or less to taste (such as Huy Fong Chili Sauce or Sriracha)
DIRECTIONS:
To Prepare the Cauliflower Rice & Vegetables:
1. Wash the cauliflower and cut into large pieces.
2. In two separate batches, using a food processor, quickly pulse the large pieces of cauliflower 8-9 times until uniformly chopped into rice-size pieces (should yield ~5 cups). Be sure not to get it too fine. If there are a few larger pieces still in the mix, chop them down by hand or remove them. Set aside.
3. To prepare the vegetables, add the diced red bell peppers, green bell peppers, and onions into the food processor and pulse 3-4 times until just chopped.
To Prepare the Tofu:
1. Cut the block of tofu in half. Place each half in 2 clean paper towels one at a time and gently press/squeeze to remove excess stored liquid (without breaking up the tofu).
2. Cut the tofu into small cubes. Using a non-stick pan, pan-fry the tofu cubes on medium-high heat with 1 1/2 tbsp oil.
3. Gently Mix and turn frequently until all the water is burned off and the tofu is lightly golden brown on most sides. If you find that the tofu is sticking to the pan, add a little more oil or turn down the heat. Set aside. While the tofu is cooking, continue with the recipe.
To Prepare The Dish:
4. In a large non-stick skillet or wok, heat 1 tbsp of oil on medium heat. Add the fresh garlic and ginger and fry for about 10-15 seconds until fragrant.
5. Add the chopped onions and bell peppers. Sauté on medium-high heat, mixing frequently, until all the vegetables are tender, yet still remain crispy.
6. Add the cauliflower "rice" and combine with the rest of the ingredients. Stir-fry uncovered on medium heat, mixing frequently, until all of the water has released and evaporated and the cauliflower "rice" is tender, yet still remains crispy (~15 min).
7. In the meantime, whisk together all the sauce ingredients in a bowl and set aside. Add more or less chili sauce depending on your preference of spice.
8. Once the cauliflower "rice" is done, add in the pan-fried tofu.
9. Add the sauce and combine well. Sautee on medium-high heat for another few minutes until the sauce starts to thicken, absorb into the dish, and coat the vegetables and tofu. If you find the dish starting to stick to the pan, lower the heat.
10. Add the chopped green onions and basil. Combine and cook for an additional 1-2 minutes.
11. Turn off the heat and serve hot!
NOTES:
• Ingredient amounts are for ~5 cups cauliflower rice. So be sure to verify you are left with about that amount after chopping the cauliflower down.
My guest blogger of the day, Anjali Lalani, is the creator of Vegetarian Gastronomy, a website dedicated to Vegetarian, Eggless Cooking with many Vegan and Gluten-free options. She shares her culinary experiences and passion for cooking through her myriad of recipes. Through her website, she hopes to inspire others to try new recipes and cuisines in their own kitchen. She is a native to California and currently resides in San Diego with her husband and 2 adorable children. She was previously a bioengineer, but gave up her career to be a full-time mother. You can also follow her on Facebook, Pinterest, and Twitter.