Your favorite veggie pizza gone light! This thai pizza is stacked with veggies and smothered in a light and creamy peanut sauce. Less calories but all the taste!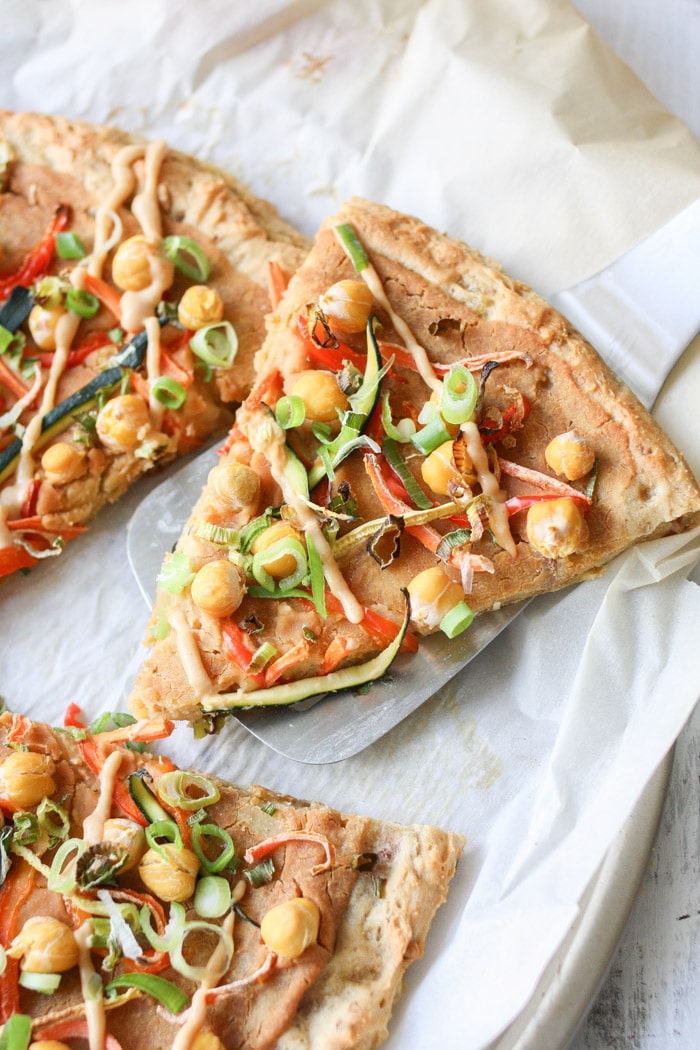 Last week I posted a new sauce of mine that was another huge hit with my readers. I took traditional heavy fatty peanut sauce and made it into this light and creamy version that still kept all it's flavor. Does it get any better than that?
If everything in this world could be half the fat, but just as delicious, I think we can all agree we would be in our happy place! Well, we are one small step closer. Since I always use and abuse my sauces, I have to post at least one way I created with this new sauce of mine.
Enter Thai Chickpea Veggie Pizza...
What used to be the result of a need for comfort food, is now a weekly healthy staple! This pizza turned out so good I couldn't even stand it! Just look at those veggies and crispy chickpeas! I love love chickpeas on my pizza.
When you bake them, they develop this amazing crisp outer shell and soft delicious center. They go perfectly with these veggies and smothered in my sauce.
Now although any crust really would work for this recipe, I decided to use this awesome potato based crust by my friend Brandi at The Vegan 8. I like thin and crispy crust, and this definitely didn't disappoint. I also liked the subtle taste of it with this veggie pizza flavor. Be warned however, you need to spread this nice and thin or you end up with a mushy in the middle crust. Not that I did that, a friend told me 😉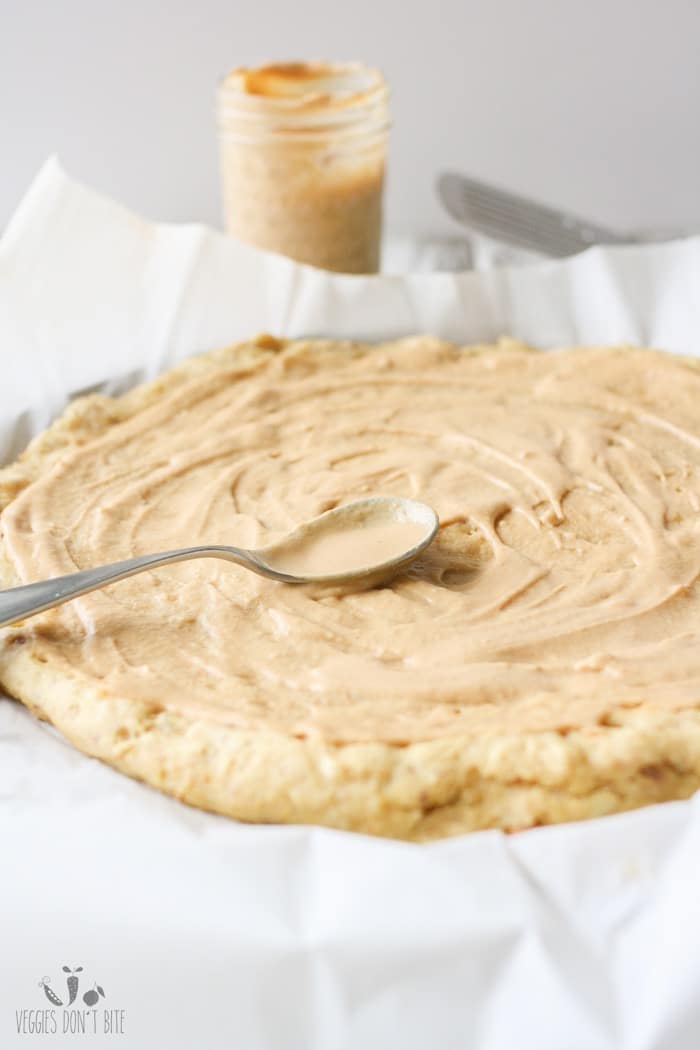 Tips For Making This Veggie Pizza
The veggies I used paired perfectly with the flavor of my sauce. I roasted them just a tad before putting on the pizza, just to soften a little so that they didn't end up totally raw. They cooked perfectly, not too well done.
Once the pizza has cooked, let it cool a bit if you can. It allows everything to settle so that it doesn't all fall off when you eat it. If you followed the directions and slightly pressed your chickpeas and veggies into the slathering of sauce you coated the crust with, they should stick on well and almost stick themselves in as it cools down.
The peanut sauce recipe makes more than you need for this pizza but I PROMISE you need to make the whole thing. Not only can you dip the pizza into the sauce, but you will literally use this on everything, much like many readers did for my BBQ Tahini (which if you haven't tried, you need to make that your next project, it's spoon in mouth worthy).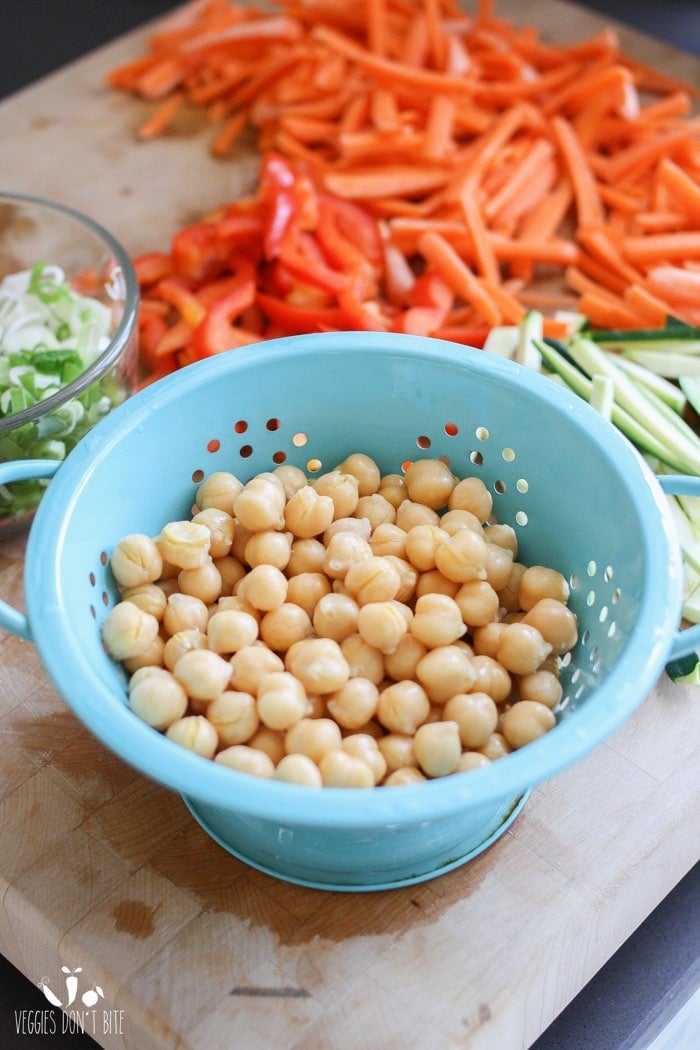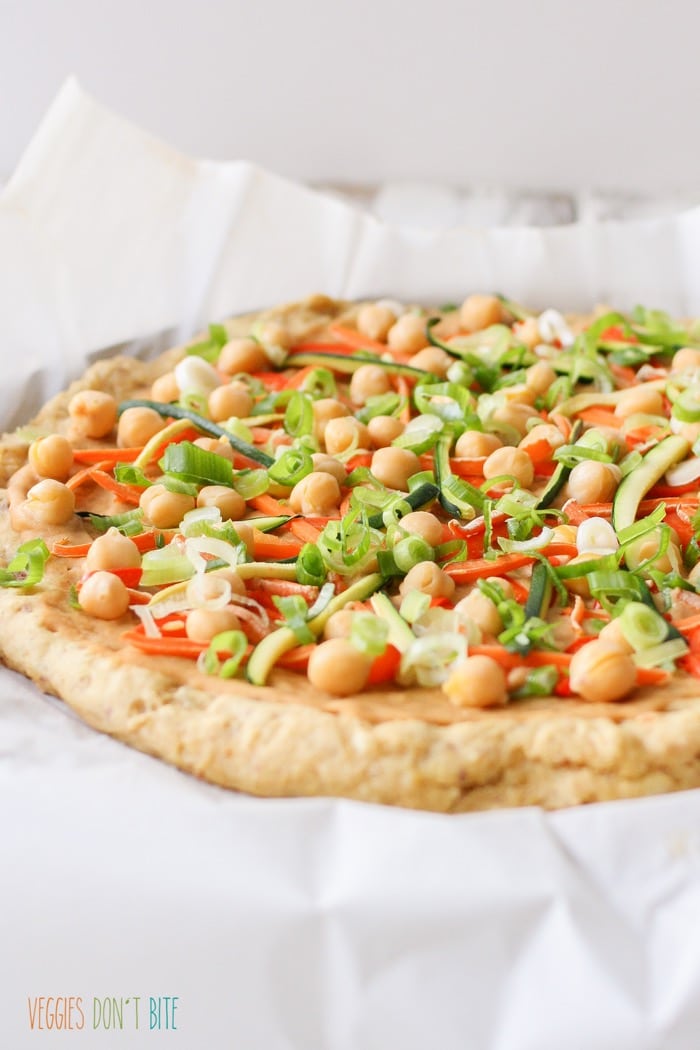 Once you literally can't wait any longer, go ahead and carefully cut it into pieces...or just shove the whole veggie pizza into your face. Again, not that I did this but a friend of mine did. She said it was amazing.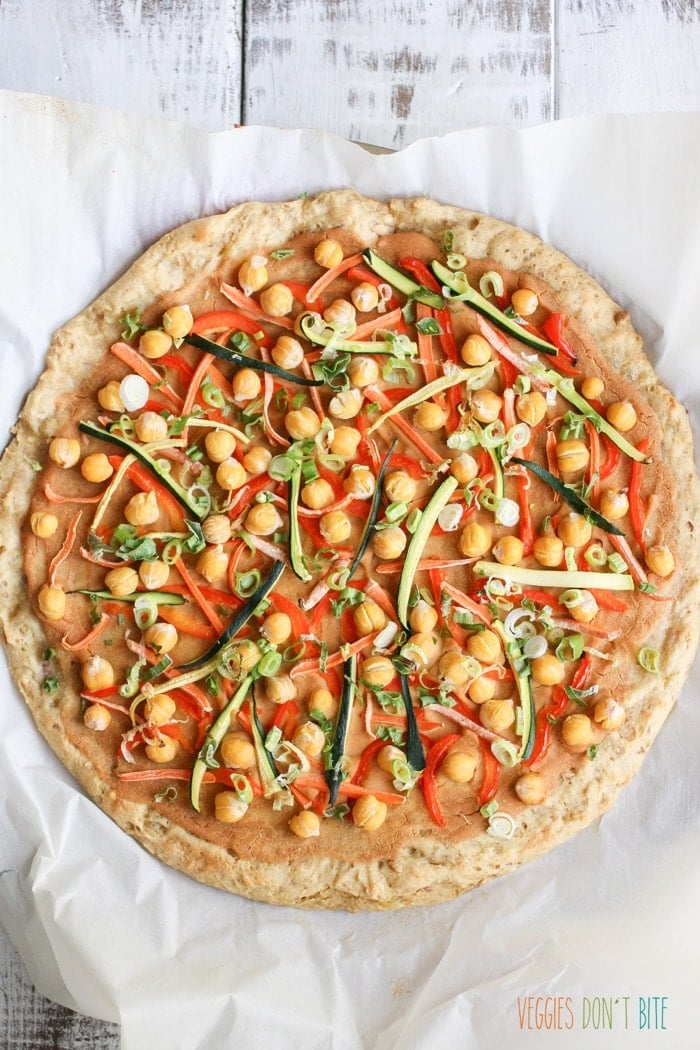 I know you are currently writing all these ingredients down and making a mad dash to the store. But when you are done shoving this whole pie into your mouth, let me know how you like it.
I love hearing your comments on all my recipes. You can leave a comment here, find me on Facebook or tag me on Instagram at veggiesdontbite #veggiesdontbite so I don't miss it! Now don't disappoint your tastebuds and run to your kitchen to give this amazingness a try!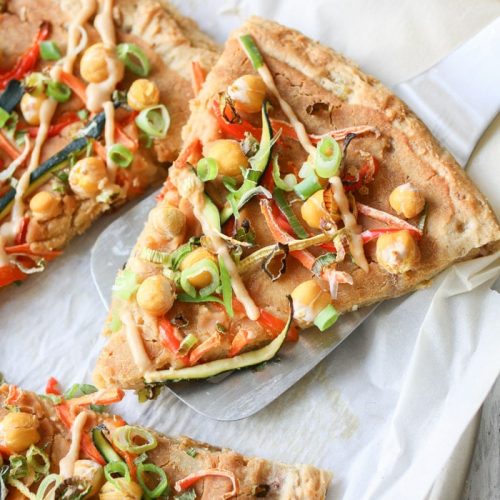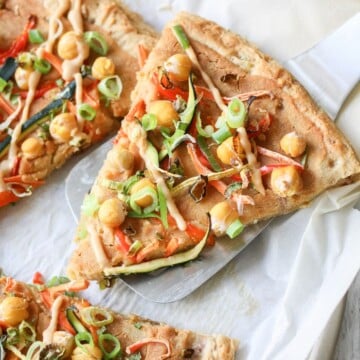 Thai Chickpea and Veggie Pizza
Your favorite pizza gone light! Still keeping all it's flavor, this Thai pizza is stacked with veggies and smothered in a light and creamy peanut sauce. Less calories but all the taste!
Instructions
Wash and slice all veggies. Wash and drain chickpeas. Set aside.

If you haven't made peanut sauce, make it now.

Prepare you crust, whichever one you choose to use or take out a store bought crust of choice.

While preparing crust, also roast the carrots, red peppers, zucchini and chickpeas on a parchment lined cookie sheet at 350°F (180°C) just to soften them a bit. About 5-10 minutes, depending on how thin you cut them.

Build your pizza by generously coating the pizza crust with the peanut sauce. Add chickpeas and gently press down to keep them in place. Add the carrots, zucchini and red peppers. Sprinkle with sliced green onions.

Bake according to pizza crust directions, or until your chickpeas get crispy on the outside.
Notes
Any pizza crust will work but I liked the potato type crust that I used. Keep in mind it is not a traditional crust but more of a thin crispy crust. You can also use your favorite store bought crust.
You can add less of more of the ingredients to suit your taste.
You will have more peanut sauce left over, but I still suggest making it all because it works awesome to dip the pizza in too!
Tips to prep ahead: Make peanut sauce ahead of time. Wash and slice veggies.
Recipe by Veggies Don't Bite, visit our site for more great plant-based recipes.
Nutrition
Calories: 468kcalCarbohydrates: 14gProtein: 2gFat: 0gSaturated Fat: 0gCholesterol: 0mgSodium: 57mgPotassium: 590mgFiber: 4gSugar: 8gVitamin A: 13390IUVitamin C: 114.5mgCalcium: 38mgIron: 1.1mg
Nutrition and metric information should be considered an estimate.
Never miss a recipe!
Sign up here and get a FREE quick and easy meal guide!