Vegan black bean enchiladas packed with veggies and an incredible flavor. They're super simple to put together and make a meal the whole family will love!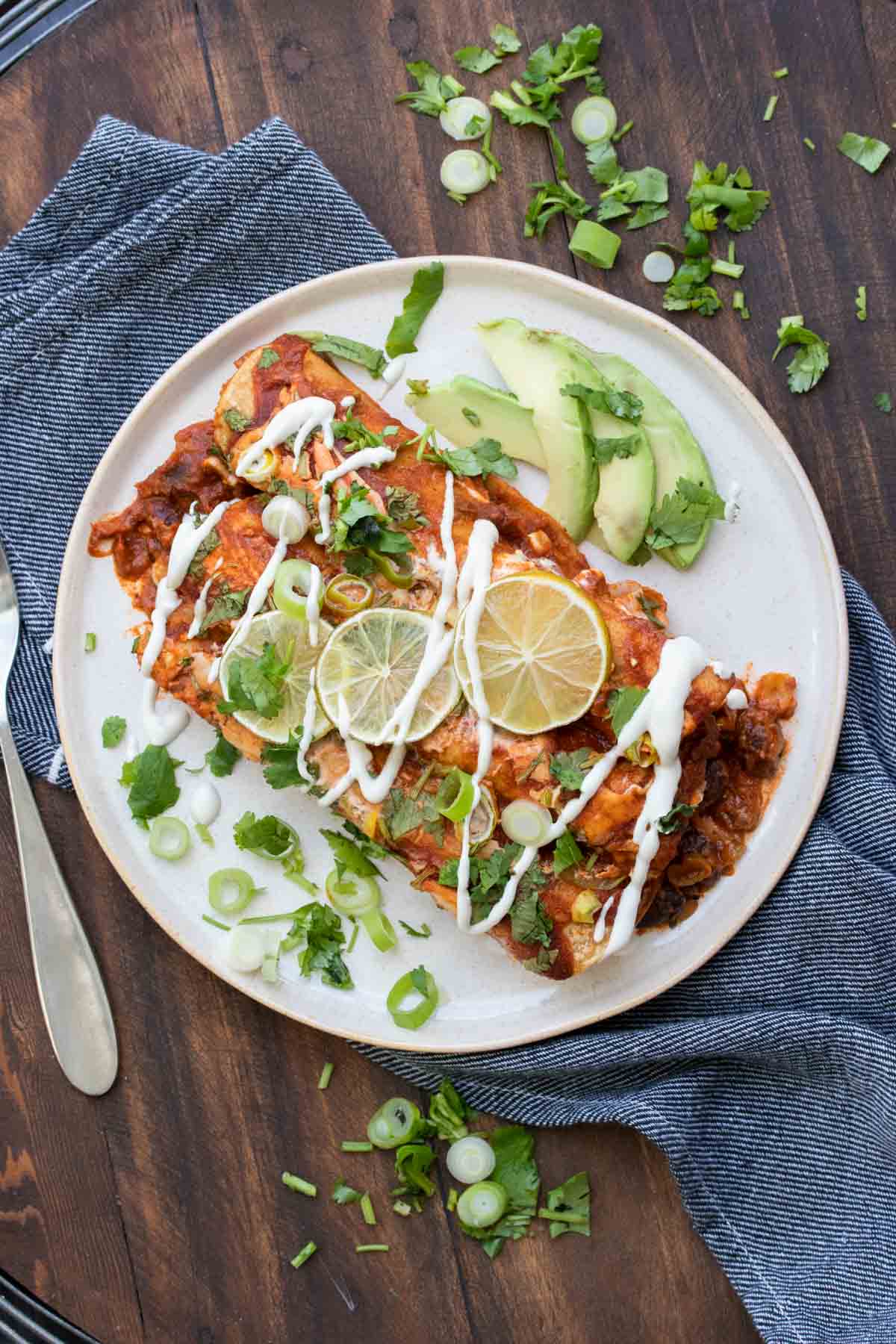 My whole family LOVES these enchiladas. I always love it when I can make a dish my kids will eat without a full blown tantrum. Plus they're the perfect way to use up some of the veggies hanging out in the fridge you know are about to go bad.
Vegan Enchiladas
Much like a lot of my quick and easy meal ideas, I use enchiladas as a way to use up veggies in my fridge. This recipe was a result of my putting together some stuff I had left over! And it turned out amazing.
What is an enchilada?
Enchiladas are a delicious Mexican dish. They vegan enchiladas are super customizable and you can put in just about anything. Traditionally, they are corn tortillas, with the filling of your choice, baked in a sauce and topped with cheese.
They go really well topped with loads of yumminess! Some of our faves to top them with are: guacamole, white cheese sauce or Mexican salsa and we always eat them with a side of Baked Corn Tortilla Chips!
Are corn tortillas vegan?
Most of them are! The key is to look at the ingredients. Most corn tortillas are simply made with corn/corn flour, lime and salt.
Can you make enchiladas with flour tortillas?
Traditionally enchiladas are made with corn tortillas, but you can use flour if you want! I use flour in my Vegan Black Bean and Pumpkin Enchiladas.
Tips to keep them from getting soggy
I don't think of the tortillas in enchiladas as soggy, more like smothered in sauce. If you bake them and eat them right away, the texture will be perfect.
That being said, I have seen some people say that one trick is to briefly fry your tortillas in some oil, this helps create a barrier and prevents the sauces from soaking your tortillas.
How do you keep corn tortillas from breaking?
There are multiple things to consider when it comes to tortillas breaking. I have experimented with this a ton, and here are my main recommendations:
Use quality tortillas. I look for those with minimal ingredients.
You can wrap your tortillas in damp paper towels, then in a kitchen towel. Microwave for 1-2 minutes to steam them and soften them.
Do not overstuff your tortillas! Make sure you're not adding too much filling so that there isn't any pressure.
Do I freeze enchiladas before or after cooking?
You can definitely freeze enchiladas! I would recommend freezing after cooking, just make sure they've completely cooled down first and are stored in an airtight container. I also like to cover them in plastic, with the plastic wrap touching the enchiladas to form a barrier against freezer burn.
When you are ready to eat, allow them to slowly defrost on the counter. Then cover in foil and bake to warm. You may need to add a little liquid to keep them from drying out as they warm up.
You can also half bake the enchiladas before freezing then bake them to the end after you defrost. If you want to freeze them before baking, you can as well, but you still make need to watch them so they don't dry out. Simply pick up the cooking instructions from the recipe.
Can you freeze leftover enchiladas?
Yep! Just follow the instructions above! I would take them out of the pan, and make sure to store them in an airtight container.
How to prep ahead
I love to prep ahead when it comes to my weekly meals. These vegan enchiladas are super easy to prep for. Here is what you need to do:
Chop any veggies you have leftover and keep them in the fridge until you are ready to make the enchiladas.
Make the enchilada sauce, sour cream and any toppings you want.
Day of, simply put these all together!
You can also plan your meals by have taco, burrito, nacho or Mexican bowl night earlier in the week. Then prep it all at once and have a week of super easy meals ready to go!
How To Make Vegan Enchiladas
Saute the veggies.
Add the rest of the filling ingredients.
Build your enchiladas and place in a pan with sauce.
Cover with more sauce and drizzle with sour cream, green onions and cilantro.
Bake.
Devour!
Tips on changing up the filling
You can definitely make these your own by using up whatever you have in the fridge. You can chop and add any veggies you have, and you can also use any beans you need to use up as well. Just make sure the overall amounts are the same!
Side dishes
While these enchiladas are perfect on their own, you can make this a full on fiesta by serving with the following amazing recipes:
Toppings for enchiladas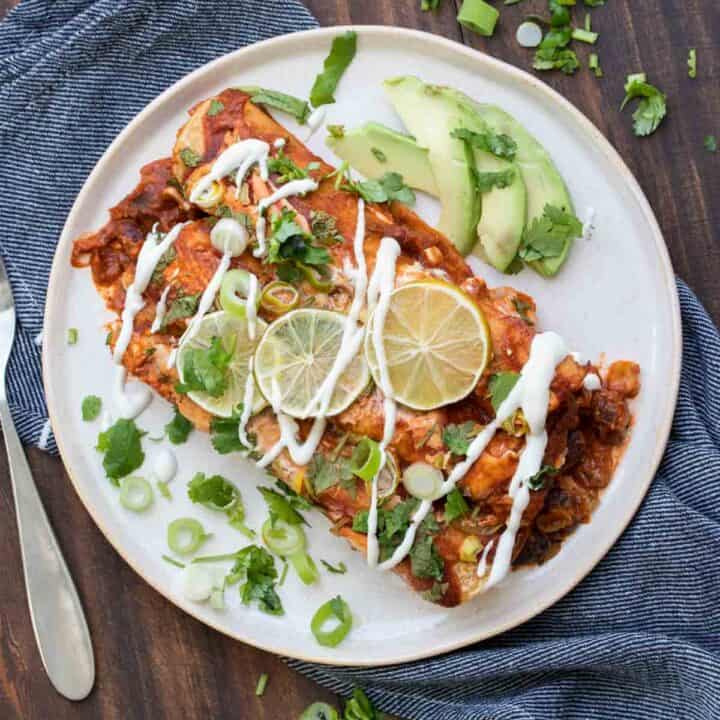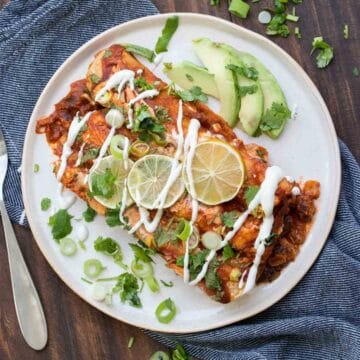 The Best Vegan Black Bean Enchiladas
Vegan black bean enchiladas packed with veggies and an incredible flavor. They're super simple to put together and make a meal the whole family will love!
Ingredients
Filling:
1 cup chopped red onion
1 ½ cups diced zucchini , see note
1 ½ cups diced tri color peppers , see note
3 cloves minced garlic
¾ teaspoon sea salt
¼ cup chopped cilantro
15 ounces black beans , including liquid (1 can)
¼ cup red enchilada sauce , mild if preferred (homemade or store bought)
¼ cup dairy-free sour cream
Instructions
Preheat oven to 350.

Saute onion, zucchini, peppers, garlic and salt until onions get brown and caramelized. About 10 minutes.

Add cilantro and saute 1-2 more minutes.

Add black beans and juice, enchilada sauce and sour cream. Heat until thickened. About 3-4 minutes. Remove from heat.

Place about ¾ cup of the enchilada sauce at the bottom of a baking dish, covering it with a thin layer.

Build enchiladas by placing a few spoonfuls of filling in the middle of each tortilla. Next roll the tortilla and place seam side down in baking dish. Repeat until all tortillas are used.

Cover the rolled tortillas with the remainder of the enchilada sauce. Then drizzle with the sour cream.

Then, cover with your sliced green onions and chopped cilantro. Add sliced limes if preferred.

Bake at 350 degrees for 20-25 minutes until the sauce is nice and bubbly.
Notes
You can use any leftover veggies you have, just make sure it equals a total of 3 cups.
The juice of the black beans help thicken the filling, feel free to omit if you want and rinse and drain them instead.
Recipe by Veggies Don't Bite, visit our site for more great plant-based recipes.
Nutrition
Calories: 153kcalCarbohydrates: 27gProtein: 6gFat: 3gSaturated Fat: 1gSodium: 192mgPotassium: 321mgFiber: 6gSugar: 3gVitamin A: 723IUVitamin C: 30mgCalcium: 44mgIron: 1mg
Nutrition and metric information should be considered an estimate.
Never miss a recipe!
Sign up here and get a FREE quick and easy meal guide!