This easy gluten free vegan pot pie recipe will blow your mind! It's so creamy and delicious you will not believe it has no dairy or gluten.
I can't get over how rich and comforting this recipe is using all whole food ingredients. It turns a traditional unhealthy comfort food recipe into something you can feel good eating over and over again!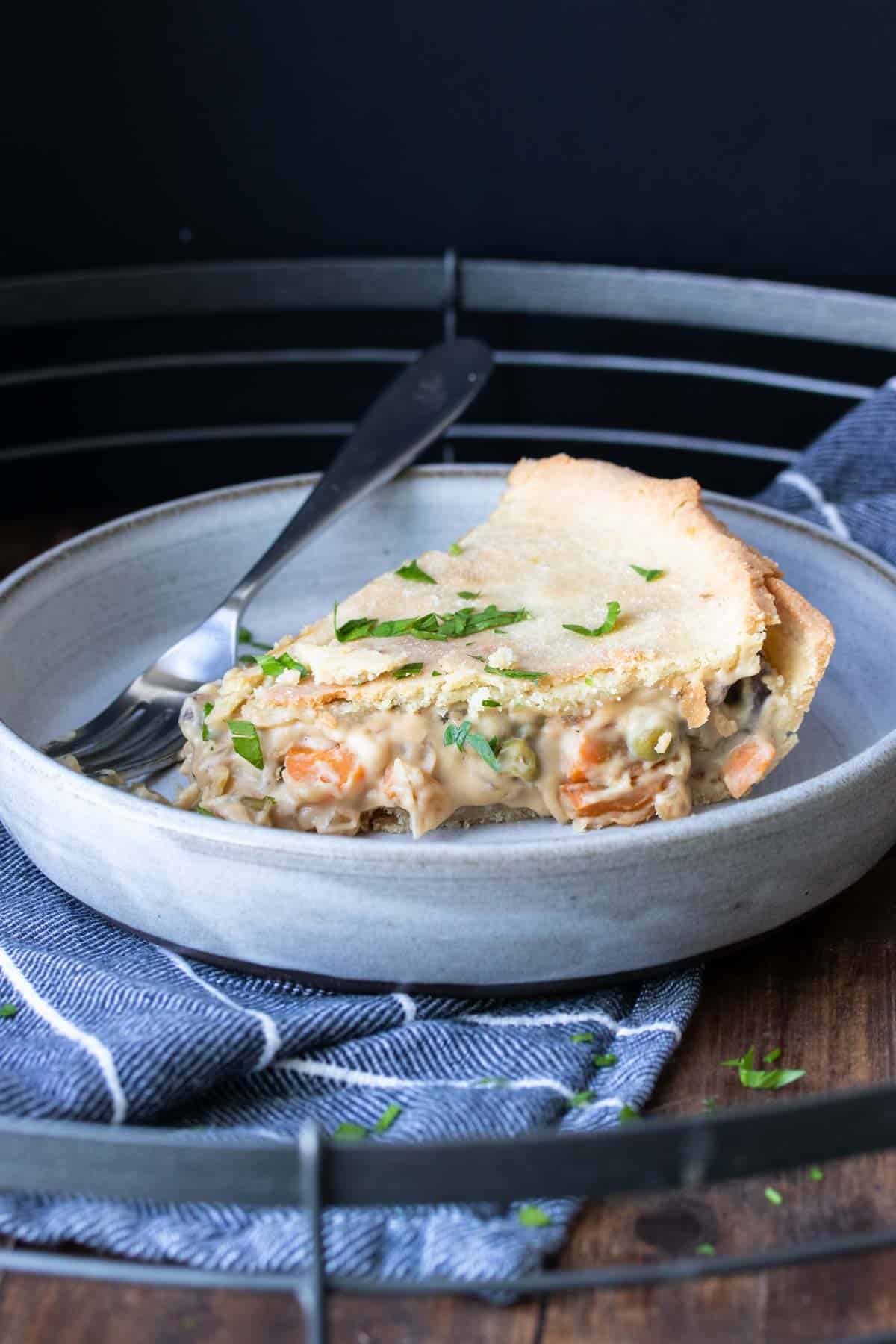 This post was originally published on August 17, 2020.
I was shocked that my pickiest eater ate HALF of this vegan pot pie. And continues to ask for more! The base is thick and creamy, much like my vegan potato soup, using all simple whole food ingredients.
Ingredients
This pie is actually quite simple. It uses nothing crazy or weird. Just real whole food ingredients!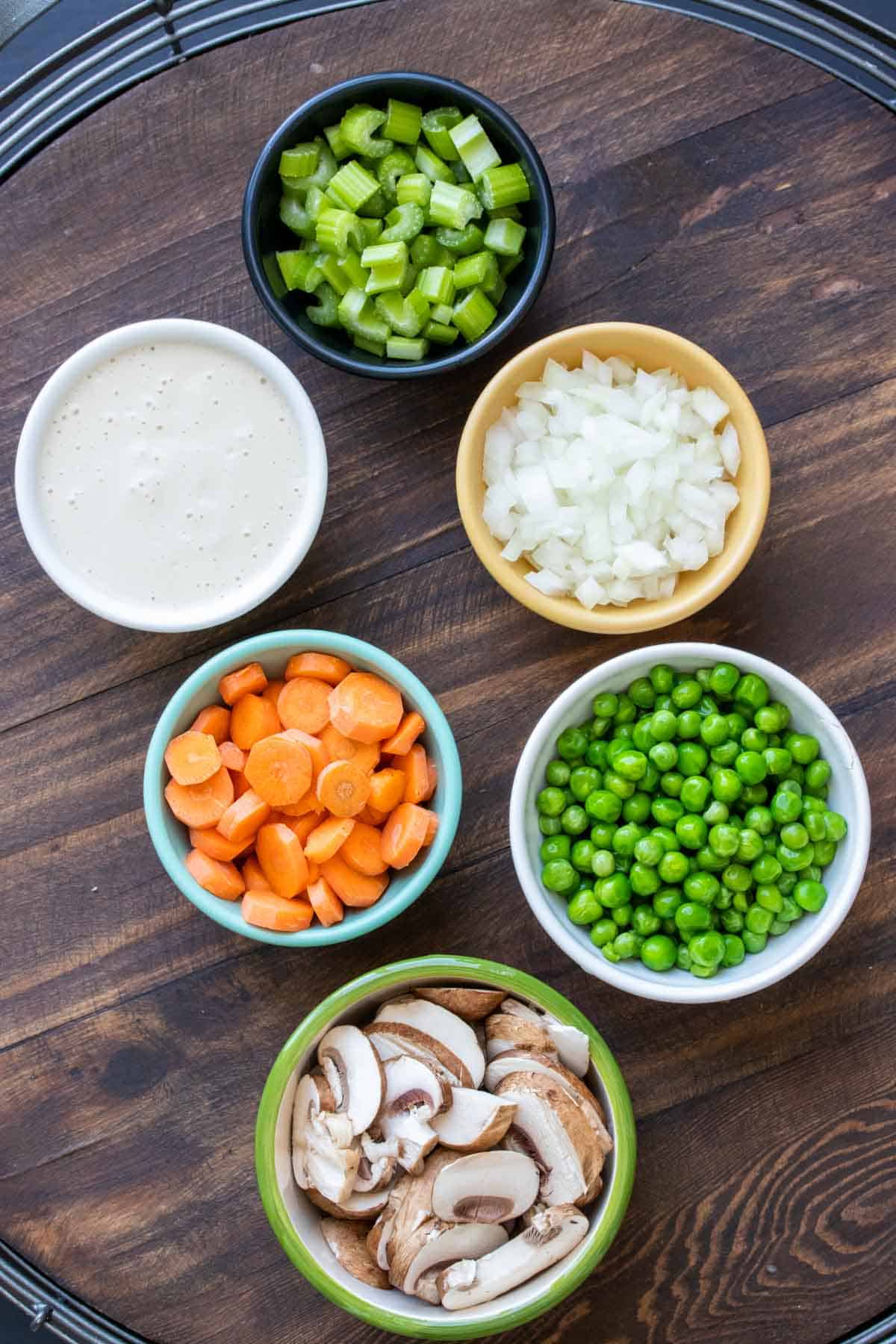 The base of this vegan pot pie is filled with veggies. You can switch it up with what you like, but I use:
Mushrooms
Carrots
Celery
Peas
Onion
The veggies are mixed with a dairy-free cream base made of:
Potato
Cashews
White beans
Dairy free milk
Then all you need to do is make my vegan gluten-free pie crust, or buy one at the store to make this super fast and easy!
How to Make the Best Vegan Pot Pie
Making this pot pie both vegan and gluten free is pretty simple, here are the steps:
Make the creamy base.
Sauté the veggies.
Mix the cream with the veggies.
Pour into your raw pie crust.
Add the top to the pie.
Shape and cut slits in it to release heat.
Bake.
Serve!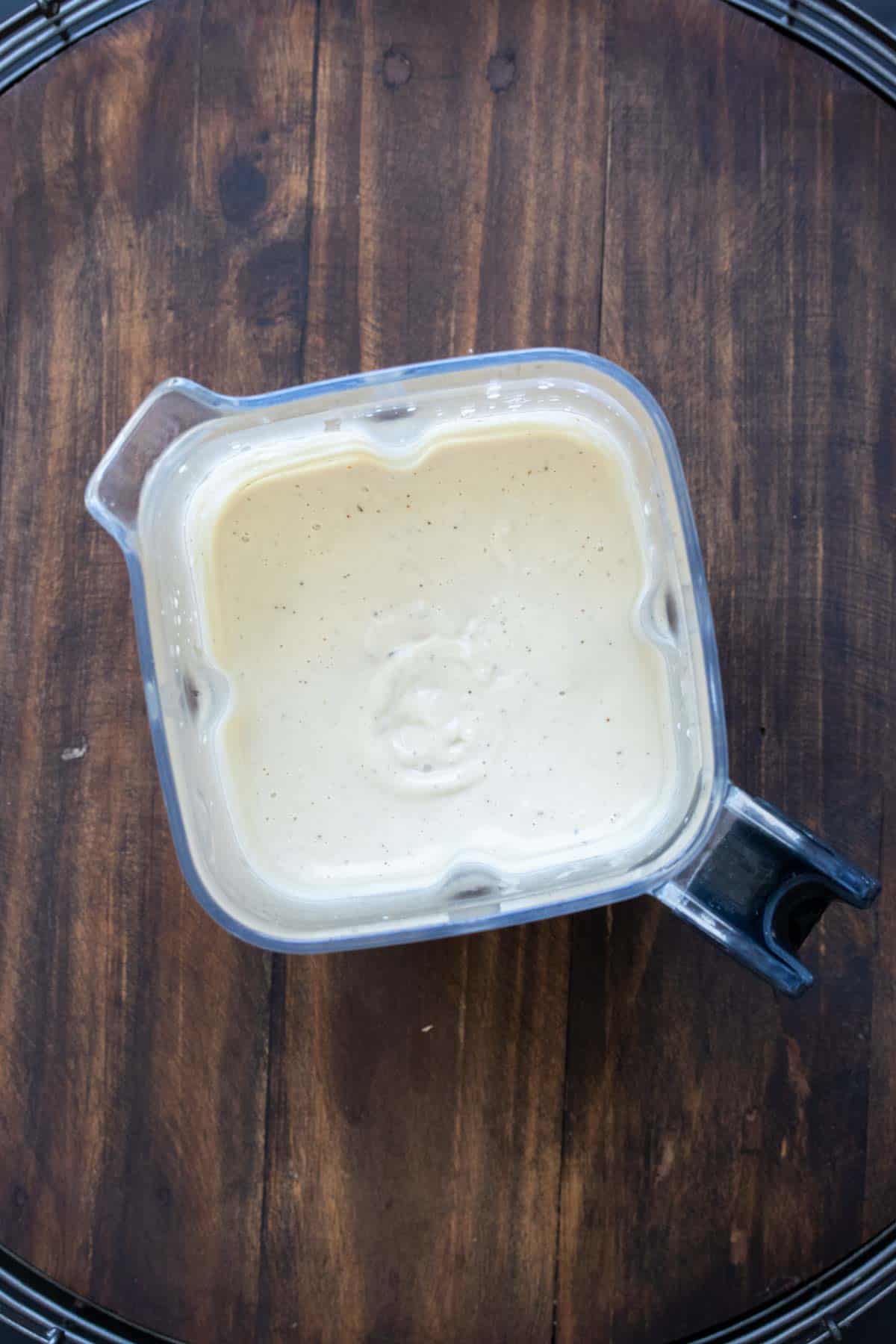 Serving ideas
While this veggie pot pie is an all encompassing meal, you can definitely serve it as part of a larger dinner. Here are some suggestions:
Tips for Adding Protein to a Vegetable Pot Pie
You can include a variety of plant based protein in the filling.
It is best to keep the cream sauce to mix ratio the same.
Simply reduce the amount of veggies by the amount of your mix in. For example if you add 1 cup of chickpeas, reduce the total amount of veggies by 1 cup.
Add in cooked chickpeas or lentils.
Edamame can easily be found already shelled in the frozen section.
Tofu, either plain or marinated. Definitely dice and press to remove the excess water first.
Crumbled tempeh is another easy option.
You can also mix in any of your favorite store bought meat alternatives.
Preparation Tips
If you do not have a high speed blender you will need to soften the cashews first.

Soak the cashews overnight
Or, boil them for 30 minutes
Or you can grind un-soaked cashews into a fine powder with a coffee grinder.

If you use broth or water instead of the dairy free milk, the end result may not be as creamy but will still have creaminess to it.
To make this extra fast, use a store bought crust. Just make sure to get a dough that has two pie crusts because you need one on top.
You can also use a store bought cream sauce.
Use a frozen veggie mix for an extra short cut.
You can use any veggies you prefer, just keep the overall amount the same.
Meal Prep and Storage Tips
To prep this ahead, simply make the filling and the dough. Assemble the pie then wrap it in plastic wrap or store in an airtight container in the fridge until you're ready to bake, up to 2 days.
Store any leftover pot pie in an airtight container in the fridge for up to 3-5 days.
To reheat refrigerated leftovers, you can do it in the microwave or in the oven to gain back some crispness of the crust. Bake at the same temperature for about 5-10 minutes!
You can also freeze this vegan pot pie for up to 3 months with two methods.

For the freshest tasting results, freeze the filling and dough separately, then defrost and assemble.
Assemble the pot pie and bake it halfway. Let it cool then wrap in foil and seal in a freezer safe bag.

Bake the frozen pot pie covered with foil at 400° F for 40 minutes, then remove the foil and bake until the crust begins to brown and the center is warm.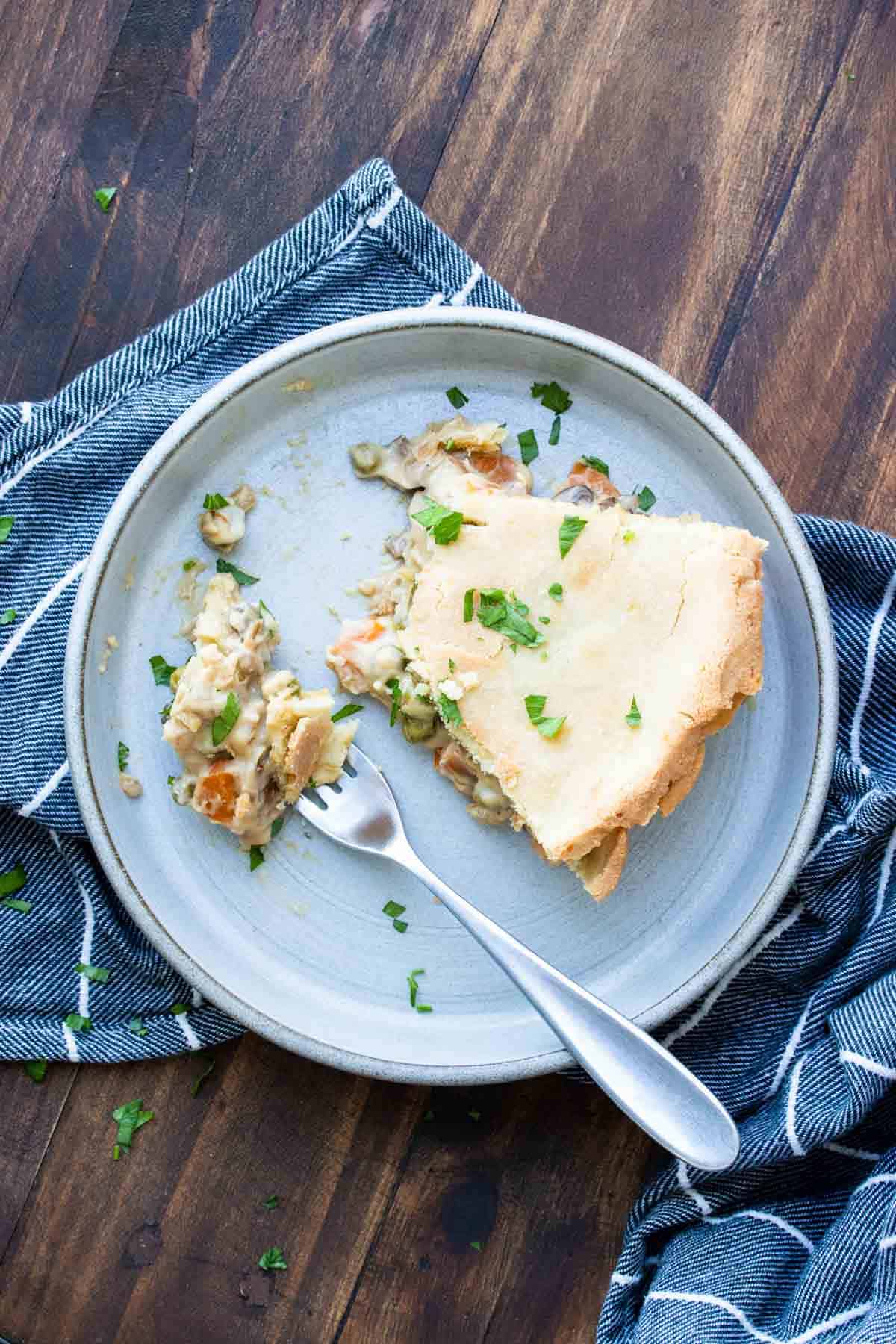 Common Questions
What is Pot Pie?
It's a savory pie that has a bottom and top crust. They have a variety of fillings from meat based to plant-based.
What is vegan pastry made of?
There are a variety of ways to make it, from unique recipes like my vegan pie crust, to more traditional made of flour, water and oil.
What store bought pie crust is vegan?
If you want to take a short cut and buy a pie crust, the brands I have found to be vegan are: Wholly Wholesome, Mrs. Smith's, Marie Calendars, and Kroger Simple Truth brand. But always look at the ingredients as things change!
Can you freeze pot pie?
Yes! I suggest either freezing the filling and pie dough separately and baking fresh, or putting the pie together and half baking it. Then freeze. Wrap in plastic once cooled completely then wrap in foil and store in a freezer safe bag.
How long does pot pie last?
In the fridge it will last about 3-5 days. In the freezer 2-4 months!
More Vegan Comfort Food Recipes
When you're done licking the pan of this vegan pot pie, cozy up with these crowd pleasing plant based recipes: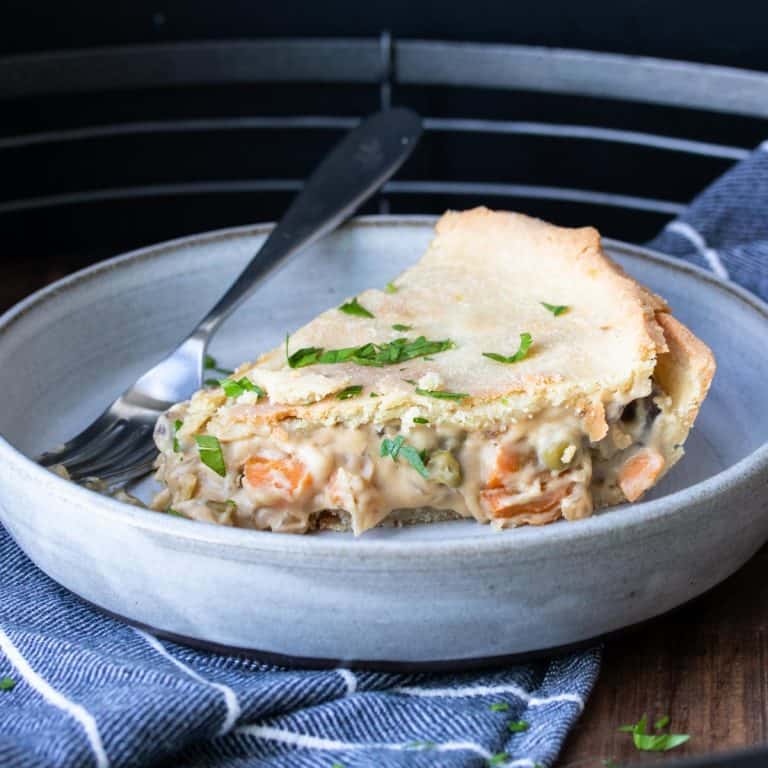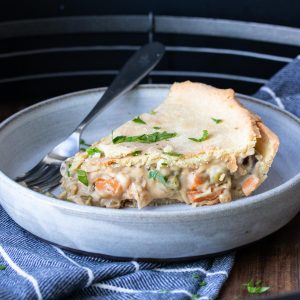 Easy Gluten Free Vegan Pot Pie Recipe
This easy gluten free vegan pot pie recipe will blow your mind! It's so creamy and delicious you will not believe it has no dairy or gluten.
Ingredients
Creamy sauce:
6 tablespoons cooked potato
6 tablespoons raw cashews , see note
6 tablespoons cooked white beans , rinsed and drained
1 cup cashew milk , or other dairy free milk (can sub broth or water if desired)
2 tablespoons apple cider vinegar
2 cloves garlic
½ teaspoon sea salt
Optional:
Extra ¼ cup milk plus 1 tablespoon reserved creamy sauce to brush on top
Instructions
Preheat oven to 350 F/ 175 C.

Put all creamy sauce ingredients into a blender and blend until nice and smooth. Reserve one tablespoon mixed with the ¼ cup milk on the side to brush pie if you choose. It is not needed, just will give an extra browning on the top.

Sauté onions in oil (or broth) and salt until nice and caramelized. About 5-7 minutes.

Add mushrooms, carrots and celery and sauté until mushrooms have released their liquid and it has mostly evaporated. About 5 minutes.

Add peas and thyme. Cook 2-3 minutes.

Add creamy sauce and cook until thickened. About 2-3 minutes.

If haven't already, put raw pie crust into pie dish by rolling over the rolling pin and slowly transferring to pie dish. See post for photos.

Put filling into raw pie crust. Top with second raw pie crust and cut slits in top. See post for photos.

If you choose, brush with milk/creamy liquid.

Bake for 45 minutes until nice and golden.
Notes
If you are not using a high speed blender, you can soak the cashews overnight, boil them for 30 minutes or grind the dry cashews into a fine powder using a coffee grinder (do not soak them for this method).
If you are subbing broth or water for the milk, the end result may not be as creamy but will still have creaminess to it.
This makes one pie, each serving is ⅙ of the pie.
Recipe by Veggies Don't Bite, visit our site for more great plant-based recipes.
Nutrition
Calories: 317kcalCarbohydrates: 35gProtein: 12gFat: 17gSaturated Fat: 2gSodium: 493mgPotassium: 583mgFiber: 7gSugar: 7gVitamin A: 3787IUVitamin C: 15mgCalcium: 95mgIron: 3mg
Nutrition and metric information should be considered an estimate.
Never miss a recipe!
Sign up here and get a FREE quick and easy meal guide!