My Veggie and Bean Burgers are a staple in our house. I make them by the boatload and freeze them for easy dinners on those crazy days. Upon the advice of a good friend (you know who you are!), I decided to try a new variety of this old favorite...the Stuffed Veggie and Bean Burger!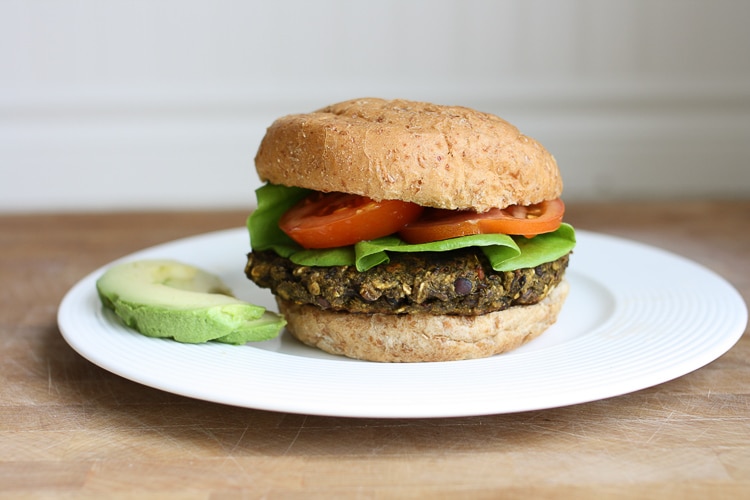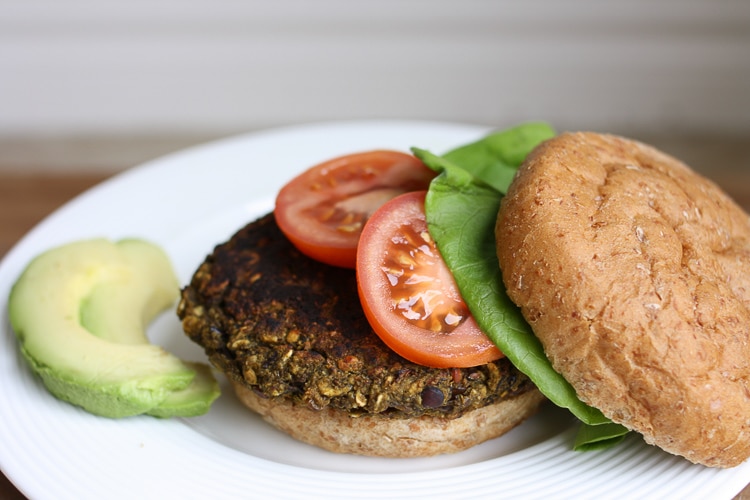 When my good friend Kay Lee Sperling, of Kay Lee Photography, offered to come over and give me a few tips and lessons on taking food pics, I thought this would be the greatest meal to thank her with! Kay Lee is not only a fab photographer, but she used to take the food pics for Arby's so she knows a thing or two about photographing food.
Practice Makes Perfect...right?
Having her here as I created this meal was so much fun! Thank you so much Kay Lee! She definitely did a good job at teaching a rookie some new tricks. I am lucky to have some great friends that are also super helpful and knowledgeable in the field of picture taking.
And while I'm thanking people, I have to thank my friend Meg Paulsen, of Meg Paulsen Photography, for letting me borrow and learn on her old DSLR. Up until now, all my pictures have been with a Cannon Powershot, a "nicer" point and shoot.
I am so excited to start using Meg's loaner camera and for all that I learned with Kay Lee on how to use it! All the pictures in this post are a combination of shots I took, along with shots that Kay Lee took...Let's get to it!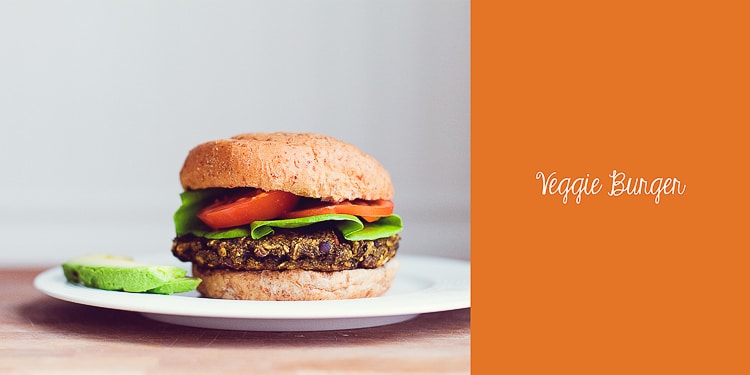 Stuffing These Bean Burger Patties With Goodness
So to make these stuffed little patties, I used my old recipe, but stuffed them with caramelized onions, sautéed mushrooms, and roasted red and yellow peppers. As my "veggie" base for the burgers, I chose to use butternut squash, mushrooms, sweet onions, and swiss chard.
I wanted to grab the natural sweetness of the veggies, blend them well with the "stuffing," but still maintain a savory feel with the added beans and spices.
It all came together nicely and gave us a nice twist to one of our regular meals! Try them out and let me know if you add any personal touches to fit your family's taste buds!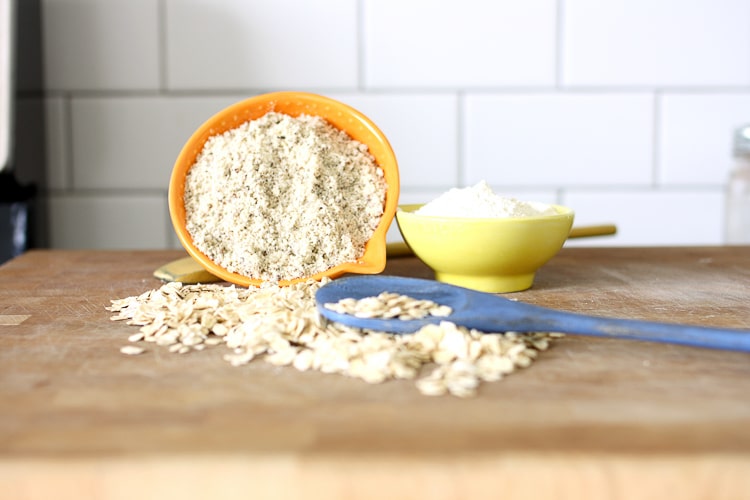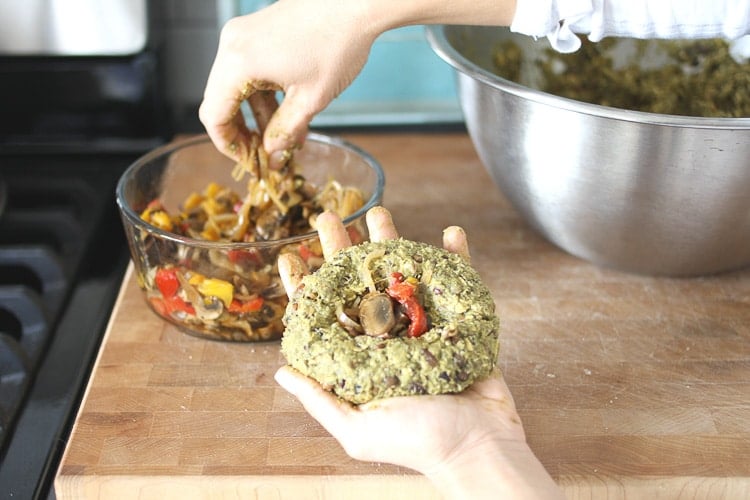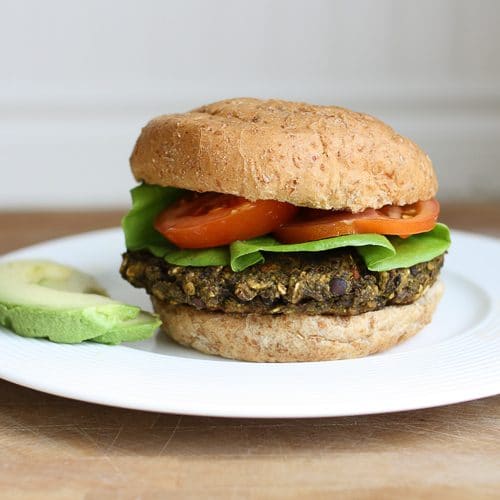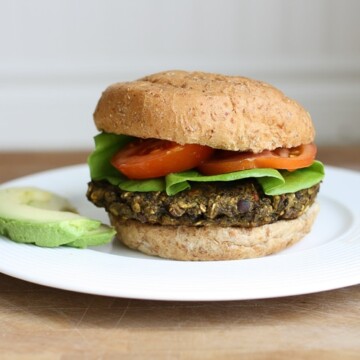 The Stuffed Veggie Bean Burger
No more meat patties needed. These burgers will fill that void as soon as you take your first bite. Full of protein and packed with veggies, both a healthy and satisfying meal!
Ingredients
Burgers:
2 flax eggs 2 tablespoons ground flaxseed plus 6 tablespoons water
2 cans black beans
2 cups precooked lentils
¼ cup sunflower seeds
2 cups combination of pre-cooked butternut squash mushrooms, sweet onion, and swiss chard (or any other veggies you choose)
2 cups gluten free oats plus up to 1 cup more to thicken if needed
¼ cup quinoa flour
½ cup almond meal
Himalayan sea salt ground black pepper, and smoked paprika to taste
Stuffing:
One sweet onion thinly sliced
1 jar of roasted peppers red, yellow, or combo or roast your own (about 2-3)
1 cup sliced mushrooms
your favorite cooking oil for sautéing or low sodium veggie broth if avoiding oil
Instructions
Mix 2 tablespoons ground flaxseed with 6 tablespoons warm water in a small bowl and set aside for 10 minutes to make flax eggs.

Rinse beans and mash with a potato masher or your hands and add them to a large bowl. Puree veggies in a food processor, then add sunflower seeds, blend again and add mix to the bowl.

Next add the flax eggs, gluten free oats, quinoa flour, and almond meal and mix well. Add seasonings and taste. Add more seasonings if needed, it will depend on if you seasoned your veggies when you cooked them, it should taste flavorful.

Once you get the taste you like, allow mixture to set a while so oats soak in some liquid (you can also do this after you shape into patties). This will help with the texture of the burgers, the more you allow the oats to soak, they less mushy texture you will get.

In the meantime, wash and slice your stuffing veggies. Saute onion and mushrooms in medium pan with oil or veggie broth until cooked throughout and all water is released. Remove from heat and add peppers. Taste and add salt and pepper if needed, will depend on how your jarred peppers were seasoned.

Shape burger mixture into 4 inch patties and make a hole in the middle. Add some stuffing to the hole, then cover it back up. Cook in medium pan on stove top over medium heat for 6-8 minutes on each side (depending on stove).

Make sure to keep pan covered to help the burger cook throughout and achieve the best texture possible. This helps prevent a mushy burger. Check every few minutes to prevent burning, should be slightly browned when ready.

Allow the burgers to cool a bit to further help set them into a non mushy consistency, then serve on lettuce for a lower carb meal or on sprouted wheat or gluten free buns. Add toppings of choice. You can also serve with oven fries
Notes
I add extra oats until my burger "dough" is on the drier side but still shapable. This helps with the consistency of the burger once it is cooked so that it is not mushy.
Also, allowing the dough to sit for a while before cooking helps the oats soak up the liquid and this further prevents a mushy burger.
Cooking the burger covered with a top on the pan lets it cook throughout which helps with consistency as well.
Finally allowing the burger to cool a bit will help make it sturdy enough to eat as a real burger.
You can always forgo the stuffing and make the standard burger. This version is a little bit different than my Original Vegan Veggie and Bean Burger, but both are great! If you want to add oven fries as a side see the original burger recipe link for the recipe.
Recipe by Veggies Don't Bite, visit our site for more great plant-based recipes.
Nutrition
Calories: 143kcalCarbohydrates: 20gProtein: 6gFat: 4gSaturated Fat: 0gCholesterol: 0mgSodium: 73mgPotassium: 300mgFiber: 5gSugar: 2gVitamin A: 2010IUVitamin C: 7.9mgCalcium: 41mgIron: 2.2mg
Nutrition and metric information should be considered an estimate.
Never miss a recipe!
Sign up here and get a FREE quick and easy meal guide!