The ultimate junk food gone healthy, the nacho burger. Veggies, protein and incredible flavor all in one easy meal! Something the whole family will love!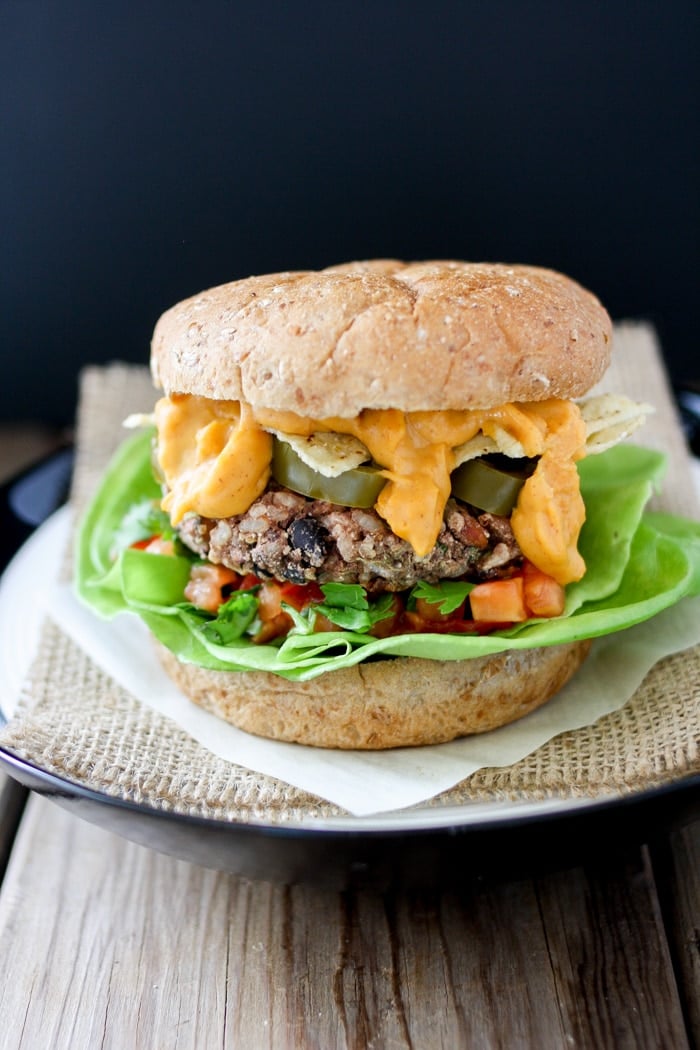 We have a tradition in our house, we call it "Nacho Sunday." As traditions go, you really can't beat this one. With the creation of my Ultimate Cheese Sauce a while back, we decided to introduce our 3 and 4 year old to the ultimate junk food that I just so happened to make healthy.
End result? Two little kids covered in cheese, beans, avocado, salsa and chips with huge grins on their faces. And lets not forget not one single complaint about dinner. Ultimate success!
This Vegan Nacho Burger Is Insane!
So the obvious step up from actual nachos is making them into a burger, because next to nachos, burgers are one of our all time favorite foods.
Well, lucky for you all, this nacho burger turned out so good it was a must share on the blog. You. Are. Welcome. Just look at this beast?! Don't think you can fit it in your mouth? Well, you probably can't. But in our house, the messier the better 😉 Move over Carls Jr., there's a better burger in town. For real, this one won't give you a heart attack.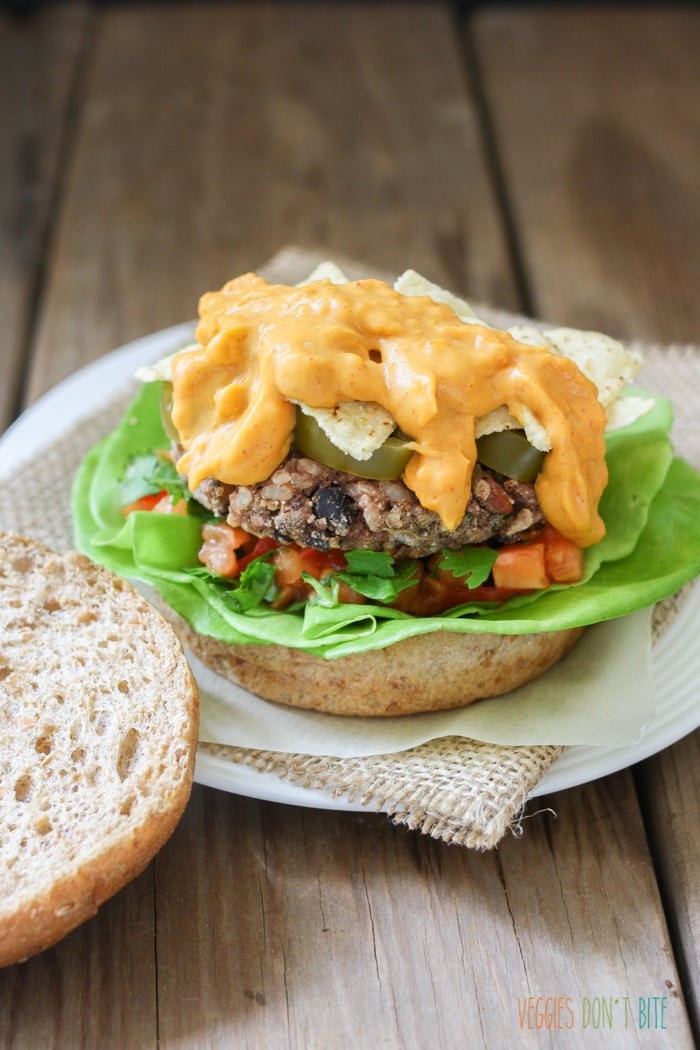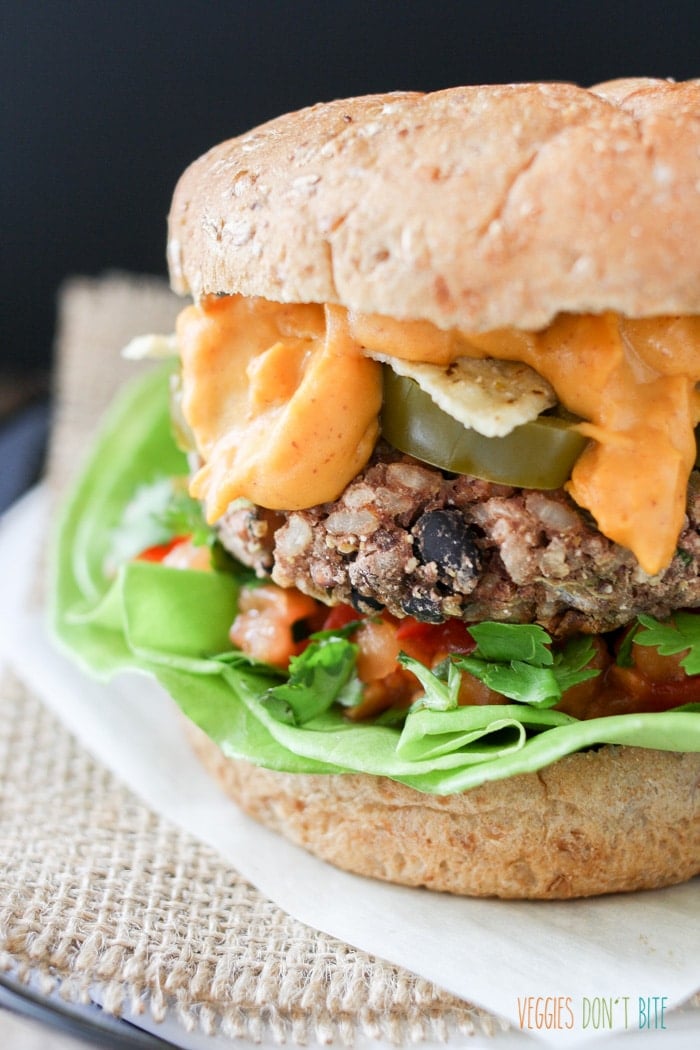 These nacho burgers are so darn easy to make
Seriously. I use a frozen organic brown rice from Trader Joe's to make it even faster. You literally put everything in a bowl, mix with your hands and shape into patties.
Putting the mixture in the fridge for a short time will thicken it and make these burgers really sturdy. And get this, they are GRILLABLE. Yup. I tested them out on a real outside barbecue grill. The kind with a real grate. And it worked! I'm talking did not fall apart and were delicious!
The key was to let the mixture get really cold in the fridge, then shape the patties. They held together beautifully.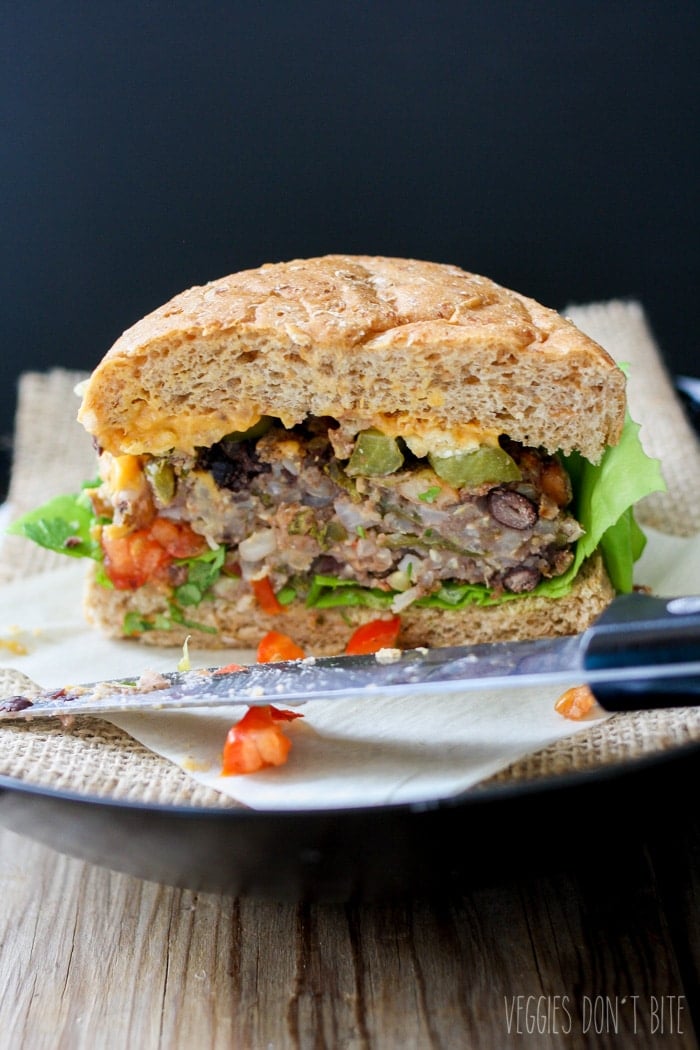 So how messy will your nacho burger be?! I want to know! Leave a comment here, find me on Facebook or tag me on Instagram in your main comment at both @veggiesdontbite #veggiesdontbite so I don't miss it! I respond to each and every comment I see, so I'm never ignoring you! Well except if I'm getting messy with this burger. Then I'm ignoring it all!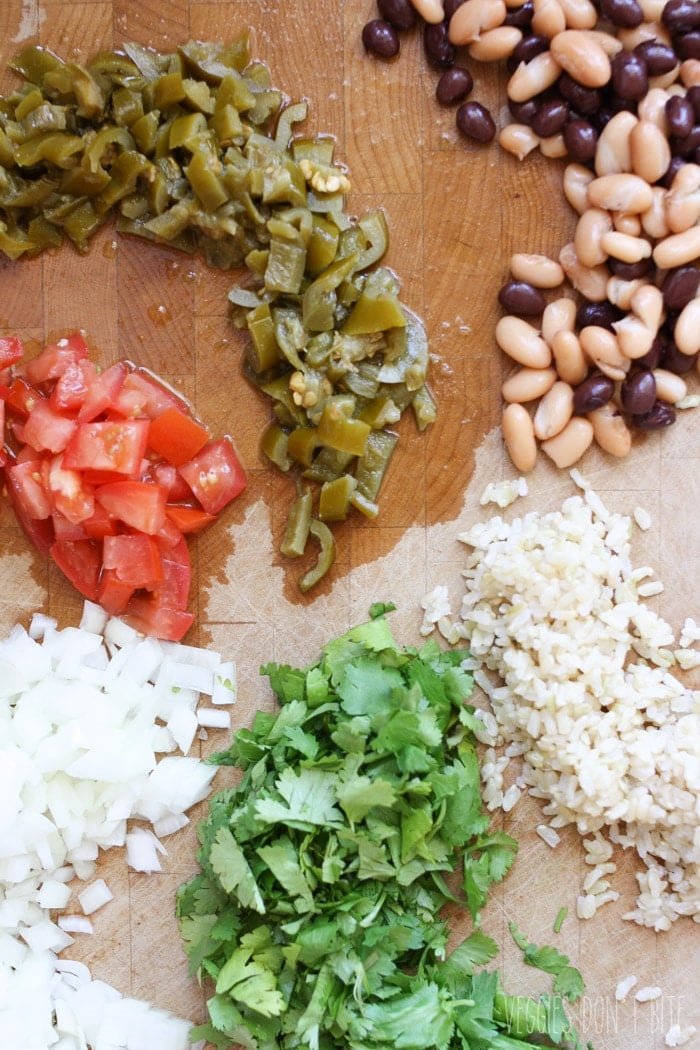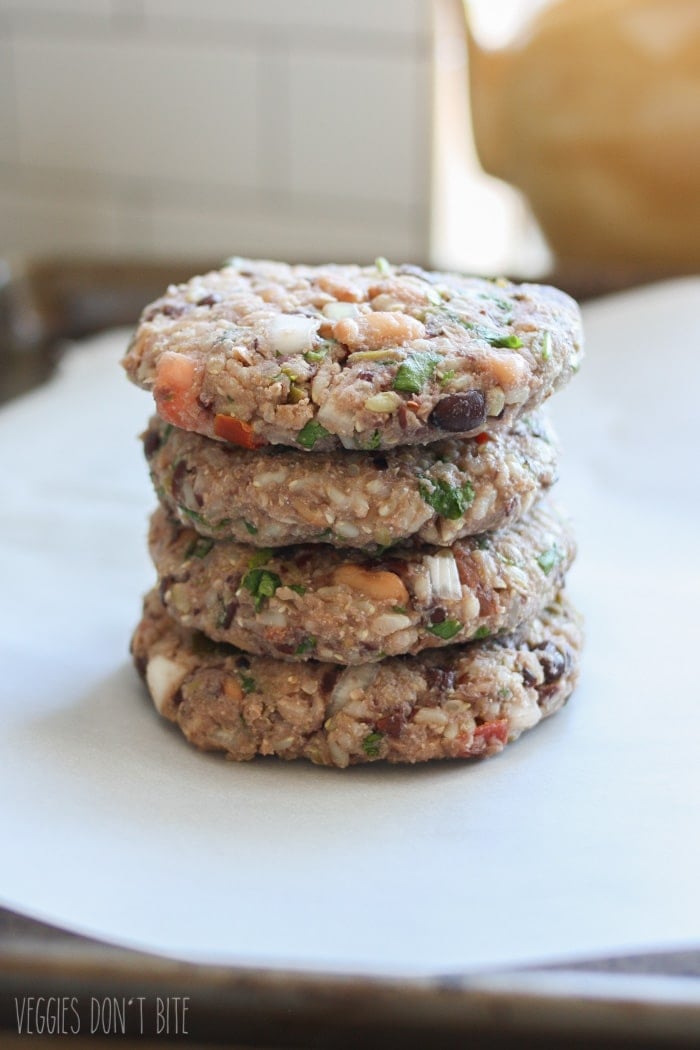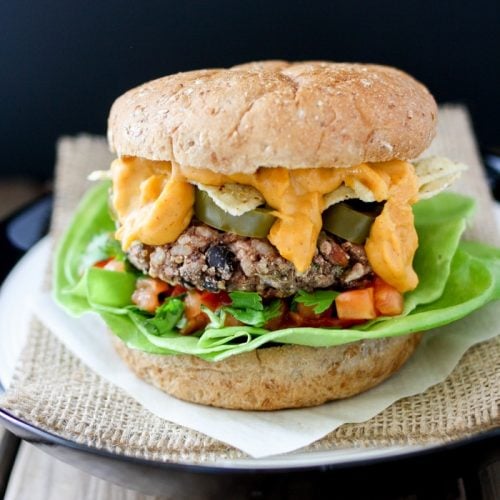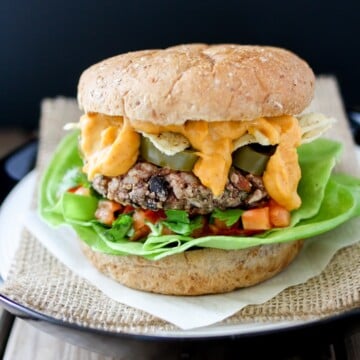 The Ultimate Mexican Nacho Burger
The ultimate junk food gone healthy, the nacho burger. Veggies, protein and incredible flavor all in one easy meal!
Ingredients
2 cups cooked brown rice
15 oz 15 ounces black beans , drained and rinsed
15 oz 15 ounces pinto beans , rinsed
½ cup chopped tomatoes , about 1 three inch tomatoes
½ cup chopped onion , about ½ a three inch onion
½ cup chopped cilantro
½ cup chopped mild nacho jalapeno slices
3 tablespoons cornmeal
sea salt , to taste (I used 1 teaspoon)
burger buns , gluten-free if needed
Toppings:
Jalapeno nacho slices
Lettuce
Instructions
Preheat oven to 375°F/190°C.

Chop tomatoes, onion, cilantro and jalapeno slices if haven't already. Cook rice according to package directions or use a precooked version.

Rinse beans and place into a large bowl with the rest of the ingredients except the cornmeal. Using your hands, mix well by squishing everything together.

Add cornmeal and combine again with your hands.

Taste and add salt if needed. Combine more.

Set mixture in the refrigerator for at least 30 minutes to an hour, the longer the better. This will allow the cornmeal to suck up the liquid and will make the mixture sturdier so you can grill if preferred.

Meanwhile, make toppings of choice if not prepped already.

Once mixture is ready, shape into 4 inch patties.

Bake at 375°F/180°F on a parchment lined cookie sheet for 15-20 minutes on each side, or until just browned. Remove from oven and allow to cool and set in for about 5-7 minutes.

You can also cook on stove top over medium heat for 6-8 minutes on each side (depending on stove).

Make sure to keep pan covered to help the burger cook throughout and achieve the best texture possible. This helps prevent a mushy burger. Check every few minutes to prevent burning, should be slightly browned when ready.

These are also grillable. If you grill these on the BBQ make sure to grill cold, right from the fridge. Grill on low heat until browned on each side. Carefully flip, if they don't flip easily allow to cook longer.

Top with lettuce, guacamole, salsa, sour cream, jalapeno slices and chips and smother with cheese sauce.

Stuff into your mouth, the messier you get the better.
Notes
To make this even faster and easier, you can use a pre-cooked frozen rice like the organic brown rice from Trader Joes.
To make this spicy use spicy jalapeno slices.
I did try and freeze these, and although they do keep well they also collect water when freezing due to the tomatoes. Once defrosted, they will need to be reshaped since they fall apart a bit from the water collection. However after I reshaped each patty, they cooked just fine.
You could also try partially cooking before freezing, although I haven't tried that.
Tips to prep ahead: Chop veggies/cilantro and cook rice. Make/prep toppings of choice.
Baby/toddler food idea: Puree beans, rice and avocado (from the guacamole) for baby. Cook burgers as is for toddler but don't add jalapeno slices unless very mild. Cut up burgers into pieces or cook in small burger bites and dip in cheese sauce and guacamole. Can also give avocado pieces instead of guacamole.
Recipe by Veggies Don't Bite, visit our site for more great plant-based recipes.
Nutrition
Calories: 227kcalCarbohydrates: 43gProtein: 11gFat: 1gSaturated Fat: 0gCholesterol: 0mgSodium: 379mgPotassium: 560mgFiber: 11gSugar: 1gVitamin A: 445IUVitamin C: 5mgCalcium: 56mgIron: 3.2mg
Nutrition and metric information should be considered an estimate.
Never miss a recipe!
Sign up here and get a FREE quick and easy meal guide!