Are you looking to add more plants into your diet? See this ultimate guide to vegan meal prep with grocery lists to kick start yourself into action!
Making a change is hard. Especially one that is out of your comfort zone. But in order to make a change, we need to get uncomfortable. Change does not happen if we don't push ourselves, and even
little steps in the right direction
count.
Making the change to a vegan or plant-based diet
Diet change is an area that can easily be chipped away at slowly. One simple step at a time can lead to a future of big changes. You always need to start with the reason why you want to make the change. That is something you will come back to and focus on as you journey toward your ultimate goal. I talk all about this in my podcast episode on our why and how we focus on it when making decisions.
You also want to cover the basics in order to set yourself up for success:
What is a vegan meal?
It's hard to know what all these terms mean, so many rules to learn! I'm here to help, ask any questions you want because I am the last person that will judge you.
vegetarian: There are many types of vegetarians, some eat eggs, some eat fish, and some don't eat any of those and simply just dairy.
vegan: vegan means you consume no animal products. In fact, true vegans don't even eat honey. Many are even careful about sugar and wine that has been processed with animal products (some sugars use bone char in the processing system and wines can use fining agents such as milk protein, egg whites and fish bladder).
Tips for getting started
Start slow. When one change becomes easy, start with two. Then keep going and pushing yourself until you reach your ultimate goal.
 It is not a crash diet, it is an overall lifestyle change that will bring you your healthiest self. Don't expect to change all at once.
You can't build a house without the foundation or frame, it would fall. You can't make a lifestyle change without setting yourself up for success. And the best way to gain success, is seeking support from those that know the way.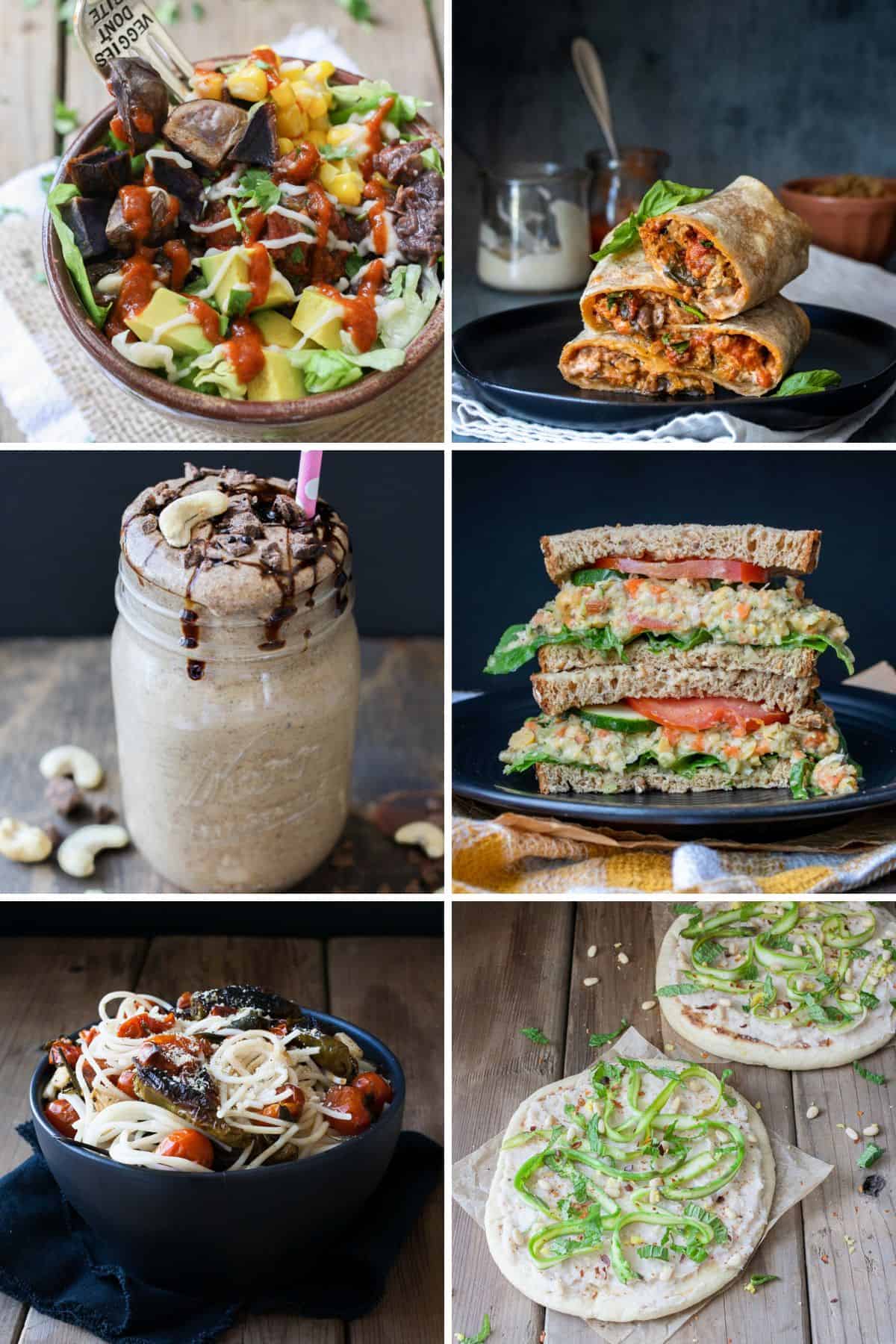 Healthy vegetarian recipes are a good stepping stone
If you're coming from a place of meat all day every day, perhaps jumping into all vegan recipes is a stretch. Many people find success by starting with healthy vegetarian recipes. Here are some ways to take any meal and make it vegetarian:
Meat based meals: swap out the meat for another protein. Beans are a great option for a lot of recipes. Chickpeas are super versatile so when in doubt, use those.
Vegan meals: use the dairy counterparts for the vegan based cream ingredients. Like these Black Bean Pumpkin Enchiladas for instance, use sour cream for the cream portion to make this an easy transition food.
Creating your own: pick a grain, a sauce, some veggies and a non meat protein like beans, quinoa, tofu or a vegetarian sausage. Combining those in a bowl type meal is an easy way to start.

What should a vegan eat for beginners?
Starting is all about support from others, enter me. This is a list of all my sample vegan menus we've eaten to make your life easy. I have every detail written down for you, a printable shopping list and I am always here for questions!
And for those of you looking for some holiday help, book mark these:
Also, for a list of my fave top healthy vegan recipes that taste amazing, look here!