This vegan nachos recipe is the ultimate comfort food! It's fully loaded with amazing flavor and you'll never guess it is even quite healthy!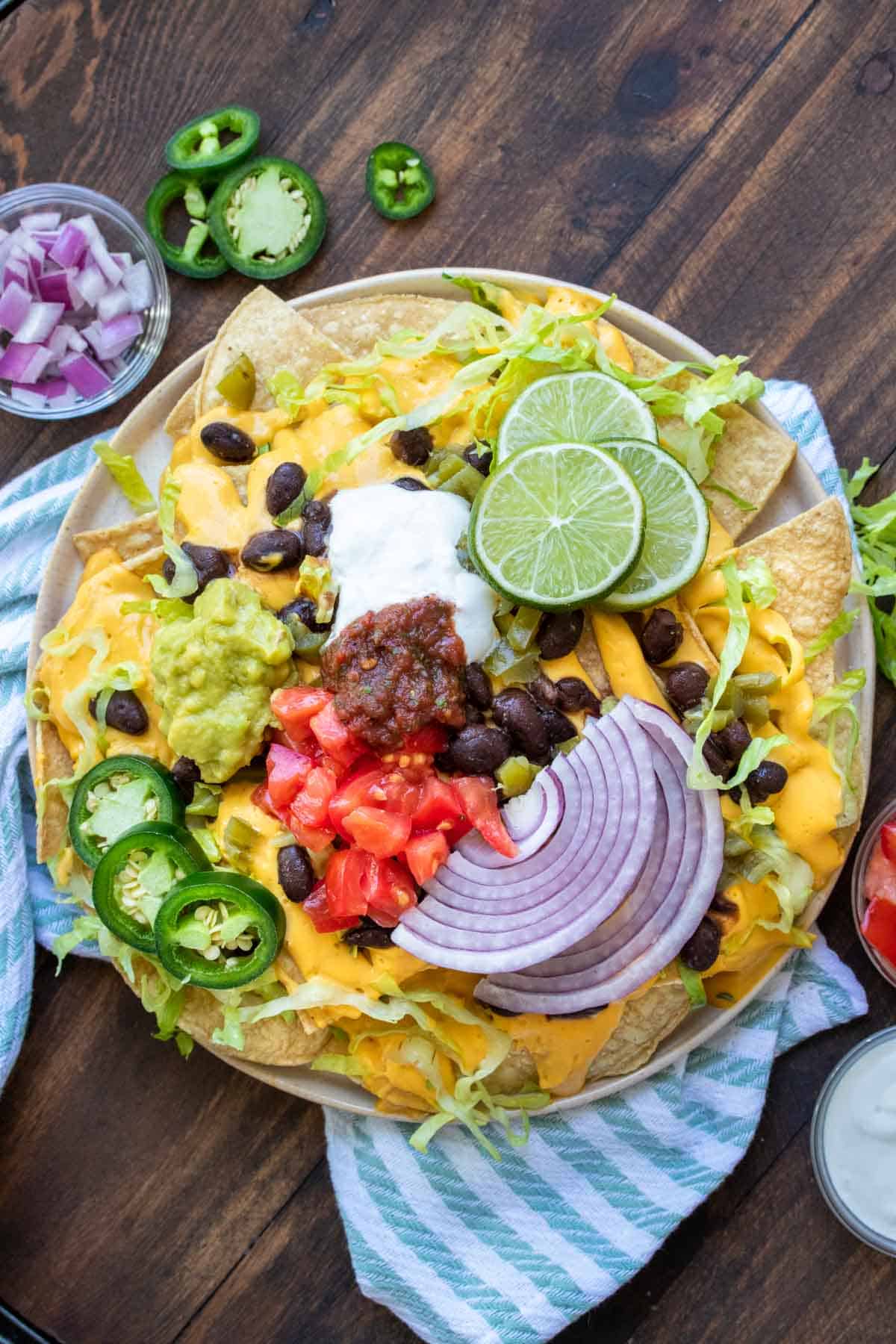 This post was originally published on October 3, 2019.
The vegan cheese sauce is unreal, tastes like that cheese sauce you had as a kid! And then with toppings like homemade guacamole, vegan sour cream and fresh salsa you're in for a perfect treat!
This nacho recipe has become a regular rotation for dinner. I serve it right from the baking pan and the kids can't get enough!
How to Make Vegan Nachos
These vegan nachos are the perfect family dinner. Not only can you load them up with healthy ingredients but each person can customize them to what they like. No complaints, no whining. A full on win!
Ingredients
Note that these are just a few ideas to start with, see below for more options!
Red onion
Jalapeños
Lettuce
Tomatoes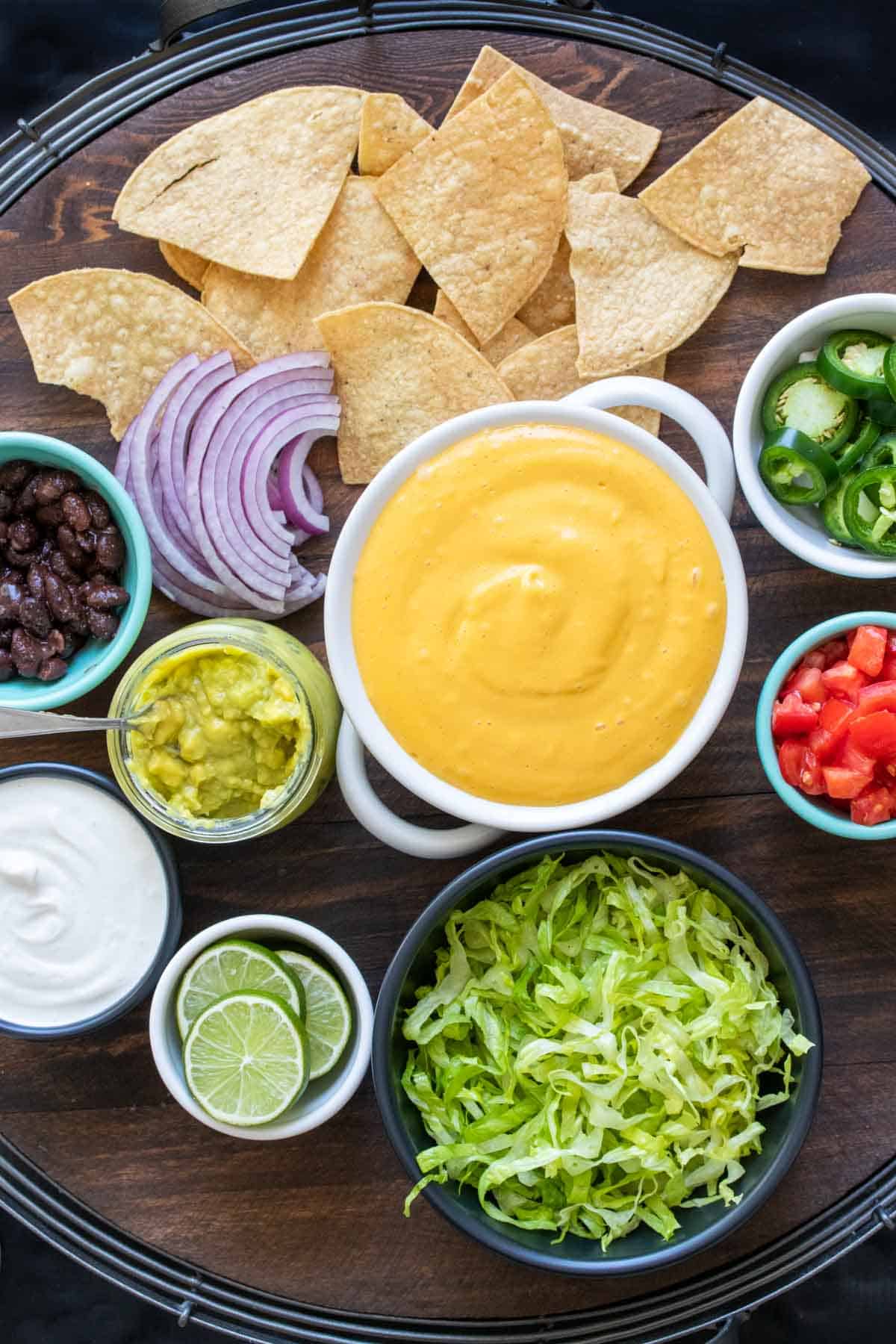 Step by Step Instructions
The steps are pretty basic, and will change depending on what you choose to make or buy, but here is the gist of how you create the most ultimate of comfort foods:
Gather all of your ingredients.
Build with the toppings you prefer.
Serve to hungry people.
More topping suggestions
The ingredients listed above are our go to toppings, but you really can put anything on nachos. I like to pile them on with anything and everything. Here are some more of our favorites:
Corn salsa or corn
Pinto beans or lentils
Diced avocado
Grilled onions
Green onions
Chopped peppers
Olives
Rice or quinoa
Serving Suggestions
We love to make a vegan nachos bar and have everyone create their own. Here are my favorite ways to make sure everyone is happy, but also piling their plate with healthy things:
Put everything you want to offer in bowls
Have categories: veggies, protein, grains, spice
Establish rules, like you must take 3 from the veggie category, 1 from the protein, etc
Allow even the littles to create their own.
Include toppings to encompass all types of eaters and allergies.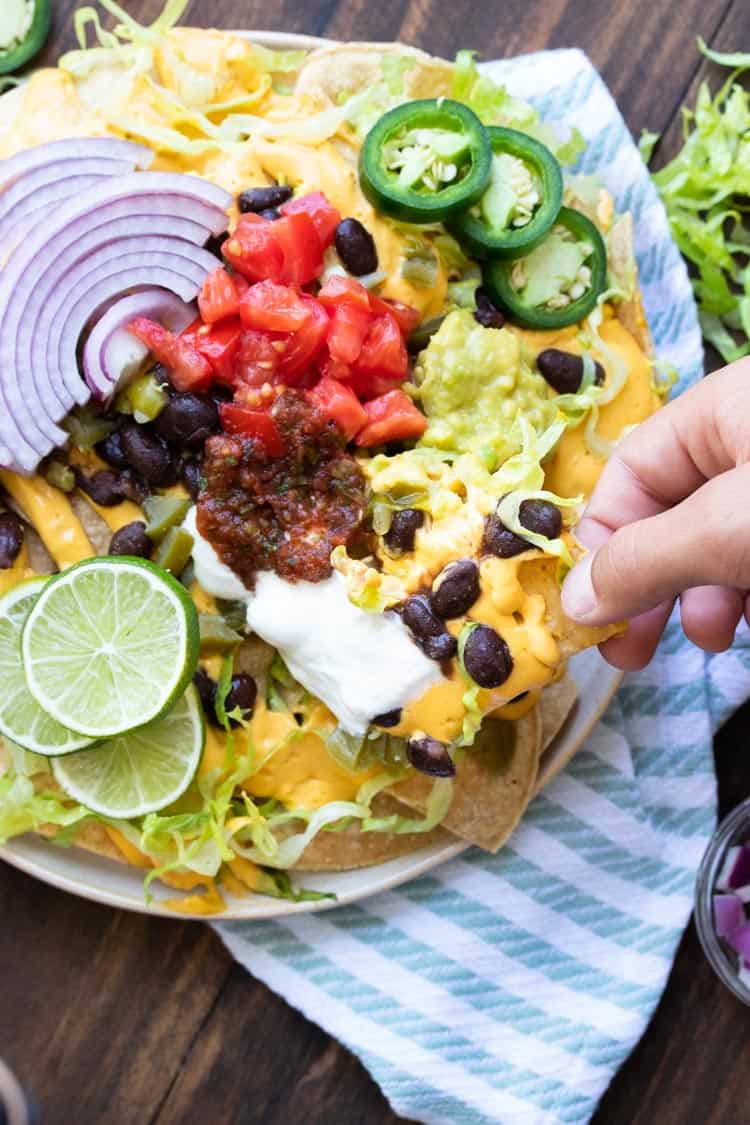 Preparation tips
If you're making any of the homemade options you can prepare them in advance. Just store them separately in airtight containers. When it's time to serve, heat up the hot toppings and you're done!
You can build the nachos on individual plates, or prepare them on one big baking sheet or platter.
Make sure every chip gets a topping by assembling them in layers! Spread out some chips, top with the cheese sauce and toppings of choice, then repeat with more chips and toppings!
Tips to make nachos easier
While nachos themselves are pretty easy to put together, there are still ways you can cut corners to make them even easier. The end result may not be as healthy but sometimes it's okay to focus on low effort. Here are some things you can buy prepared when you are really strapped for time:
Cheese
Chips
Salsa
Guacamole
Beans and bean dips
Sour cream
Taco meat or chorizo
Pre cut or chopped veggies
Common Questions
More Vegan Mexican Recipes
If your family loves Mexican food as much as we do, you must try these plant based recipes!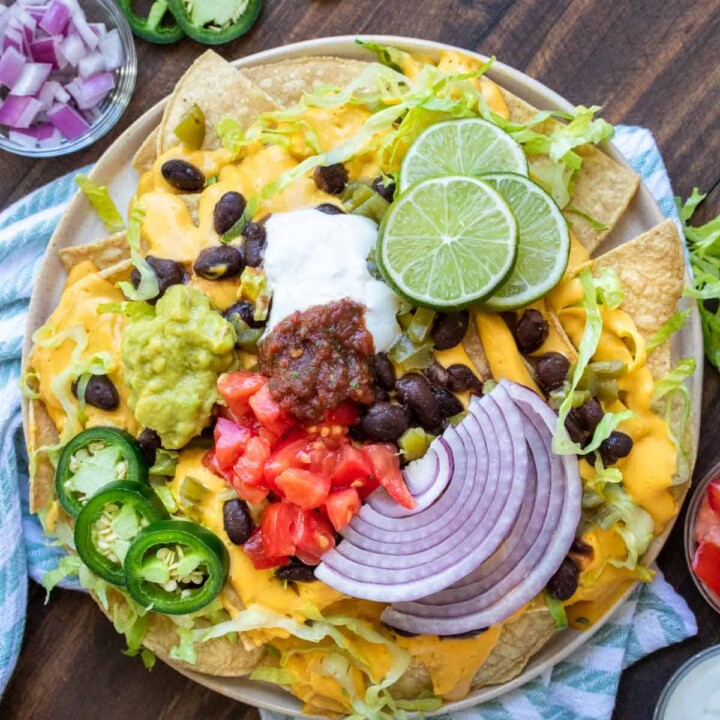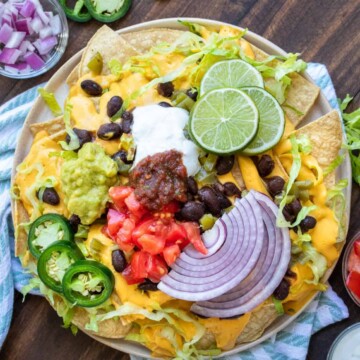 Vegan Nachos Recipe
This vegan nachos recipe is the ultimate comfort food! It's fully loaded with amazing flavor and you'll never guess it is even quite healthy!
Ingredients
Toppings (these are customizable):
1 cup black beans (pinto beans work too)
1 cup chopped red onion
½ cup pickled jalapeño slices
2 cups shredded lettuce
1 cup guacamole
1 cup salsa
1 cup chopped fresh tomatoes
½ cup sour cream
¼ cup sliced fresh jalapeños
Instructions
To build right on your plate (for cheese sauce):
Heat the nacho cheese and beans in the microwave or pot on the stove.

Meanwhile, divide the chips between 4 plates.

Build by putting on the cheese and beans first, then add all of the other toppings. I like to make layers and build with all the toppings on each layer so that the chips underneath have toppings too.
To bake in the oven (for shredded cheese or cheese sauce):
Preheat oven to 350 F/ 175 C

Spread the chips out on a parchment lined cookie sheet.

Drizzle cheese over the top. Followed by beans, red onion and pickled jalapeno slices. I like those cooked but this is optional.

Bake for about 5 minutes or until cheese sauce is fully heated and drippy or shredded cheese is melted.

Take out of the oven and pile on the other toppings.

Serve!
Notes
You can add any other toppings you like, see post for more ideas.
Time listed is an average time, but will change depending on how many toppings you make and how many you buy premade.
Nutrition facts are for homemade ingredients listed, any alteration will change the amounts. 
Recipe by Veggies Don't Bite, visit our site for more great plant-based recipes.
Nutrition
Calories: 420kcalCarbohydrates: 57gProtein: 13gFat: 19gSaturated Fat: 6gCholesterol: 15mgSodium: 740mgPotassium: 1047mgFiber: 14gSugar: 10gVitamin A: 1098IUVitamin C: 21mgCalcium: 87mgIron: 2mg
Nutrition and metric information should be considered an estimate.
Never miss a recipe!
Sign up here and get a FREE quick and easy meal guide!