These fancy-looking apple roses are the perfect dessert to impress your family and friends. Easier than they look to make but give that fancy feel, you only need 5 ingredients!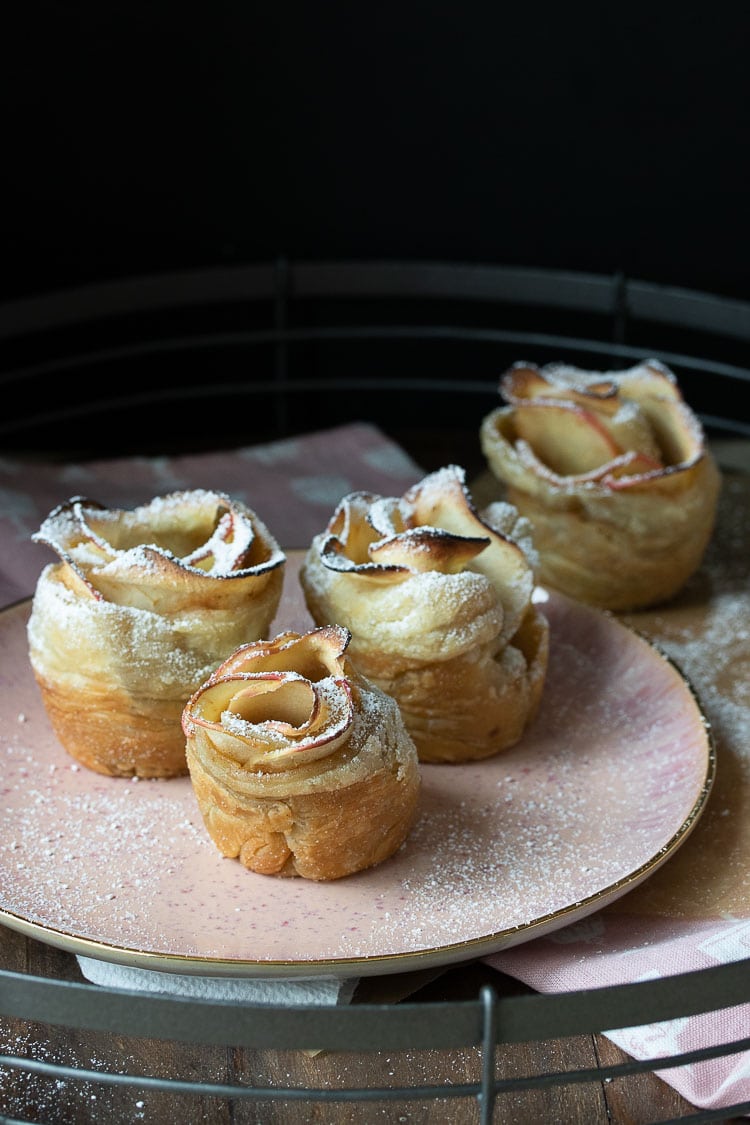 This is a cookbook review written by me on behalf of Bianca Haun, for which I received a free copy of the book. All the opinions and text are my own.
Sometimes you feel like whipping up a batch of cookies, and sometimes you're feeling fancy. Which is when you whip out these fancy apple roses and impress the socks off of your guests! Apple and cinnamon are one of my absolute favorite flavor combos, so I knew when I saw this recipe in my friend Bianca's cookbook, it had to be the one I shared!

The Veginner's Cookbook by Bianca Haun and Naderer Sascha
I received this cookbook for review about 6 months ago. Life has been nuts and I am just getting around to some of the awesome books in my queue! I strategically scheduled this recipe to post now because there is nothing that says fall to me than apples and cinnamon. And even here in sunny southern California, we are seeing the tip of some fall weather.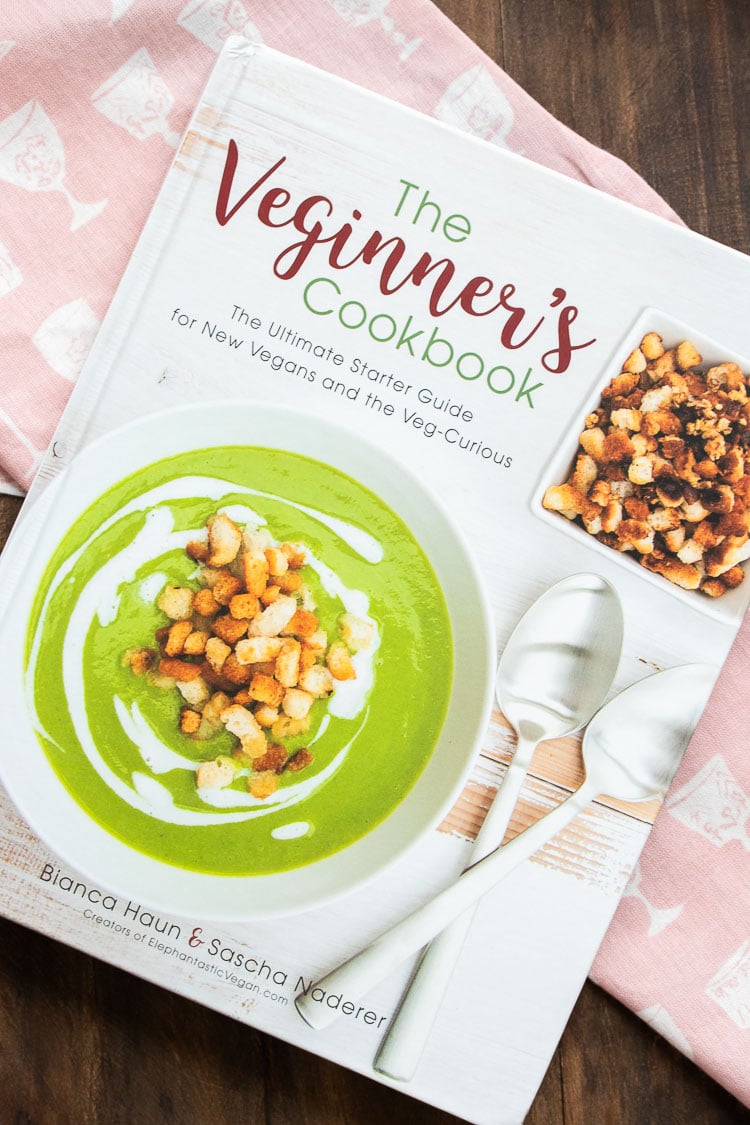 Bianca is a blogger friend of mine, and the author of the blog Elephantastic Vegan, and I am honored to share her book with you all. I loved the concept when I first saw it, what better than a beginners guide to starting the plant based food journey! The recipes in this book are simple yet show how delicious vegan food can be. Its the perfect start!
Here are a few of the awesome recipes she has:
Healing Lemon Thyme Lentil Soup and Totally Unauthentic Paella (this one had me giggling)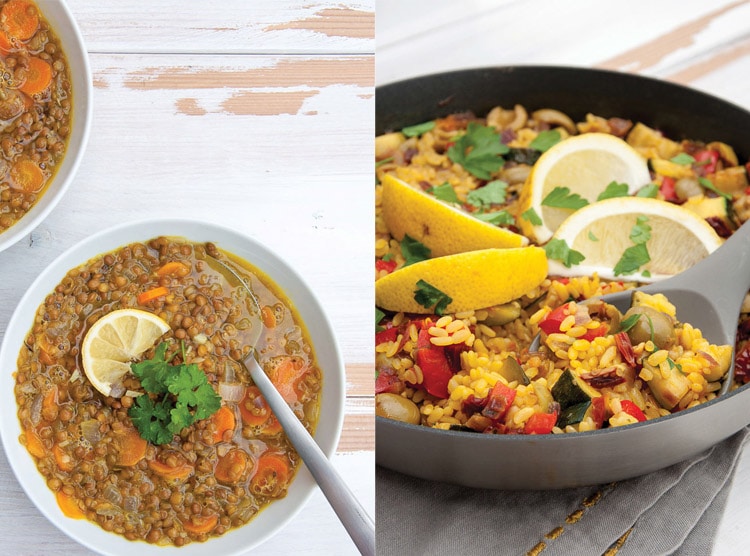 Cilantro Flatbread and Pizza Pinwheels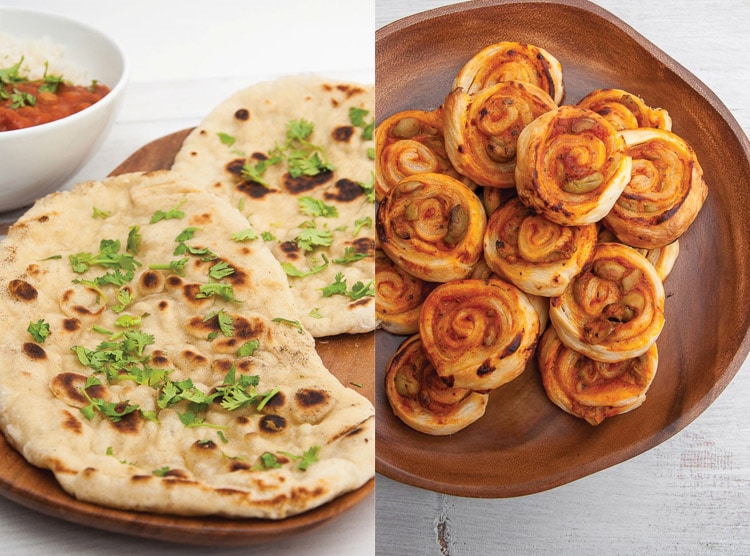 I love how she covers all the basics in this book. Other than actually doing it for you, this book does it all. It's overwhelming when you're first starting to make a change in your diet and having such awesome resources really makes the mountain seem smaller.
I love her section on tips for beginners, the chapter about substitutes because we all come with a long list of hard to give up items, and even a part dedicated to answering those that are skeptical of this new (i.e delicious) way of eating. This book really shows that changing to a vegan diet can be simple, easy and not hard to do!
How to make fancy apple cinnamon roses to impress your guests
It really is very quick and easy, the biggest hurdle is remembering to thaw your puff pastry if you store it in the freezer. Other than that, it's a few minutes prep, then bake and serve!
Slice apples.
Sprinkle dough with cinnamon and sugar. 
Roll apple slices with dough.
Bake. 
Sprinkle on some powdered sugar.
Watch for thieves!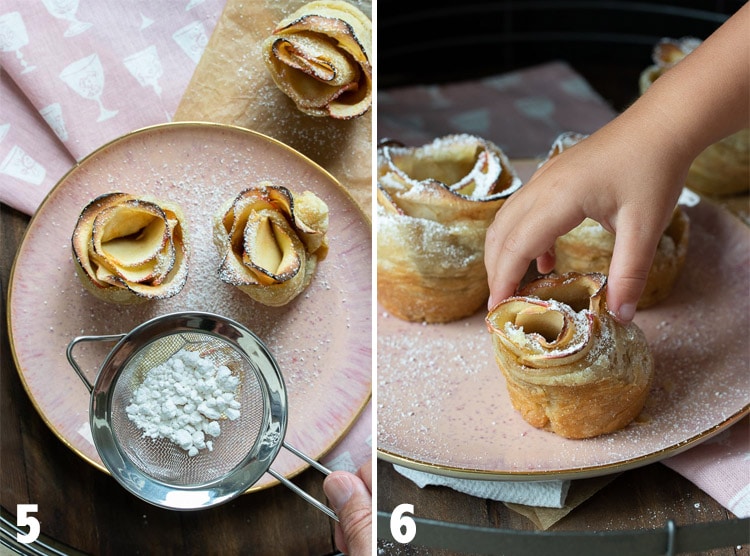 Or check out these other delicious desserts!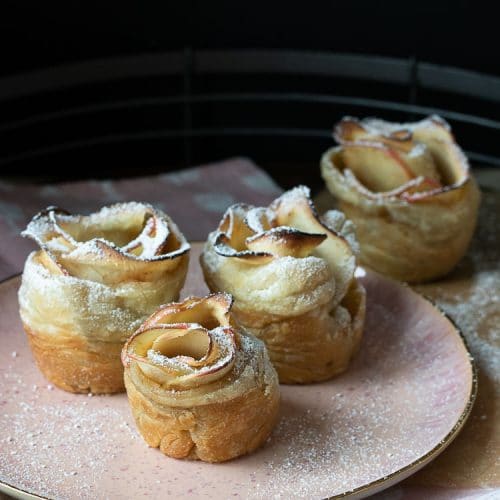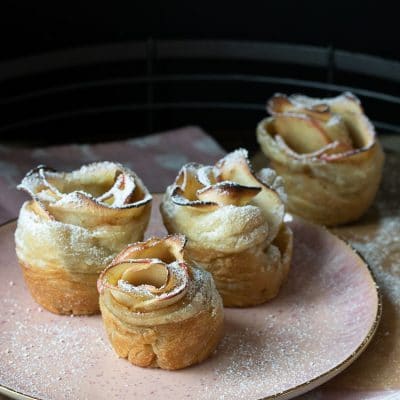 Fancy Apple Cinnamon Roses
These fancy-looking apple roses are the perfect dessert to impress your family and friends. Easier than they look to make but give that fancy feel, you only need 5 ingredients!
Ingredients
1

sweet apple

, e.g. Pink Lady

1

9 x 16-inch package vegan puff pastry

, thawed (see note for gluten-free)

1

teaspoon

vegan white sugar

½

teaspoon

cinnamon

powdered sugar for dusting
Instructions
Preheat oven to 350°F/180°C.

Slice the apple with a mandoline slicer into very thin slices.

Roll out the puff pastry and sprinkle the white sugar and cinnamon evenly on the pastry dough.

Cut the dough horizontally into 6 equal strips.

Place the apple slices on the pastry dough strips so that they overlap one another. The skin side of the apples should stick a little out of the strip. Carefully roll the strips in.

Smooth down the bottom and press it together a bit.

Place the apple roses in a lightly oiled muffin pan and put the pan in the oven on the lowest rack for about 25 to 30 minutes.

Let them cool off completely before carefully twisting them out of the pan.

Dust the apple roses with powdered sugar before serving.
Notes
I used coconut sugar instead of white sugar and they turned to great.
You can make your own powdered sugar from coconut sugar as well by putting it into a high speed blender and blending on high until it forms a powder.
Schar brand makes a gluten free puff pastry. If you can't find it, then you can be creative and use gluten free pizza crust or tortillas.
Reprinted with permission from The Veginner's Cookbook, copyright © 2018 by Bianca Haun and Sascha Naderer,. Published by Skyhorse Publishing, Inc.
Recipe by Veggies Don't Bite, visit our site for more great plant-based recipes.
Nutrition
Calories:
233
kcal
Carbohydrates:
22
g
Protein:
4
g
Fat:
7
g
Saturated Fat:
0
g
Cholesterol:
0
mg
Sodium:
200
mg
Fiber:
2
g
Sugar:
2
g
Nutrition and metric information should be considered an estimate.