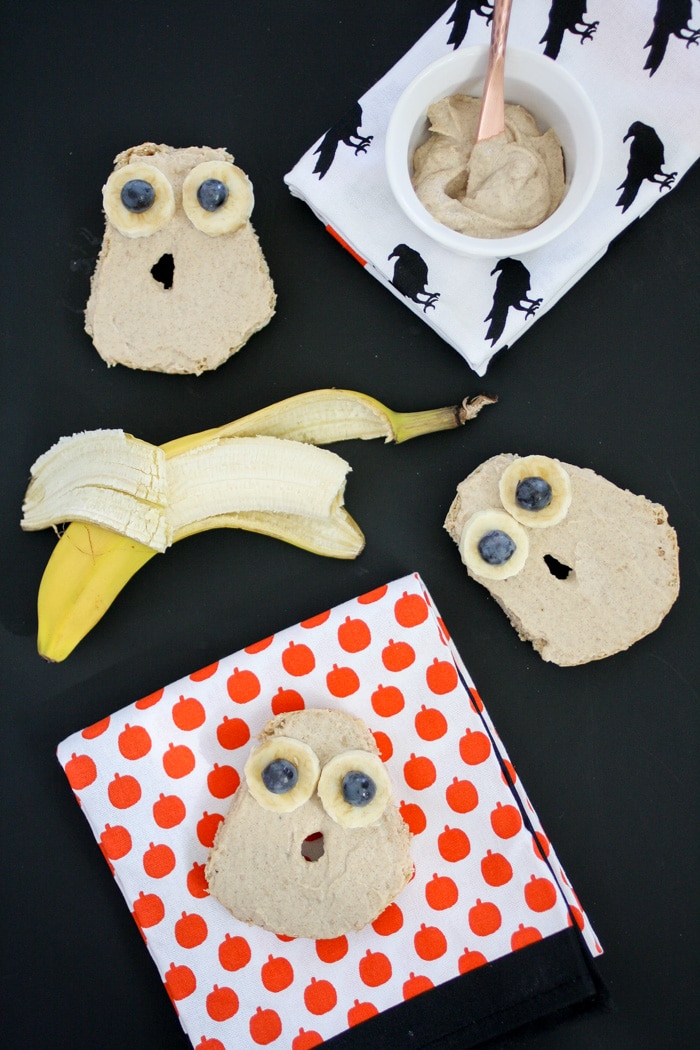 BOO!! Are you scared yet? Well these little guys are harmless, but they sure get your kiddos to the table. My boys took down two of these vegan bagels each! And the vegan maple cinnamon cream cheese was a huge hit. In fact, we have put it on many other things since its creation: pumpkin waffles, sandwiches, dipping fruit in it...is it obvious that we like it?
The vegan cream cheese comes from a recipe by my fabulous friend Brandi over at The Vegan 8. She is one bad a$$ blogger, for real. She created a Smoky Black Pepper Cream Cheese and it's to die for! So when I created this recipe, I figured why reinvent the wheel? So I used her recipe as a base, took a few things out, and then added a few others, to create the super tasty vegan maple cinnamon cream cheese I use here!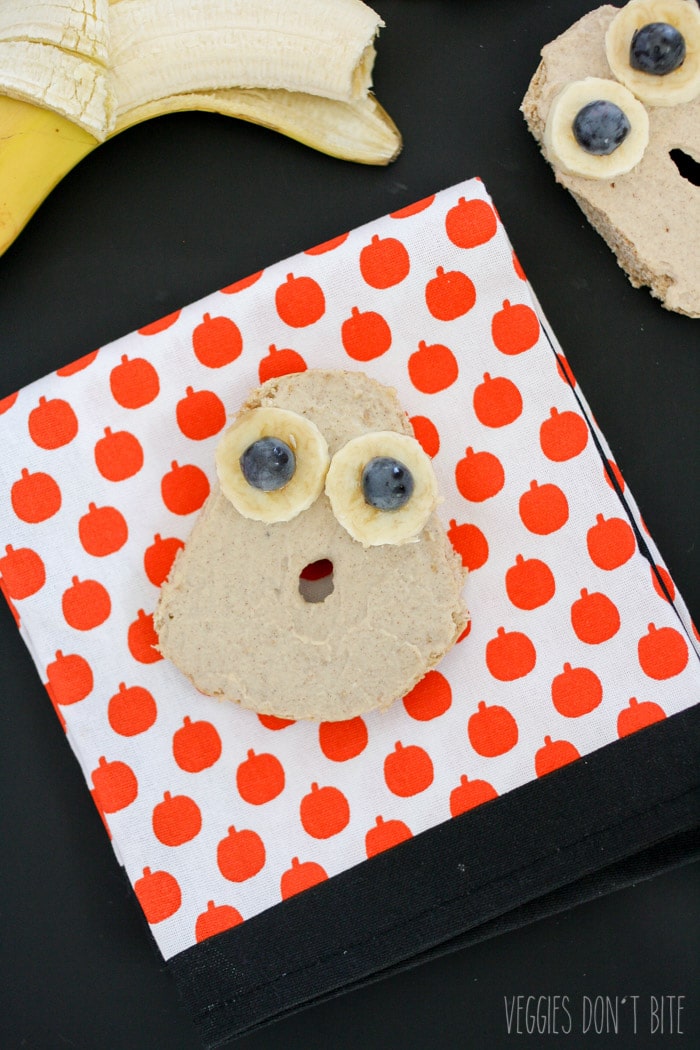 This fun treat is really easy to throw together, and really quick (other than remembering to soak the cashews over night). Huge plus is the little ones can build their own! I just had everything cut, gave them a platter with the needed ingredients, plus a plastic knife to spread the cream cheese, and voila! Fun by all! Funny backstory, the morning we decided to make these I sent my hubby to the store to buy blueberries, or BOOberries as the 3 year old calls them. While he was gone, I prepped everything else. When he got home, he handed me the bag and said "Here are your blueberries!"...only for me to see that he had instead bought Concord grapes. I think I laughed for almost half an hour. But the lesson here is you can use blueberries or you can use Concord grapes if you're so inclined. Thanks honey for giving us options!
What are you waiting for? Go spookify your breakfast and get those little guys running to the kitchen not from it! I'd love to know how these worked out for you, and if the kids (and adults) had fun putting them together. Leave a comment here, find me on Facebook or tag me on Instagram in your main comment at both @veggiesdontbite #veggiesdontbite so I don't miss it. Happy Halloween!!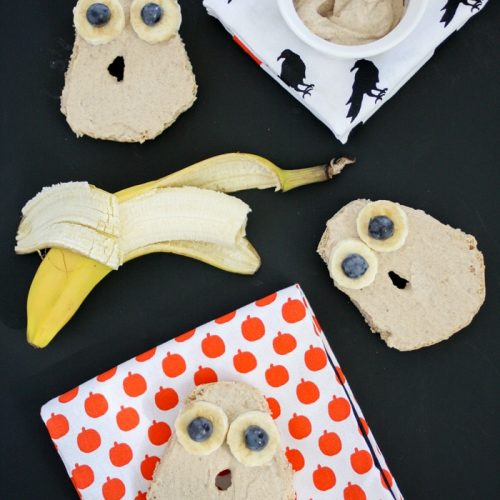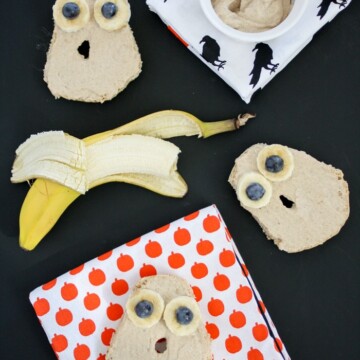 BOOgles with Vegan Maple Cinnamon SCREAM Cheese
Start Halloween right with this healthy plant based breakfast. These vegan bagels with maple cinnamon cream cheese will get the whole family screaming for more! Recipe inspired by
this one from The Vegan 8
Ingredients
1 cup raw cashews soaked if not using a high speed blender
1 ½ tablespoons lemon juice
½ teaspoon apple cider vinegar
2 teaspoons dill pickle juice
¼ teaspoon sea salt
4 tablespoons maple syrup
1 teaspoon cinnamon
6 bagels gluten free or sprouted wheat
1 banana use any leftover as a side
6 blueberries
Instructions
Soak cashews over night. You want them super soft, so that when you touch them they are almost rubbery and bendy.

Put all cream cheese ingredients into a food processor and process until creamy and smooth. This may take up to 10 minutes depending on your processor. Stop every few minutes to scrape down the sides of the bowl.

When done, store in an air tight container in the fridge until you are ready to use it! It will firm up the colder it gets.

Slice banana into ¼ inch thick pieces.

Slice blueberries and bagels in half.

When ready, spread cream cheese onto a bagel. Then add banana and blueberries to make eyes.

Have fun eating your BOOgles!
Notes
This works best in a food processor, although you could also use a high speed blender. If you use a blender you may need to stop it more often and scrape down the sides. It may also be easier in a blender if you double to recipe.
Tips to prep ahead: Soak cashews.
Baby/kid food idea: For toddler, spread on soft bread and make a sandwich, then cut up into small pieces. Serve fruit on the side.
Recipe by Veggies Don't Bite, visit our site for more great plant-based recipes.
Nutrition and metric information should be considered an estimate.
Never miss a recipe!
Sign up here and get a FREE quick and easy meal guide!