This easy vegan mushroom stew recipe is the perfect cozy meal for those busy nights. It comes together quickly and has an amazing depth of flavor!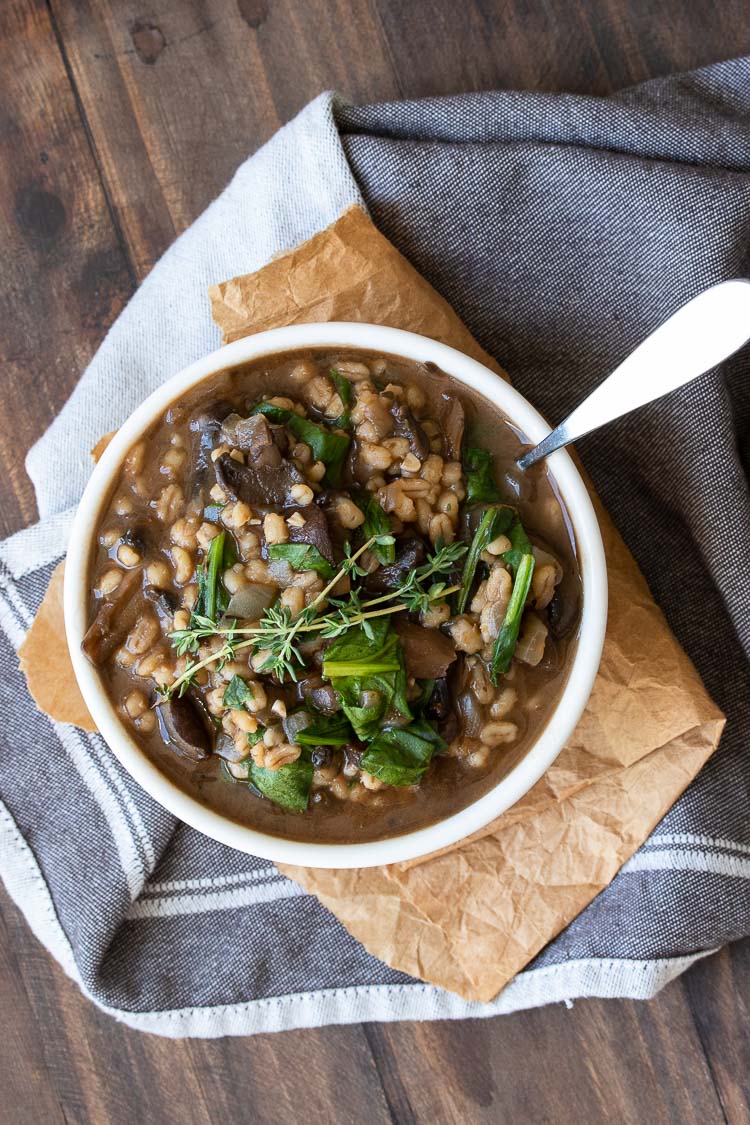 This post was originally published on 9/23/18
This is a cookbook review written by me on behalf of Alisa Fleming, for which I received a free copy of the book. All the opinions and text are my own.
I love warm flavorful soups when the weather turns chilly. Especially those I can quickly prep and the stove does the rest. The smell of simmering soup is the perfect complement to cold days.
Vegan Mushroom Stew
There is something to simple yet complex when it comes to mushrooms. I love how you can do so many things with them, from using them in my vegan carnitas recipe, to putting them in my vegan cheesesteak sandwich.
They make a great meat sub, but also contribute amazing flavor to things like this mushroom stew. The mix of flavors used come together so well!
"If ONE simple change could resolve most of your symptoms and prevent various illnesses, why not try it? I'll show you how." This is a quote from the book Go Dairy Free by Alisa Fleming, the woman behind this recipe and the website GoDairyFree.org, the leader in all things dairy free.
Alisa is a friend of mine in the blogging world, and a wealth of information. So when she released this book (it's actually the second edition of the first one she wrote many years back), I was all in to help spread the word because I knew there would be a boat load of amazing recipes. What I didn't expect was to be drawn in by her incredible story.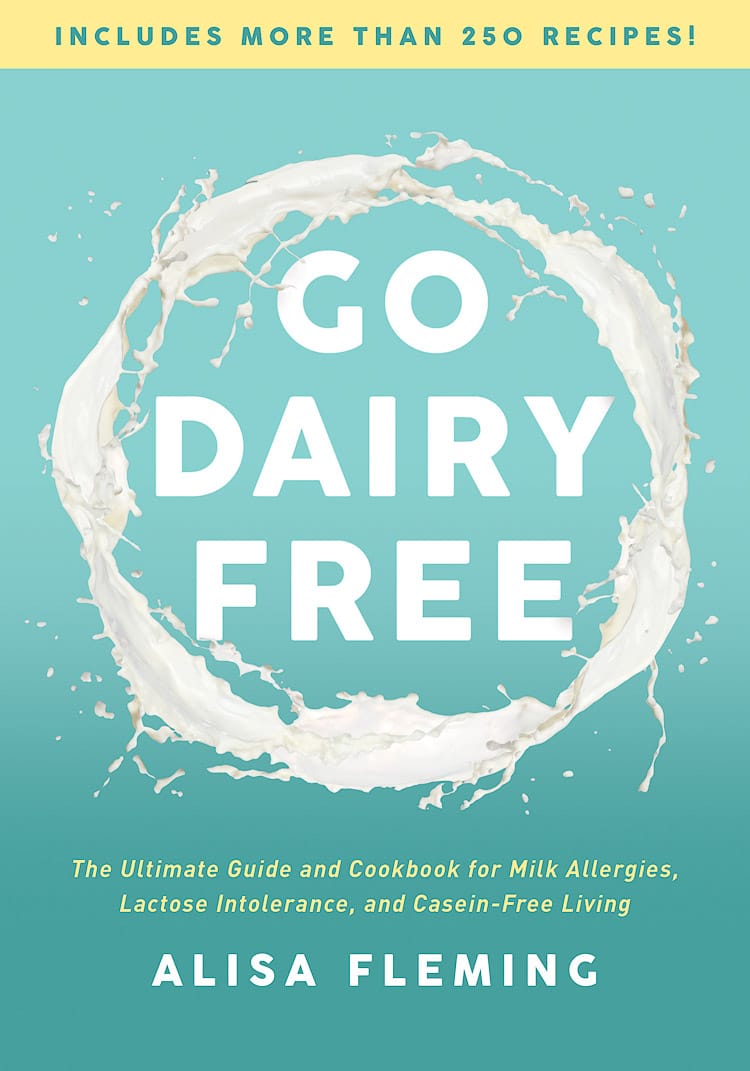 Alisa lived in a cloud of illness for much of her life. Growing up she spent more days at the hospital that most of us have ever spent as an entire family. But the doctors had no answers, she was active, athletic and generally healthy.
But then one day she found an old baby book with a note inside, at 4 months old she was diagnosed as allergic to milk. The amazing part was that the medical community blew it off as something temporary and not once did doctors look at her diet as an avenue to solve her medical problems.
Thank goodness she took her health into her own hands because if she hadn't, I wouldn't be sharing this mushroom stew with you all!
What are the best mushrooms to use?
This recipe calls for button or crimini mushrooms, but I prefer the latter. They have a little more flavor and give better umami to this dish. you could also use another flavorful mushroom like Portobello or shiitake. The heartier the better.
When you are prepping the mushrooms, make sure to clean them well. Mushrooms grow close to the ground in more wet environments so they have a lot of dirt. I like to soak them in a bowl of water, then use my hands to rub the dirt off.
Can you freeze mushroom stew?
Yes! Stews are great for freezing and storing for future use. After you make it, allow it to cool. Once cool, store in an airtight container. I like to put a piece of plastic along the top of the stew, literally touching it, to prevent ice crystals from forming.
It's also a great idea to freeze in single or double serving containers. That way you don't have to defrost more than you need.
How do you reheat mushroom stew?
Once you are ready to eat it, take it out of the freezer and allow it to defrost on the counter. Then you can heat in the microwave or put in a pot and slowly warm up on the stove.
How to Make Vegan Mushroom Stew
This recipe is one for even the basic of chefs. I was able to prep this in about 5 minutes. Then left it to simmer while I cleaned up and set the table. By the time we were ready for dinner, the stew was cooked and piping hot ready to eat!
Note that for me, I only needed to simmer it for about 25-30 minutes before my barley was cooked how we like it. We do prefer it more al dente than fully cooked.
Saute the first handful of ingredients. 
Add in the rest and stir. Then let simmer.
Serve! 
Tips for adding extra veggies
This recipe is super nutritious as is, but you can always add in veggies if you want. I added some spinach, which paired awesome with the flavors, but here are some other ideas:
chard
kale
carrots
zucchini
broccoli
potatoes
What to serve with mushroom stew
This is an all in one meal, with protein, carbs and fat, but it would also pair great with a side salad or some extra veggies. Here are some great side dishes to serve it with: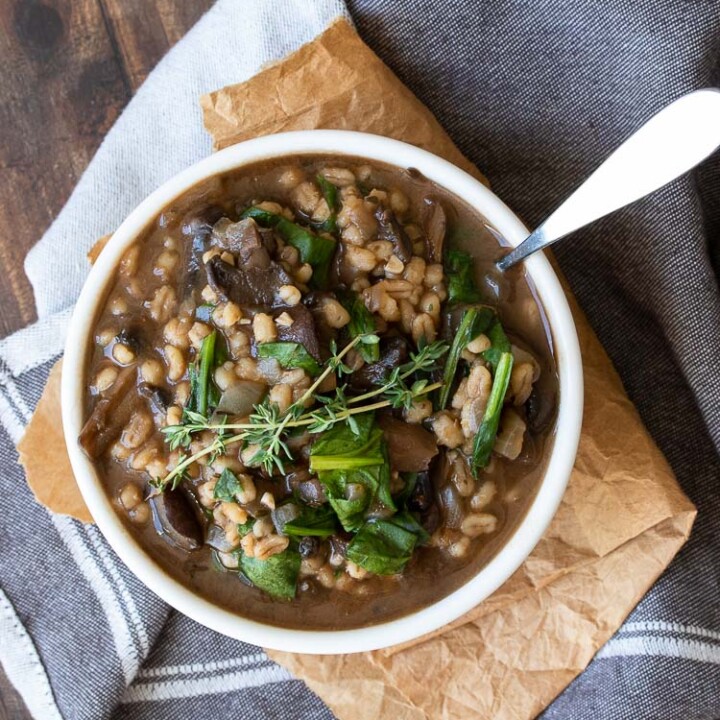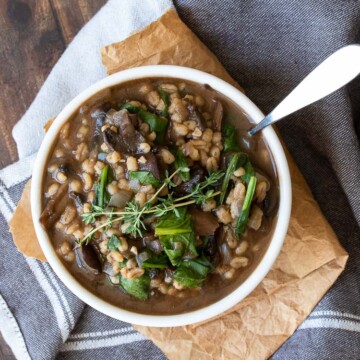 Vegan Mushroom Stew Recipe
This easy vegan mushroom stew recipe is the perfect cozy meal for those busy nights. It comes together quickly and has an amazing depth of flavor!
Ingredients
1 tablespoon grapeseed or olive oil (I made it oil free by sautéing with broth instead)
1 ½ cups chopped yellow onion , about ½ a large onion
½ cup dry pearl barley , rinsed (can substitute whole-grain sorghum for gluten free)
2 cloves garlic , large (minced, makes about 1 teaspoon)
1 teaspoon dried thyme
8 ounces button or crimini mushrooms , sliced
4 cups mushroom broth
1 tablespoon tomato paste
1 teaspoon balsamic vinegar
1 teaspoon white miso (gluten free or soy free if needed, can also use more salt instead)
1 bay leaf
¼ - 1 teaspoon sea salt , to taste
freshly ground black pepper , to taste
Instructions
Heat the oil in a large pot over medium heat. Add the onion and sauté for 5 minutes, or until translucent. If not using oil, just sauté with broth.

Reduce the heat to medium-low. Add the barley, garlic, and thyme and sauté for 3 minutes.

Stir in the mushrooms. Add the broth, tomato paste, vinegar, miso, bay leaf, and ¼ teaspoon salt and stir to combine. Bring the soup to a boil. Reduce the heat to low, cover, and simmer for at least an hour, or until the barley is tender. Note that this only took about 25 - 30 minutes for me to get the texture I wanted. (If using sorghum, it will be soft but slightly chewy once cooked.)

Remove the bay leaf. Season to taste with more salt, if desired, and black pepper.

Store leftover soup in an airtight container in the refrigerator for up to 2 days.
Notes
I easily made this oil free by sautéing with broth.
I used chickpea miso and it worked great, it also kept it soy free.
I did not need to simmer this for an hour, it was ready in about 25 minutes for me. We like our barley more on the al dente side however.
I added a few handfuls of spinach to this, it gave it some greens and went really well with the flavors!
Reprinted with permission from Go Dairy Free, copyright © 2018 by Alisa Fleming,. Published by BenBella, Inc.
Recipe by Veggies Don't Bite, visit our site for more great plant-based recipes.
Nutrition
Calories: 200kcalCarbohydrates: 42gProtein: 6gFat: 0gSaturated Fat: 0gPolyunsaturated Fat: 0gMonounsaturated Fat: 0gTrans Fat: 0gCholesterol: 0mgSodium: 451mgPotassium: 548mgFiber: 7gSugar: 6gVitamin A: 0IUVitamin C: 6.5mgCalcium: 52mgIron: 1.7mg
Nutrition and metric information should be considered an estimate.
Never miss a recipe!
Sign up here and get a FREE quick and easy meal guide!