Vegan mushroom stew with barley is the perfect easy weeknight dinner as we transition into cooler weather. Hearty, amazing depth of flavor, and super simple to make!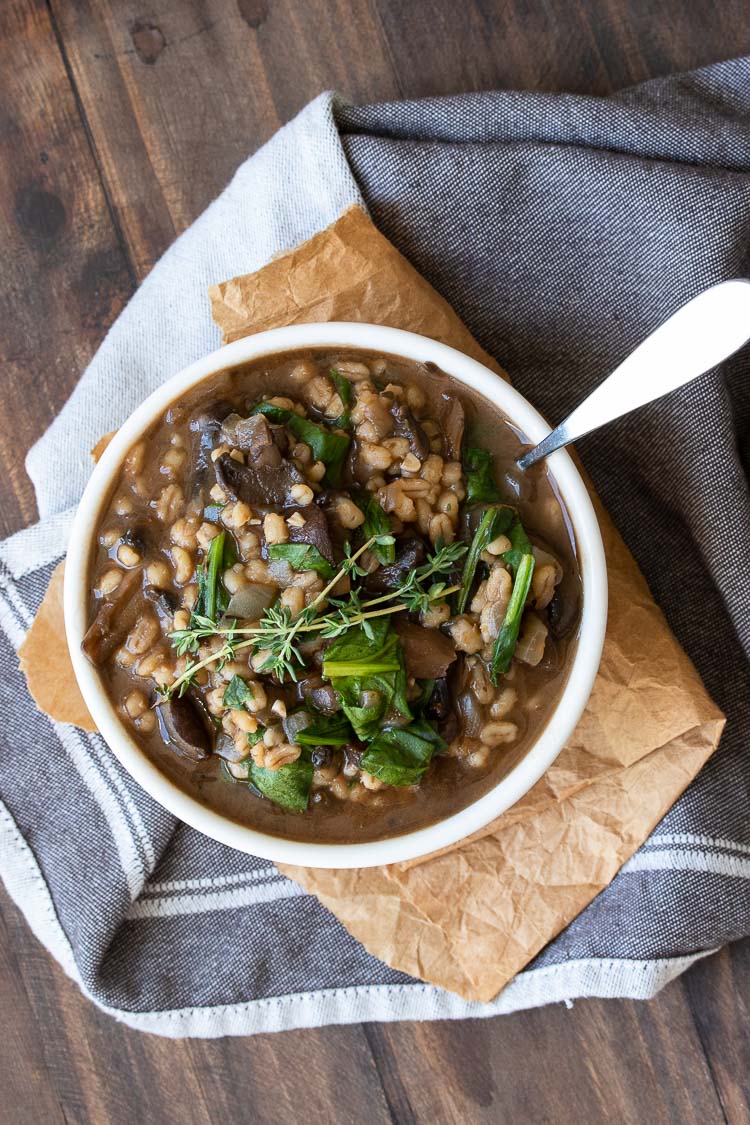 This is a cookbook review written by me on behalf of Alisa Fleming, for which I received a free copy of the book. All the opinions and text are my own.
If you're looking for something filling and flavorful for those cooler nights, this vegan stew is a perfect fit. It's customizable (I added some spinach) and has a variety of textures which I love. The hearty mushrooms paired with the chewy barley is a delicious combo that fills you just as perfectly as any stew with meat or dairy.
Go Dairy Free, giving up milk products for those who's lives depend on it
"If ONE simple change could resolve most of your symptoms and prevent various illnesses, why not try it? I'll show you how." This is a quote from the book Go Dairy Free by Alisa Fleming, the incredible woman behind the website GoDairyFree.org, the leader in all things dairy free.
Alisa is a friend of mine in the blogging world, and a wealth of information. So when she released this book (it's actually the second edition of the first one she wrote many years back), I was all in to help spread the word because I knew there would be a boat load of amazing recipes. What I didn't expect was to be drawn in by her incredible story.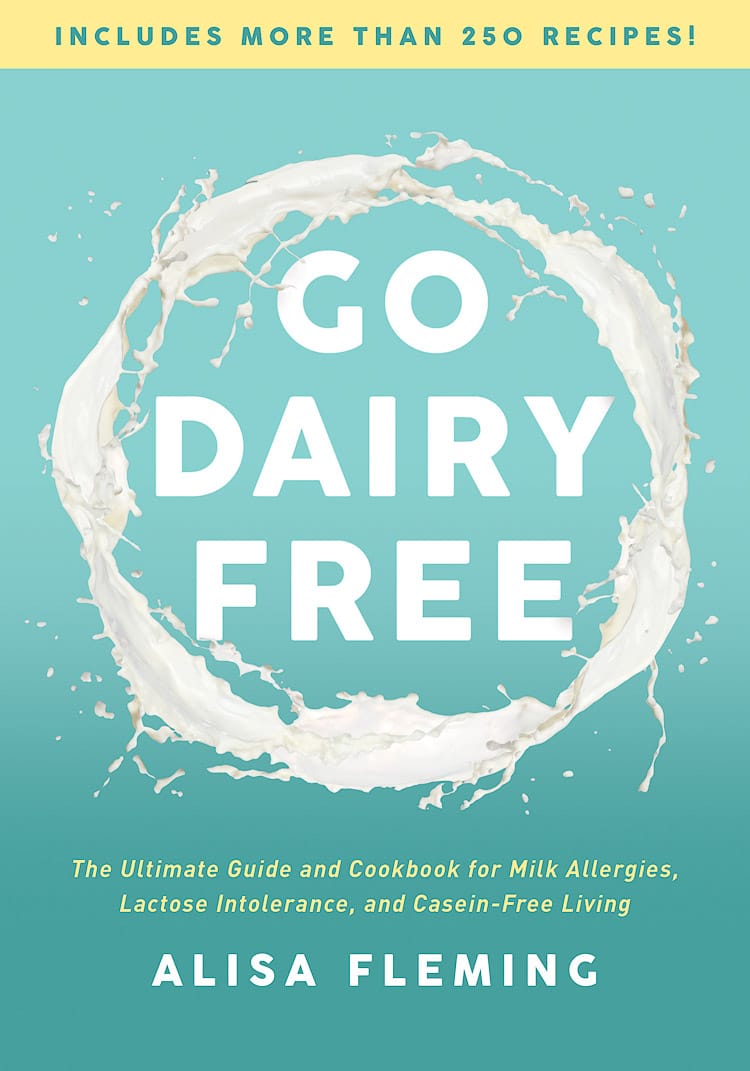 Alisa lived in a cloud of illness for much of her life. Growing up she spent more days at the hospital that most of us have ever spent as an entire family. But the doctors had no answers, she was active, athletic and generally healthy.
But then one day she found an old baby book with a note inside, at 4 months old she was diagnosed as allergic to milk. The amazing part was that the medical community blew it off as something temporary and not once did doctors look at her diet as an avenue to solve her medical problems.
If you are reading this and thinking, yes. YES! Then this book is for you. Even if you're thinking, hmm, maybe I should research this more. Then this book is for you. This is not just a regular cookbook. This is your "dairy free living" internet search printed in a manual of almost 500 pages. It is filled with research, information, tips, ideas, and best of all amazing RECIPES.
Making the heartiest vegan mushroom stew
This is one of many simple yet amazingly flavorful and filling recipes in this book. I loved how easy it was to make, and how much my family loved it. I was out one night when I made it, when I got a text from my mushroom hating husband claiming how delicious this soup I had on the stove was and that they lick the pot clean. Good thing I had already taken all the photos!
This recipe is one for even the basic of chefs:
Saute the first handful of ingredients. 
Add in the rest and stir. Then let simmer.
Serve! 
I was able to prep this in about 5 minutes. Then left it to simmer while I cleaned up and set the table. By the time we were ready for dinner, the stew was cooked and piping hot ready to eat! Note that for me, I only needed to simmer it for about 25/30 minutes before my barley was cooked how we like it. We do prefer it more al dente than fully cooked.
Try another delicious stew: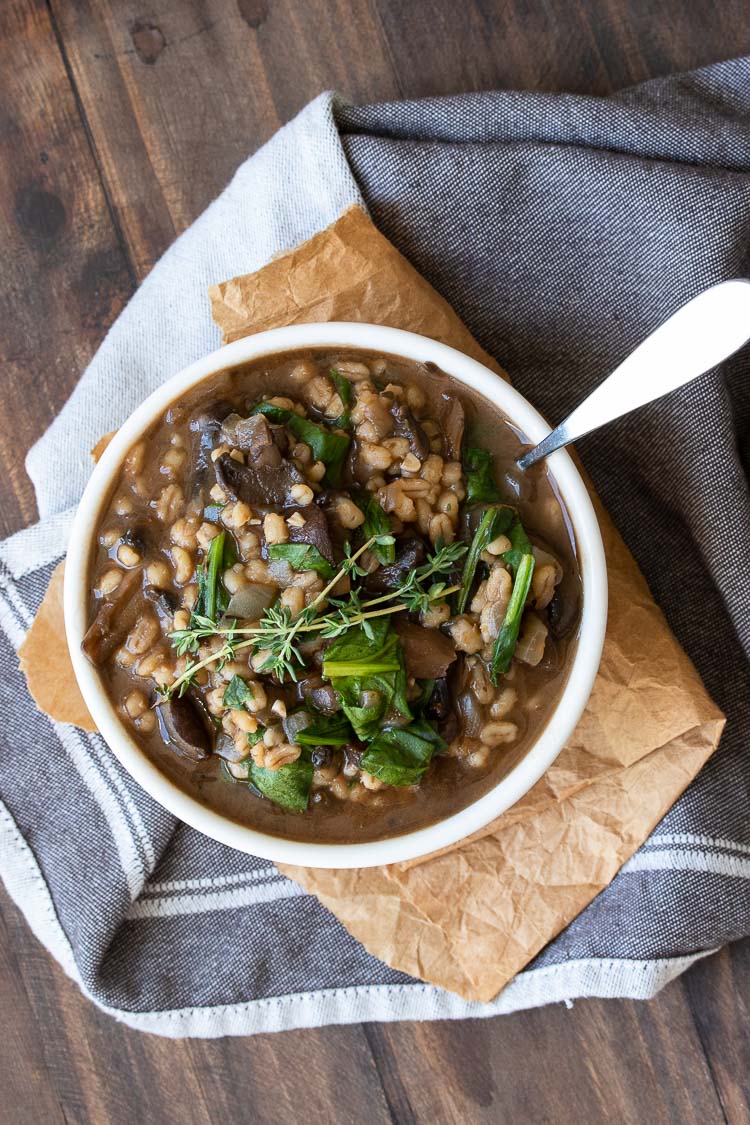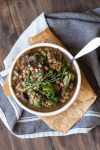 Vegan Barley Mushroom Stew
Vegan mushroom stew with barley is the perfect easy weeknight dinner as we transition into cooler weather. Hearty, amazing depth of flavor, and super simple to make!
Course:
Main Course, Soup
Keyword:
hearty vegan stew, vegan barley recipe
Ingredients
1

tablespoon

grapeseed or olive oil

(I made it oil free by sautéing with broth instead)

1 1/2

cups

chopped yellow onion

, about 1/2 a large onion

1/2

cup

dry pearl barley

, rinsed (can substitute whole-grain sorghum for gluten free)

2

cloves

garlic

, large (minced, makes about 1 teaspoon)

1

teaspoon

dried thyme

8

ounces

button or crimini mushrooms

, sliced

4

cups

mushroom broth

1

tablespoon

tomato paste

1

teaspoon

balsamic vinegar

1

teaspoon

white miso

(gluten free or soy free if needed, can also use more salt instead)

1

bay leaf

1/4 - 1

teaspoon

sea salt

, to taste

freshly ground black pepper

, to taste
Instructions
Heat the oil in a large pot over medium heat. Add the onion and sauté for 5 minutes, or until translucent. If not using oil, just sauté with broth.

Reduce the heat to medium-low. Add the barley, garlic, and thyme and sauté for 3 minutes.

Stir in the mushrooms. Add the broth, tomato paste, vinegar, miso, bay leaf, and 1/4 teaspoon salt and stir to combine. Bring the soup to a boil. Reduce the heat to low, cover, and simmer for at least an hour, or until the barley is tender. Note that this only took about 25 - 30 minutes for me to get the texture I wanted. (If using sorghum, it will be soft but slightly chewy once cooked.)

Remove the bay leaf. Season to taste with more salt, if desired, and black pepper.

Store leftover soup in an airtight container in the refrigerator for up to 2 days.
Recipe Notes
I easily made this oil free by sautéing with broth.
I used chickpea miso and it worked great, it also kept it soy free.
I did not need to simmer this for an hour, it was ready in about 25 minutes for me. We like our barley more on the al dente side however.
I added a few handfuls of spinach to this, it gave it some greens and went really well with the flavors!
Reprinted with permission from Go Dairy Free, copyright © 2018 by Alisa Fleming,. Published by BenBella, Inc.
Nutrition Facts
Vegan Barley Mushroom Stew
Amount Per Serving
Calories 200
% Daily Value*
Fat 0g0%
Cholesterol 0mg0%
Sodium 451mg19%
Potassium 548mg16%
Carbohydrates 42g14%
Protein 6g12%
Vitamin A 0IU0%
Vitamin C 6.5mg8%
Calcium 52mg5%
Iron 1.7mg9%
* Percent Daily Values are based on a 2000 calorie diet.