Vegan Cacio e Pepe Recipe is absolutely delicious and easy to make. It doesn't require a blender, is simple and made with whole foods!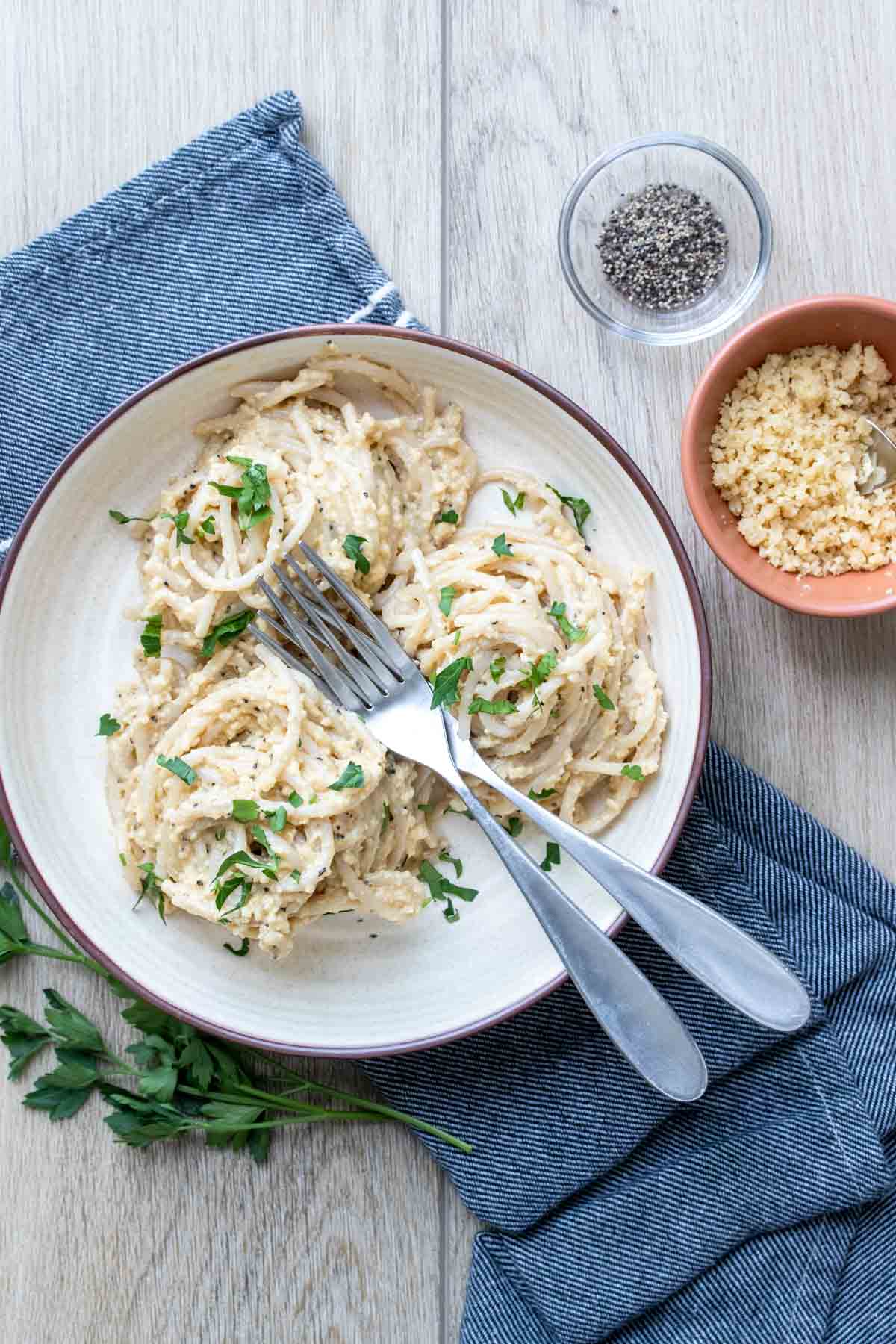 The thing is that cacio e pepe is different than Alfredo, so it shouldn't be made with Alfredo like sauce. This recipe mimics the traditional without the eggs and dairy!
Originating in Rome, cacio e pepe translates to cheese and pepper. It's a fabulously simple pasta dish. This version captures those flavors by using only plant-based ingredients. Instead of the traditional Pecorino Romano, a vegan parmesan is used for the perfect taste.
Ingredients
Only a handful of simple ingredients are needed to make this vegan cacio e pepe recipe. Here's what you need:
Thick spaghetti
Olive oil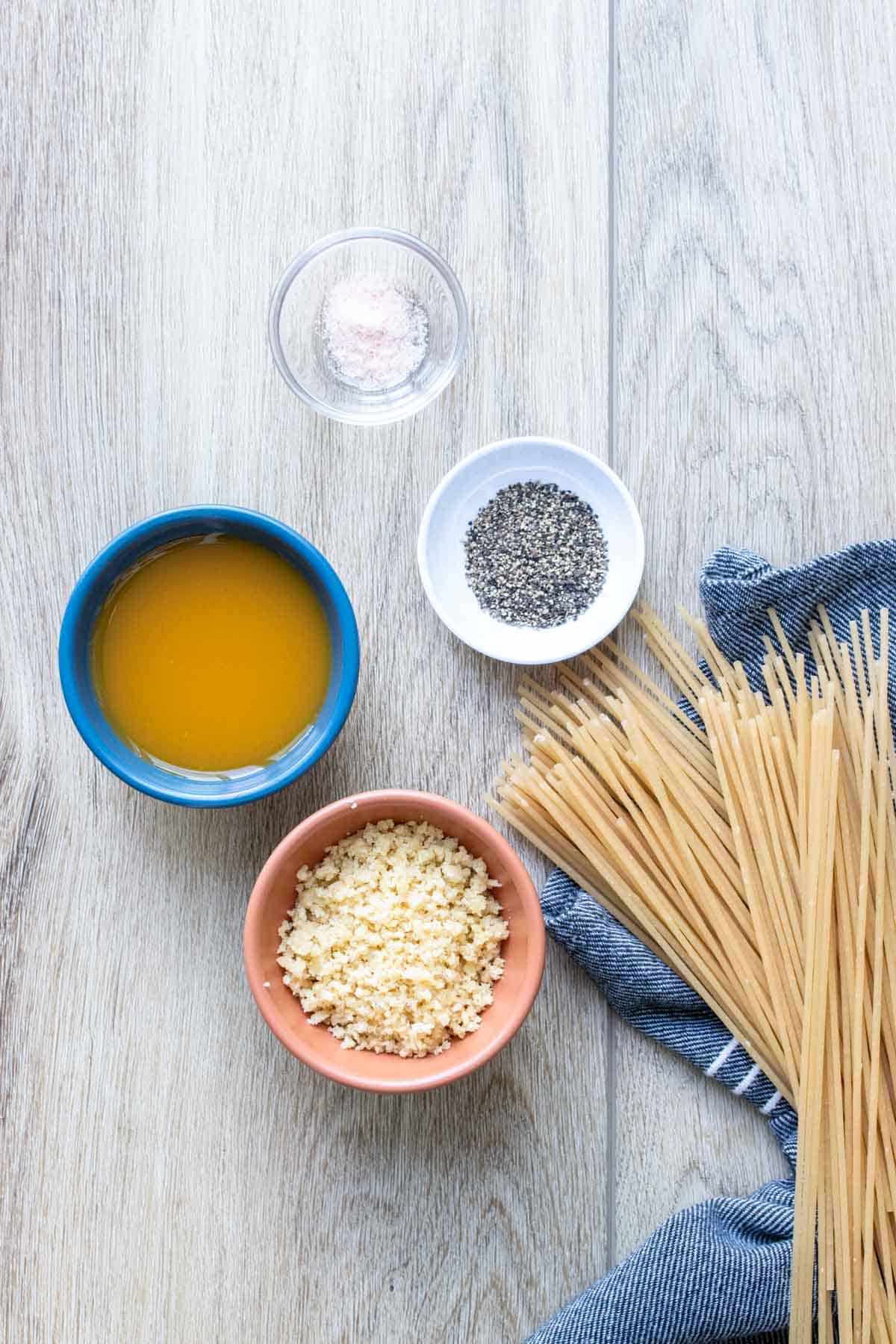 How to Make Vegan Cacio e Pepe
It's so easy to make this pasta recipe! Here are the simple steps to take:
Sauté pepper then add oil or broth and pasta cooking water, bring to a simmer.
Whisk in the cheese.
Add in the pasta and mix well to combine.
Sprinkle on extra Parmesan and enjoy!
Serving suggestions
Serve with a salad, or use this recipe as a base for a fun family meal. Set up a topping bar and let everyone add their own veggies and protein. Here are some mix in ideas to get you started:
Broccoli
Roasted peppers
Asparagus
Onions
Mushrooms or Mushroom Bacon
Veggie sausage
Tips and tricks
Here are a few suggestions to help you out when making homemade cacio e pepe:
Thick spaghetti is traditionally used, but you can also use bucatini or any other pasta of choice. Use a gluten-free pasta if needed.
Don't forget to reserve the pasta water when draining.
Avoid rinsing the noodles, as the starch will help the sauce to stick.
Use broth instead of oil to make this oil free.
The amount of salt needed will depend on the cheese used. Start with a little, taste, then add more as needed.
Keep leftovers in an airtight container in the refrigerator for up to 5 days.
Reheat in the microwave, or return to a skillet with a little oil or broth until warm.
Common Questions
Which pasta is vegan?
Most pasta is vegan since it is made from flour and water. However, some pasta may contain egg so make sure to check the label.
Is there a vegan substitute for Parmesan cheese?
Yes! Some store bought options are available. But I love making homemade vegan Parmesan.
What can I do with cashew cheese?
Anything you would do with dairy cheese. Add it to pasta dishes, top salads, make dips, flavor veggies, or put on sandwiches.
What is a vegan alternative to butter?
Depending on what you need it for, there are many options for alternatives. Coconut butter is a great choice, or any store bought vegan butter. Oils such as olive or avocado oil are good for cooking. For baking, try applesauce, banana, avocado, or nut butters.
How do you emulsify cacio e pepe?
Use the hot, starchy pasta water to create the sauce by heating it with the spices and cheese.
What do you serve with cacio de Pepe?
Serve this pasta with a salad and garlic bread. You can also make up extra veggies or protein to add in such as spinach, broccoli, chickpeas, or veggie sausages.
More Vegan Pasta Recipes
Pasta is one of those dishes that makes the whole family happy! Keep things interesting and explore the following plant based recipes: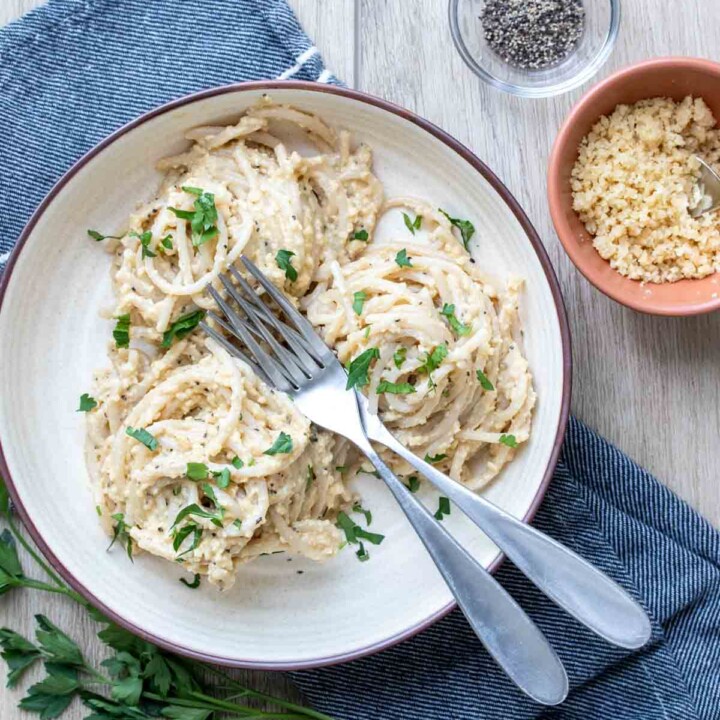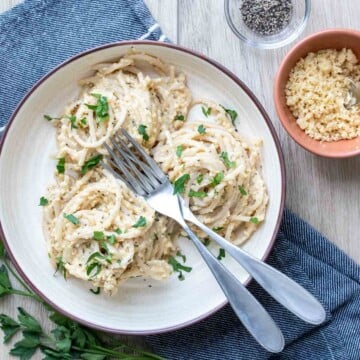 Vegan Cacio e Pepe Recipe
Vegan Cacio e Pepe Recipe is absolutely delicious and easy to make. It doesn't require a blender, is simple and made with whole foods!
Ingredients
12 ounces thick spaghetti , bucatini or other pasta of choice, gluten-free if needed
1 cup reserved pasta water
1 teaspoon ground black pepper
1 cup veggie broth , low sodium if needed
Drizzle of olive oil to saute , omit if oil free
1 ½ cups vegan parmesan , store bought or homemade (see note)
¼ - ½ teaspoon sea salt , depending on cheese
To serve:
Instructions
Cook spaghetti according to package directions. Make sure to reserve 1 cup pasta water and do not rinse the pasta when you strain it. This helps with the texture.

Meanwhile, put pepper in a saute pan and toast over low heat for about 1 minute to get it fragrant. Add the broth and drizzle of oil (if using) and heat over medium low heat until it starts to simmer.

Add the pasta water and bring to a simmer.

Whisk in the cheese to make a slurry.

Add in the pasta and mix well to combine. Taste and add more salt if needed.

Serve with more Parmesan if you prefer!
Notes
Traditionally this dish uses Pecorino Romano cheese. You can use this if you aren't needing this to be dairy free.
Recipe by Veggies Don't Bite, visit our site for more great plant-based recipes.
Nutrition
Calories: 531kcalCarbohydrates: 70gProtein: 17gFat: 13gSaturated Fat: 1gPolyunsaturated Fat: 1gMonounsaturated Fat: 1gTrans Fat: 1gCholesterol: 1mgSodium: 521mgPotassium: 448mgFiber: 3gSugar: 3gVitamin A: 3IUVitamin C: 2mgCalcium: 23mgIron: 16mg
Nutrition and metric information should be considered an estimate.
Never miss a recipe!
Sign up here and get a FREE quick and easy meal guide!