Vegan carnitas with a secret method for that perfect texture every time. Simply season and bake then add to tacos or a bowl with your favorite toppings!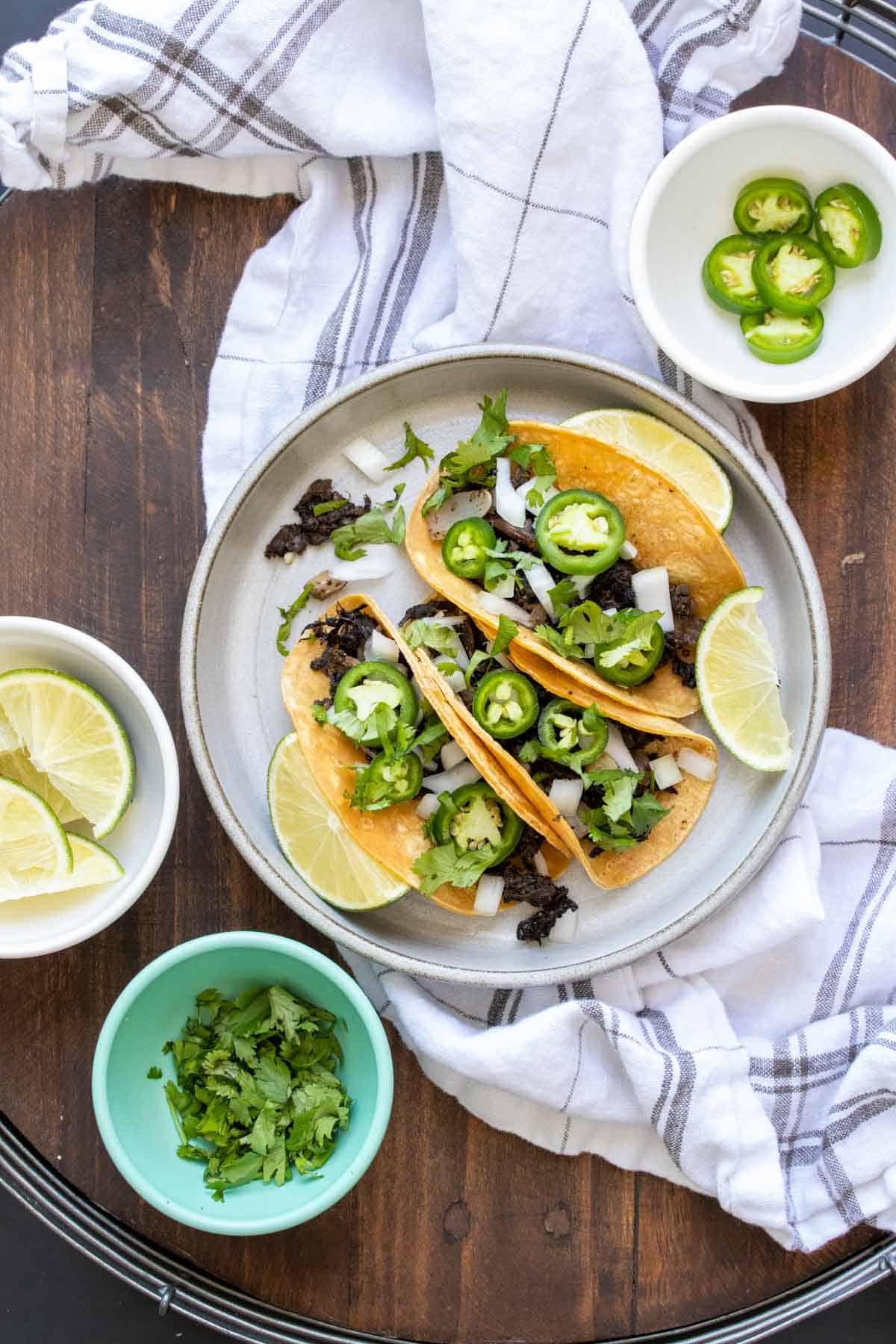 This post was originally published on September 9, 2018.
I love component meals, meals where you simply prep a bunch of parts and then put them together to make different things throughout the week. These mushroom carnitas are the perfect addition!
Mushrooms as meat
When it comes to meat substitutes, the texture you are trying to achieve is the best place to start. With carnitas, you want that shredded like texture, so mushrooms are a great choice.
I tried making this vegan carnitas recipe with a few different types of mushrooms so that I could deliver something that was spot on. Oyster, Crimini and Portobello were my main choices because they are all pretty available. The result was that Oyster was too "wet", Crimini was good but the pieces were a little too small, and Portobello was perfect.
Prepping
The prepping process is KEY here. You simply cannot just slice, season and cook a mushroom and think you're getting away with a great carnitas recipe.
First, you want to use a fork to shred the mushrooms. I loved the consistency that the final recipe had due to the amazing shreds that the portobello stem gave, mixed with the mini crumble like shreds that the cap gave.
Second, mushrooms have a ton of water in them. Which is why you will not get a great texture with the slice and cook method. So what do you do? You need to get some of the moisture out, here is my special method to make sure the end texture is perfect:
You put the shredded mushrooms in a colander, salt them, mix, and allow to sit. After about 5 minutes or so (about the time it takes you to clean up the mess so far and get out the rest of the ingredients you need), you will see a good amount of water coming out.
Simply squeeze the shredded mushrooms to extract even more water, then put it all into a bowl. You will be left with about half the amount of mushrooms (so 2 cups shredded mushrooms leaves you with about 1 cup after you salt, sit and squeeze).
How to Make Vegan Carnitas
Here are the easy steps for the perfect end result:
Prep the mushrooms.
Add to a bowl with the ingredients.
Bake on a piece of parchment on a baking sheet.
Serve however you prefer!
Different ways to serve
The best thing about these mushrooms carnitas is how versatile they are! You can use them in so many ways. Here are some of our favorite!
As tacos
Over nachos
In enchiladas
On a salad
In a burrito
In a bowl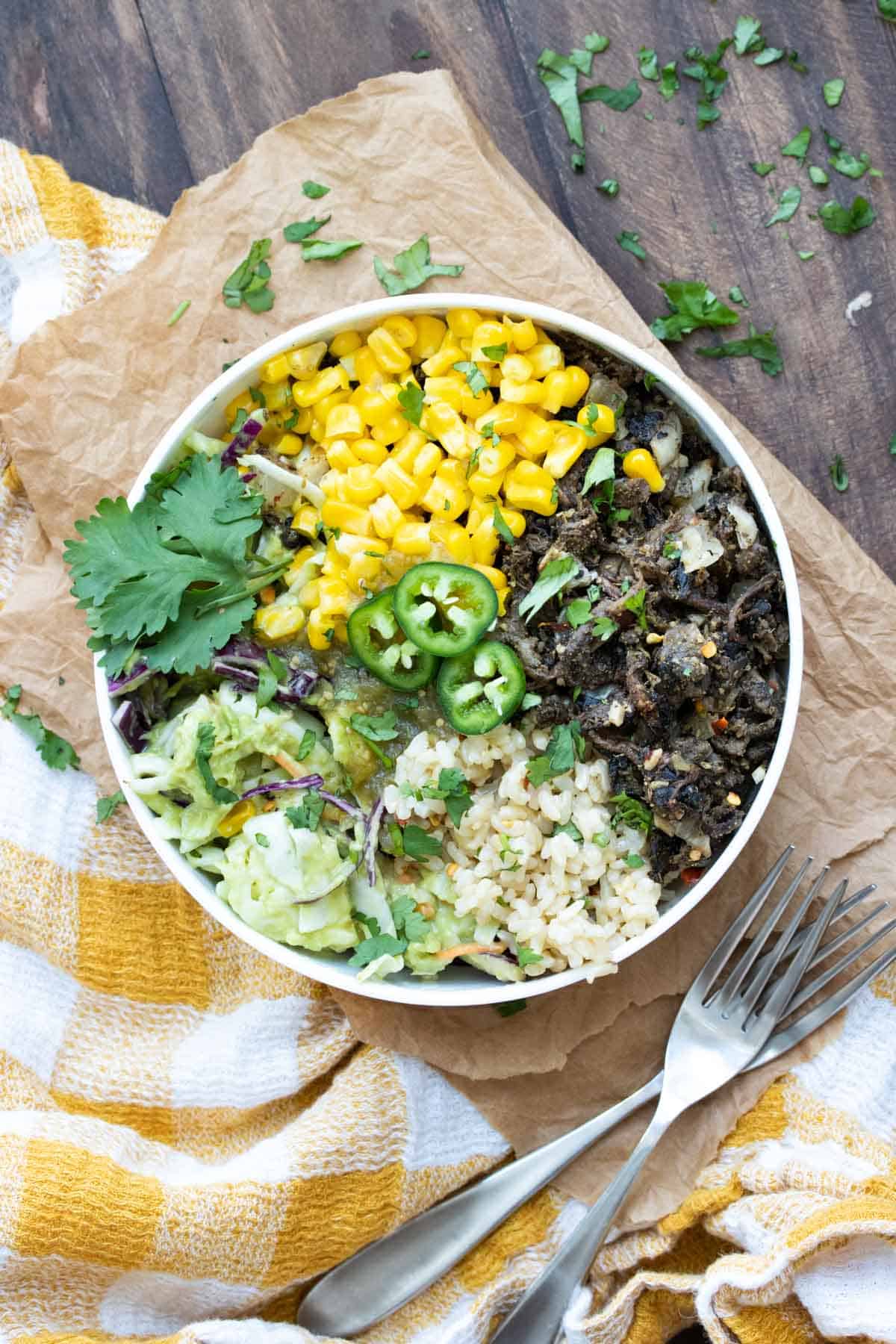 Topping ideas
Here are some of our favorite toppings:
Avocado
Jalapeños
Cilantro
Onions
Hot sauce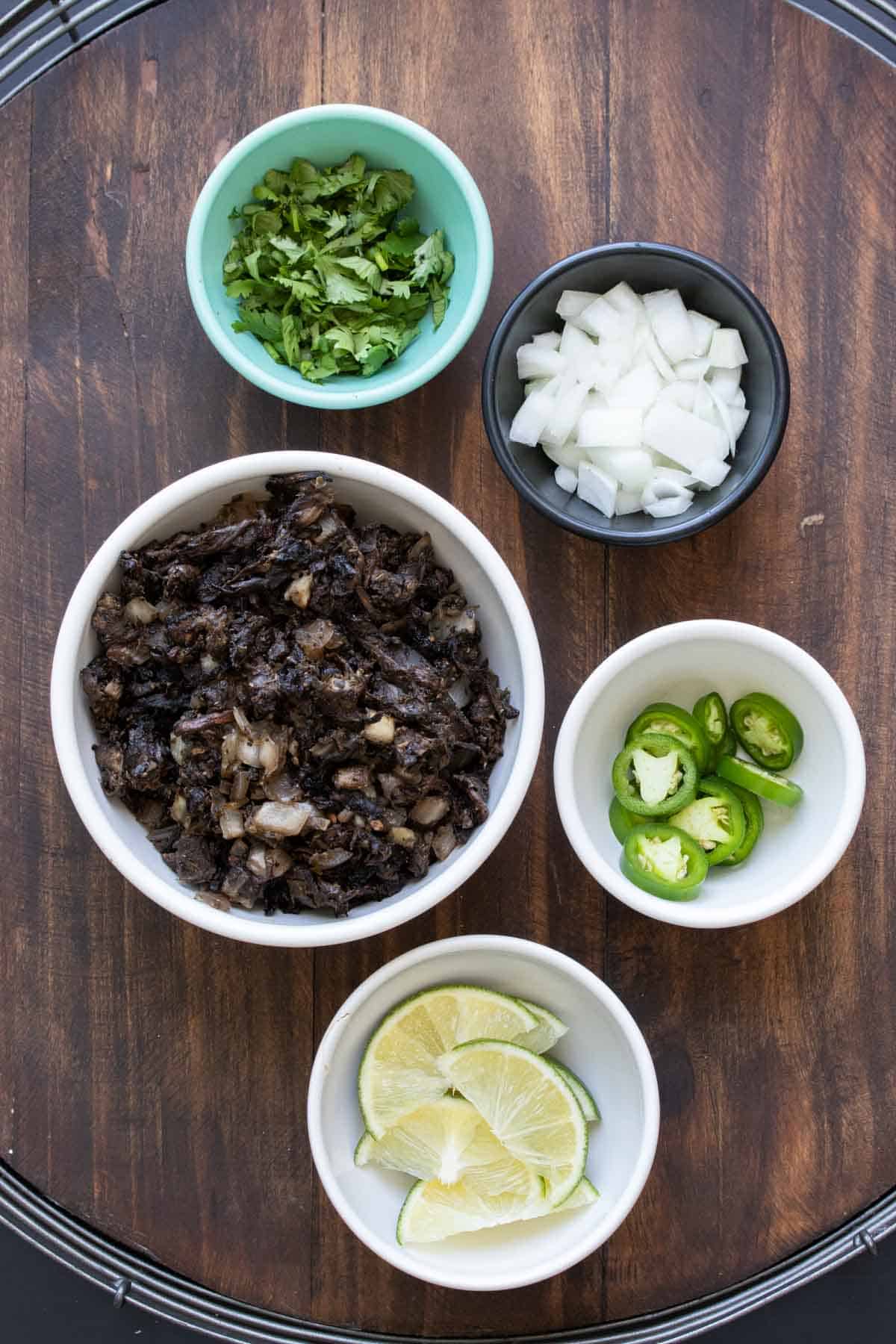 Recipes to serve with
While these are amazing as a standalone meal, if you want a big Mexican Fiesta, here are some suggestions:
Tomatillo Cabbage salad (see recipe below)
Cilantro Orange Rice (see recipe below)
Common Questions
How do you cut mushrooms to use instead of meat?
Shredding the mushrooms instead of cutting or chopping will give you the meaty texture of shredded meat.
How do you store mushroom carnitas?
If you don't eat them all, store them in an airtight container in the fridge. They should last about 5-7 days.
Can you freeze mushroom carnitas?
Freezing is not recommended because it will make the mushrooms saturated with water again and the texture won't be the same.
How do you reheat leftovers?
Simply bake again to reheat and get back the texture.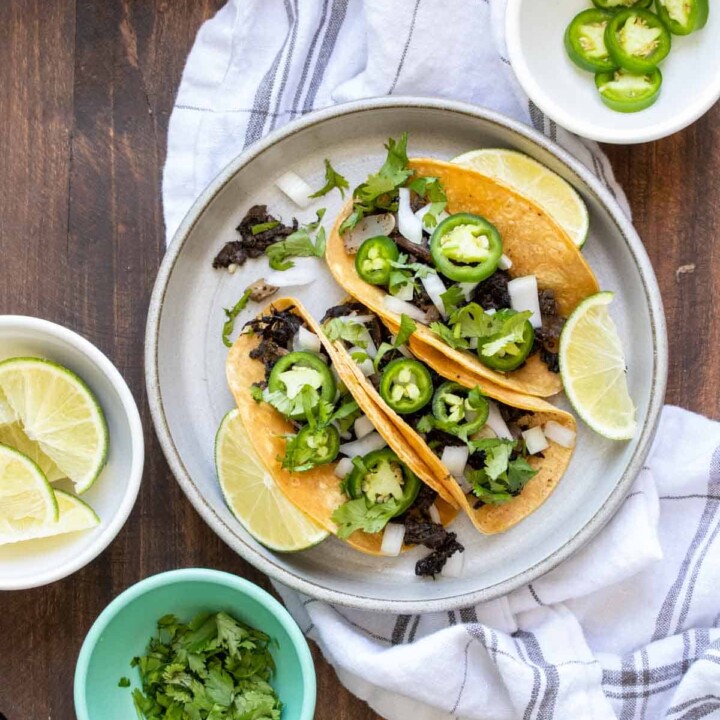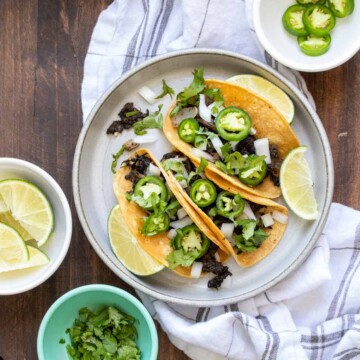 Shredded Mushroom Vegan Carnitas
Vegan carnitas with a secret method for that perfect texture every time. Simply season and bake then add to tacos or a bowl with your favorite toppings!
Ingredients
4 Portobello mushrooms , gills removed if preferred (king trumpet mushrooms word even better to shred)
1 cup chopped sweet onion
4 cloves garlic , finely chopped
¼ cup orange juice
2 tablespoons dried oregano
4 teaspoons cumin
1 teaspoon ground black pepper
½ - ¾ teaspoon sea salt
2 tablespoons chopped serrano chili or 2 teaspoons crushed red pepper , optional for added spice (see note)
Tomatillo Cabbage salad:
4 cups shredded cabbage , can use a mix of red and green or a prepackaged mix too
¾ - 1 cup avocado , about 1 average sized avocado
½ cup your favorite green tomatillo salsa
Instructions
Preheat oven to 400 F/ 205 C

Remove the stems of the mushrooms. Using a fork, scrape the stems until you have shredded them into thin pieces. Follow by doing the same with the mushroom caps, the caps will both shred and crumble but continue to use the fork to make the pieces. It works well if you face the caps gill side down, hold the top with your hand and scrape downwards with the fork. Same for the stems.

Put the shredded mushrooms into a colander. Add the sea salt and mix around well. Allow to sit while you clean up and get out the rest of the ingredients, about 5 minutes.

Squeeze out any excess water from the shredded mushrooms, and put it in a large bowl. You will have a little over 2 cups.

Add the rest of the carnitas ingredients and mix well.

Spread on a parchment lined cookie sheet and bake for 30 minutes. The edges will begin to crisp a bit and it will not be watery.

Once the carnitas are done, serve as preferred!
Notes
To remove the gills of the mushrooms, simply use a spoon and scrape them away. You don't have to do this, but I think it leads to a better result.
I tried these with and without the serrano pepper and crushed red pepper, and I loved the added flavor with it. The serrano pepper version isn't too spicy if you remove the seeds. You can also use less to add a touch of flavor but remove most of the spice.
To make the optional rice and cabbage simply combine all ingredients in a bowl and mix.
Nutrition is for carnitas only.
Baby/kid food idea: Do not use the spice in either the carnitas or the rice. Slice cabbage extra thin and massage with hands when mixing salad to soften. Serve each separately as finger like foods if preferred.
Recipe by Veggies Don't Bite, visit our site for more great plant-based recipes.
Nutrition
Calories: 121kcalCarbohydrates: 25gProtein: 6gFat: 2gSaturated Fat: 1gPolyunsaturated Fat: 1gMonounsaturated Fat: 1gTrans Fat: 1gSodium: 553mgPotassium: 986mgFiber: 6gSugar: 12gVitamin A: 343IUVitamin C: 28mgCalcium: 158mgIron: 6mg
Nutrition and metric information should be considered an estimate.
Never miss a recipe!
Sign up here and get a FREE quick and easy meal guide!