These vegan chickpea burgers are the perfect alternative to traditional meat burgers! Easy to make, full of protein and so flavorful.
A good burger doesn't have to be fancy. I took simple whole food ingredients to create this amazing vegan burger recipe that can be paired with anything!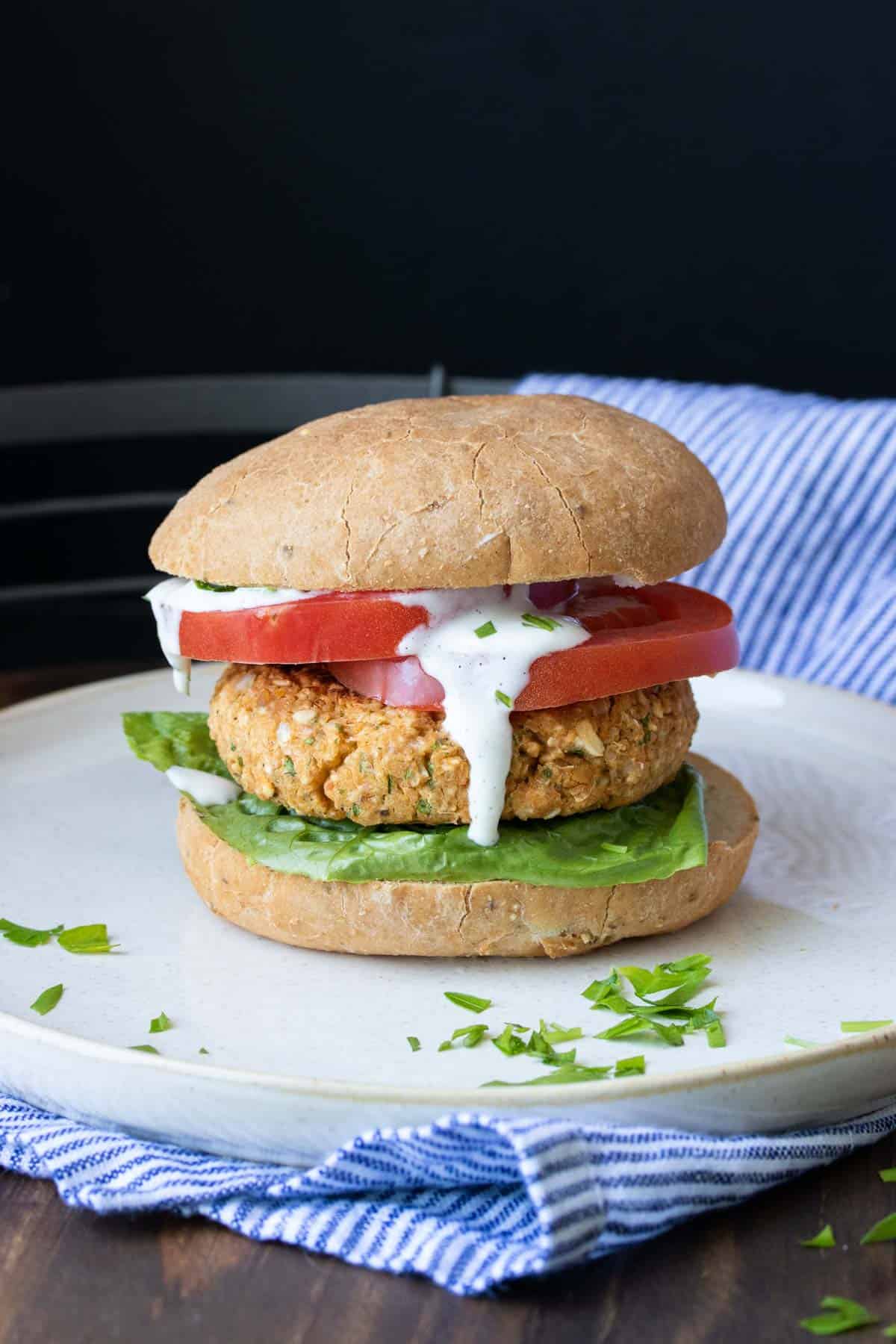 This post was originally published on June 13, 2020.
We make vegan burgers every week! They are so easy, please everyone and can be paired with so many types of sides.
Ingredients
Making a homemade veggie burger is not as hard as you may think. The key is knowing the combination of ingredients to get them to stick. You need moisture but you also need those that suck up the extra wetness for that perfect texture.
The base of these vegan chickpea burgers have the perfect combo of wet to dry. They also have plenty of flavor so that they can stand alone.
Here is what you need for the patties:
Chickpeas
Oats
Onion
Parsley
Garlic
Sauce
Lemon
Smoked paprika
Salt
Pepper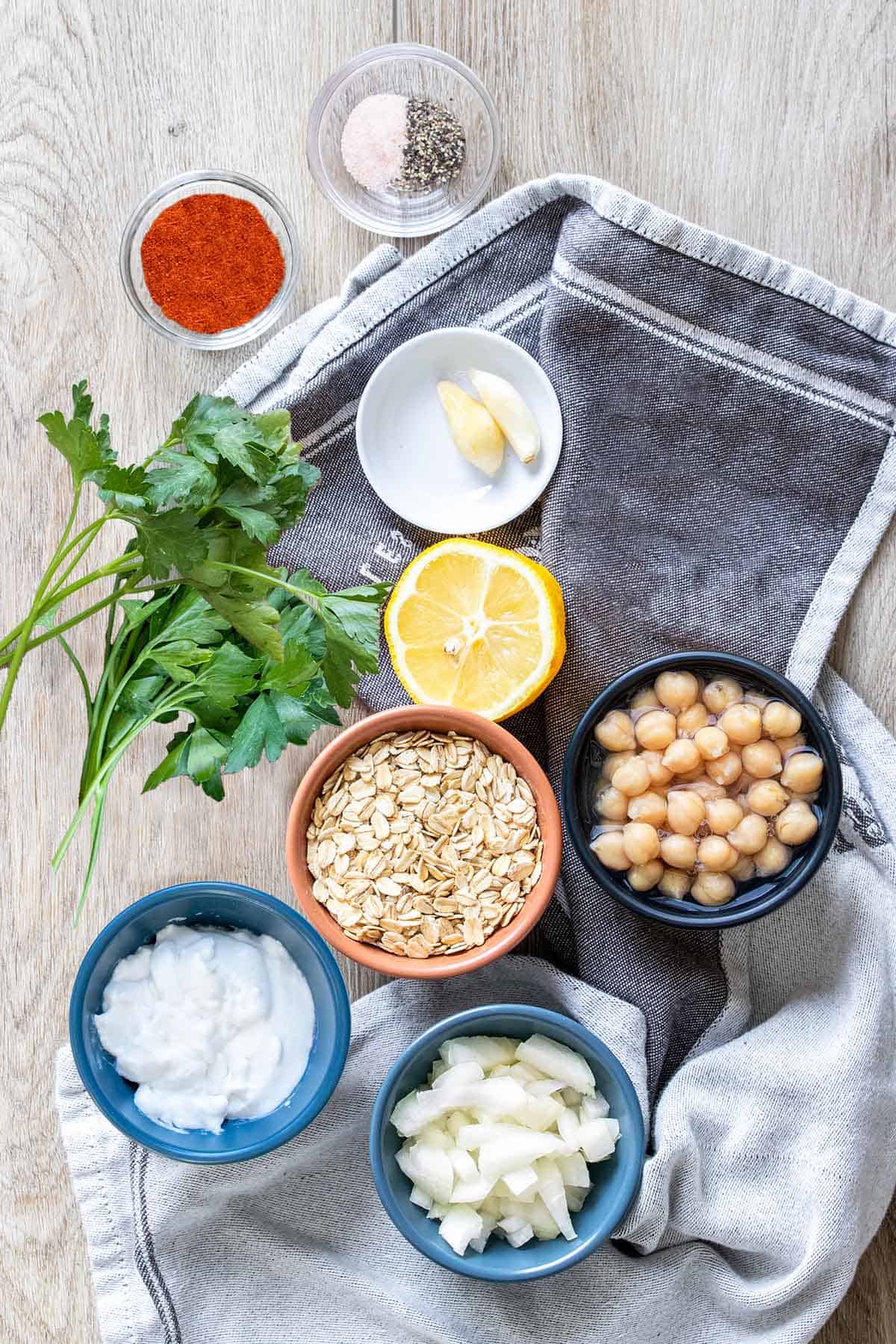 How to Make Chickpea Burgers
Once you gather all you need for the chickpea veggie burgers, the rest is super easy! Here are the few steps it takes for dinner to be ready:
Pulse everything in a food processor until crumbly.
Shape into patties and cook.
Serve!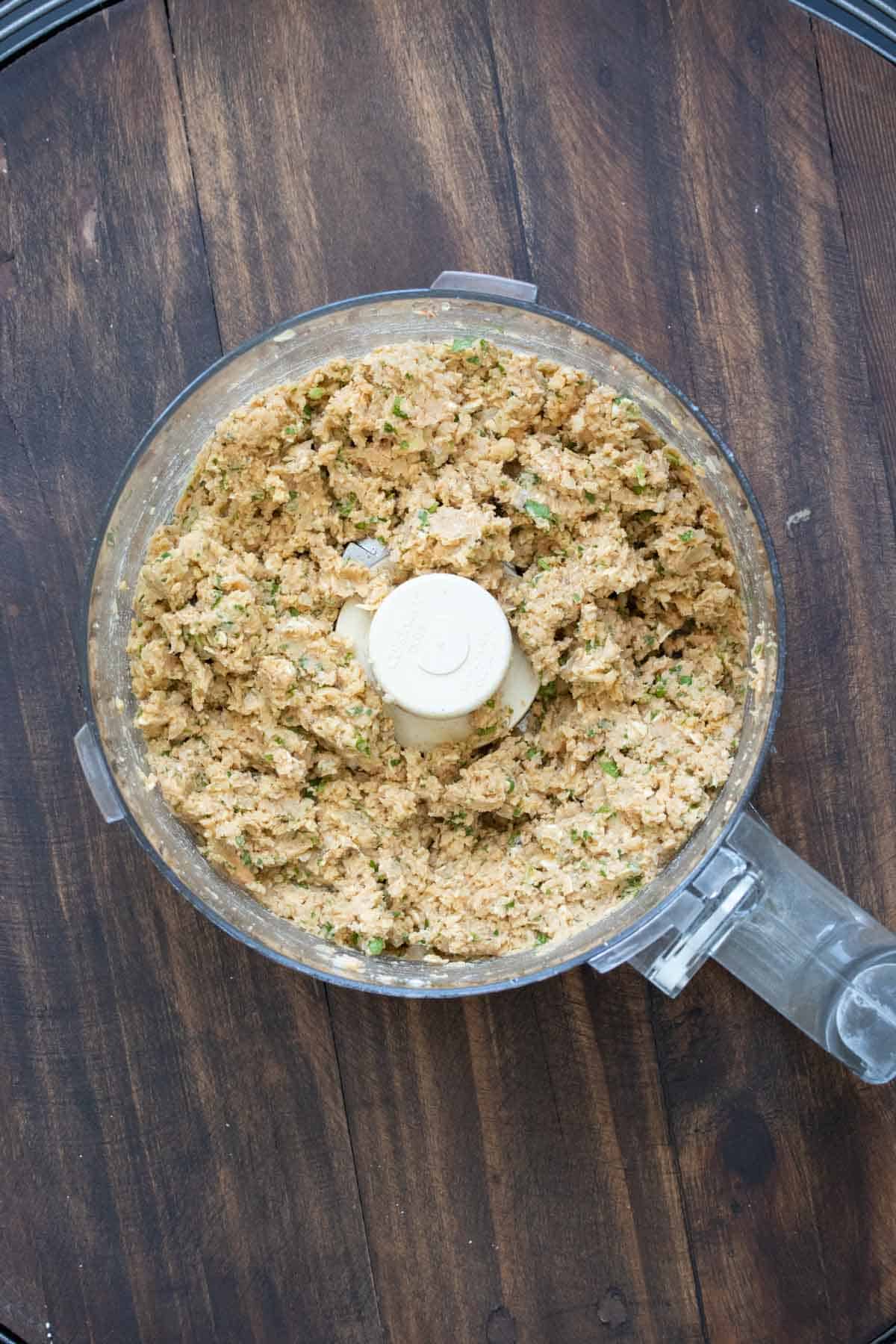 Vegan Burger Topping Ideas
There are so many ways to enjoy this vegan chickpea burger recipe, but our favorite is as a classic burger!
Here are some good plant based options:
Buns of choice - gluten free if needed, or lettuce leaves for low carb version
Extra sauce
Ketchup
Mustard
Grilled onions
Raw onion slices
Lettuce
Tomato
Pickles
Avocado
Dairy free cheese
Servings sauces
This burger requires some sort of sauce for the recipe itself, but the trick is to also use that same sauce for serving! Here are some of our favorites:
Mix in ideas
While I love these vegan chickpea patties simple as is, you can definitely switch it up to change the flavor. If adding solid ingredients, just make sure not to add too much as it will affect the ability of it to stick together.
Sub the parsley for any other herb like cilantro, basil, or even oregano for a greek twist.
Use lime instead of lemon.
Switch up the seasoning to match what flavor theme you want. Cumin and chili powder would be great for a Mexican twist.
Add in some finely chopped veggies. I wouldn't add more than ¼ - ½ a cup.
More Ways to Serve Chickpea Burger Patties
I love serving this veggie burger recipe the traditional way with buns and toppings as mentioned above, but you can also serve them in other ways:
Lettuce wraps
Pita bread
Sandwich bread
Open faced
Slider sized
Nugget sized as dippers
Over a salad
Tips and Tricks
Here are some of my biggest tips to make sure your chickpea burgers come out perfect:
Make sure to drain the chickpeas well before adding to the food processor. Extra water will make the burger mixture too wet.
When blending the filling, you want a medium sized crumble. If they are too large, the mix won't stick. If they are too small, you'll get hummus.
Check to see if the mixture sticks together before you stop blending. If it doesn't, it needs to be blended more.
If cooking on the stove top, when ready to flip, if they don't come off easily, they need more time.
If baking, they are best baked on parchment so they get a nice crisp on both side.
If grilling, each grill varies so start checking after a few minutes, if they don't come off easily, they aren't ready.
You don't want to cook on too high of a heat because the outside will be burned and the inside still raw. Stick to medium or medium low heat.
Meal Prep and Storage Tips
This chickpea veggie burger recipe can easily be made ahead of time and cooked when ready.
Simply make the mixture, then store in an airtight container in the fridge until ready to cook up to 3 days in advance.

You can store the chickpea burger patties shaped or shape before you cook them.

Refrigerate cooked veggie burgers for up to 3-5 days.
These can also be frozen.

Freeze them shaped.
Once you have shaped the mixture, wrap in plastic or parchment then wrap in foil and store in an airtight container or freezer bag for up to 3 months.
Common Questions
Are fresh or canned chickpeas better?
I use canned chickpeas for this recipe because it was fast and easy. But you could cook dried chickpeas as well. Dried tend to be less soft so you may have to mix longer.
Can you keep veggie burgers in the fridge?
Yes! If you make too much mixture, or want to make the mixture ahead of time, simple store in an airtight container. You want to cook them within 3-4 days for best results. Keep in mind that the mixture does dry out the longer it stays in the fridge so you may need to add a touch of moisture if it seems dry.
Are Chickpea Burgers good?
Yes! They key is having the right amount of seasoning so that it comes through in the patty. Try this recipe for veggie burgers with chickpeas to see for yourself!
How do you get vegan burgers to stick together?
They key is in the combination of ingredients and that perfect moisture balance. You also need to blend the ingredients to the right texture so that the pieces aren't too big.
How long do frozen veggie burgers take to cook?
If you are using frozen homemade burgers, it's best to let them come to room temperature before cooking so that you can shape them back together if need be. If you prefer to cook from frozen, you may need to double the cooking time.
More Plant Based Burger Recipes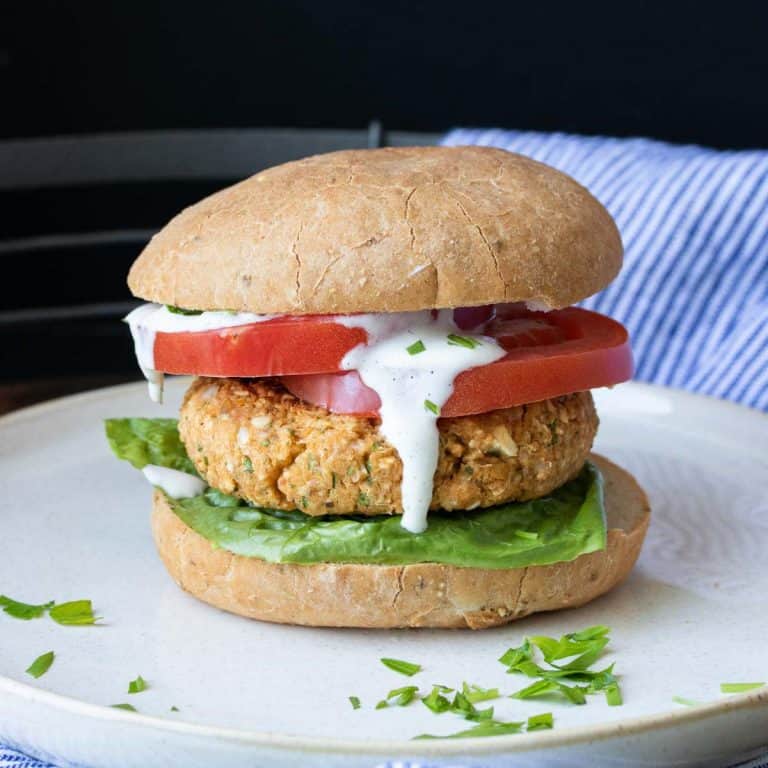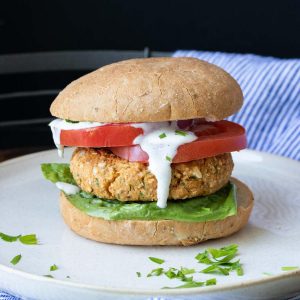 Vegan Chickpea Burgers
These vegan chickpea burgers are the perfect alternative to traditional meat burgers! Easy to make, full of protein and so flavorful.
Instructions
Add everything to a food processor and pulse until the mixture is in small crumbles and sticks together well.

Form into 4 patties.

Cook on a preheated griddle or pan for 5-6 minutes on each side or until brown.

You can also bake them on a parchment lined baking sheet at 350 F/ 175 C for about 15 minutes on each side.

Allow to cool a bit before eating. This will help keep the burgers together without falling apart.

Serve with toppings of choice!
Notes
For the sauce, I used a sauce from my site that I also topped the burger with. It can be anything. The amount will depend on how thin or thick the sauce is. Start with 1 tablespoon and if you need more moisture or if your burger mixture is not sticking together well, then add 1 more tablespoon.
Nutrition facts are for one burger and the main burger only.
Recipe by Veggies Don't Bite, visit our site for more great plant-based recipes.
Nutrition
Calories: 118kcalCarbohydrates: 19gProtein: 5gFat: 3gSaturated Fat: 1gSodium: 442mgPotassium: 196mgFiber: 4gSugar: 1gVitamin A: 562IUVitamin C: 8mgCalcium: 40mgIron: 2mg
Nutrition and metric information should be considered an estimate.
Never miss a recipe!
Sign up here and get a FREE quick and easy meal guide!